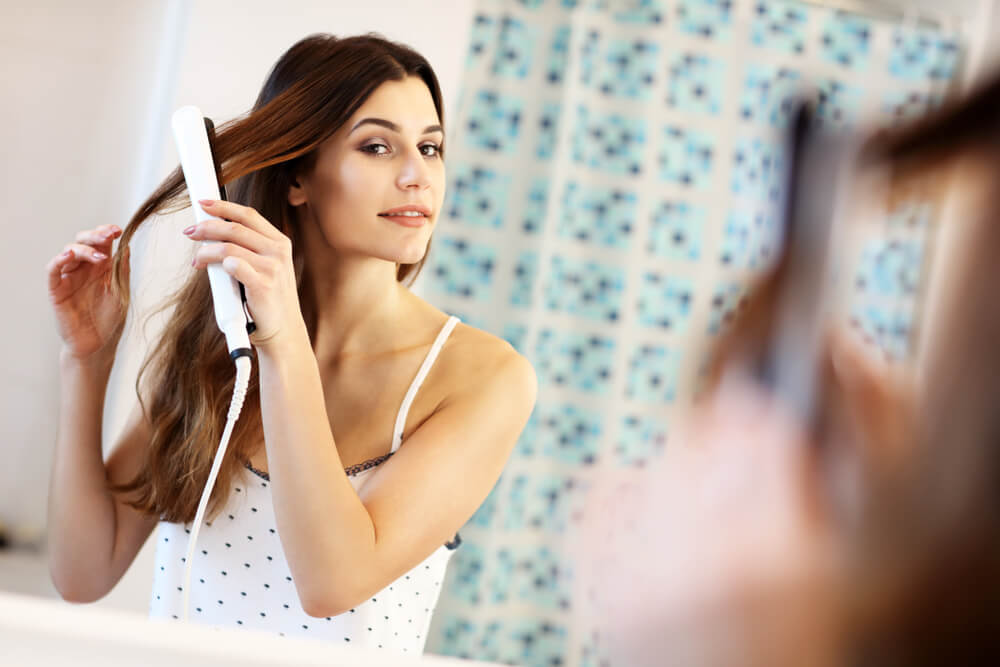 Your flat iron is like Superman – there's nothing it can't do.
Well, maybe it can't run faster than a speeding bullet.
But nonetheless, such a simple device can be used in so many different ways, which means, basically, that you can experiment to your heart's desire.
Using a flat iron can lead to so many incredible hairstyles, from elegant ones fit for a princess to snazzy hairstyles perfect for a party.
So, take your flat irons and let's get to it!
1)
Beach Waves for Awesome Babes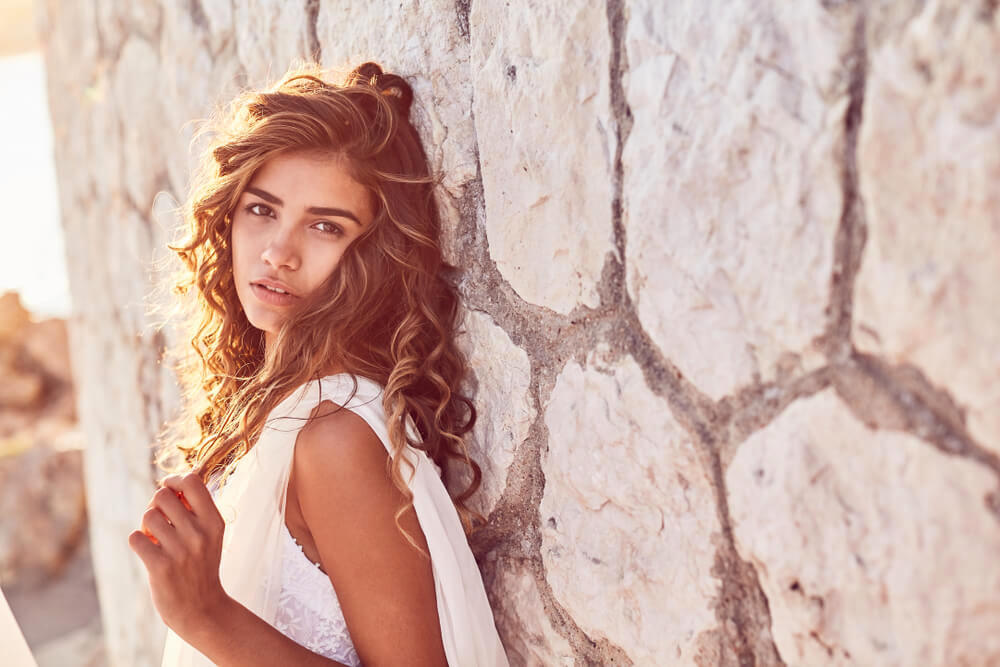 As in life, sometimes you just gotta make waves…
And, one of the perfect ways to do that is with a flat iron, in fact.
This process is not difficult at all. In fact, the first part is something you should do every time you want to make a hairstyle with a flat iron.
Wash your hair beforehand and blow dry it. If you have waves, this might even make your hair a bit straighter than usual. However, if you have curly hair, you know this won't do much (but, a girl can still hope).

Apply the

heat protectant of your choice

.

Comb your hair. You need to remove all the tangles before you go through it with the flat iron, otherwise you will have knots that will be difficult to fix. Combing will also distribute the heat protectant more evenly.

Blow dry it again, as it needs to be completely dry before you start. 

Divide your hair into sections and clip them up. Not dividing it into sections can only lead to mixed results. Work from lower parts of hair to the upper ones.
Now, here we come to the part that differs a bit.
When straightening your hair, you would simply clamp the flat iron shut on the upper part of the strand and pull downward in a steady motion.
However, if you want beach waves, you need to start at the top of the strand or a bit lower, depending on the look you want to achieve. When you clamp the flat iron shut, turn it back on a half turn. Then run it slowly towards the end.
Now, the slower you go, the tighter the wave will be.
2)
Side-Swept Success
This is quite an elegant hairstyle, simply perfect for a night at a ball or the theatre.
Or, quite possibly, a date.
Even though it is really elegant, it is also really easy to make!
(And, let's face it, that is mostly what we're looking for in a perfect hairdo.)
Here's how to make this side-swept style:
After you've washed your hair and blow dried it, put it on one side.

Use bobby pins to secure your hair behind one ear. Alternatively, you can make braids on that side and secure them to the back of your head below the rest of your hair.

As described before, make waves on the remaining side.

Make sure to finish with hairspray for a glossier look.
3)
Romantic Wavy Ponytail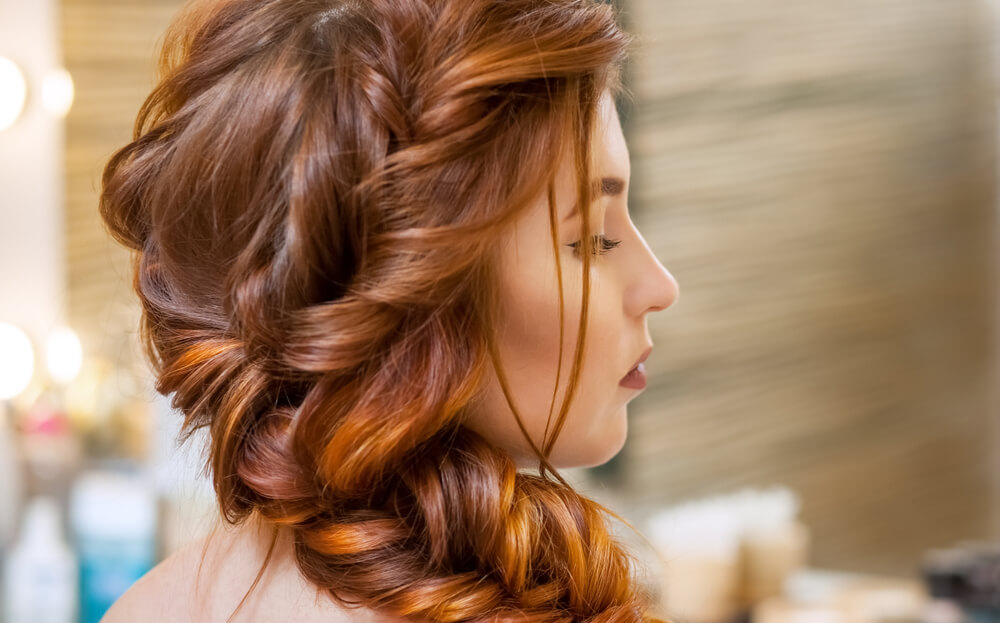 Since we've already started with waves, let's continue in the same manner.
Another way you can fix your hair with a flat iron is to make a ponytail with some pizzazz!
This hairstyle is also quite versatile, because you can make it when you're going to work or some formal event, but you can also make it when you're going to a party.
Here's how:
Wash and blow dry your hair, then put the heat protectant and comb through it.

Using your flat iron, make waves starting from the half of your hair down. This is to be done before you've tied your ponytail simply because it is more difficult to try to make waves at the back of your head.

Pulling your hair from both sides, carefully tie the ponytail. Leave a few strands out at the front to create a messier look. If you're going for romantic vibes, use the flat iron on them, as well, since those waves will frame your face beautifully.
4)
Sleek Straight Ponytail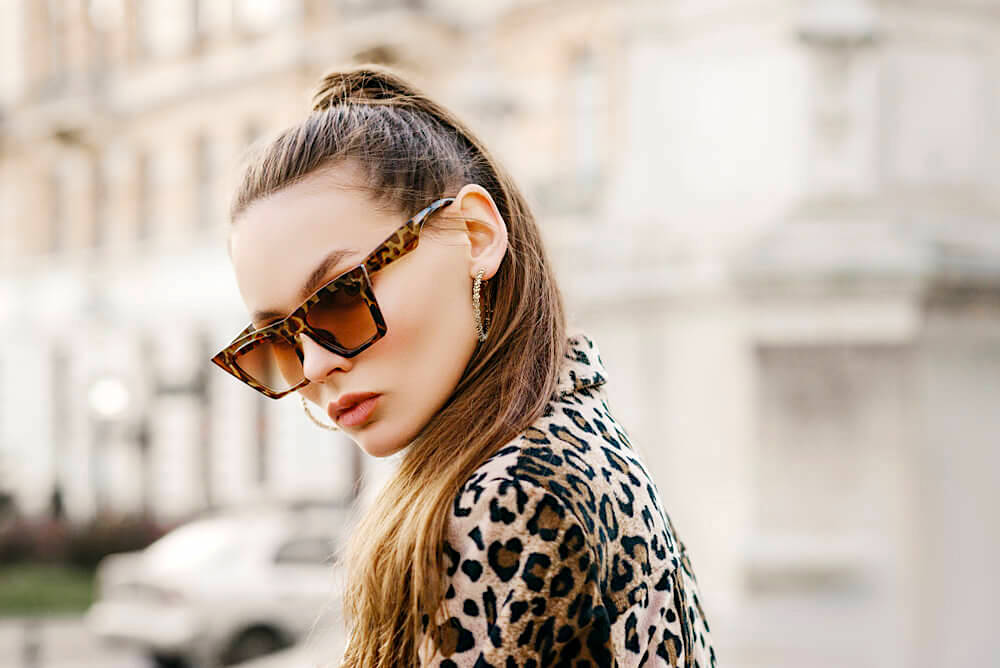 While the wavy ponytail is considered romantic, the sleek straight ponytail is, for lack of a better word for it – fierce.
This is the type of hairstyle for which you should be wearing a power suit paired with (at least) 4-inch heels. And maybe some sunglasses.
We're just kidding, wear what you want with this hairstyle, because you will still look fierce.
Again, it's not particularly hard to make it, but it definitely looks divine.
Start by straightening your hair. Make sure that you've straightened every last hair, because you're going for a slick and professional look. We can't have any messiness here.

You should use a bristle brush to smooth strands. Gather your hair below the crown of the head. As you brush it back, smooth the front and the sides.

While holding your hair with one hand, put a bit of hair gel-serum onto the fingertips of your other hand and spread it all over your hair. This will give it the sleekness you want.

Once you've done that, tie your hair, making sure to get all the strands in. Secure it, because it needs to be tight.

If you want to hide the elastic band, take a small section of the ponytail and wrap it around the band, then secure it with a bobby pin of approximately the same color as your hair.

Finish the look with shine spray or hairspray. This is particularly important if you have curly or wavy hair.
Now you're ready to take over the world.
5)
Crimped Blast from the Past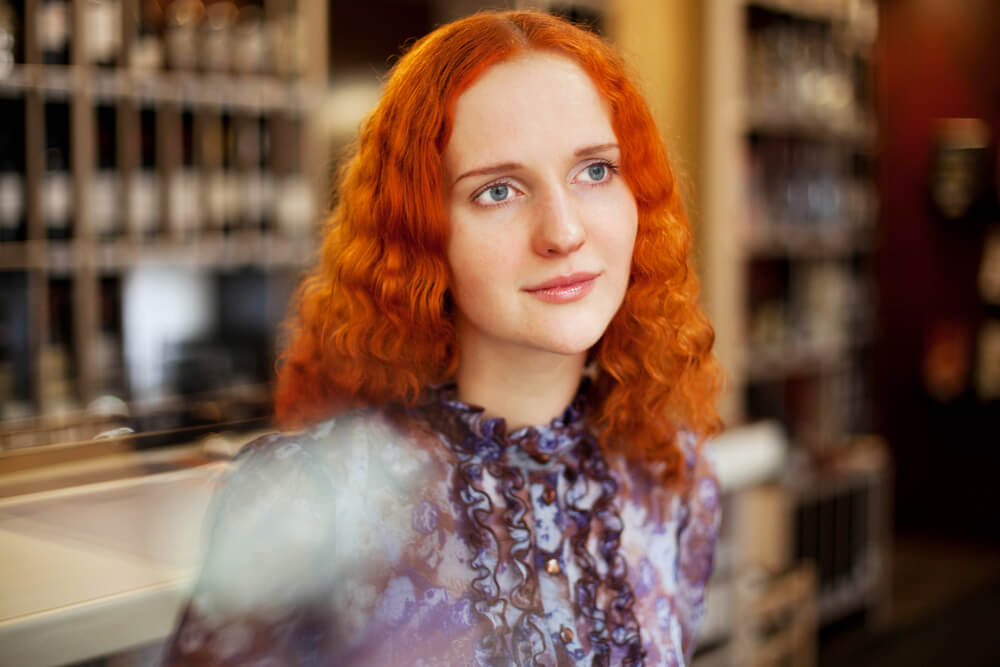 Now this is a hairstyle that's almost been forgotten.
It was all the rage in the nineties and at the turn of the century (yes, this century), but somehow, it lost its appeal later on.
Fortunately, it is making a comeback with stars such as Gigi Hadid, Anna Kendrick and Bella Thorne taking it to the red carpet.
The best and, quite frankly, the easiest way to make this hairstyle is, actually, with a flat iron.
First, make multiple braids from thin sections of your hair. Remember, the smaller the section, the smaller the crimps.

Take your flat iron and glide it down each braid. Make sure that you do it slowly so that the crimps will stay for longer.

After you've heated up all of them, open them up. For a messier look, run your hair through the crimps.

Finish up with some hairspray and you're good to go. For some added flair, you can put up the upper part of your hair.
6)
Wispy Side-Braid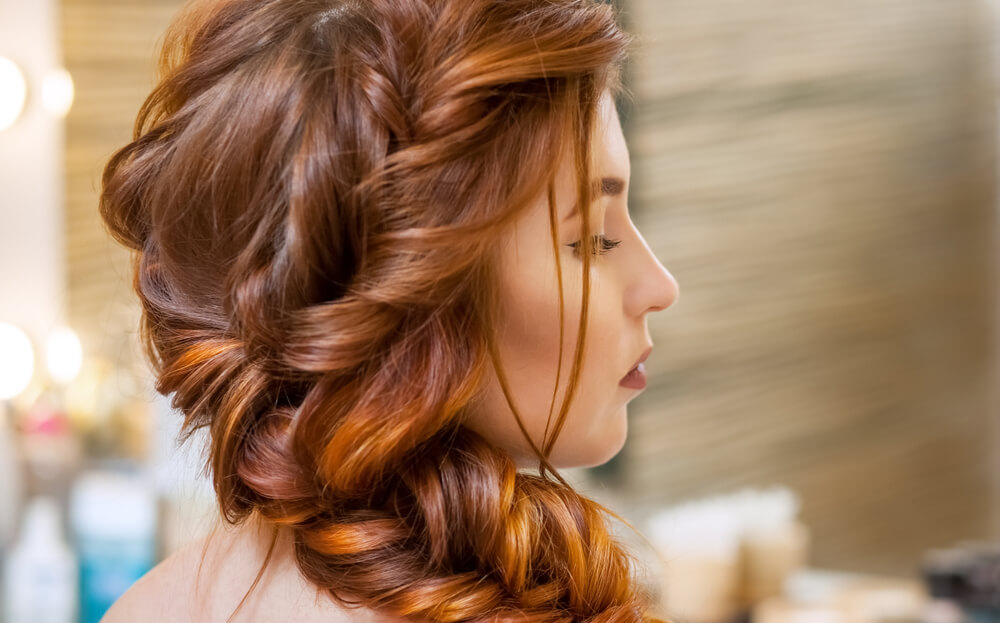 This hairstyle is perfect for those looking for an easy and successful hairstyle that is just on the right side of daring.
It's messy without being too messy, it's traditional without being too traditional.
But, the most beautiful part of it is – it's incredibly easy to make.
Here's how:
Part your hair to one side. Gather your hair on the side farthest from the part. That is, if your part is on the right side, you should sweep your hair to the left and vice versa.

Split your hair into three sections. You will start to braid it from the area right below your ear. Don't move the braid around once you start. When you finish, secure the end.
Then, take a few strands here and there and pull them out. Make sure not to pull too many strands out, since that could create an adverse effect.
Take those strands and, one by one, make waves on them the same way we mentioned before. If you feel like you've pulled out too many strands or that the look is messier than you intended, you can always put a few of those strands back and secure them with bobby pins.
Another good way of embellishing a simple hairstyle such as this one is to upgrade it with a bow or even a nice garland.
5 Tips When Using a Flat Iron
There are certain things you need to do in order to prevent damage to your hair. Remember, you're applying heat directly to your hair.
If done improperly, it is bound to harm your hair. 
Here's how to properly use a flat iron.
Don't use it too often. People sometimes forget that hair is not invincible. If you treat it with heat too often, this can lead to permanent damage, and even hair loss. This doesn't mean that you should stop straightening it altogether. However, using it every day, and, in some cases, several times a day, is truly excessive, especially for people who have naturally wavy or curly hair. Once or twice a week is enough.
Don't use it too close to the scalp. As you might have already known, if you cause persistent heat damage to your scalp, this can actually lead to permanent hair loss. So it's sometimes better to keep the flat iron away from it. Yes, that means that your roots may not look perfect, but it's literally the lesser evil.
Use the right temperature for your hair. For chemically treated hair and fine hair, the flat iron should be set at low (below 300 degrees). In case you have normal hair, you can iron it at 300-350 degrees. If you have thick hair, however, then you can use your flat iron at 350-400 degrees. But, if you're unsure what your hair can handle, and what works for it, it's best to try at lower temperatures and increase if necessary than to start at high temperatures and harm your hair right at the start.
Use a heat protectant. Use a

heat protective cream

or oil to prevent the damage that heat can do to your hair. Don't apply it too close to the scalp, because it can make your hair look a bit greasy. When you apply it, you don't have to use too much, a drop is enough. Put it on your hands, rub them together and then gently go through your hair.
Don't use your flat iron on wet hair. Never. Don't even think about it. Yes, you may feel like it saves you time in the morning, but it does lead to long-term damage, which you cannot take back.
How to Choose Your Flat Iron
Another common issue that many of us face is – how to choose the best flat iron?
But, you should know that there is no single answer since, like with all products intended for your hair, you will choose what's best for your type.
For instance, Herstyler offers three kinds:
Ceramic flat irons – These types of flat irons have ceramic plates and they're good because they have even heat distribution. You can use them on wavy or moderately curly hair. However, with frizzy hair, it may not have as sooth effect as you might want.
Aluminum flat irons – The main benefit of aluminum plates is that they heat up quite quickly. They also don't have any hotspots, and the heat is distributed evenly. They can be used for even frizzy hair. However, make sure to always regulate the temperature in accordance with your hair type.
Titanium flat irons – Titanium plates are great because they work on almost all hair types. They require quite little time to heat up and produce negative ions, which give you sleek and shiny hair in basically not time at all. Titanium distributes heat evenly, but should also be used with caution, precisely because it can heat up within seconds. Always be careful when using heat on your hair and make sure you put some type of heat protectant.
---