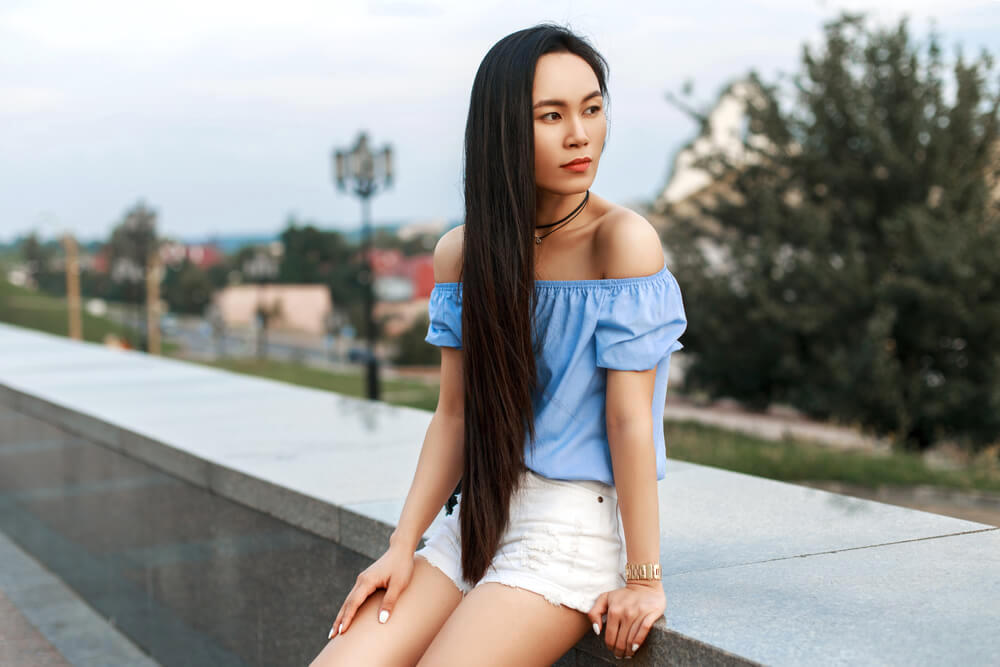 After all the curling, twirling, twisting, braiding, knotting, bunning, half-ups and half-downs, you'll find that nothing beats sleek, smooth, shiny, straight hair.
And just as there are a thousand ways to give curly hair some attitude, there are also tons of ways to energize straight hair. Whether you've been naturally blessed with pin-straight hair or simply a flat iron virtuoso, we have 9 awesome straight hairstyles here that will get you raring to go.
Angled Bob
A great way to refresh a straight 'do is to crop it into a flattering bob.
Not only are bobs universally flattering, they also require very little maintenance, especially if your hair is naturally straight.
To give your hair an extra dose of edge to your chopped coif, go for a bob that's shorter in the back and longer in the front.
The long strands will frame your face and give your style a more modern, youthful vibe, while the polished texture will make it a great choice for office settings, nights out and even formal occasions.
To style your super-straight bob, start off by washing and shampooing your strands, then pat it dry with a soft towel.

Spritz your locks with a heat protectant, create a deep side part, then begin blow drying it with a round, wide-barrel brush to give it a more voluminous appearance. Glide the brush all the way down, focusing on the tips of your hair to give it a super-polished effect.

Once your hair is completely dry, tuck in the side behind your ear and secure it with a bobby pin. Let the long strand fall freely and set in all your hard work with a dash of medium-hold hairspray.
Long'n'Slick
If you've been paying any attention to recent hair trends, you will have noticed that '70s-inspired styles have come back with a bang.
Between roller disco waves, shaggy bangs and over-the-top hair accessories, everyone is rushing to emulate these carefree hair vibes.
And one of the most popular '70s coifs are the long, hip-grazing locks evocative of the Studio 54-era Cher.
Couple your long, flowing locks with a dead-center part and you will look like bona fide disco diva.
Since strong, healthy strands are the key to nailing this look, your hair might benefit from a well thought-out hair care routine.
Naturally, every good hair regimen begins in the shower. When shampooing your hair, focus on your scalp, applying light pressure to massage the roots. This will help boost the circulation and keep your strands healthy and perked up.
A good hair conditioner will help retain the moisture in your locks. This is especially important for longer strands, as hair tends to get drier and more brittle at the tips.
Once out of the shower, avoid brushing your hair until it's semi-dry. Commit to these easy steps for that gorgeous long-n-slick look:
Use wet or boar bristle brushes to avoid causing breakage. When blow-drying your hair, use a low-heat setting to minimize damage.

To achieve that gorgeously sleek look, part your hair in the middle. If your strands bend at the tips, use a hair straightener to keep them in place.
Luscious Lob
If you are looking to revamp your hair, but are not feeling brave enough to chop it into a stylish bob, you can always compromise by going for a gorgeous one-length style that goes just past the shoulders.
Not only are lobs incredibly flattering on just about every face shape, they can also be styled into a plethora of different 'dos.
And straight hair especially lends itself well to beautiful mid-length styles.
For example, you can crop your locks into a fierce, blunt lob that will not only be supremely stylish, but will also work perfectly for just about any occasion.
Sleekness is the name of the game when it comes to styling this 'do, so it's paramount that you tame your locks into pin-straight perfection.
A good way to do this is by deep-conditioning your hair. These moisturizing, nutrient-packed formulas will enrich your strands with precious H2O and contribute to a silky, smooth texture.

Once your hair is all clean and nurtured, apply

a touch of hair oil

to prevent split ends and give your hair an even softer feel.
If your locks dry to be as straight as an arrow, feel free to stop here; however, if you want to achieve the ultra-polished straight lob, blow dry your hair by dragging the brush downwards and making sure your blow dryer is angled to the ground.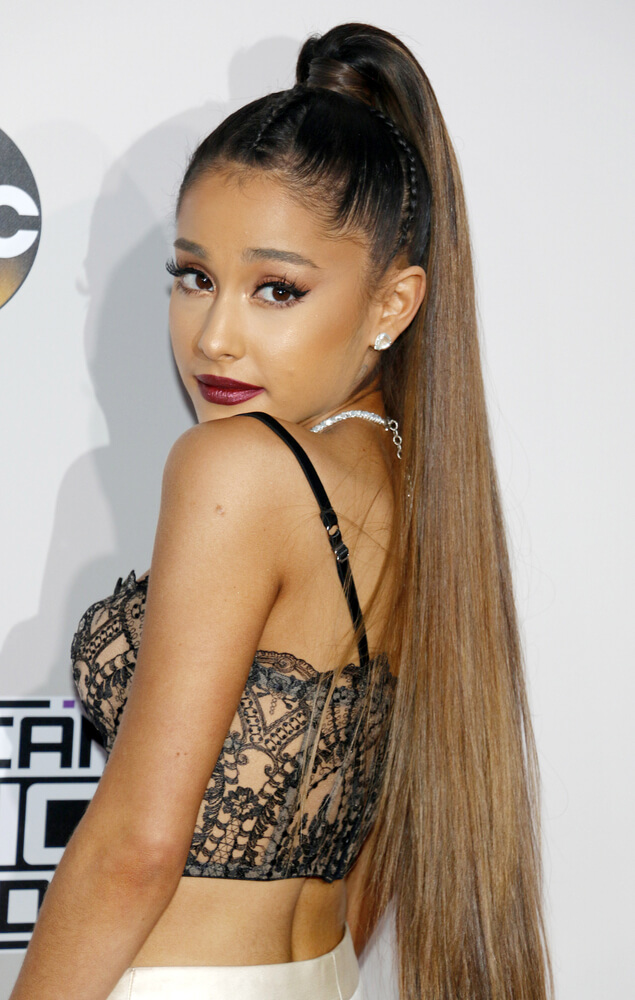 Polished Updo
One of the most fun ways to change up your straight locks is by tying them up into a sleek, sexy ponytail.
In order to really nail this look, start with clean hair. Oil and dirt build-up may prevent you from achieving that flawless, bump-free appearance.

Use a paddle, boar bristle brush to tame your strands. Gather your hair just underneath your crown, making sure that it's all smooth and uniformed.

While you're holding your hair in one hand, apply a pea-sized amount of hair serum or styling product of your choice to the sides and top of your head to flatten your strands.

To make sure your ponytail doesn't budge, tie it up with a bungee. These hair bands are ideal for this look, because you can wrap them the optimal amount of times around your hair without messing up your 'do. They are also more secure than regular elastics, so your ponytail will be able to go for hours on end without becoming loose or unruly.

To give it a more seamless appearance, isolate one strand from the bottom of your scalp and use it to wrap it around a ponytail. This will create a neat, unified look.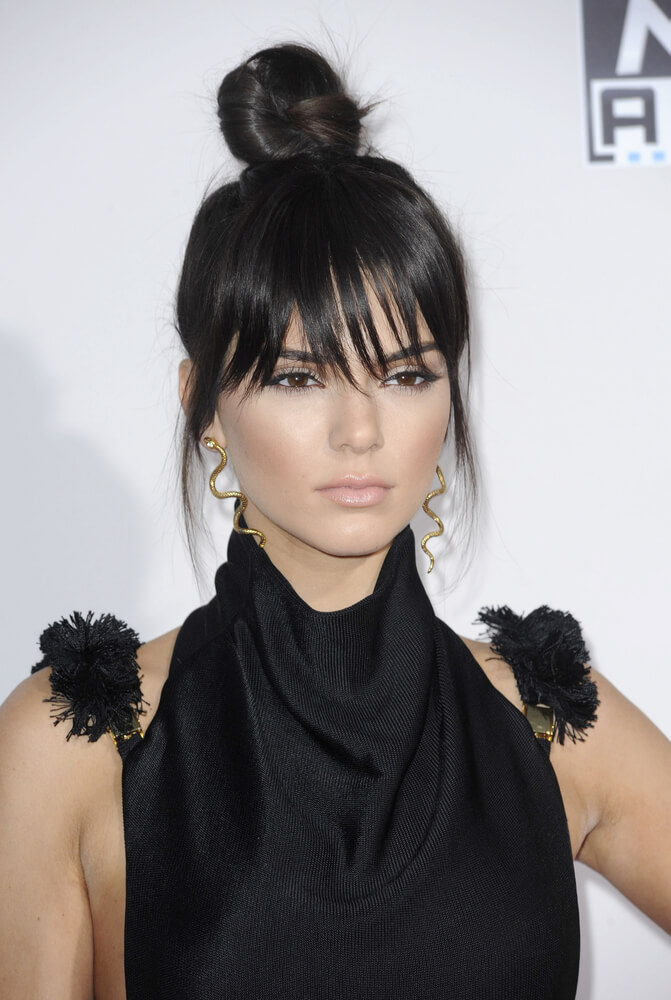 Top Knot with Bangs
If you have straight hair, you know how even the smallest bend or frizz can make your whole 'do look slightly off. Not to mention how hard it is to keep the oils and dullness at bay – especially if you're on your second or third day, or live in more humid climates.
That's why it's always useful to have one low-maintenance hairstyle in your stash that you can pull out when you don't feel like messing around with brushes and blow dryers.
And the top knot is the ideal look for these occasions. Not only does it work for different styles and lengths, it also takes minimal effort and can look just as glam as a full-on coif.
Moreover, if you combine your top knot with long, smoldering bangs, no one will be able to guess you spent minimal time doing your hair.
To achieve the perfect messy bun, treat your loose strands to a texturizing spay. This will pep flat locks and give them more texture.

Next, swoop your hair into a

tall updo

and tie it firmly using an elastic band. Twist the ponytail and wrap it around, securing it with another hair band. If any stray hairs are sticking out, pin them down with a bobby pin.

For a more nonchalant appearance, take out two front strands and let them fall along the sides of your cheekbones. This will frame your face and give you a more casual vibe.

Finally,

style your long fringe

by blow drying it, using a small rounded brush to give it extra bounce. Once your bangs are dry, use your fingers to position them around your face for the most flattering look.
Slicked Back
If you're currently sporting a long, straight hairstyle and are looking to turn heads, then you must give this bold '80s-inspired coif a try.
This follicular power move will instantly make you stand out of the crowd and give an ultra-glam vibe to your Rapunzel-style locks.
The trick is to nail the perfect balance between volume on top and sensual, wet look everywhere else.
Here are a few tips on how to do it!
Begin with semi-dry hair. Use a walnut-sized amount of hair mousse and run it through the section of your hair closer to the roots.

Keep adding volume by using a blow dryer and a wide rounded brush. Focus on your roots, pulling the hair away from the scalp. You can then run the brush the entire length of your strands to flatten any imperfections.

Use a fine-tooth comb to mold the top part of your hair and give it the desired shape.

Set the entire thing with long-hold hairspray and your edgy look is complete.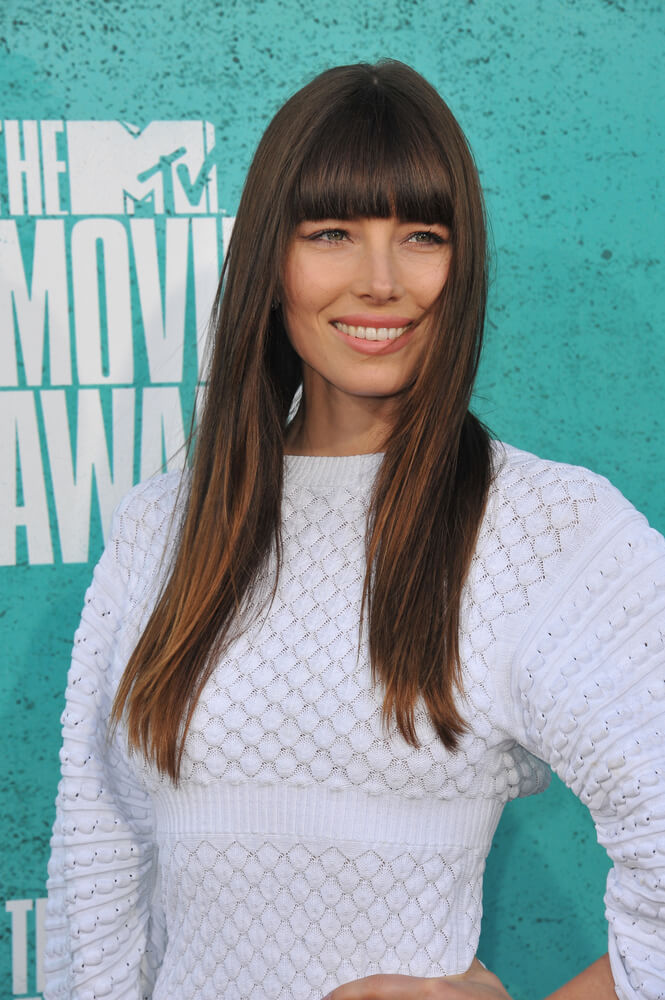 Simple Fringe
Maybe the basic "mid-part, long locks" shtick isn't for you.
Why not add an extra dimension to your straight strands by cropping the front section into a stylish fringe?
This will instantly make your 'do look more put-together; plus, you will also be able to channel those '70s retro vibes that have been all the rage in recent years.
And if you've always been intimidated by bangs for their high-maintenance reputation, fret not.
You can easily master the fringe-styling routine and ensure your 'do is always styled to the nines.
To achieve the perfect blunt bangs, wash them, then use a small-sized round brush to shape them.

Blast them with a hair dryer, pointing the nozzle downwards from the roots.

First manipulate the fringe to one side of your face, then the other. This will give it a unified texture and make it rest perfectly on the center of your forehead.

Give your bangs more volume with a dash of dry shampoo and reapply whenever your fringe starts to become piece-y.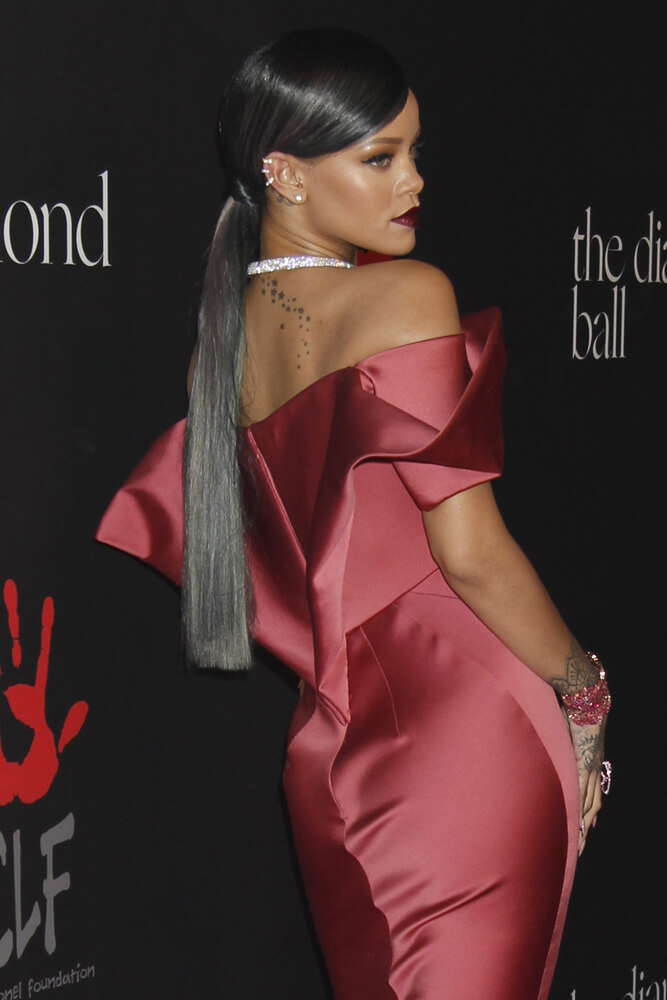 Low Ponytail with Side-swept Bangs
Straight hair at any length can immediately look more poised and glamorous if you decide to tie it in a neat ponytail at the nape of your neck.
Combine this style with long, side-swept bangs and you've got a bone fide show-stopper.
To achieve this luscious hairstyle, start off by creating

a deep side part

. Brush it to perfection and apply your favorite smoothing product to give it a sleek, shiny finish.

If your already sporting bangs, apply a tiny amount of styling product to tame them and pull them to the side. If your cut is equal length, place the hair behind your ear and pull the front strands to create an illusion of a fuller fringe.

Gather your hair at the back of your hair and secure it with a hair band. To create a seamless transition, take one extra strand and wrap it around the part with the elastic band.

If your ponytail needs an extra dose of polish, run a hair straightener through it to smooth out any bends and kinks.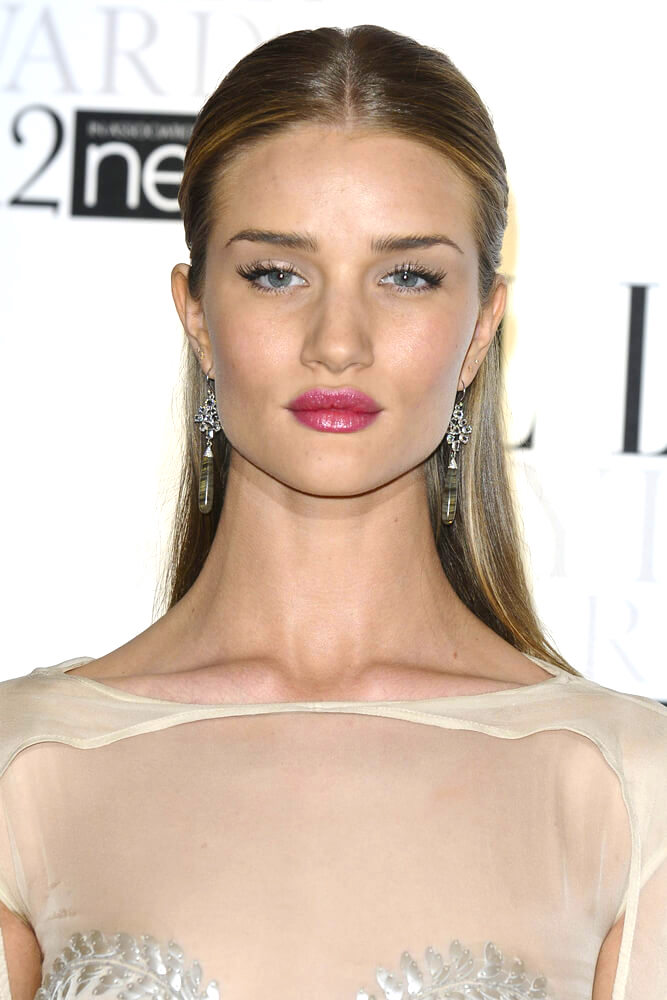 Sophisticated Half Updo
Half updos have undoubtedly become one of the most popular hairstyles in recent years.
And for good reason, too!
Not only are they a life-saver when you want to get those pesky strands away from your face, they can also be as casual or as done-up as you want them to be.
For example, tousling your hair and tying the top section at the crown will give you a youthful, '90s-style 'do.
On the other hand, you can go high glam if you tame your strands and tie them into a sensual half up, half down coif.
Start with clean hair. If you want to keep your locks straight from root to the tips, smooth out your strands with a flat iron.

Part it in the middle

, then separate the two front sections. Pull them to the back of your head using a brush to ensure a bump-free appearance.

Tie them with an inconspicuous band (you can use one that matches your hair color the best).

Spritz your coif with shine-boosting hairspray and your gorgeous half updo is all done!
And there you go, now you know all the ways how to perk up your straight strands and turn them into a gorgeous hairstyle. Time to grab the brush and hairspray!
---