Need some inspiration when it comes to creating curls with your blow dryer?
Here are six easy hairstyles and techniques to try:
Soft Waves with a Deep Side Part
Soft waves are a great way to add some subtle texture to your hair, and pairing them with a deep side part makes them look so much more dramatic.
Begin with damp hair, spraying a thickening spray onto your locks before brushing it through, to ensure that the product is evenly distributed. This will give your hair some extra volume at the top, which is perfect for accentuating your deep side part.
The next step is to create the deep side part.
Not sure which side of your head to place the part on?
Experiment with both sides, using the arch of your eyebrow as a guide, and then choose the side that gives your hair the most volume.
Then, take a four-inch section of hair from near your face, wrapping this around a round brush.
Hold your hair dryer at arm's length away from your hair and then give that section of your hair a blast of some heat. This method enables your hair to take on the shape of the round brush that you are using.
Once you have dried that section, gently remove the round brush, taking care to make sure that the curl stays in place. Wrap the curl around your fingers and then clip it up at the top of your head, as this will ensure that it retains its shape while you style the rest of your hair.
Keep repeating those steps until the whole of your head has been curled and pinned up.
Once your hair has cooled down from the heat, it is time to release your curls…
As you gently remove each pin, allow your waves to softly tumble down.
Need some extra volume?
Try turning your head upside down and lightly shaking your head to tousle up the waves a bit.
Finish the look with a spritz of a setting spray, just to make sure that the waves hold their shape for longer.
Gentle But Defined Waves
Want to create waves that are soft yet voluminous at the same time?
This is where velcro rollers come in.
Never tried these before?
They enable you to place curlers into your hair while it is still damp, rather than having to wait until your hair has dried, which is what you would have to do with heated rollers or a curling iron.
Want to know how to use them?
Begin with freshly shampooed hair, towel drying it to remove excess water before gently combing out any knots.
Then, follow these steps:
Divide your hair into one inch sections, securing each one with small clips. If you want larger curls, opt for two inch sections instead, but remember that you will need to use larger velcro rollers for this

Lift the first section of hair above your head, holding it taut, and spray this with some volumizing hairspray

Hold the roller against the tip of the first section, and roll it towards your scalp. If it starts to unravel once you have reached the top, use a bobby pin to hold the roller in place

Repeat these steps with the rest of your hair

Once all of the rollers are in your hair, give your hair a spray with a volumizing product

Now it is time to blow dry your hair, using a medium to high setting. Keep blow drying until your hair has fully dried

Once your hair is dry, unroll each curler from your hair

Tip your head upside down and run your fingers gently through your curls, before adding some volumizing spray to your roots 
Beachy Waves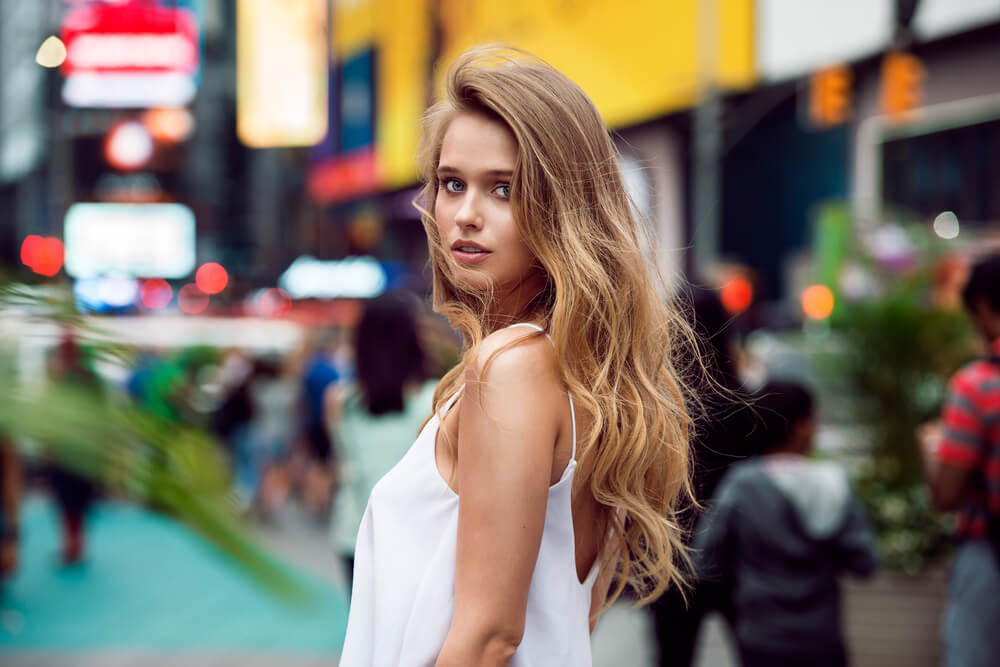 Beachy waves are always a popular hairstyle, even if you don't plan on spending the day at the beach. These gently tousled curls are so easy to put together, with multiple different techniques out there that you can try.
One of the easiest ways to create beachy waves is by using your blow dryer, so long as it has a diffuser attachment.
Never used your hair dryer's diffuser to create waves before?
This is a trick used by many celebrity hair stylists, such as Jen Atkin, who styles the hair of everyone from Jessica Alba to Chrissy Teigen to the Kardashians and Jenners. Although Atkin does use curling irons and plenty of other tools for special events, this technique is perfect for casual, daily wear when you want your hair to still look quite natural.
Once you have washed your hair, take a small section in your hands, holding it so that there is still about an inch of hair that is untouched at the end. Then, fold your hair upwards like an accordion, until you are about two inches away from your roots.
Hold that small folded up bundle of hair in your hands and aim the diffuser directly at it.
It is extremely important to ensure that you do not hold the diffuser at an angle against your hair.
Why?
Because airflow coming from an angle will end up creating frizz.
Release your hair and repeat these steps with the rest of your hair, finishing the look with a spritz of setting spray.
Big and Bouncy Curls
If you want your curls to be big and bouncy, there are a couple of different ways in which you can create this with your hair dryer.
The first method is to use Velcro rollers, which has been explained above. Of course, the larger the curls you want to create, the larger the rollers you will need to use.
Another method to create big and bouncy curls with your blow dryer is as follows:
Spray your hair with a thickening spray, making sure that your hair is quite damp with the product, before combing the spray through your hair to ensure even distribution

Lift your roots up and away from your head, blasting them with your blow dryer

Take smaller sections of your hair in your hands, with each section being about the same size as your round brush

Roll your brush up and down the shaft of your hair, drying it at the same time

Once each section has dried, roll it around your fingers, making sure that there is a large hole in the center of each role, as this ensures that your curls will have more definition to them

Pin each roll up on to your head, giving it a spray with some hairspray before continuing on with the rest of your hair

Leave your hair to cool, giving the pinned curls some time to set

Then, unpin each curl and use a boar bristle brush to brush your hair out. Although this may seem as though you will end up brushing the curls out, all you are doing it helping your hair to form a softer wave, combing all of the curls together

Give your hair a final spray with some hairspray to lock all of your bouncy curls in place
Wondering why you need to use a boar bristle brush in the second-last step?
A boar bristle brush actually has quite a few benefits, such as:
Massages the scalp, promoting circulation and hair growth

Naturally conditions the hair, adding shine and leaving it feeling soft

Cleans your hair by removing excess oil
Natural Curls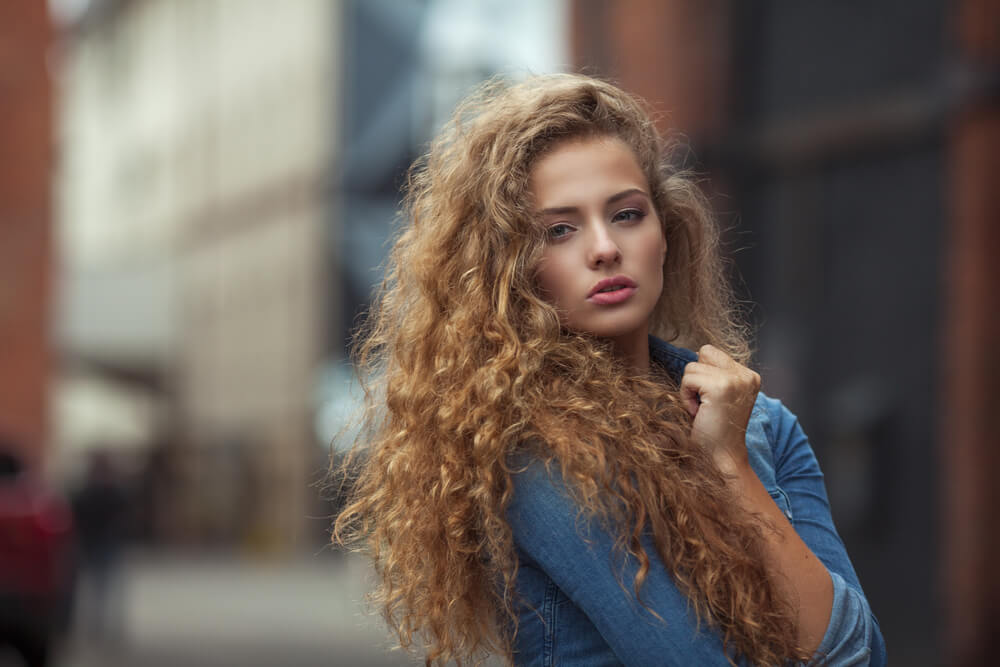 Is your hair already very curly?
If so, you will need to pay it some extra attention when blow drying, as you do not want to end up with a head full of frizz. 
Begin with wet hair, gently towel drying it. Make sure that you do not rub or scrub at your hair when drying it, instead using your towel to squeeze out any excess water.
Apply a small amount of curl cream to the roots of your hair, as this will help to give your natural curls some extra definition.
Use a hair dryer that has a diffuser attachment, as well as temperature controls, as a cooler setting is best when blow drying curly hair, which can be quite prone to heat damage, dryness and frizz. 
Blow dry your hair in small sections, resting each section of damp curls onto the diffuser until they are dry.
Don't have a diffuser attachment for your blow dryer, and don't have time to go out and get one?
There is one trick that you can try, and while it may seem extremely odd at first, it really does work…
Head into your kitchen and grab your strainer.
Place sections of your hair into the strainer, before blasting them with your hair dryer, which should be placed on the other side of the strainer.
Wondering how this is an alternative for a diffuser?
It basically allows the heat from your blow dryer to better circulate around your hair, which is exactly what a diffuser does. This trick was first thought up of by a popular beauty blogger, and has since become quite popular thanks to the incredible results that it can create. 
Starting with a Blow Dryer and Finishing with a Curling Iron
Depending on the texture of your hair, curling it with just a hair dryer can sometimes make it difficult to achieve the right amount of definition in your curls.
This is when you may need to begin with a hair dryer before using a curling iron to finish off the style.
Think it makes more sense to skip the blow dryer stage and just use a curling iron on dry hair?
Well, by starting the curls off with the blow dryer, you will have much less work to do with the curling iron. Rather than actually creating the curls with the iron, you will simply be defining the curls that you have already created with your blow dryer.
Begin by applying a root lifting product to damp hair, concentrating on your roots. If your hair is quite difficult to manage, a mousse or soft hold gel on the ends of your hair can also help at this stage.

Tip your head upside down and dry it from the roots to the ends.

Once your hair is between 70% to 90% dry, switch to the cool setting and continue drying your hair.

When your hair has become cool to the touch, flip it back so that your head is the right way up.

Use a metal boar bristle brush and wrap your hair around it, before pinning it up. Do this with just the crown of your hair, as the rest of your hair will be curled with your curling iron.

Apply a heat protectant product to your hair, as well as a setting lotion.

Once your hair has fully dried, section off your hair into one to two-inch sections and use a curling iron to create large curls.

Make sure that you are curling your hair away from your face, and pinning up each curl as you create it. You should also try to keep your hair flat against the barrel while curling it, rather than twisting your hair around, as this would give you a messier finish.

Leave your pinned curls to set for ten minutes before removing the pins.
Not sure what to use to pin your curls up?
Bobby pins are great, as are duckbill clips or pin curl clips.
Want your curls to stay put for a couple of days?
This is easy, so long as you apply a dry shampoo to your roots on the second day, as well as a light hairspray to the ends of your hair. You can do the same on day three too, although you will likely need to wash it after this.
Curls work so well for just about every occasion, and really give hair so much life and vitality. Whether you are seeking casual beachy waves or big and bouncy Hollywood curls, it is easy to create just about any type of curl you desire using your blow dryer. 
---