Got something special planned for Valentine's Day? 
Make sure that your hair is styled to seduce with one of these six flirty hairstyles! 
Old Hollywood Waves
There is something incredibly romantic about these glamorous curls, making them absolutely perfect for Valentine's Day. 
Think they look difficult to perfect? 
It does take a bit of patience with the curling iron, but the results are more than worth it. 
Begin by washing and conditioning your hair, and then apply a heat protectant product before blow drying it. 
Decide on where you want to create your part…
A deep side part is always quite sexy, and works extremely well with this style. 
Once you have parted your hair, section off a one inch section at the nape of your neck with a rat tail comb, and then clip the rest of your hair back. 
Wrap your hair around the iron, holding the wand vertically, releasing your hair once it has warmed up. Make sure that you are gentle when you unwrap your new curls, as they are still especially vulnerable to becoming messy until they have cooled. 
Gently wrap your curl back up into your head and clip this in place. 
Continue the process with the rest of your hair, making sure to stick to one inch sections each time. 
Once your curls have fully cooled, release your clips and let your curls drop. 
Then, use a dressing brush to brush through your hair. Don't worry about disrupting your curls, because you want them to fall together to form that glamorous Old Hollywood wave pattern.
Once you are done brushing, finish off with a spritz of hairspray and you're good to go! 
Sophisticated High Ponytail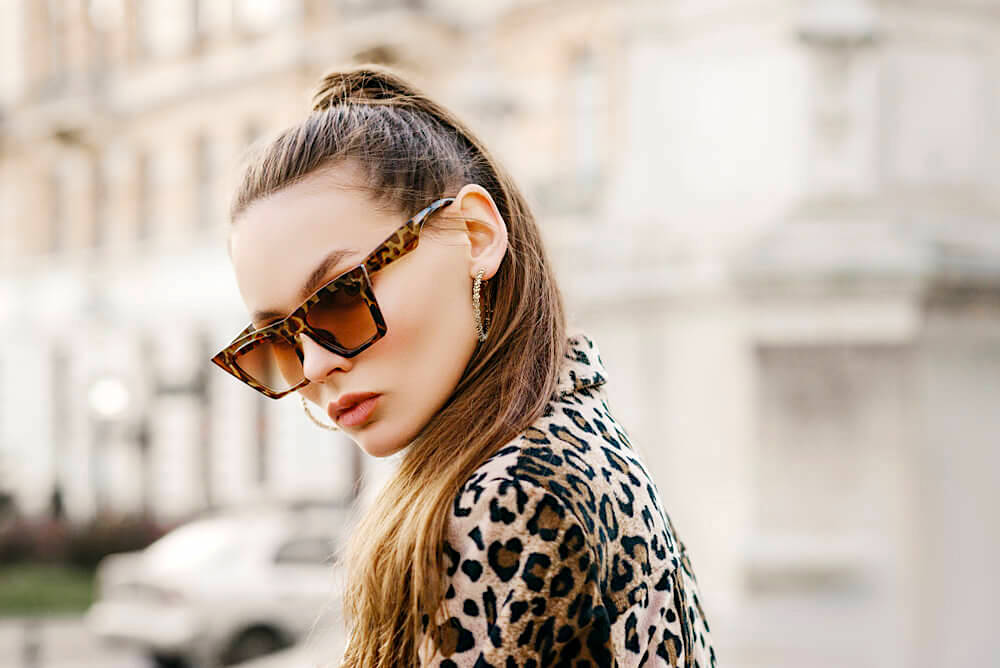 The high ponytail is nothing new, but, when paired with the right outfit, this hairstyle can really be so fun and flirty. 
The one problem that many people have when creating a high ponytail is…
Those pesky little lumps and bumps that appear in the hair! 
Well, if you follow these steps, which are steps that some of the top celebrity hairstylists follow too, you will hopefully not have to deal with that problem any longer…
It all begins when your hair is still wet…
After applying a heat protectant product, blow dry your hair in the direction you want your ponytail's base to be, as this will encourage your hairs to fall into place when it comes to tying them up. 
Then, you will need to gather the top section of your hair up, preferably using a boar bristle brush to smooth it over, and then tie it up once you have gotten rid of any lumps. 
Wondering why you need to create a half ponytail first? 
That step is key when it comes to ensuring that your high ponytail is flawlessly smooth. 
Next, gather up the bottom half of your hair and pull this up, adding it to your first ponytail. 
With one hand holding this all in place, wrap a bungee cord around your ponytail with your other hand. 
Why use a bungee cord? 
The way in which these hook into the hair will prevent your first ponytail from moving while you are tying in the second. 
Once you have secured your ponytail, take a small section of hair from underneath your ponytail and wrap it around the ponytail's base. This will ensure that the bungee cord is hidden from sight, making the style look even more romantic. Secure this extra bit of hair in place with either a bit of hair gel or a bobby pin.
Fishtail Side Braid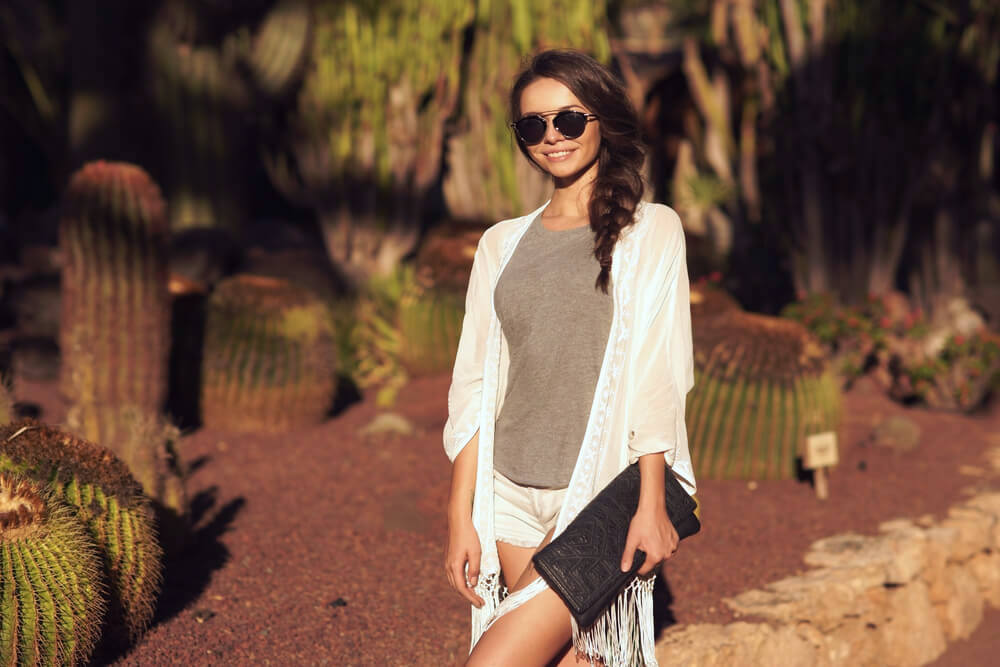 If you like the idea of a side braid but want to take things a little further than a standard three-strand braid…
Try opting for a fishtail-style braid instead! 
These have been extremely trendy lately, and their intricate details are incredibly romantic. 
Many people think that fishtail braids take ages to create, but they are actually much more simple than they look, especially once you get the hang of the technique. 
Want to give this style a try?
Begin by creating a part. Again, a side part tends to work best with side braids, but this is completely up to you. 
Thoroughly brush your hair, making sure that there are no tangles. This may seem like an obvious step for any hairstyle, but it is especially important for the fishtail braid, as an unexpected tangle cropping up in the middle of your braid can be a challenge to deal with. 
Then, gather your hair to one side and use a clear elastic band to secure this in place. 
Split this ponytail into two sections. Gently spritz each section with some hairspray, as this will help to give your strands some extra hold when creating your braid. 
Now, on to the actual braiding part…
Take a piece of hair from the outside of the left section, pass this over your split ponytail, and place it with the right section of your ponytail. 
Then, do the same but the other way round…
Meaning, take a section from the outside of the right section of your ponytail, pass this over the top and take it in at the left section. 
Keep repeating those steps until you are left with just a few inches of hair at the end. 
Tie this off with an elastic band, and then use your fingers to gently widen your braid to give it some extra volume.
Sleek and Straight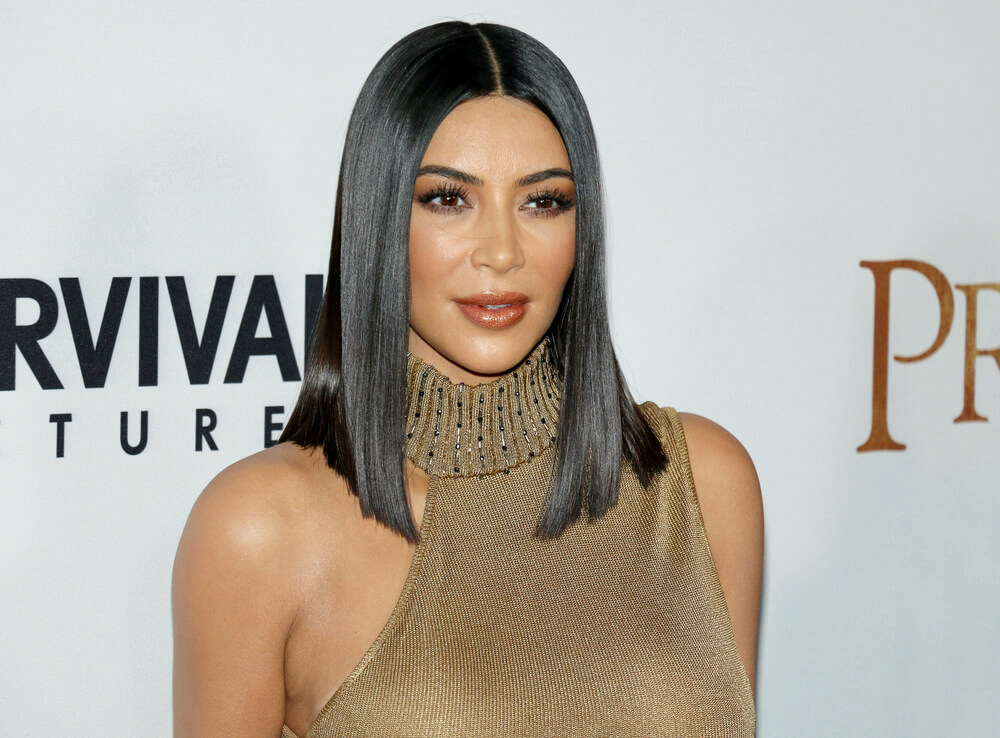 There is nothing sexier than that glossy shine that sleek and straight hair seems to emit, and while this may seem like quite a simple hairstyle, it is one that is perfect for Valentine's Day. This is even more so the case for those who do not usually straighten their hair, as this style will bring a new sophistication to your look. 
Now, one thing to keep in mind is…
The shine can only be faked to a certain extent. Your hair needs to be genuinely healthy for it to have that gorgeous gloss. 
One way bring some natural shine back into your hair is with the use of a hair mask. These are usually designed to be used on a weekly basis, so make sure that you use one either on the 13th night or on the morning of the 14th.
Then, wash and condition your hair, before applying a heat protectant product. 
Use a wide-toothed comb to de-tangle your hair, beginning at the ends before working your way upwards. This prevents too much tension from being placed on your hair while it is still wet and delicate, keeping breakages at bay. 
Allow your hair to air dry for a while. Once it is about 80% dry, you can then move on to using your blow dryer…
The best way to dry your hair before straightening it would be to follow these steps: 
Divide your hair into multiple sections

 

Pin the top layers up so that they are out of the way

 

Point your blow dryer downwards onto your hair, and then run a brush through each section as you blow dry it. Run your brush in the direction of root to tip, and never the other way round, as that would only result in frizz

 

Do this with all of the sections of your hair, even the ones you pinned up earlier

 

Once your hair is dry and smooth, flick on your blowdryer's cool setting and give your hair a blast of some colder hair. This will help to seal your straightness in place, while also adding a bit of extra shine

 
Your hair should now be quite smooth and straight, but a flat iron will help to give you that extra sleekness. 
However, make sure that your hair is thoroughly dry first, as you don't want to end up frying your strands by using a flat iron on damp hair. 
Divide your hair up into sections again, and then run a brush through each section before following with the flat iron. 
Once you are done, apply a small amount of argan oil to the ends of your hair, to give those drier parts a bit more gloss.
Simple Side Braid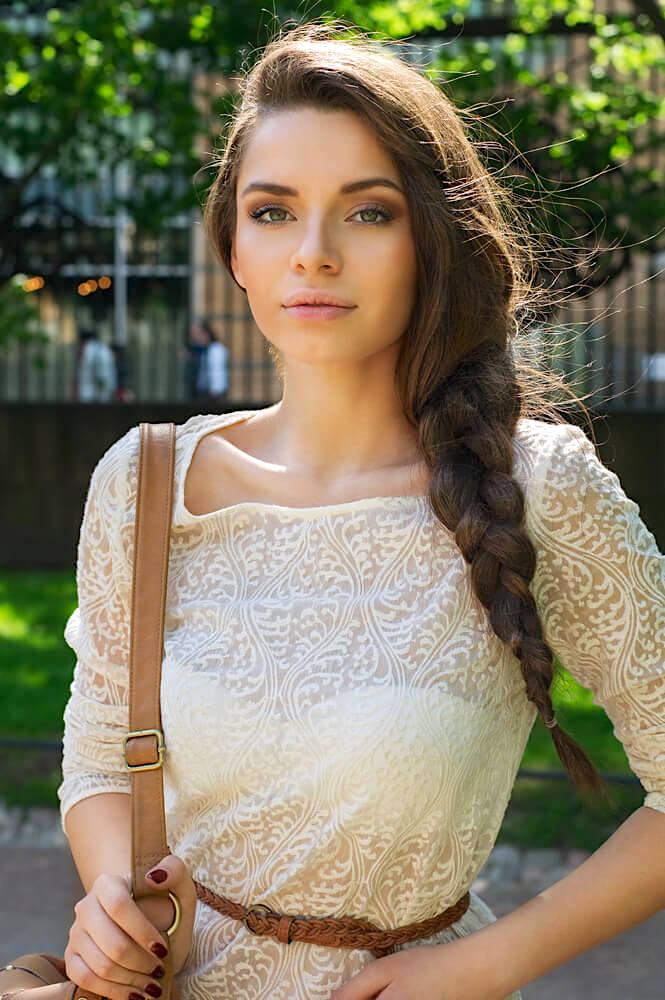 Side braids are so effortlessly feminine, making them the perfect addition to your Valentine's Day outfit.
For those of you looking for a simple style for the day, then a three-strand side braid is exactly what you need, as it is so easy to put together.
Plus, if you haven't washed your hair for a day or two, then this will make a braided hairstyle work even better!
All you need to do is follow these steps:
Part your hair on the side. Although a center part will work too, side parts tend to bring this look together more
Work a dry shampoo into your roots and then apply a texturizing spray to your hair. This will help to prevent stray strands from falling out of the braid
Gather all of your hair to one side, so that the middle is falling against the nape of your neck and behind your ear
Take any stray strands and twist each one across your neck before using a bobby pin to secure them out of the way
Divide your hair into three sections and begin braiding
When you have about four inches left at the end, tie your braid off with a small elastic band
Spend some time experimenting with the tightness of your braid. This is especially important for those who have thin or shorter hair, as tighter braids will look thicker and bigger than looser braids.
Seductive Side Bangs
Bangs can be extremely seductive, and side bangs especially so, due to the way in which they alluringly hide away a part of your eye.
Of course, this is a hairstyle that takes a little commitment…
Unless you already have quite long bangs, side bangs are not a style that you can just throw together for one night. Instead, it requires a cut, so make sure that you really are ready for bangs in the long run before opting for this style.
Once you have your bangs, you need to know how to style them in a way that lets them seductively drop down the side of your face.
The key to beautiful side bangs is making sure that you have done the prep work…
What does the prep work entail?
Begin by washing and conditioning your hair, before applying a heat protectant product.
Then, follow these steps:
Flip your bangs across to the opposite side of where you usually wear them
Hold your blow dryer so that it is pointing downwards onto your bangs
Brush into your bangs, bending the hairs at their root, and pull your bangs upwards as you dry them
When your bangs are about 90% dry, flip them over to the other side
Finish drying them, making sure that you continue to point your blow dryer downwards
Once your bangs are fully dry, split them in half horizontally, and clip the top part away
Use a flat iron at the roots of your bangs and move them upwards, before giving your bangs a little flick at the ends
Repeat this process with the section of your bangs that you have clipped away
Spray some hairspray onto your fingers and thumb, and then gently work this into your bangs. Only use a small amount, as too much product will have your bangs appearing heavy and limp
Valentine's Day calls for a romantic yet flirty hairstyle, and that is exactly what each of these six styles are. Whether you want to keep your hair tied back in a high ponytail, or go for loose, sophisticated curls, you definitely won't go wrong by opting for one of these styles on the 14th. 
---