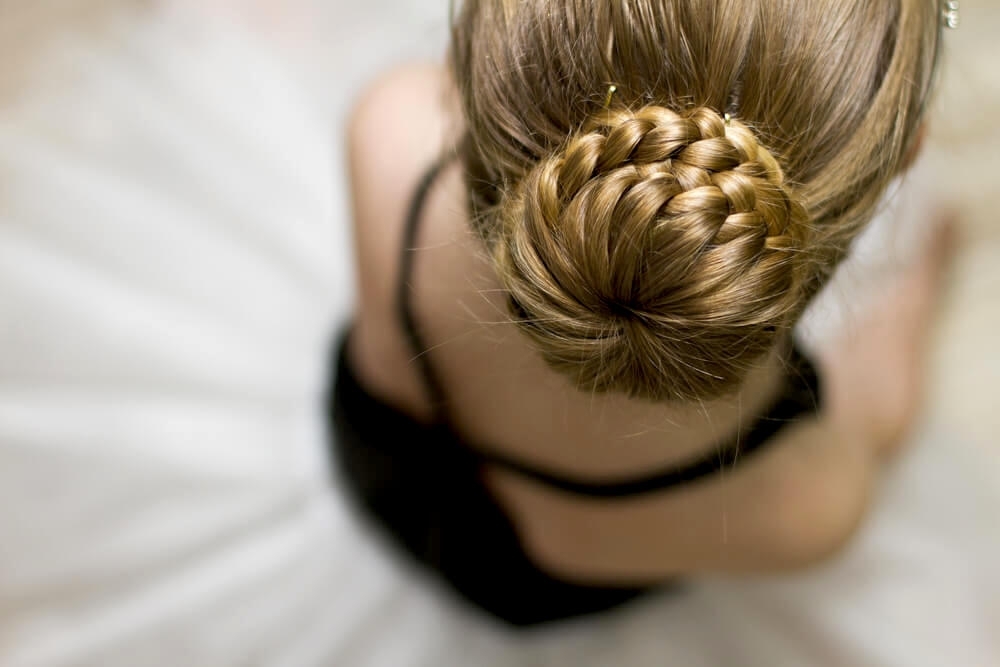 If you have a special occasion coming up and are not quite sure what to do with your hair… Here are a few creative updos to experiment with, each of which will perfectly complete your look.
Three Twisted Buns
This hairstyle is a fun and youthful one, and does not take long at all to put together.
Begin by dividing your hair into three equal parts, and then give each section a quick spray with some hairspray, as this will give them some extra hold later on. Give the hairspray a minute to set, before combing it out.
Start with the middle section of your hair, twisting this all the way down in a clockwise motion. Wrap this up on itself, so that you create a small bun, and then use some bobby pins to hold it in place. If your hair is quite thin, you may want to opt for mini bobby pins instead of standard sized ones, as these will be easier to hide.
Then, move on to the section of your hair on the right. Twist this in the same way that you twisted the middle section, but do it in a counter clockwise motion.
With the left section of your hair, a clockwise motion is once again needed.
Once you have pinned all three buns in place, give your hair a spray with some more hairspray, so that everything stays in place.
If you want this style to look slightly more casual, this is easy to achieve. When pinning each bun into place, allow a few strands to stick out, as this messier feel will help this style to look more relaxed.
The Knotted Bun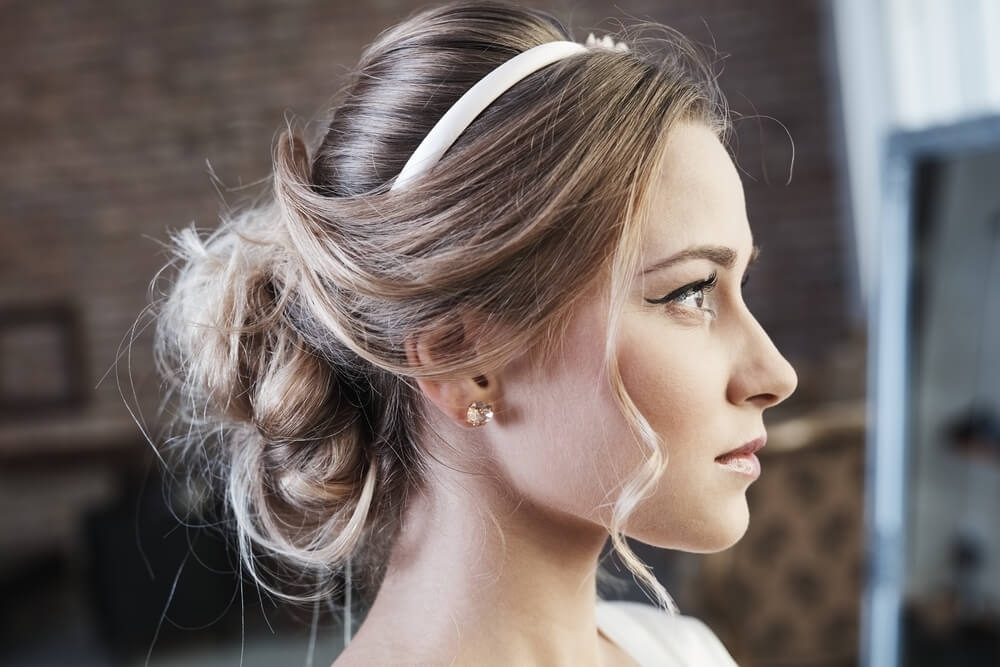 The knotted bun is a versatile hairstyle that looks especially fabulous when paired with special occasion hair accessories, whether this may be florals or sparkles. This style is actually a popular bridal look, because it is ultra glam, yet practical, at the same time.
It is also up to you how neat or messy you want this bun to be, so feel free to experiment with it a bit.
Ready to get started?
Here is what you need to do:
Gather all of your hair together and tie this into a ponytail

Twist your ponytail upwards, as though you are tying a knot

As you pull your ponytail through the knot, make sure that you do not pull the end all the way through

Secure the bun with bobby pins

Using your fingers, gently tug strands of hair out from the crown of your head, as well as from the bun itself, wrapping these around the bun to create some extra texture and volume

Finish the look with a spritz of hairspray
The Banana Chignon
The banana chignon is another classic style, but is one that many women are afraid to try.
Why?
Because it does take a bit of time and effort, but the end result is most definitely worth it.
You need to first begin by brushing your hair out with a flat brush, ensuring that you do not have even a single tangle. Then, use a comb to create a clear side parting.
Next, you need to back-comb your roots at the top of your head, as this will give you some extra volume, before fixing this in place with some hairspray.
Now it is time to form the actual chignon…
Use a brush to straighten your hair over the top and front, making sure that you do not disrupt the back-combing that you did in the previous step.
Gather your hair towards the nape of your neck, in the same way that you would if you were going to tie it into a low ponytail. Once you have done this, twist your hair in on itself, and then lift it upwards to the top of your hair
Flatten this down with the use of some chignon hair pins, placing them inside, as well as along, your chignon. Make sure that these remain hidden, as visible bobby pins will ruin the flawless finish of this style.
Use a fine-toothed comb to smooth down the sides of your hair, before giving your hair a good spray with some hairspray.
While this style is reminiscent of the 1950s, it can still be combined with contemporary clothing to create quite the sophisticated overall look.
Upside-Down Braided Bun
The upside down braided bun is a trendy style that has been seen in the media quite a bit lately.
Think it looks too complicated?
It is actually quite simple, so long as you know how to do a Dutch braid. This is extremely similar to a French braid, except that you are braiding under, rather than over.
Never done one before?
Practice the Dutch braid a few times before attempting this style, by following these steps:
Section your hair into two, so that you have a top section and a bottom section

Divide the top part into three

Begin your braid by crossing the right-hand strand of hair underneath the middle strand

Then, cross the left-hand strand underneath the middle strand

Continue doing this until all of your hair has been braided, securing the end with an elastic band
Now, back to the upside down braided bun…
Begin by flipping your hair upside down, and then split this into three sections. Begin creating a Dutch braid, but with your head still upside down. Once you reach the top of your head, secure the braid with an elastic band, and then pull the rest of your hair through the top into a ponytail, using another elastic band if necessary.
This style always looks better when hair has some texture, so give it a spray with some dry shampoo, as this will also give it more hold.
Wrap your hair into a bun, deciding for yourself whether you would prefer a neat bun or a messier bun. Secure your bun with some bobby pins, and then spray your new look with some hairspray.
Is your Dutch braid looking too thin?
Simply use your fingers to pull this apart slightly, before spraying with some extra hold hairspray.
Elegant Braided Updo
This elegant updo looks as though it is quite a time-consuming one, but it is actually made up of lots of smaller braids. For those of you who are good at braiding, this is a style that will take no time at all.
Begin by separating your hair into sections. The number of sections that you will need depends on how thick your hair is, as well as on how voluminous you want the final style to be. This is something that you will need to experiment with, but, usually, between six to eight sections is best.
Tie each of these sections off at the top with an elastic band, so that you have created between six to eight small ponytails.
Take one of these ponytails and braid it, tying it off at the end with another elastic band. Repeat this step with the rest of the ponytails.
After you have finished braiding them all, take the braid farthest to one side and twist this up into a bun, securing it in place with bobby pins.
Continue doing this with the rest of your braids, working from the outsides in, overlapping them so that you create height and volume.
Once you are done, be sure to give your hair a spray with some hairspray, so that you do not have too many flyaway strands.
Braided Ballerina Bun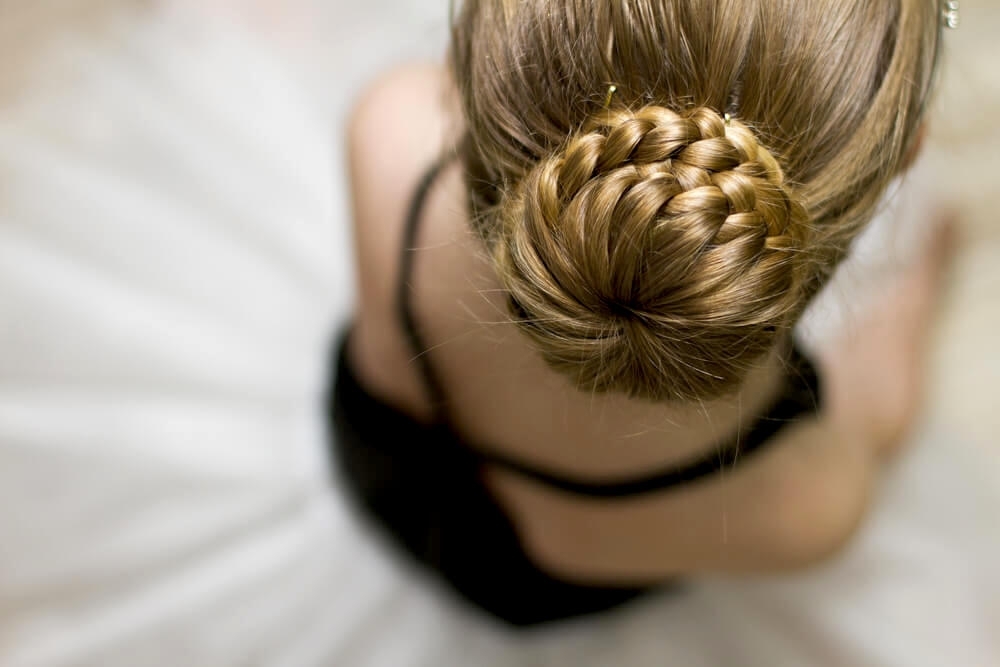 The ballerina bun is a classic updo, but adding a braid to it really takes it to the next level. Just like with a standard ballerina bun, the braided ballerina bun is strong and sturdy, making this the perfect hairstyle if you are going to be on the move quite a bit.
Think it looks complex?
It does take some practice but, once you have mastered each step, you will be able to create this style in just ten minutes.
Begin by separating your hair into the following sections:
Two smaller sections in the front, one on the left of your face and one on the right

One larger section at the back, which you tie into a ponytail
Take a small section of hair from your ponytail and begin a braid, taking small strands of hair from your front two sections as you go along, inserting these into the braid. Keep doing this and go around your head, in the shape of a bun. Once you have reached the end of your hair, secure this with an elastic band, and then hide this in your bun with some bobby pins.
The Donut Bun
The donut bun is graceful and classic, but also extremely practical, which is why it is a favorite amongst air stewardesses all over the world. It also works with just about any outfit, adding a touch of elegance and glamor to your look.
The easiest way to achieve this look is by purchasing a donut bun, which you will easily find at beauty and hair stores.
Begin by combing your hair into a neat ponytail, securing this with an elastic band.
Slide the donut bun into the ponytail and then cover this up with your hair, ensuring that you hold it tight as you go along. Make sure that you leave a section of hair remaining at the bottom. This part does take quite a bit of practice, and can definitely seem tricky at first.
Once you have created your bun, take the remaining section of hair and divide this into two. Then, take these sections up and around your bun, so that the two ends of them meet. Secure these with bobby pins and then give your hair a spray with some hairspray.
Love this style?
Do not be afraid to experiment with it a bit. Try pairing the bun with a French braid, or turning it into a messier bun, or even placing it to the side of your head. You could also braid the two sections of hair left at the end, before wrapping these around your bun, as this will give the style some extra texture.
Extra Tips
Are you ready to give some of these updos a try?
One thing to keep in mind is the cleanliness of your hair…
While you may think that freshly washed, squeaky clean hair is best for an updo style, especially for a special occasion, this is not at all true.
Hair that has not been washed for a day or two will contain more natural oils, and will not only be easier to actually twist into an updo, but will also have more hold and grip.
Don't like the idea of going out with unwashed hair?
Dry shampoo is the answer here, because this will make your hair feel so much cleaner, but without taking away the extra hold that it will have.
Bobby pins are also an important part of any updo, but many people actually use them the wrong way. Make sure that you are placing them in your hair so that the wavy side is facing downwards, as this will give them a much stronger grip. Criss-crossing them over each other will also give you some extra hold, and matching the color of your pins to the color of your hair will make them much easier to hide.
Whichever updo you choose to create for your special occasion, do not forget to have fun with your hair. While your final look may not exactly match the photo you were trying to replicate, there is nothing wrong with adding your own twist and personality to a style, so that you can really make it your own. Hair accessories can also take any hairstyle to the next level, so try adding a few in to whichever look you decide to create.
---