So, you've decided to change your hair color, but aren't sure what's right for you?
This seems to be the case with a lot of things today – there are too many options, making it hard for people to do a simple thing – choose.
It is evident if you simply go to the store – there are tens (dare we say hundreds?) of options just looking at you, daring you to choose.
If this is your first time changing your hair color on your own, there are some things that you should know before you choose it.
Ask the Right Questions
Like so many other things in life, choosing hair color can be a process. That is, it may not be as easy as you think.
However, that should not dissuade you from actually going through with it. In the end, remember, you are left with the perfect shade, something special just for you. Yes, it's not easy and there are various factors that go into the art of choosing. But, trust us, it's worth it.
The best thing you should do to get to a well-rounded decision is think this through.
There are several stages to this process. That also means that there are several questions you need to answer before you actually go ahead and change your hair color. 
1)
How drastic is it going to be?
Think about the degree of the change. Are you merely "switching it up," going a shade lighter or darker, or are you considering a more drastic change?
Another thing you should think about when you're deciding on a hair color is the professional environment you will find yourself in. Of course, in a perfect world, no one would blink twice to a person's hair color.
But, as we all know, this is not true when it comes to many schools and many places of business. So, if you happen to go to a school where this would go against the code or work in such a professional setting where a drastic color would be frowned upon, think it over. You can mellow your choice a few shades down to make it more acceptable. And, in the future, why not, make your own professional setting where this will be a normal occurrence.
2)
Will you also get a haircut while you're at it?
The best piece of advice we can give you if you're planning to dye your hair and cut it is – get your hair cut first!
If you're already planning to cut your hair, it's best to do that first, before you color your hair. This will save you money and time. Maybe try some short hairstyles that are becoming increasingly popular.
Frankly, it's economically wise. (And we are all about economic wisdom this year!)
3)
How often are you willing to dye it?
Again, this may be something you're not even thinking about. But, if you want to do it right, this is another question that needs to be answered.
If you decide to make a more drastic change to your hair color, that means you will have to dye it regularly every four weeks or so. This will cost more and it will take more of your time, whether you decide to dye your hair by yourself or have a professional do it.
Not too economically wise, is it?
However, if the color you chose is not too far from your natural color, then there's no need to do it as often. Just make sure not to leave it for too long, then you might as well stop dyeing it altogether.
This is a matter of deciding whether you're willing to invest money and time into maintaining your color. If you are, that's great! If not, choose a color that is closer to your natural shade.
4)
How will the color affect your hair and appearance?
First of all, when choosing a hair color, make sure to learn what darker shades and lighter shades do to it. Your hair will feel heavier and thicker if you decide to dye it in a darker shade. On the other hand, lighter shades usually emphasize layers and textures. When you choose lighter shades, also, your hair will feel less heavy.
Another thing you should take into account is that hair color has meaning. Even the color of flowers has meaning, so why not people's hair? So, at least try to learn about various meanings hair color can have before you take this leap.
It is really true that our hair can be a statement. So choose yours well.
How to Choose Your Hair Color Based on Skin Tone
Many hairstylists will tell you that skin tone is the most important factor in choosing. And they wouldn't be wrong.
Just like you need to match the colors of your entire outfit, you need to match the tones of your hair and skin. Choosing the right hair color will simply enhance your beauty. On the other hand, if you select a color that clashes with your skin tone, any skin imperfections you may have will be heightened.
And that is definitely not something you'd want.
1)
Learning about your skin tone
One of the things you have to do before dyeing your hair is see what the tone of your skin is.
Luckily, this is not particularly difficult.
First, make sure that you wash your face completely of makeup (and the grime of the city). Also, go to a room with good natural lighting to do the test (don't worry, it's not difficult; you certainly won't fail).
You should know that there are four basic tones to one's skin:
Fair/light

Medium

Olive

Dark
Of course, in each of these groups, there are further subdivisions. However, these four are all you need to choose a hair color later.
Then, you need to check for undertones.
Basically, there are three main undertones – warm, cool and neutral. And, there's an easy test to conduct to see which one are you.
Simply turn your wrist and take a look at the color of the veins there. If your veins seem green, then you have a warm undertone. If, on the other hand, they are blue or purple, you have a cool undertone.
Of course, there are those whose skin undertone is somewhere in between. If you really can't tell under natural light whether your veins are green or blue, you probably have a neutral skin tone.
Also, take a look into your eyes. With warm undertones, your eye color will most likely be green, hazel with gold flecks or a warm blue. With a cool undertone, your eye color will most likely be black, dark brown, hazel with blue or gray flecks or steely blue.
2)
Choosing the right color
This comes as no surprise, but if you have a fair skin tone, you can generally match it with lighter shades.
If you have a warm undertone, then you can choose some of the following hair colors: copper red, caramel, strawberry and golden blonde, rust and butterscotch. On the other hand, you should avoid black and colors with blue or violet tints. Those would clash incredibly.
If you have a cool undertone, basically, blonde, blonde, blonde is the way to go. However, make sure that you get a blonde dye with a bluish tint to it, to truly complement your tone. You can also try dark brown, blue-hued black and a rich red. You should generally try to avoid those colors that look good on fair skin tone with a warm undertone.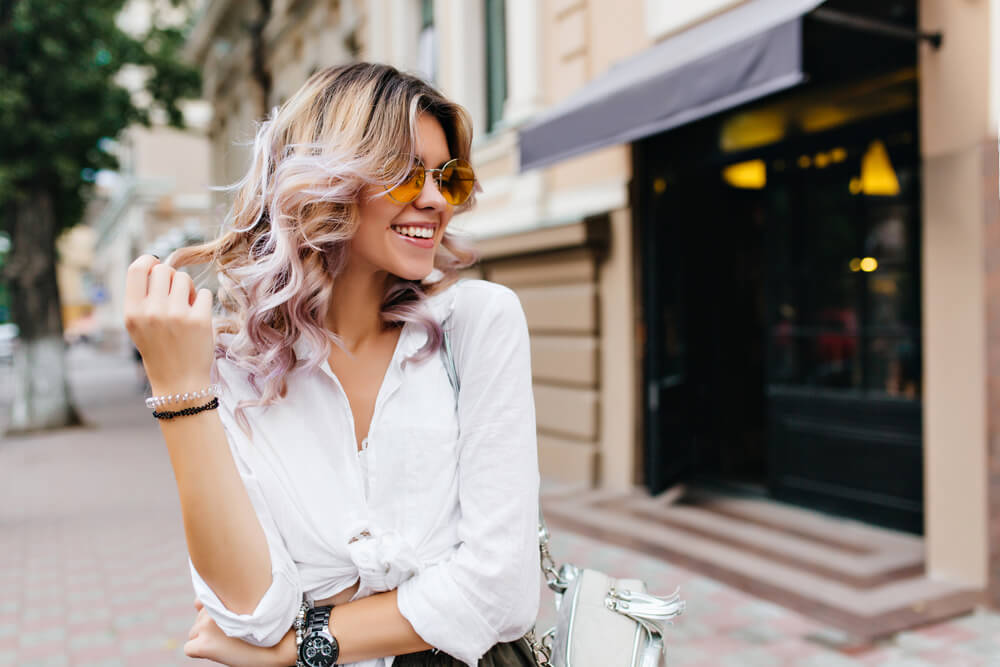 A medium skin tone is quite versatile, so to speak. Unlike with the fair skin tone, with medium, you're able to choose truly a lot of shades.
If you have a warm undertone, a mix between blonde and brown will work perfectly. Also, you can dye your hair copper, or any golden hue – golden caramel, golden red, etc. On the other hand, if you choose cool hues with your skin tone, you will simply appear older.
If you have a cool undertone, ashy blonde or sand blonde will suit you exceptionally well. You can also try beige tones and get a good result. Try auburn, cinnamon or a walnut brown, which can complement your skin tone rather well.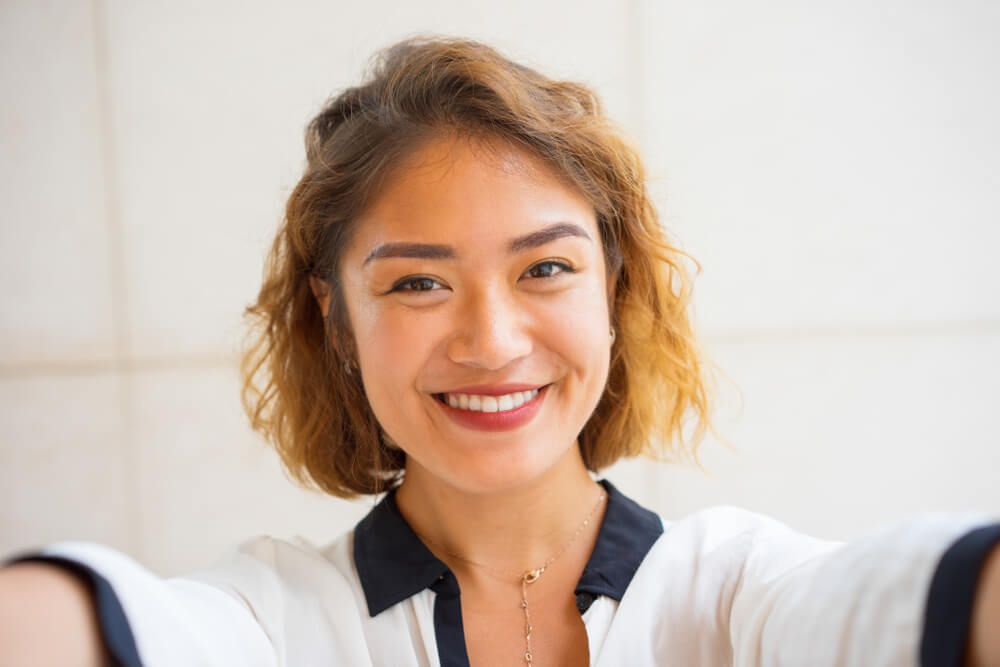 In general, all shades of brunette should work perfectly on a person with an olive skin tone.
If you have a warm undertone, go for caramel and deep golden shades, that is, for warm shades that will suit the tone of your skin and the color of your eyes. Honey-blonde is another great choice, as well as mocha. Rich warm colors like violet red and violet black would also most likely look quite good. If you're thinking about getting highlights, also get them in honey or gold, as you need a warm hue.
If you have a cool undertone, cinnamon and chestnut will work splendidly with your skin tone. If you dye your hair in a mocha color, your skin will look clearer and smoother. If you're getting highlights, go for caramel ones. However, always be mindful that, if you decide to dye your hair blonde, don't go too blonde, as this can wash your skin tone out.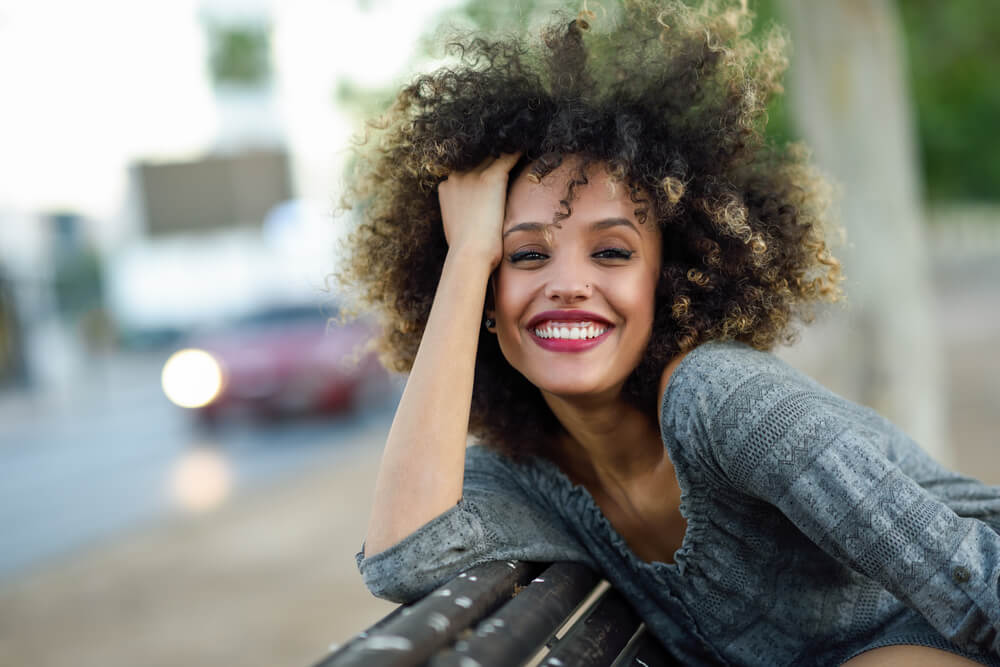 A great majority of people with a dark skin tone have warm undertones. However, make sure to take the test just to be on the safe side. After all, everyone's skin is a bit different.
If you have a warm undertone, you should highlight the richness and depth of it by dyeing your hair into maple, caramel, toffee or a warm black color. If you have your eye set on becoming a redhead (after all, we all know it's redheads who have more fun), dye your hair blue-red, which will enhance the warm undertone. But that is as far as you can go with a blue tint, since normally you should avoid it. Also, avoid colors with a green tint and ashy blonde or ashy brown colors.
If you have a cool undertone, a deep black will definitely suit you well. You can also go for espresso, blue-black or a deep violet. When it comes to highlights, cool hues will add to perfection.
So, how do you choose?
In the end, you can't know until you try a particular color. However, you can definitely narrow down your selection further with a few simple steps.
Try on wigs. Yes, wigs are not perfect and they can look somewhat artificial. However, there are so many beautiful ones and you're bound to find one that is the same shade as your future hair color. Try it on and see if it fits. If it doesn't look right, chances are that it won't look right either when you dye it.
Take a look at your old photos. Perhaps you tried a hair color that suited you perfectly when you were a teenager? Perhaps your hair color changed, but you want to turn back time, so to speak? Look to your old self for inspiration. Or, you can look to your family members, as well. Take a look at your mom's or your aunt's old photos. Maybe they had that glorious color you've been looking all along, hidden among family photos!
Try some of the hair color apps that are now available. They may not be perfect, but they may offer you a glimpse into what you could look like after you dye your hair.
At the end of the day, you get to choose what hair color you want. It's a trial and error process and you should do with your hair whatever makes you comfortable.
Don't be afraid to test out a few different shades before you get to your perfect one. It can definitely be a fun journey!
Also, don't forget to preserve your hair color for as long as possible with shampoos and conditioners for dyed hair. Make sure not to expose your hair to too much heat (yes, this does include hot water and the sun!). If you have to use curling irons or flat irons, apply a heat protective cream or a hair serum.
---