Summer is here, which means more experimenting with various chic hairstyles. Summer is the time for reinvention, and what better way to do it than through your hairstyle?
Headbands, bows and garlands are the kinds of accessories that never seem to go out of style, teetering on the edge of stylish and relaxed.
Whether you need a classy hairstyle for a formal function or an easy-going one for a day at the beach, these accessories can help you achieve both.
And you'll always, without a doubt, look good.
Here are some ways you can upgrade your hairstyle with headbands, bows and garlands.
Hairstyles with Headbands
Let's not beat around the bush – it's Blair Waldorf's fault that everyone's so obsessed with headbands now!
Well, maybe not, but she greatly contributed to it!
In all honesty, the history of headbands, like the history of almost any hair accessory, goes back a long, long way.
Headbands are truly versatile, as they can work with every texture and length of your hair. Also, they can be seamlessly added to your personal style, making you wonder why you haven't worn them before.
They can go with any formal or informal occasion and they have another added advantage – they are incredibly useful when it's windy to keep pesky hair out of your face.
And there are sooo many types – simple, embellished, thin, wide, those with bows, with large faux crystals – you name it!
So, if it's usefulness and good looks that you're looking for, you got it with a simple headband!
1)  A sleek or messy bun goes perfectly with a headband
A sleek bun with a headband will never go out of style. Especially when your headband is adorned with a few jewels (faux jewels, we know, you know, everyone knows, so no need to take a trip down to Tiffany's).
You can achieve a princess-like style even with a simple black headband, and it will still look gorgeous. However, what really takes it out of the park are the faux jewels, to be honest.
If you want a sleek bun, just make sure you take it up with a bristle brush and then put a small amount of gel on it to fix any messy parts. Simply put your headband after, and you're golden!
In the case of a sleek bun, the best headbands are those thin ones. But, if you opt for a messy bun, know that wide headbands are your best bet. Messy buns with headbands are perfect for a party or a sunny, vibrant day spent at the beach.
2)   Braids and headbands, a match made in heaven!
When it comes to braids, there are a few that go perfectly with a headband. But, truthfully, no matter the braid, your hairstyle will be on point!
You can try the side-braid with a boho inspired headband. To truly complete the look, place the headband on the outside of your hair and place it right below your hairline. To create a messier look, simply pull a few wisps of your hair on the side, letting them frame your face.
Another option is to include use a bandana as a headband. Then, you can incorporate it in the actual braid!
Here's how:
Place your bandana around your neck. Make sure that both sides are even.

Divide your hair into two even sections for best result.

Braid one section and include the bandana in it. Tie it with a small rubber band and repeat on the other side. Your bandana should be woven through both braids.

Pull them to the top of your head and tie the bandana so it holds the braids in place.
That's it, you have a perfect braided headband hairstyle for the summer. While this look works best with bangs, you can definitely make it even without them.
3)   No more bad hair day – the headband to the rescue!
You know when you have a really bad hair day and all you want to do is stay home? Or, in the best case scenario, you make a ponytail and hope "it doesn't matter, it works," all the while worrying about the nest on your head?
Well, a headband could quite literally save your life on a day like that.
Pull your hair into a low ponytail and put a bandana over it for a spectacular look. No matter how messy your hair is, a low ponytail with a simple bandana looks absolutely fabulous.
If you have the time, you can even create a bouffant and make it seem like you've just stepped out of a 1960s style magazine. Not bad when you're simply trying to fix your hair, right?
4)   Long hair longs for headbands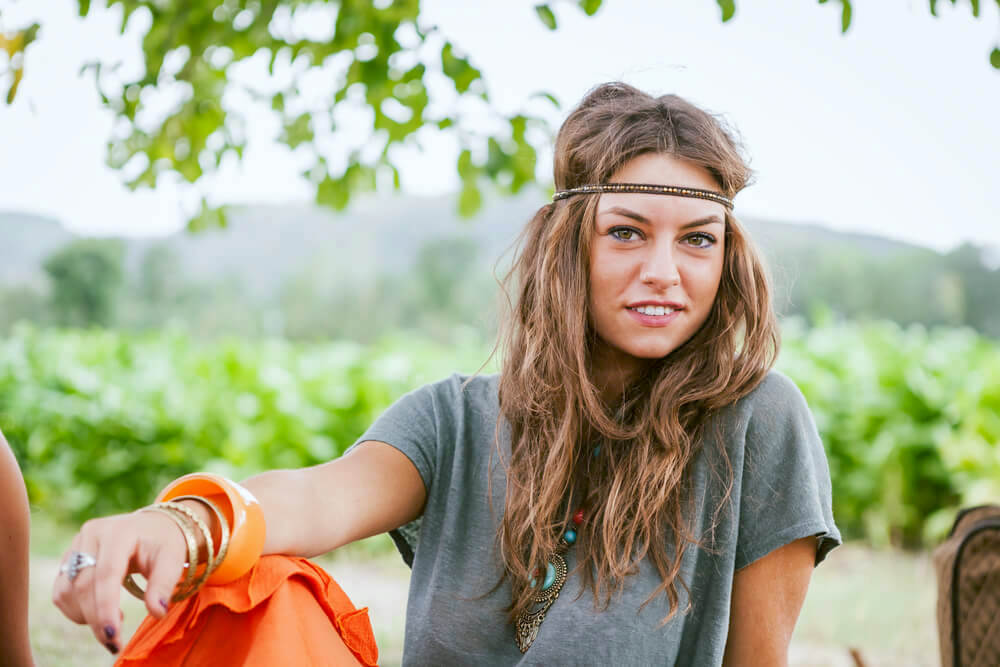 Whether you rock the waves or the curls, or your regular hairdo is simply sleek and straight, a headband will only improve it.
If you have wavy hair, one look at the queen of style, the fictional Blair Waldorf, will show you just what to do. For more defined waves and curls, simply use a curling iron and you're set.
Just make sure that the color of the headband doesn't clash with your outfit or your hair.
If you have straight hair, it would be good to sleek it back. Brush it back and rub a dab of gel between your palms. Then spread it through your hair from the roots of the hair to the ears. Spritz the rest of your hair with a salt spray and tousle it or sleek it back completely. This is a bold look but perfect for any occasion! Use thin headbands for this style, though.
Hairstyles with Bows
It seems like bows are that accessory that was quite popular in our childhood. But then, just like that, they simply vanished.
Well, to that we say – not today!
Bows are making a huge comeback and they're perfect for a plethora of occasions. They can make you look young and stylish at the same time.
The only rule is – no plastic bows. Those will really make it seem like you've just come home from kindergarten. Choose more sophisticated materials, like silk, satin, cotton, even velvet.
1)
Bow to the ponytail
As we've already mentioned, wearing a ponytail no longer has to mean that you're too tired to make a hairstyle.
In fact, it can mean quite the opposite. As a hairstyle, it is incredibly grateful for embellishments in the form of a bow.
You can wear a high ponytail with a bow, or a low ponytail, it will look superb either way. Simply tie your ponytail with it and flaunt it to the world.
It's easy to make but it also shows that you've thought about your look. So choose the bow that matches your outfit for a day and voila, you're done!
After all, if Kate Middleton can do it, why can't you?
2)
A top knot bun and bow
A top knot is a whole stylish hairstyle on its own, but it can definitely be upgraded with a bow. Whether you decide to put the bow behind the bun, on the side, or on the top, it's simply a great way to accessorize.
It's best to keep your bow smaller if you're trying to go for a more formal style. However, if you're simply going to meet with friends or going to a party, choose an oversized one as a contrast to your sleek and formal hairstyle.
After all, it's your hair, and that means you're the boss.
3)
Half up half down and it's the bow
Another awesome way to wear a bow is with one part of your hair pulled up while you let the other part fall down naturally. It works with straight hair, as well as wavy and curly hair.
Simply divide your hair into two sections and tie the top with a bow. Again, if you want to seem casual, you can use an oversized bow. Oversized bows can be quite feminine and chic, while also giving you the allure of youthfulness and vitality.
You can also do a top knot on the upper part of your hair and put a small bow on the top. It's perfect for any occasion.
4)
Bows and braids all the way
Basically, you can incorporate your bow with just about any kind of braid.
You can use bows as ties at the end. You can even use a ribbon throughout the braid and finish the look off with a bow of the same color.
Or, you can put a bow at the top of your braid and at the bottom.
Just think about the many ways you can wear braids… Well, there are that many ways to wear bows in your braids.
Braids are simply perfect for bows, as they can be used to simply tie them off or they can be incorporated in. There's no way to get bows wrong.
They're simply always right.
Hairstyles with Garlands
If you're going to San Francisco, be sure to wear some flowers in your hair…
Imagine this.
It's 1969, you're off to Woodstock, life is superb. You're off to celebrate peace and love and to take part in the greatest festival of all times.
You're putting a garland on your hair and driving off in your van with a peace sign on it.
Well, we'll probably no longer have days like this in the 21st century, but we can make the spirit of the times spring to life with style choices.
One of those choices includes garlands.
Garlands are not just for flower girls. They have made a big comeback and you can wear them when you want to give your outfit a stylish, bohemian feel.
1)
Garlands in long, wavy hair
There's nothing quite like putting a garland on messy, wavy hair. That's not to say that it would not look perfect on straight hair.
It's just that this is a far better option.
You can put it on the crown of your head and let your bands and a few wisps of hair fall naturally forward. Also, you can put it below your hairline for a true 1960s hippie feel.
In any case, while this hairstyle seems casual, it is anything but. It can definitely be worn to a formal function, as well as an informal one.
Garlands bring your hair a certain freshness and style that is simply effervescent.
2)
Side braid with a garland
When you're wearing a garland, it's best not to wear a sleek braid. Leave a few wisps of hair here and there. Letting a few strands frame your face will simply soften your look.
You can even do a French braid on the side. Yes, a French braid is more difficult to make, but it goes perfectly with a garland.
Or, make a 4-strand side braid, which is also great in combination with a garland. Flowers and braids make great friends!
3)
Messy bun with a garland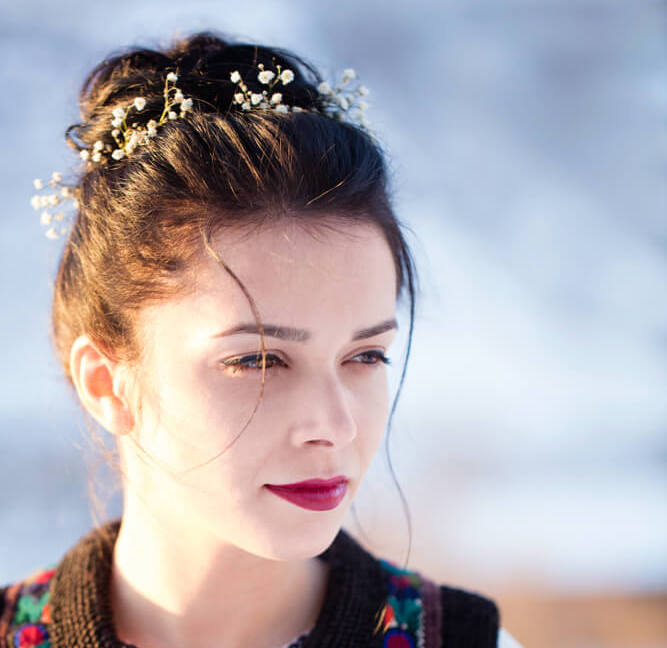 If you thought that you can't wear a garland with a bun, you'd simply be wrong. Garlands go well with a messy bun.
Yes, the same bun you wear every day.
Except, if you usually wear a high bun, try to lower it down for the garland, so it can have a place to stand on your head. While a sleek bun would also work okay with a garland, there's a special appeal to a few strands of hair framing your face, while a flower crown sits atop.
So, don't knock it until you try it. Garlands are simply to die for.
4)
A bob garland
People often think that there's not much you can do with a bob.
A bob's a bob, and that's it.
However, that is simply not true. As simple as it is, a bob is the perfect base for many accessories, including a garland.
It's an untapped source of embellishment.
As a hairstyle, the bob cut has been around for quite some time. And it comes in many different shapes and forms.
Whether your bob is sleek and straight, or it's wavy, or you're rocking the messy look, a garland will simply add elegance to it.
A bob's a bob, that's true. But a bob with a garland is simply divine.
Don't miss out on a chance for embellishment with these hairstyles. Each has its own perks and each is special in its own way.
---