It's 2023, Are You Still Doing This With Your Hair Straightener?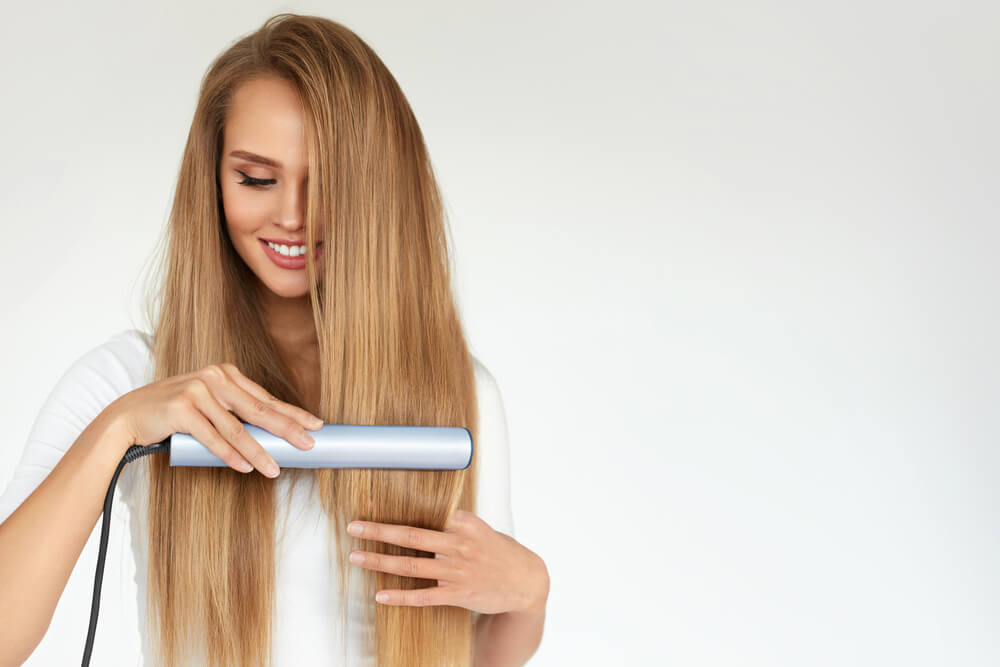 It's easy to fall into a rut when you use your hair straightener almost every day. Over the years, you may have even picked up a few bad hair straightening habits that now seem like a challenge to break.
Well, with the new year comes a new approach. Now that 2023 is here, it's time to reevaluate how you use your hair straightener, swapping out any bad habits for better, healthier practices. Read on as HerStyler explains how to do just that.
Failing to Use a Heat Protectant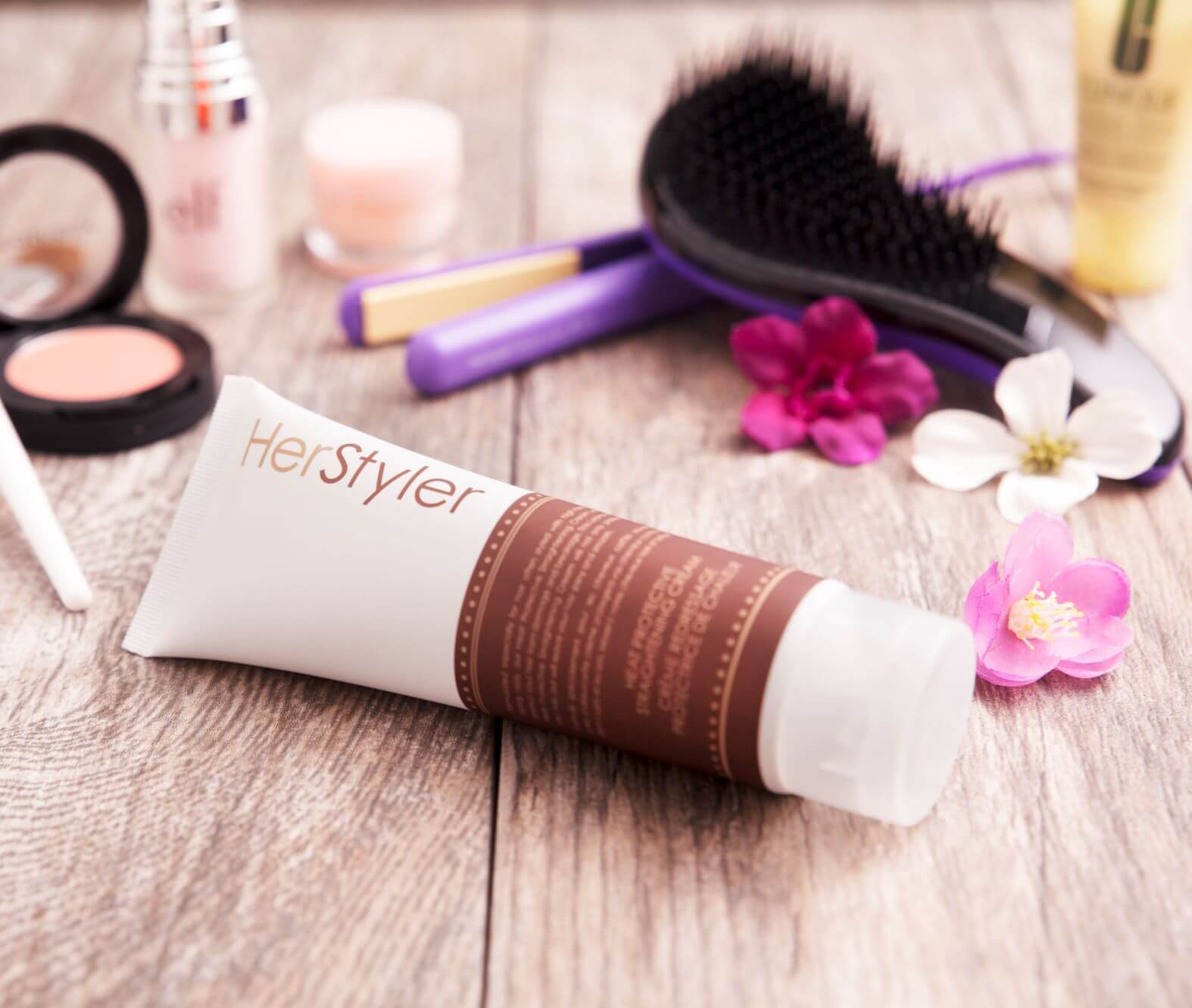 There's no denying that heat styling can damage your hair, unless you give your strands what they need to feel protected. This is why applying a heat protectant product is vital before using a hair straightener.
Heat protectants come in various forms, but they all serve the same purpose. They provide a physical barrier between your hair and your hair straightener plates. This means that each time you use your straightener, it burns off a bit of the heat protectant, rather than burning the outer layer of your hair.
While some people use heat protectant sprays, we at HerStyler prefer hair serums. Not only will a good hair serum leave your locks feeling shielded from the heat, but it'll also treat your mane to ingredients that give it a fuller, glossier, and healthier look.
You can experience this for yourself with the HerStyler Marula Hair Nourishing Serum. Infused with Marula oil, vitamin E, and aloe vera extract, this serum absorbs quickly into the hair, leaving it looking renewed.
On the other hand, if your hair is already feeling damaged and brittle, turn to our VitaOil Biotin Hair Serum. Containing biotin, argan oil, and vitamin E, this formula will give your hair a thicker and stronger feel.
Using a Plate Material That's Unsuitable for Your Hair Type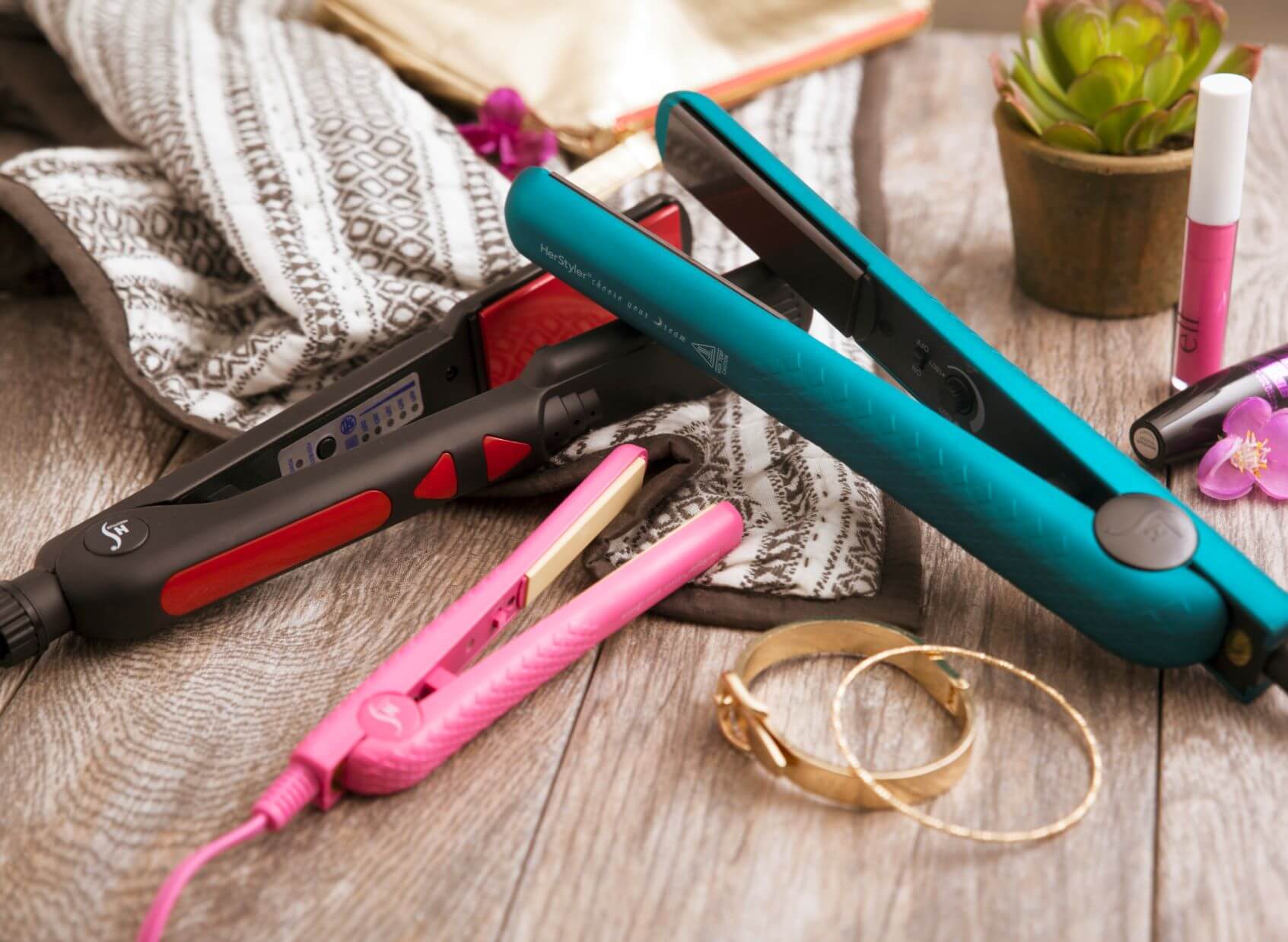 Hair straightener plates are made from various materials, with ceramic and titanium being among the most popular. If you haven't paid much attention to plate material in the past, then 2023 is the year to make a change.
So, what's the best material for hair straightener plates to be made from? This all depends on your hair type…
While both ceramic and titanium plates are effective at straightening the hair, they do so in different ways. Ceramic plates, such as those on our Fusion Purple hair straightener, heat the hair from the inside out. Although they take slightly longer to heat up, they're gentler on the hair, making them ideal for people who have thin, fine, brittle, or damaged locks.
Titanium plates, such as those in our Sleek Styler Black 1" Titanium Straightener, work in the opposite way. They reach temperature quickly and then heat your strands from the surface. This can spell bad news for fragile or highly processed hair. However, if your hair is thick or coarse, then this is exactly what you need. The extra intensity provided by titanium plates will allow you to straighten your hair much faster and more effectively.
Pick the right plates for your hair type and not only will you find it much easier to straighten your hair to a professional level, but your locks will also look so much healthier.
Straightening Unwashed Hair
There's no denying the allure that second-day hair can have. However, once you move on to day three, straightening your hair isn't advisable. 
Sure, your hair straightener will still get the job done, but ignoring the fact that your hair currently contains a built-up layer of dirt, oil, pollution, and styling products isn't doing your mane any favors.
Each time dirty hair is pressed between hair straightener plates, all of that grime ends up being pushed into your hair follicles, where they'll cause your hair to burn. Not to mention, dirty hair is also much more likely to appear frizzy after it has been straightened. Definitely not a good look!
Daily hair washing isn't advisable, but neither is daily straightening (more on that later!). Instead, now is the time to establish a new routine where you wash your hair regularly every 2-3 days and straighten it only when it's clean.
Ideally, you should also be using a shampoo and conditioner combo that moisturizes and hydrates your mane. One of our favorites is the HerStyler Hemp Shampoo. Formulated with hemp seed oil, vitamin E, jojoba seed oil, and sage oil, this shampoo contains all of the nutrients that your hair needs to feel deeply cleansed and reinvigorated.
Follow this up with the HerStyler Hemp Conditioner and your hair will look softer and smoother than ever when you come to straighten it.
Straightening Wet Hair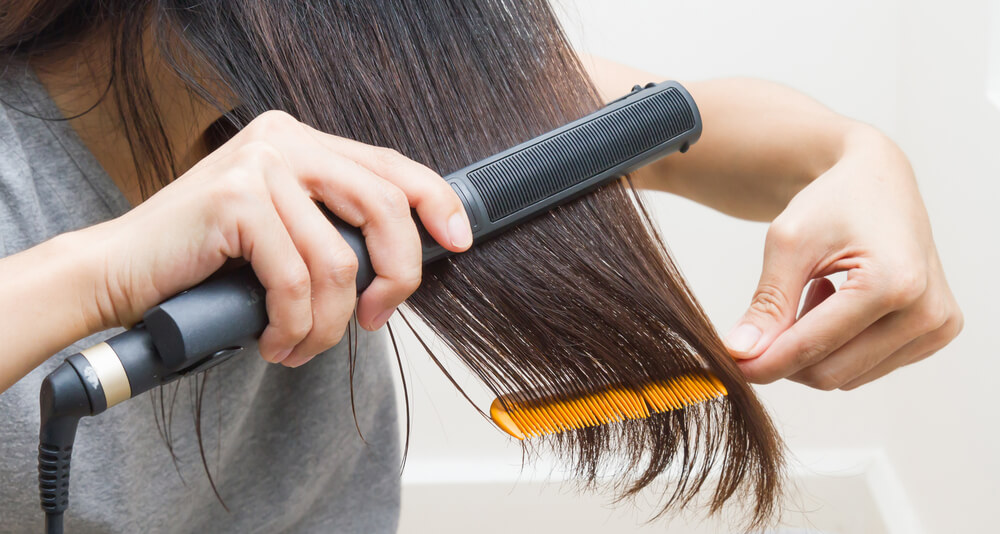 Although straightening clean, rather than dirty, hair is the way to go in 2023, you'll need to make sure that your hair is always 100% dry before you reach for your flat iron. Using a hair straightener on wet hair is one of the fastest ways to cause serious damage.
How? It all comes down to the way in which heated styling tools "boil" any moisture that's contained in the hair shaft. This cracks and splits hairs, leaving them looking rough rather than smooth and reflective.
Wet hair is also much springier in texture than dry hair. It stretches and snaps very easily. When a hair straightener adds tension to wet hair, this quickly causes breakages and split ends.
This makes it crucial to have a good hair dryer in your hair care arsenal. While leaving your hair to air dry can be very beneficial, there isn't always time for this, making a quality hair dryer key.
Our top choice would be the HerStyler LED Pro Luxe Dryer. With two speed settings and two heat settings, you'll be able to customize your blow dry to suit what your hair needs. As an added bonus, this hair dryer also boasts red LED technology and negative ion technology. Both of these cutting-edge features contribute to a healthier appearance, giving your mane the moisture that it needs to look glossy and frizz-free.
So, once you've washed your hair, give it a blast with the HerStyler hair dryer to ensure that all of your locks are completely dry before straightening.
Straightening Tangled Hair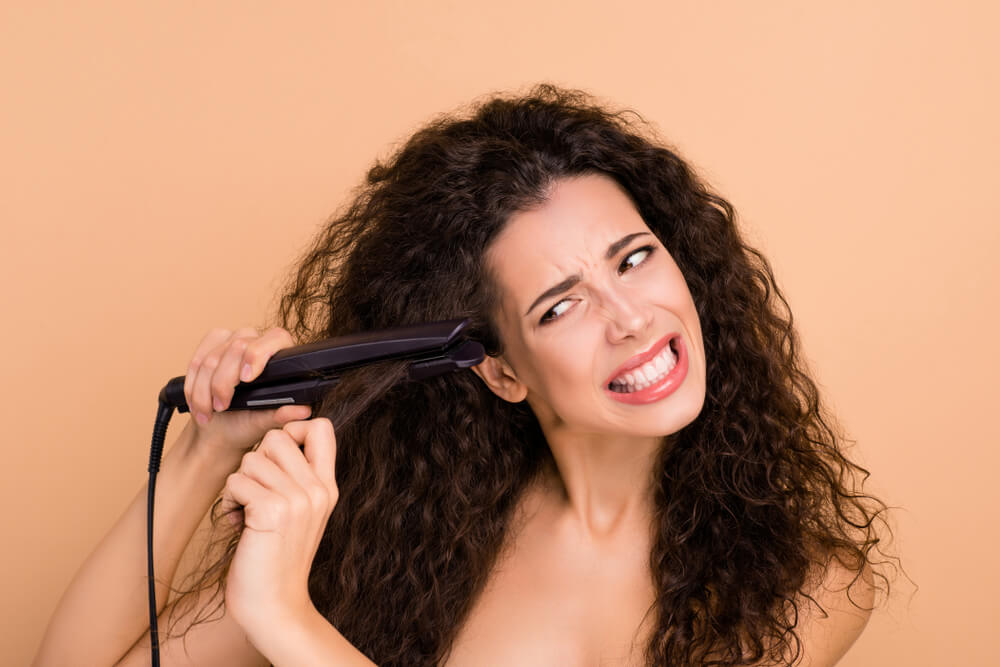 Using a hair straightener on tangled hair is pretty pointless. Not only will you be causing damage to your hair each time your flat iron passes over and tugs at a knot, but your finished look will appear kinked and bent, rather than smooth and sleek.
Here at HerStyler, we have a few options available to make de-tangling easier than ever. The first is our Easy Comb. This product has been designed to be used alongside a hair straightener. Use one hand to run the comb through a section of your hair, before immediately following up with your hair straightener in the other hand. Not only will each section feel smooth and tangle-free as you straighten it, but the comb will also help to prevent the appearance of static and frizz.
If your hair is too thick, coarse, or curly for a comb, then a de-tangling brush is what you need. The HerStyler De-Tangle Brush Deep Purple features flexible bristles that enable you to gently release any knots without pulling at your hair. It's a heat-friendly brush that sits neatly in the palm of the hand, making it ideal for use with a hair straightener.
If you'd prefer a more traditional brush with a handle, check out the HerStyler Pro Detangler Brush. It's a padded brush with extended bristles. Not only will they effortlessly de-tangle your hair, but they'll also leave your locks looking smoother.
Automatically Using the Hottest Temperature Possible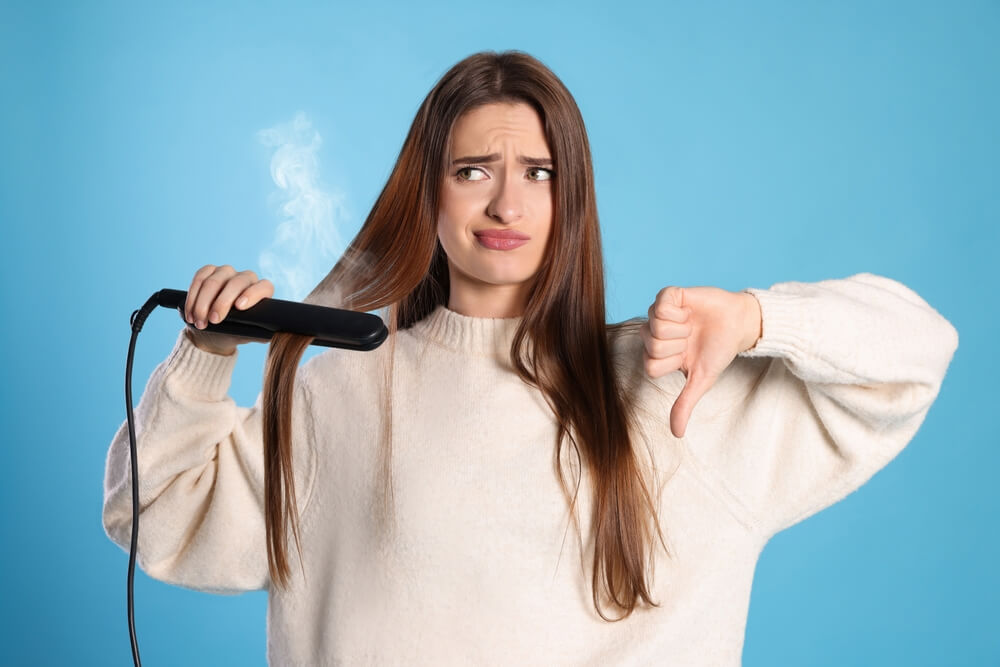 While the hair straighteners of your youth may have only offered a single temperature, things are different these days. Now, most high-quality flat irons will come with an adjustable temperature setting. Unfortunately, most people still automatically crank this up to the highest temperature before straightening, without thinking about how all of this extra heat is going to affect their hair.
The truth is, not all hair types benefit from maximum heat. Those with thin or fine hair will only end up burning their strands if they use a temperature that's too high. However, people with thick, coarse hair need the extra intensity to properly manipulate their locks.
So, how do you determine the perfect hair straightener temperature for your mane?
It all comes down to trial and error. Those with fine hair should start with the lowest temperature possible, turning this up only slightly if their hair isn't responding. Try to always keep the temperature under 300-350 degrees. Anything more than this will likely only cause you damage.
If you have thick or coarse hair, then you'll need to start off a bit higher. Set your hair straightener to 350 degrees and try to straighten a couple of sections. If required, you can then turn the dial up to 400-450 degrees.
If you don't have a hair straightener with a temperature control setting, take a look at HerStyler's Colorful Seasons straighteners. While this eye-catching collection is certainly stylish, these flat irons are also extremely functional. You can adjust the temperature to perfectly suit your locks, with the highest heat setting available being 460 degrees. With ceramic plates, infrared technology, and negative ion technology, this flat iron will ensure that all of your looks for 2023 have a salon-quality appeal.
Using Your Hair Straightener Every Day
We've already mentioned how straightening your hair every single day can end up causing damage. Even if you follow all of our tips and tricks when it comes to prepping and caring for your mane, daily heat styling is still not ideal. Instead, you should be giving your locks at least one rest day per week. 
Re-straightening straightened hair is also a big no-no. If you find that your straightened locks don't tend to last until the next day, then this just means that you need to give them a little extra TLC.
Try applying HerStyler's Argan Oil Hair Serum to your hair once it has been straightened. This formula not only gives the hair a smoother and shinier finish, but it will also help to maintain your hairstyle by forming a barrier between your strands and the environment around them.
Every Day Can Be a Good Hair Day With HerStyler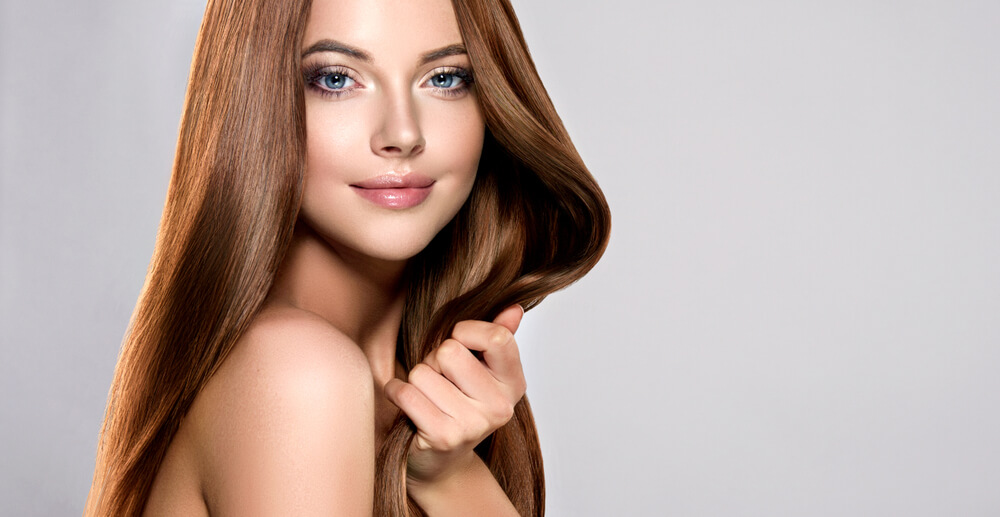 If it has been a while since you've updated your hair straightening routine, then chances are that your habits are due a change. Fortunately, this doesn't take much – just a few tweaks here and there should be enough to ensure that you're straightening your hair in the safest way possible. Follow our tips and your straightened hair will start to look thicker, healthier, and glossier than ever.
Click here to explore more of HerStyler's bestselling hair care and styling products.
---