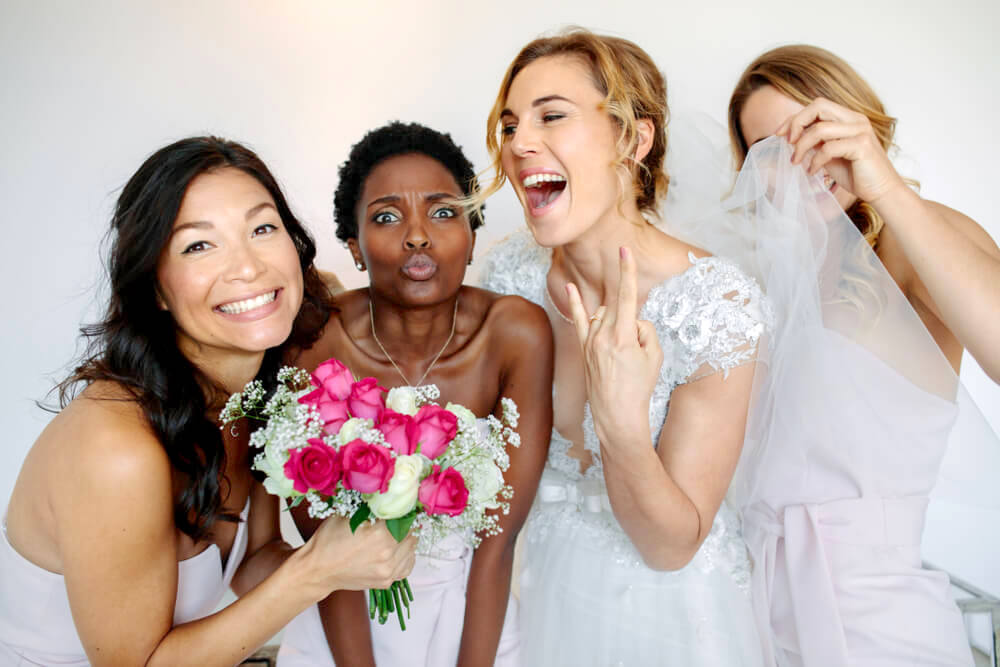 Being a bridesmaid is such a special honor, and this is something that your hairstyle should reflect. From simple but elegant braids to complex updos, here are some of our favorite bridesmaid hairstyles for longer hair.
The French Twist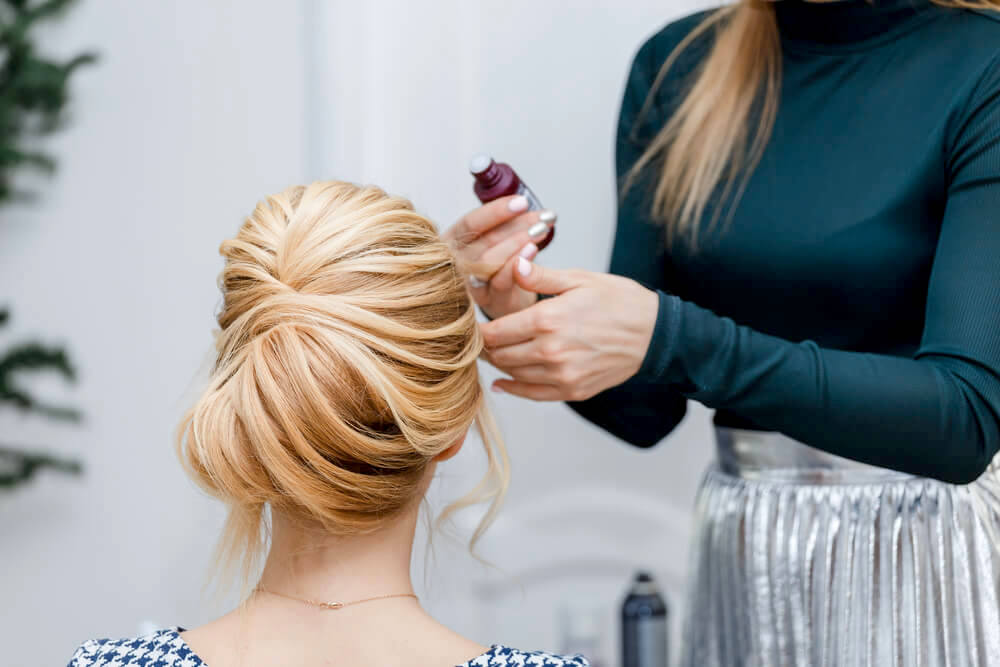 The French Twist is such a classic hairstyle, and its elegance makes it ideal for a wedding.
There are quite a few different variations with this look, with everything from the height of the twist to the volume of the twist being adjustable.
Want to give this style a try?
Begin by parting your hair on one side, and then pulling the rest of your hair over to this same side. Secure your hair here by using bobby pins, placing them into your hair so that they cross over each other, forming a line towards the back/side of your hair.
Now, gather your hair together and roll the end of it over your hand, almost as though you were folding it in half.
Remove your hand and continue rolling your hair up from the outside.
Soon, you will end up with a crescent shape, and this is what you then tuck any stray hairs into.
Don't worry if it looks quite messy to begin with, because it is easy enough to tuck flyaway strands into the twist at this stage.
Once you are done, you will need to use bobby pins to secure your new style, placing them into the twist at the point where the bun you have created meets your head. 
Give your hair a spritz with some strong hold hairspray, and you're ready to go! 
Straight and Simple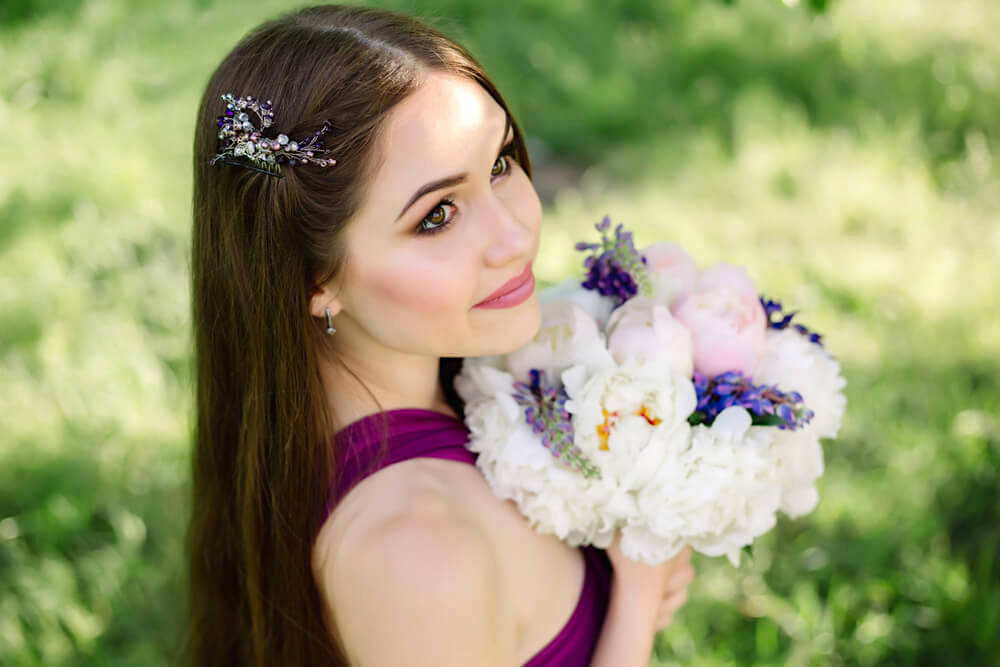 There are so many complicated bridesmaid hairstyles out there, but what if you are after something more simple?
There is nothing wrong with a sleek, straight look for a wedding, and this can still be amped up a bit with the addition of flowers and other accessories. 
Of course, sleekness is key here, so you need to ensure that your hair has been straightened well.
How?
Firstly, by using some quality straighteners. Here are a few tips to help you to choose the right one:
Temperature settings –

ideally, you want to be able to set the temperature of your flat iron yourself, so that you can have full control over the amount of heat you are subjecting your hair to

Check the recovery time –

many models take up to 90 seconds to recover the temperature that you initially set, meaning that the heat does not end up evenly distributed between the plates. Look for a model that offers a steady and constant flow of heat

Different plate materials –

the plates of a hair straightener can be made out of different materials, and they each have their pros and cons. Ceramic is quite gentle and soft, but this means that it will not be as effective on thick or curly hair. Gold or titanium plates are great for curls, and you will often find models that combine different materials to give you the best of both worlds

Straightener size – while larger plates can sometimes be handy for certain styles, they do not allow you to reach the roots of your hair properly. Try to find something around one and a half inches in size 
Before straightening your hair, make sure that you apply a heat protectant product.
Wondering if these actually make a difference?
The answer is yes, without a doubt. They coat each strand of hair, protecting them from the heat while helping your hair to resist humidity, meaning that the amount of frizz you will experience will be drastically reduced.
Then, when actually straightening your hair, make sure you take it one small section at a time. This will save you from running the same sections of hair through the straighteners multiple times, especially if you are using quality straighteners, protecting your hair from heat damage.
Waves with a Subtle Braid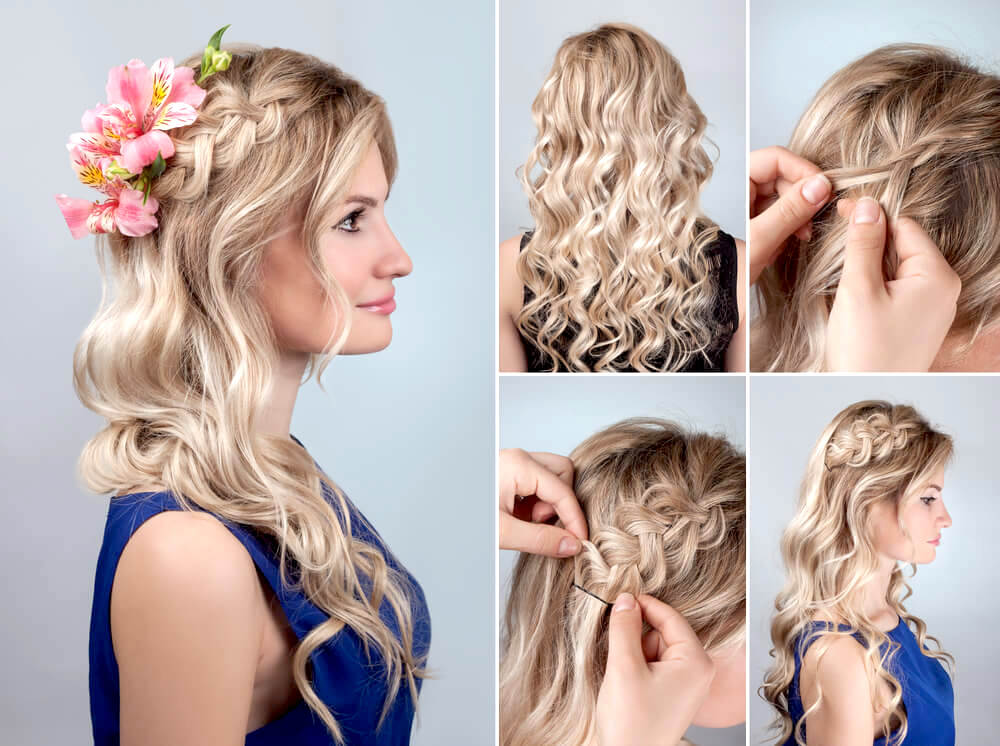 This is such a soft and feminine look, lending itself well to the romantic atmosphere of a wedding. It is also a style that can be accessorized so easily, since its simplicity allows it to carry accessories without looking overwhelmed.
As you can see, this is actually quite an easy style to put together…
Begin by using a curling wand to give your hair some gentle waves.
Then, take a section from the side of your hair and create a French braid, stopping when you reach about halfway down your head.
Use a bobby pin to secure the end of your braid, and then tuck it underneath the rest of your hair, so that the bobby pin is hidden.
Finish with a spritz of hairspray before adding in any accessories you want to use.
A Twisted Tuck and Roll Chignon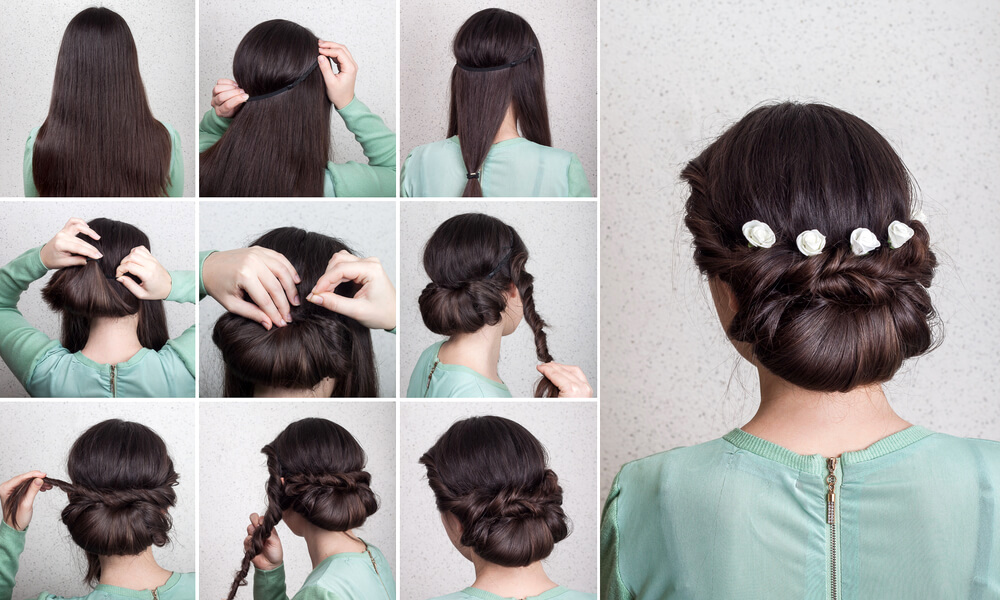 This chignon has an old-fashioned charm about it, but the twists at either side give it more of a modern touch.
Want to give this style a try?
Here are the steps to follow:
Begin by separating off a small section of hair from the sides of your face, before pulling the rest of it into a low ponytail, securing it with a transparent elastic band about halfway down the ponytail

Separate the hair at the base of the ponytail, so that you create a small pocket

Then, roll and tuck your ponytail, placing it into the pocket you created just now. Make sure that you tuck every hair in, as you do not want any flyaways poking out. Pin this in place with bobby pins

Now turn your attention to the loose hair at the sides of your face. Take one section and twist it around, before bringing it towards the back of your head and placing it across the top of your chignon, bringing it around to the opposite ear and pinning it in place

Repeat the process with the other side, so that your two twists now cross over each other around the back of your head

Finish the style with some hairspray, and then add in any accessories. These will tend to look best placed at the top of your chignon, in line with the twists that you have created
Thin Braids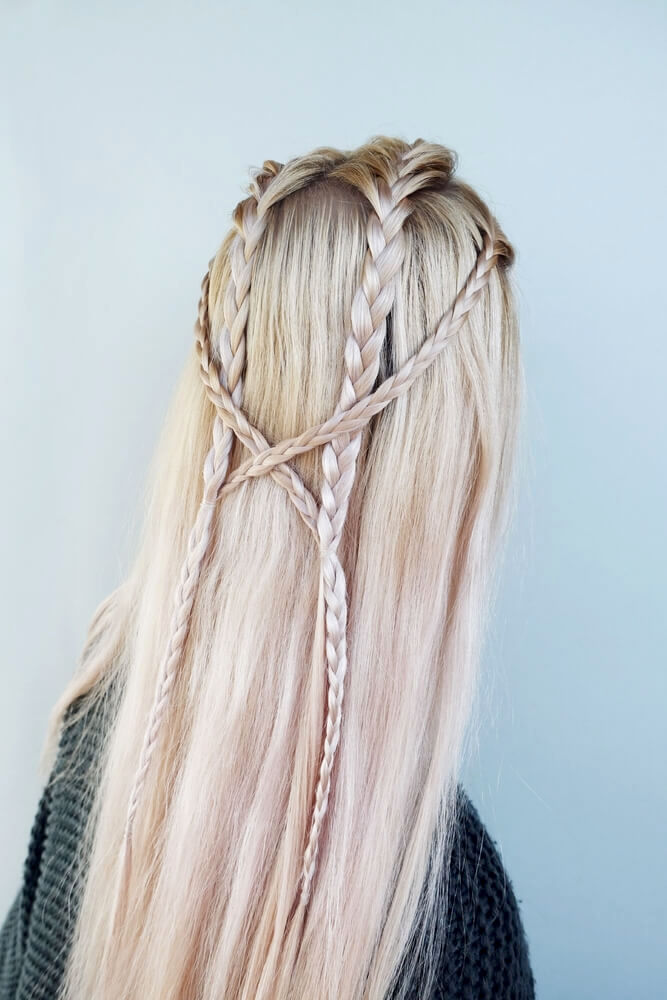 This is a simple hairstyle, but its minimalism also makes it so powerful. This is also a style that gives you plenty of room for experimentation, meaning that you can play around with the placement, as well as the number, of different braids you create.
One of the most classic ways to create this look is by putting together two braids that come from the front of your head and run down the back.
Then, create two braids at either side of your head, bringing these round so that they meet in the middle. You can then tuck them underneath the first two braids that you created with bobby pins.
While this look does stand out more when hair has been straightened, it works well too with curly hair.
A Braided Bun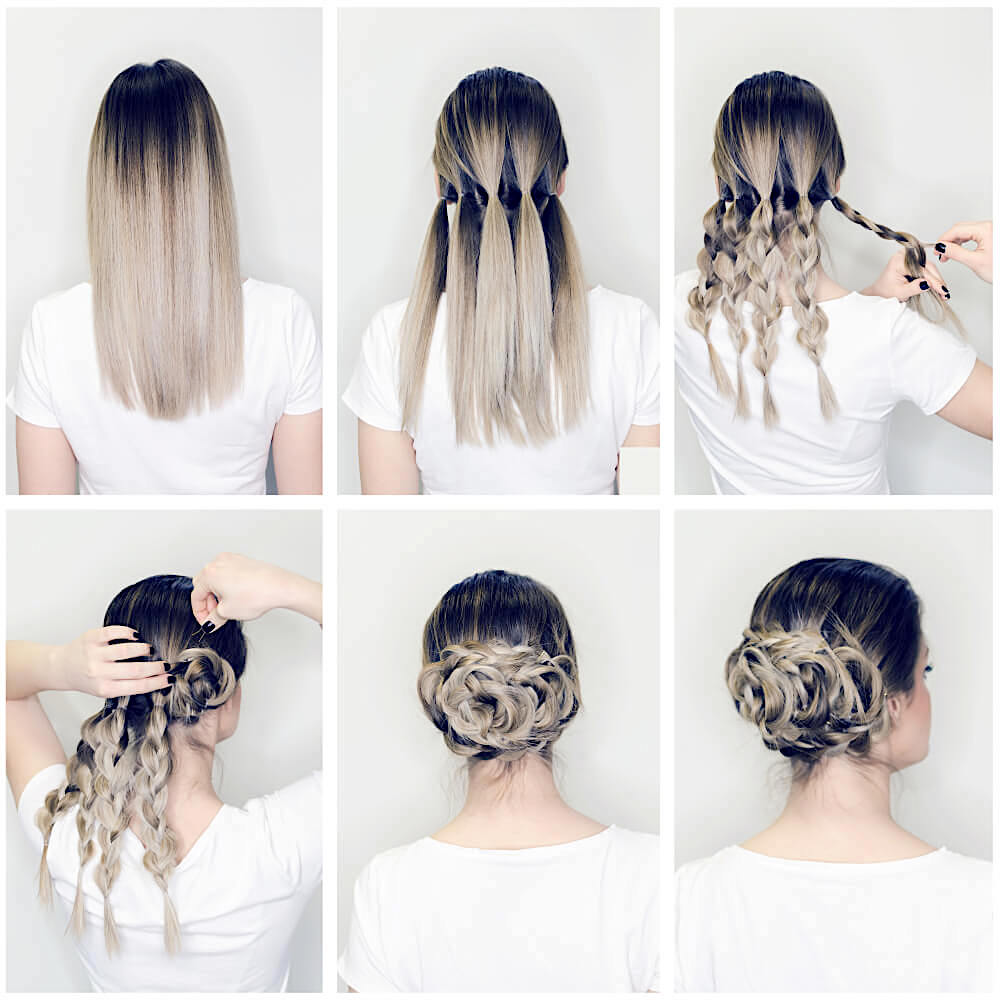 If you are looking for a bridesmaid style that will keep the hair out of the face, but is still relatively easy to put together, then a braided bun is ideal.
This is a style that can be created with both curly and straight hair, although straightening your hair first does make this style look a bit sleeker.
Begin by separating your hair into small sections, tying these off with a transparent elastic band.
Wondering how many sections you need?
This all depends on how thick your hair is…
Ideally, you should aim for between six to eight sections.
Once you have tied these off, it is time to braid each section. Form your braids quite tightly, securing the ends with more elastic bands.
Now that your braids have been created, it is time to begin twisting.
Take the first braid from the side and twist this around onto itself, so that it forms a bun. Then, use bobby pins to secure this bun in place.
Repeat this process with the remaining sections of your hair, so that you end up creating multiple buns.
However, when pinning these up, you will need to overlap different buns, so that the final outcome is of one, large braided bun, rather than several small ones.
Although this style is an easy one, you will likely need to play around a bit with the placement of your mini buns in order to obtain the best end result.
Twisted Waves
This is another popular bridesmaid hairstyle that does not take that much time to create.
Begin by sectioning off the top part of your hair, in the same way you would if you were creating a half up, half down style.
Pin this away and then use a curling tong to give the rest of your hair some soft, gentle waves.
Once you have done this, release the top section and split this into two, so that you have half falling on each side of your face.
Take the hair from one side and pull it up behind your ear, twisting it around on itself and then pinning it to hold your twist together.
Repeat that step with the other side, and then bring both sides together so that they meet at the center of the back of your head.
Tie them together and then use bobby pins to secure any flyaway strands.
Finish with a pretty accessory, placed in a way so that it hides your elastic hair tie. Bows are great for this, as are flowers or bejewelled clips, but try to choose something that works with the theme of the overall wedding.
A Fishtail Braid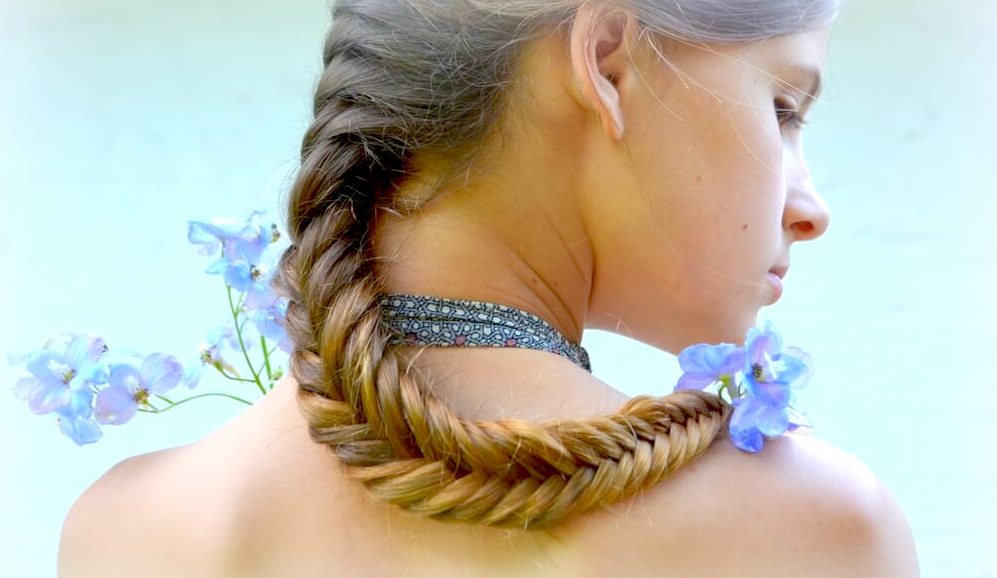 Braided hairstyles always work so well for bridesmaids, because not only are they so feminine, but they are extremely practical too, and will keep the hair away from the face throughout the course of the day.
There are so many different braid styles out there, but a classic fishtail braid is always one of the most popular when it comes to weddings. 
Want to give this style a try?
Just follow these steps:
Pull your hair into a ponytail. You do not need to secure it at the end, unless this is your first time trying a fishtail braid, in which case securing it will make it easier for you to put this style together. If you would like the braid to fall down the center of your back, then place the ponytail here, whereas if you would like a side fishtail braid, then you will need to create a side ponytail

Divide your ponytail in half, so that you have two smaller ponytails

Take the left ponytail and section off about half an inch of hair from the outside of it

Pull this across the top of your left ponytail, and move it over to the right ponytail, making sure that you do not twist it

Take a half inch section from the right ponytail, and repeat the process, pulling this across over to the left ponytail

Continue repeating these steps with the rest of your hair and then secure the ends of your braid with an elastic band
Did you use an elastic band in the first step of this style?
If so, now is the time to remove it, either by taking it off carefully or cutting it out. This will help your braid to flow better, preventing any unsightly creases.
Finish off with some hairspray, and add in some accessories if you please to give this style even more of a delicate touch.
Weddings are always an exciting occasion, and choosing a special hairstyle for the bridesmaids is always a fun way to add an extra touch of class to the day. Whether you opt for a tight, braided updo, or a flowing, relaxed style, these hairstyles are all perfect for that special big day.
---