When it comes to finding fashion and beauty inspiration, street style trends are always a great place to look. From a casual low ponytail to a boho-inspired scarf-wrapped style, these are 10 of the top street style hair trends for 2018.
* Featured image editorial credit: Creative Lab / Shutterstock.com
The Casual Low Ponytail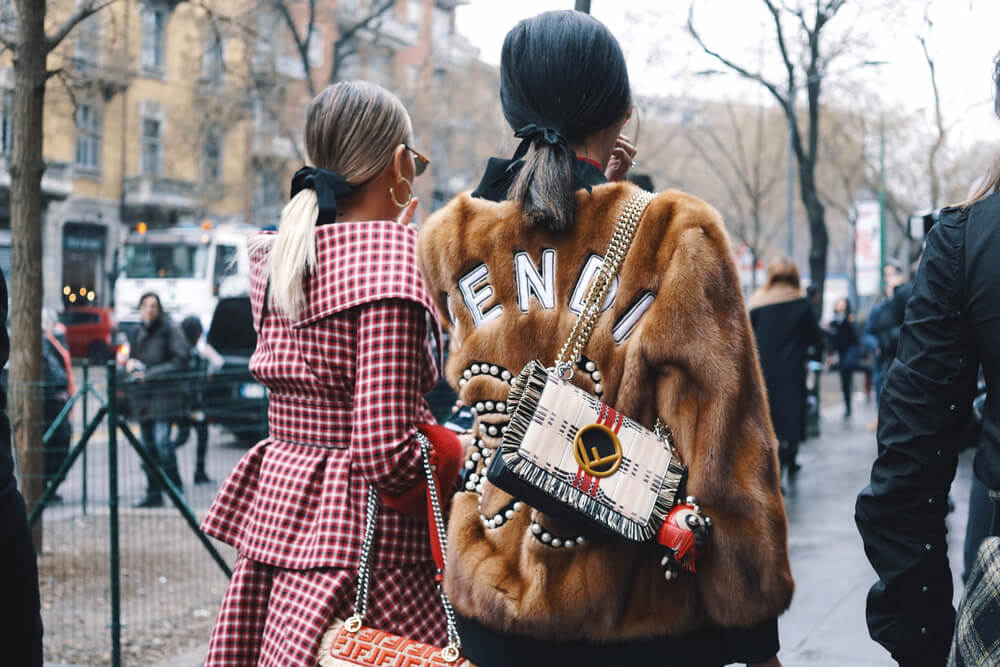 The humble low ponytail is looking as though it is set to be one of the most popular street style hair trends for 2018.
Surprised?
Many will find it unexpected that such a simple style has become so on trend, but there are actually quite a few benefits to tying your hair up in a low pony.
Not only is this style so easy to put together, but it is also practical, keeping your hair out of your face. To top it all off, its casual vibe means that it can instantly make just about any bold outfit look a little more low-key, which is ideal for those who want to experiment with their clothing without looking too over-the-top.
This is a style that also complements just about every face shape. For those of you who have a rounder face shape, you will find that a low ponytail can have quite the slimming effect, whereas those with longer face shapes can pull layers out from their ponytail by the front of their face, giving the illusion of more width. 
Of course, you likely will want to jazz your ponytail up a little bit…
This is where the accessories that you use to tie your ponytail can have a big impact.
Instead of opting for a standard elastic band, try using a ribbon and tying this into a feminine bow at the top of your ponytail.
Wrapped Up in a Scarf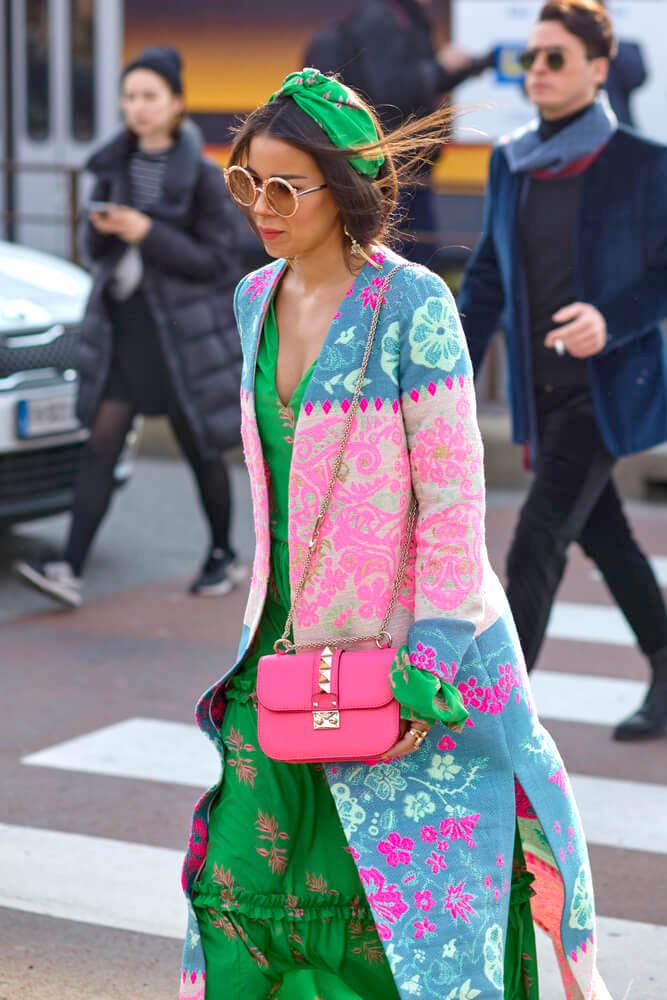 The majority of street style hair trends for 2018 are quite relaxed and low-key, just like this style right here.
A boho-inspired head scarf wrap is perfect for the spring and summer months, as it keeps your hair out of your face while adding so much color and vibrancy to an outfit. 
Just like when it comes to tying a scarf around your neck, there are multiple ways in which you can use a scarf in your hair, and street style stars have been experimenting with all of these.
Here are a few ideas to try:
Braided into your hair and then tied into a knot at the top of your head

Using a scarf as a wide headband

Tying it around an updo

Turban style, for when you need to keep your ears warm 
Don't be afraid to go for bold colors and prints when it comes to the scarves you choose, as this is the perfect opportunity to add some extra color to your outfit.
The Natural Look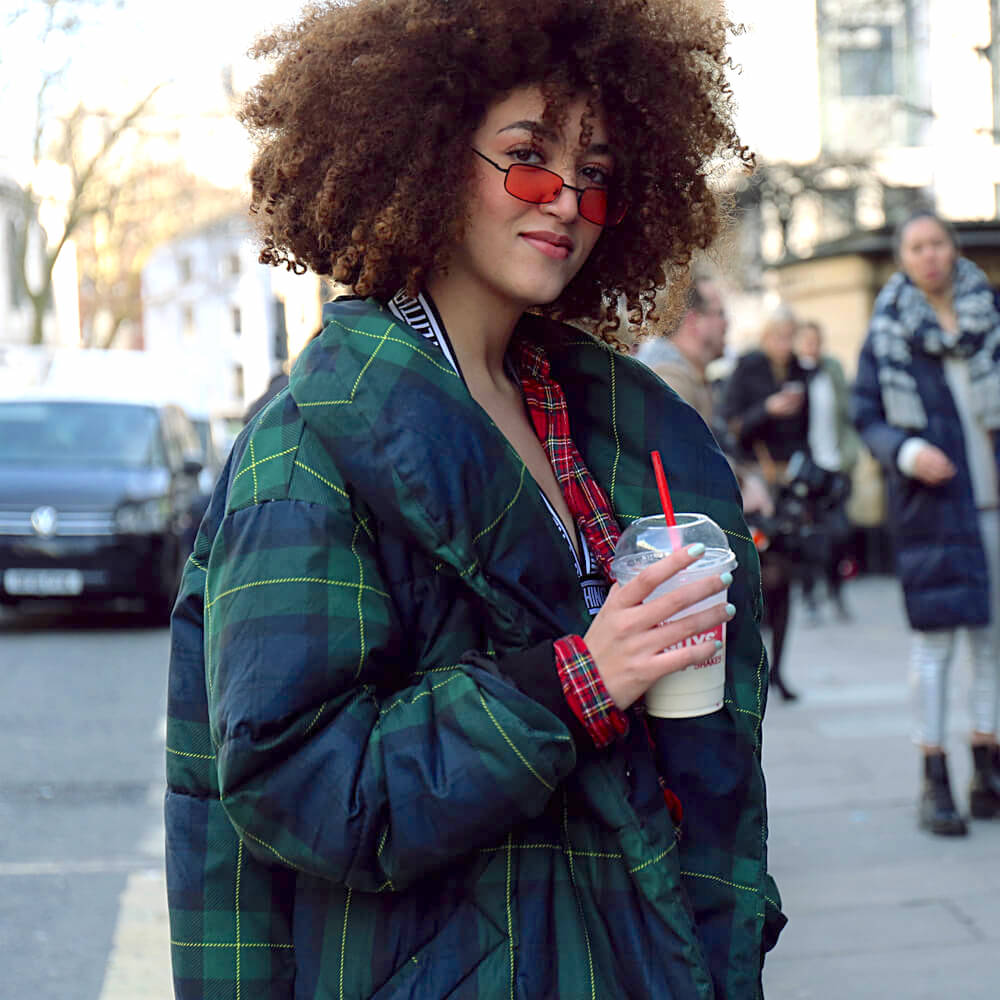 The natural look is one that is going to be huge in 2018, not only when it comes to street style, but also on the runways.
You may think that you cannot pull this style off, but the secret here is to make sure that your hair is as healthy as it can be.
While this is called the natural look, you will still likely need to use a few products to properly pull this off…
For dry hair types, use a moisturizing product before combing or brushing your hair, while those prone to frizz will need to use a product to help control this.
Make sure that you also go for regular trims, as split ends can easily detract from the healthy, natural look that you are going for.
A Sleek Lob
The sleek lob is another extremely popular street style hair trend, because just like the low ponytail, this one allows you to experiment more with your clothing, since your hair will be quite low-key. 
Wondering what a lob is?
It stands for long bob, and refers to hair that has been cut around shoulder length, as this is a length that is in between a bob and longer hair.
Not sure if this style would suit you?
It isn't for everyone, but works especially well on those who have a round or a square jaw, as well as stronger features.
Do you have a longer face shape?
If so, the lob can still work for you, but you will need to ensure that your hair is cut with layers around your face and jaw line, to add some width.
While this style does work with curly or wavy hair, it does always look much sleeker with straight hair, so will likely require some styling with some hair straighteners.
Cleopatra-Inspired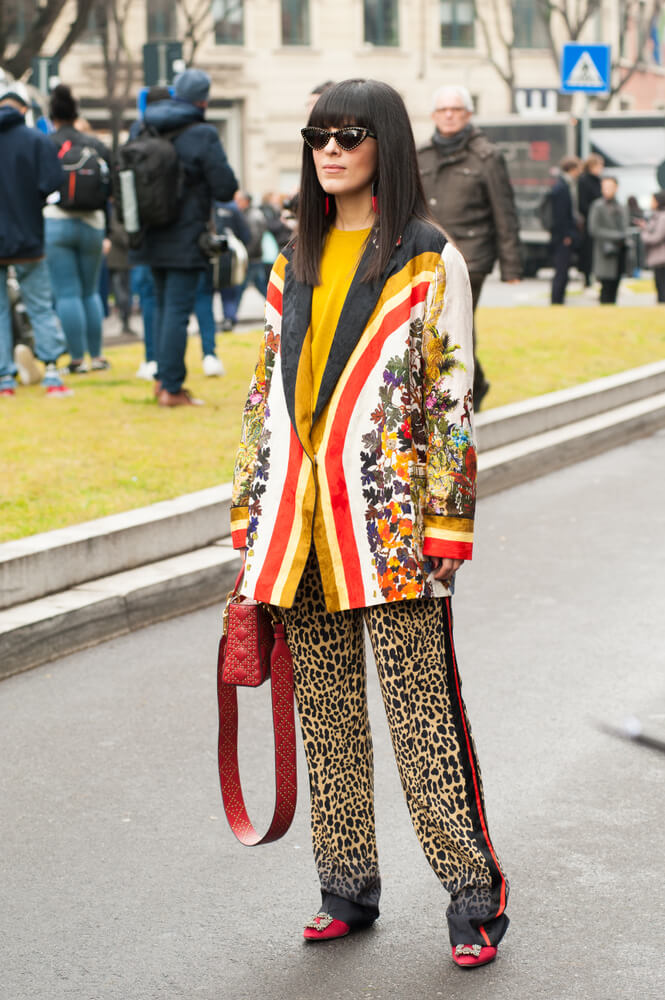 The Cleopatra-inspired look is quite similar to the long bob, except that this one features a straight, blunt fringe. It is also best done with darker colored hair, although those with lighter shades can still pull this look off.
This bold and blocky cut works best with those who have an oval, heart or circular face shape, with the fringe cut so that it is softly skimming the eyes, creating quite a seductive appeal. you definitely need a professional hair stylist if you want this done perfectly, as it should be done.
In terms of hair texture, fine to medium hair that is naturally straight will work well with this look, as thicker hair, or hair with waves, can be difficult to style in a way that gives it the sleekness that this look needs.
Do you have a larger forehead?
If so, this look is perfect for you, as it will cover this up and show off your eyes. 
Half Up, Half Down
Many people would argue that the half up, half down style is quite an underrated one, but this is all set to change in 2018.
This is a great everyday look, as it is so versatile and easy to add your own twist to.
Rather than opting for a simple half ponytail, try mixing it up a bit and going for a bun or some braids instead.
The best part about this style?
It will work for just about every hair length and texture, and is so quick and easy to pull together.
A Deep Side Part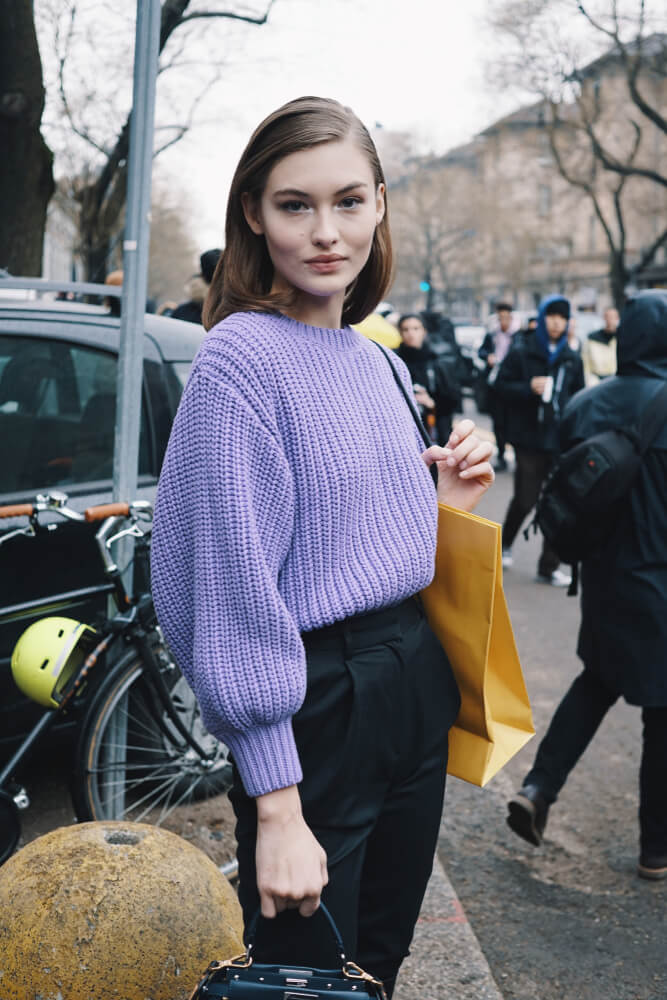 Changing up your hair part is such an easy way to add a whole new dynamic to your look, as it can really change the way in which your different features are highlighted.
A deep side part is able to flatter everyone, no matter what your hairstyle, type or texture may be, so this is a look well worth trying out.
Have you worn a center part for the majority of your life?
If so, switching this up can seem frightening, but will be so worthwhile in the end.
Begin by considering exactly how deep you want your side part to be. It could line up anywhere from between the arch of your eyebrow to the outer corner of your eye, with each different position giving you quite a different look.
Wondering which side to place your part on?
This all depends on the side of your face you want to emphasize. For example, if your left brow has a more perfected arch than your right brow, a deep left part will highlight this, whereas if your right cheekbone is more defined than your left, a deep right part would be best.
One more thing that you need to think about is…
Your face shape. If you have a rounder face shape, try sweeping the extra hair across your face to balance your proportions out, whereas those with a longer face shape should add in some curls to give the look a bit of extra volume. 
A Single Braid
In-keeping with the low-key and low maintenance vibe is the single braid, a style that is being seen all over the streets at the moment. 
Again, this is another style that will work for just about every hair type, and can be played around with so that it boasts your own personality too.
Do you find it difficult to braid your hair?
This is common, especially for those who have quite a few layers cut into their locks.
If you often try to braid your hair the day it has been washed, try waiting for an extra day or two. This gives your hair's natural oils the chance to build up, which will make your hair so much easier to manage and style.
Alternatively, braiding it while it is still damp can also help.
How?
Because this enables you to capture all of those pesky fly-aways and loose ends, ensuring that your braid looks as sleek as can be.
For those who have thin or fine hair…
Try pulling on your braid once you have created it, as this will give it some extra volume and immediately make it look so much thicker. Make sure that you then give it a spray with some hairspray, so that your braid will stay put throughout the day.
A Top Knot
Top knots are another style that are super asy to put together, and even if yours is slightly messy, this only ends up adding to the texture and volume of the overall look.
Again, this is another look that works well with hair that has not been freshly washed, as you need your hair to be quite malleable.
There are many ways in which you can create this look, but here is one of the simplest:
Gather your hair into a high ponytail, but leave the ends of your hair out of the last loop of the elastic band you are tying

Gather the loose ends together and use bobby pins to pin these around your bun

Once you have everything tied and pinned in place, you can then tousle and loosen up your top knot a bit, pulling out a few hairs if you would like them to frame your face 
If you feel as though your hair needs a little extra something, don't be afraid to experiment with adding a few braids, or even ribbons, to your top knot to really show it off. Hair accessories can make all the difference when it comes to elevating a simple style such as this.  
Vibrantly Pink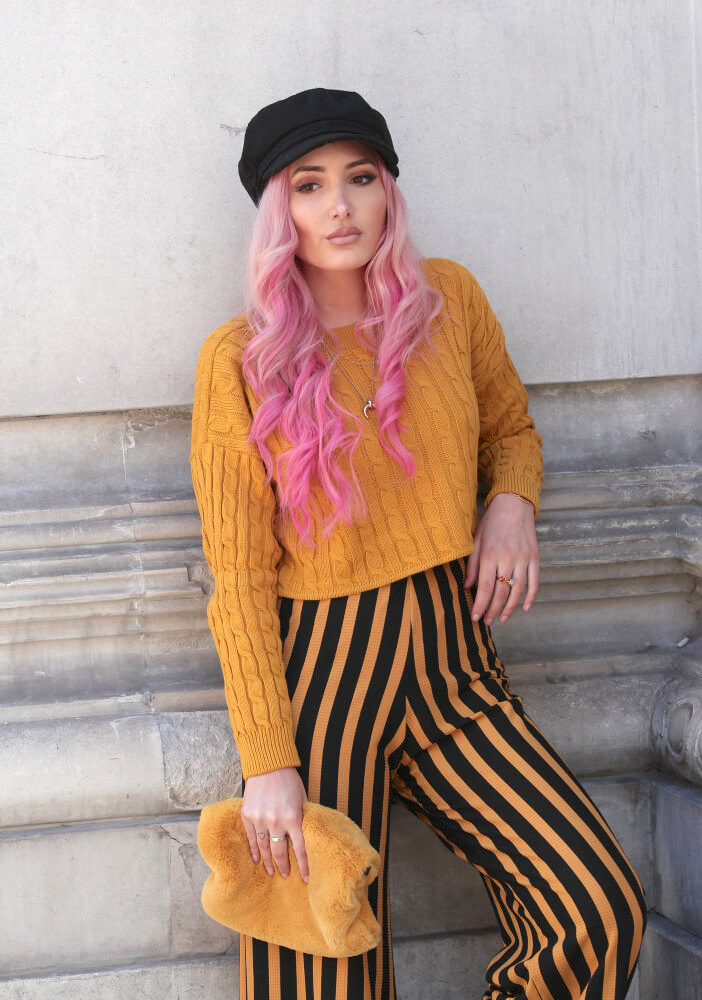 When it comes to hair color, there are again always a few trends that seem to dominate each year.
2018 sees pink as the most popular color in terms of street style hair trends, with many women deciding to take the plunge and dye their locks a vibrant shade of pink.
This is a trend that has been emphasized by the number of celebrities that have given this look a go, from Kim Kardashian to Nicole Richie to Hailey Baldwin, showing just how versatile this color can actually be, no matter your hair type or texture.
If your hair is naturally light in color, this is a shade that will be easy to pull off, but for those who have naturally dark hair, you will need to find a salon that specializes in these sorts of colors, as your hair will need to be bleached and stripped before the pink dye can be added. 
You will also need to put some extra effort into the upkeep of your hair, as pink tends to fade faster than other colors. Make sure that you are using color-boosting hair products, and stay away from anything containing sulphates, as these will only fade your color faster.
Yes, this might be a bit of a bold move for some, but pink locks can really give your overall look a much edgier and dramatic touch.
Hair trends can often be quite out there, and while they may look right at home on a high fashion runway, wearing them for every day use is not very practical. However, when it comes to the street style hair trends for 2018, these are all so wearable and easy to put together, giving you so much to choose from if you decide you want to experiment with your look a bit.
---