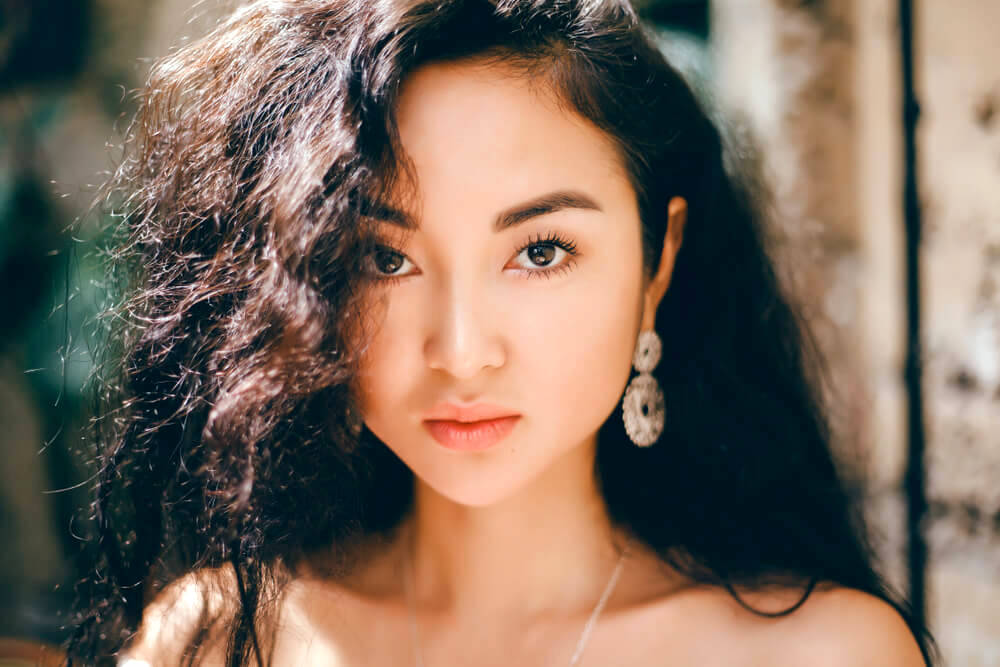 With the wind, sun, and sea water making our usually-gorgeous locks look like Monica Geller's on Friends in Barbados, what's a girl with frizzy hair to do?
You got it. All you have to od is sculpt your tresses into a cute, beach-friendly hairstyle. Not only will this help tackle unruly strands while you're basking in the sun, it will also keep you looking cute and stylish even in the sizzling heat.
Check out our list of hairstyles that are perfect for any beachside or poolside situation. Other than being super trendy, these styles will also withstand sand, salt, wind and whatever else comes your way while you're soaking up the sun.
Messy Bun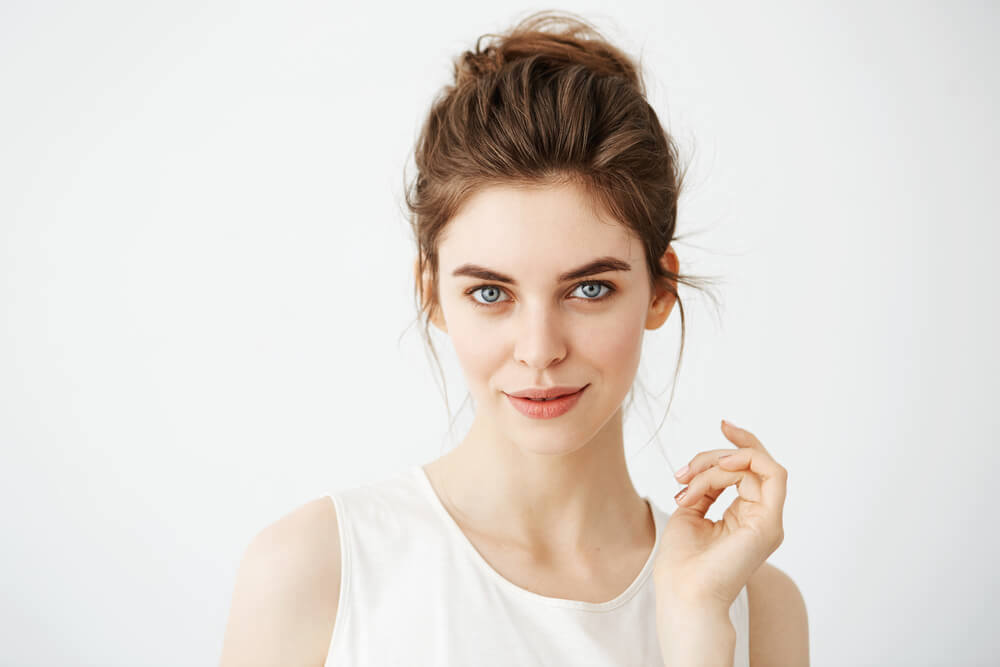 There's a reason why messy buns can't ever seem to go out of style – they're the perfect lazy 'do for just about any occasion.
And that goes for the beach, as well.
Tying your hair in a cute, nonchalant up-do will not only deal with those annoying strands that get in your face while you're trying to get your tan on, it will also go perfectly with any beachwear.
Moreover, messy buns can be your best friend in those situations where nothing seems to keep your frizzy locks in check.
Now, you probably already know how to scoop your hair into a bun; however, if you want to make your 'do even sturdier and ready for all sorts of beach activities, here's how to do it.
Start by brushing out your hair and detangling any knots you might have.
Bunch up your hair into a high ponytail; if your hair is especially thick or long, tip your head upside down, as this will help you secure all the strands. Tie it with an elastic band.
Start twisting the ponytail using your fingers and wrap it around the base so it forms a bun. Use several elastic bands to make it extra tight.
If you're bun still feels a little loose, pin it down to your scalp using bobby pins.
Take out a couple of strands around your face to frame your look and give it a more casual vibe.
Side Braid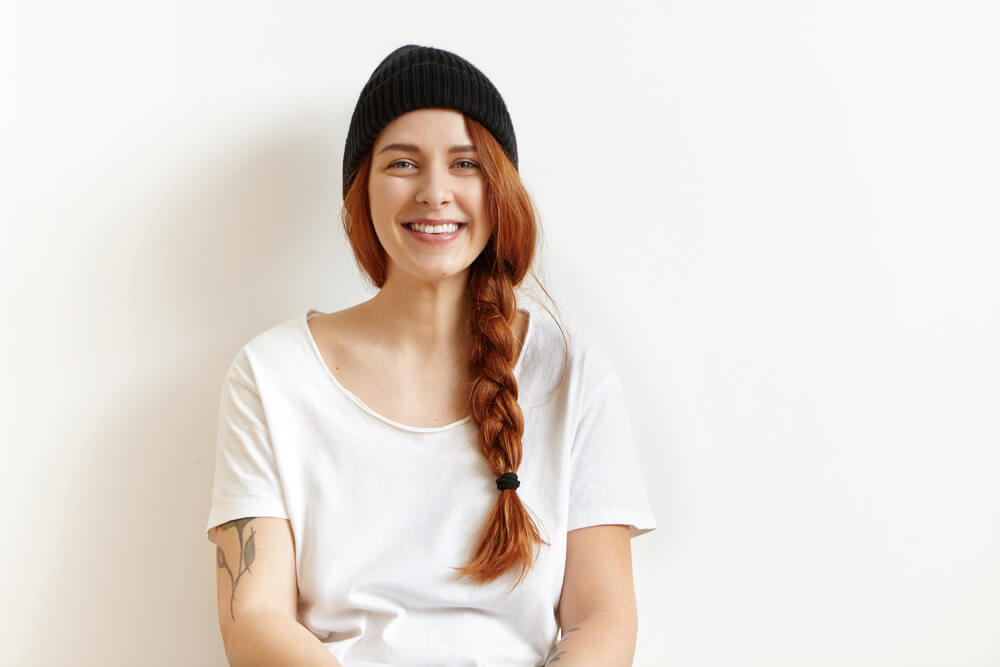 The side braid is one of those timeless 'dos that instantly evokes breezy boho vibes, making it ideal for any vacation set by the beach.
Not only will this romantic, side-swept 'do be an elegant way to tame your frizzy locks, it will also stay put during any swimming or sunbathing session.
You can quickly snatch this do by brushing your hair and creating a deep side part.
Swoop up all the hair to the parted side. If your hair is on the shorter side, use bobby pins to secure any loose ends.
Split your hair into three equal sections and begin crossing your hair into a classic braid.
If you want to create the illusion of more volume, you can "pancake" your braid by stretching out every section while making sure you maintain the overall shape.
Tie the end with an elastic band that matches the color of your tips and your beach-ready braid is complete!
One-Sided Fishtail Braid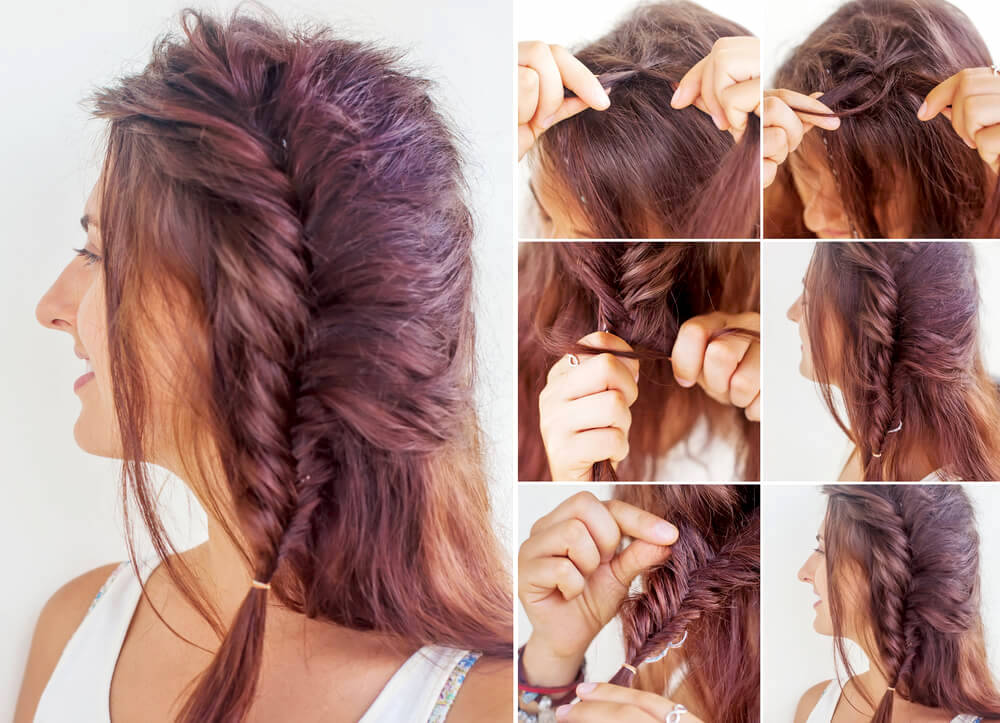 Nothing says mermaid chic like twisting your hair in a beautiful fishtail braid.
However, instead of going for the classic full braid, why not opt for this asymmetrical look?
It can be a great way of preventing those front strands from getting all up in your business while simultaneously looking cute and stylish.
So, how do you get your own one-side fishtail braid?
Start by sectioning off your hair at the front top part of your head, then splitting it in half.

 

From that big section, isolate one strand at the top part. Make it a thin one, as you'll be incorporating more hair into it as you create the braid.
Split the small section into two even thinner strands and twist them once.
Then, take the left strand and place it under the bigger right strand.
Next, take a thin strand from the right section and place it under the left one.

 

Alternate between the right and the left section until you reach you have about an inch of hair left. Tie it with a small elastic band and your ethereal mermaid look is complete.
Simple Spiral Buns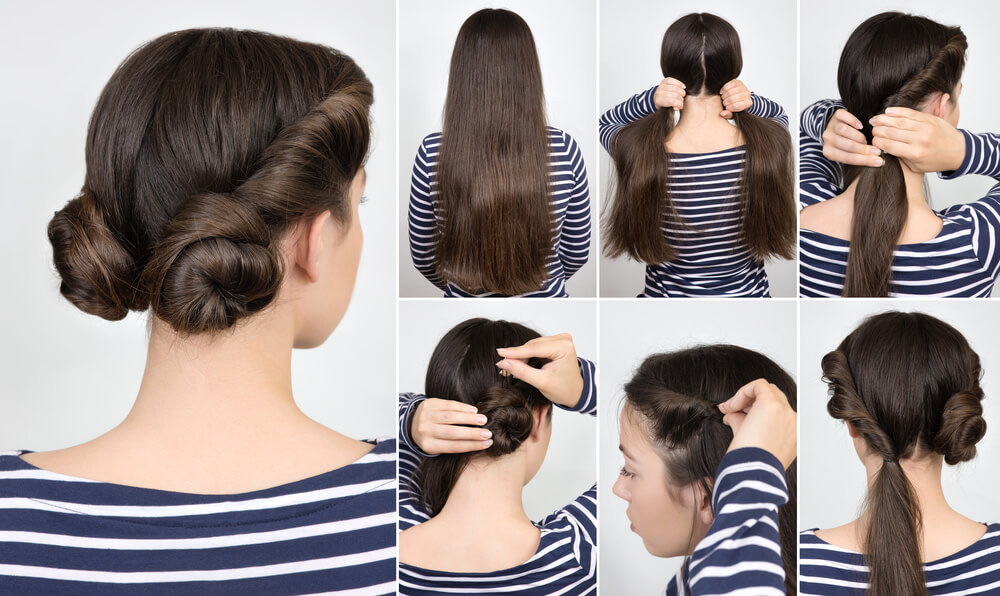 So, let's say you're a big fan of all the gorgeous braids and twists you see on Instagram and Pinterest, but you either don't know or don't care about spending too much time in front of the mirror messing with your tresses.
Don't worry, we have the perfect style for you!
It requires zero braiding, takes only a couple of minutes to create and, best of all, it's perfect for a day out at the beach.
Furthermore, it's a match made a heaven for people with voluminous, curly hair, as this kind of texture will look even fuller and more defined when wrapped like this.
Here's how to achieve it!
Start by brushing out your hair to get the texture to a smooth perfection. Use a touch of styling product if you need extra help.
Create a mid parting down to the nape of your neck, splitting your hair into two equal sections.
For each section, start twisting your hair, beginning with the front sections and gradually incorporating more hair as you move towards the end.
Once you reach the nape of your neck, tie each section with elastic bands in matching color so you don't lose the shape of the twist.
Continue twisting each loose end, then wrap it around its base at the nape of your neck to create two voluminous buns.
Secure each bun with as many bobby pins as you need.
Double Dutch Braids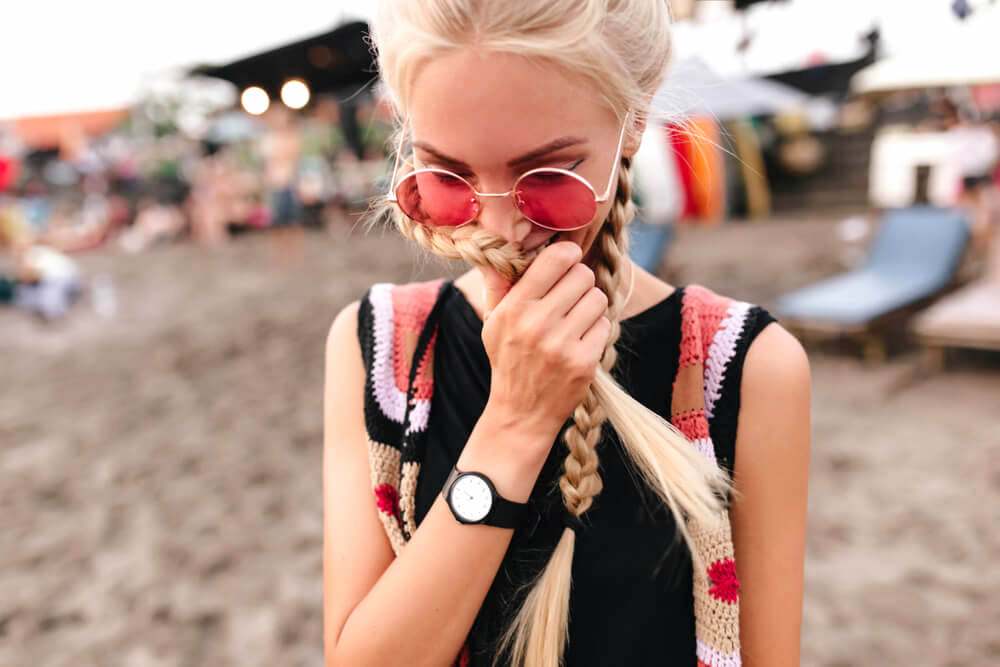 This wildly popular 'do is a great way to smooth out frizz-prone hair and keep it secure during those days filled with beachside activities.
And that's not all – if you keep your braids in overnight, you'll wake up with voluminous, well-defined waves the next morning.
So, how do you go about creating this chic 'do?
It's simple – just follow these instructions.
Create a middle parting and brush out both sections of your hair.
Section off a triangular strand at the front part – this will serve as the base for your braid.
Split this section into three equal-sized strands and begin creating the Dutch twist.
Place the right strand under the middle one, then do the same with the left strand.
Continue braiding, incorporating a small strand of the hair each time you cross a new layer.
Once you get to the nape of your neck and there's no more hair to join the braid, continue creating a classic three-strand braid.
Secure with an elastic band, then repeat the whole process on the other side of your hair.
Your Dutch braids are ready to be shown to the world!
If you want to completely pull your hair away from your face, you can wrap your braids around your head to create a cute, crown-like milkmaid style.
You can also accessorize your style with ribbons, clips and other decorations.
Twisted Braid and Bun
Half up-do's are a convenient (and very en vogue) way to keep the hair away from your face while remaining supremely stylish.
However, you might feel like the classic half bun is a little too tired and you want to switch up your beach look a little bit.
Luckily, there are ways you can elevate the usual up-do look and make it look even more chic with a couple of simple tricks.
Section off the top part of your hair, as you would do with a normal up-do. However, instead of immediately tying it up, isolate a smaller strand at the top of the crown and split it into three parts.
Begin creating a French braid by crossing the left strand over the middle one, then repeating the same thing with the right strand.
While you continue to braid your hair, incorporate more hair from the bigger top section to add more volume.
Once you get to the back of your hair, tie the braid with an elastic band, leaving about 2-3 inches loose.
Stretch out the braid using your fingers to make it appear bigger and fuller.
Then, lift it up and wrap it around its base to create a voluminous, textured bun.
Tie the bun with a hair band and pin it down with bobby pins.
Bun with a Twist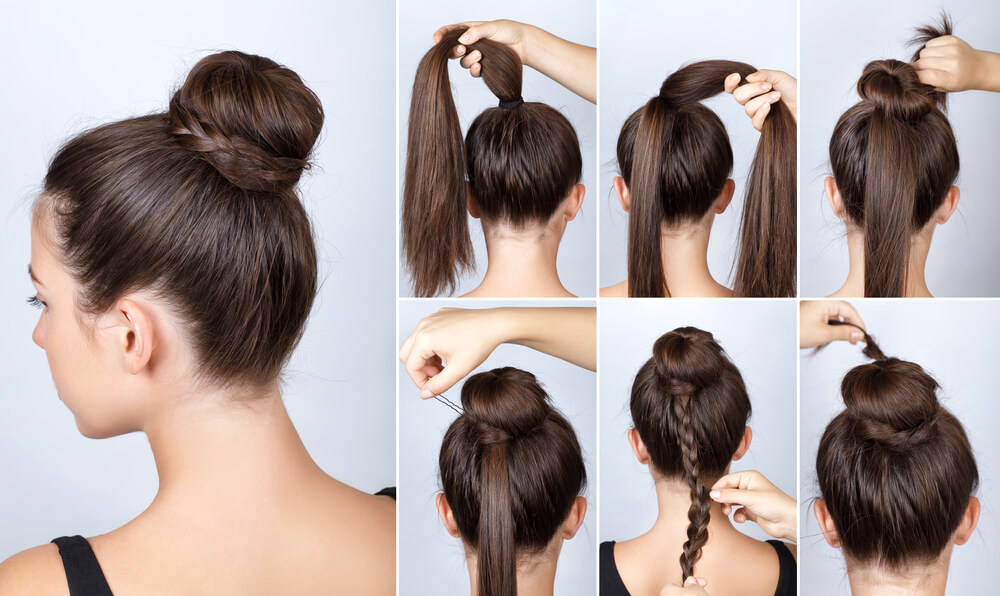 If you're a big fan of the classic messy bun, but you feel like your beach 'do needs an added dose of va va voom, then you can try recreating this quintessential look with a twist.
Not only will this technique make your bun look more elegant, it will also be ideal for people who want to keep frizz at bay while having fun in the sun.
Here's how to get a gorgeous beach-ready top knot that will stay put for the entire day.
Brush your hair so it's fully smooth and free of knots.
Tip your head upside down to scoop all the hair into a high ponytail. Secure with an elastic band in matching color.
Then, section off about two-thirds of your ponytail and leave the rest to hang loose.
Begin twisting the thicker section all the way to the ends, then wrap the twist around itself to create a bun.
Secure it with elastic bands and bobby pins, if needed.
Next, take the remainder of your ponytail and being braiding it into a classic three-strand braid.
Tie with a thin elastic at the ends. Flatten it and make it look more voluminous by carefully stretching it out using your fingers.
Then, take the braid and wrap it around the bun until it's nice and tight.
Tuck the end of the braid with a bobby pin so you don't have any mischievous strands sticking out.
Space Buns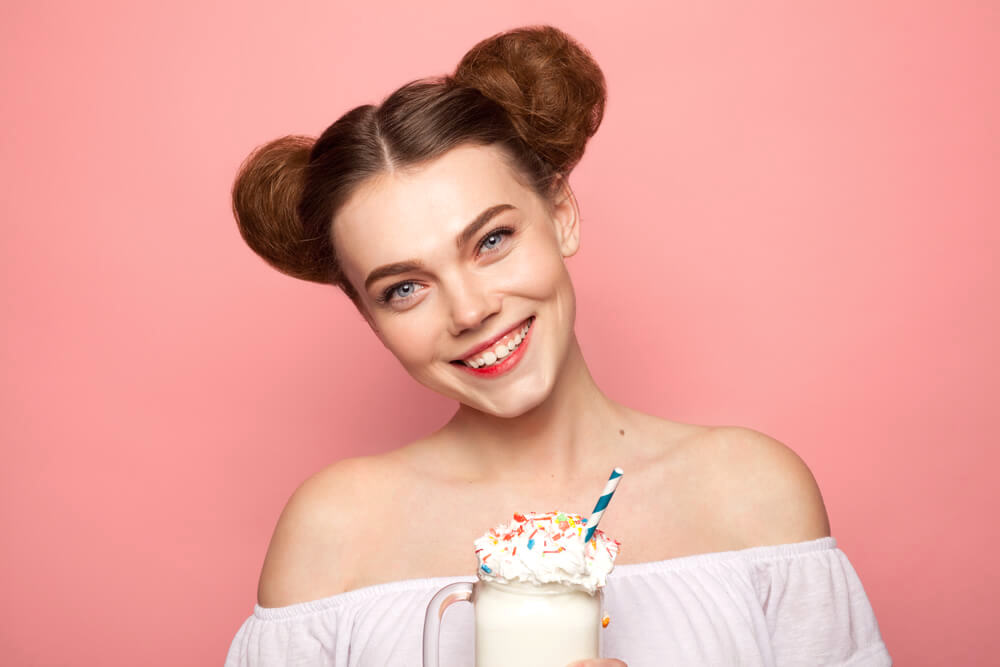 Double buns or space buns is the name of that deliciously playful look that we all loved back in the late '90s and early 2000s.
And the good news?
They are back in style, making a perfect accompaniment for any kind of beach ensemble.
Moreover, this youthful 'do can be rocked at any length or texture – as long as your hair is long enough to form a bun.
Here's how to do a flattering, beach-proof iteration of this fun coif.
Take a fine tooth comb and use the handle to make a clean parting from the center of your forehead to the nape of your neck.
Brush the two sections and tie each one high on your head using elastic bands.
For extra volume, you can tease each section closer to the roots.
Start twisting both sections, then wrap them around the base.
When you're happy with the look, secure the buns with an extra pair of elastic bands and pin down stray locks with bobby pins.
And voila – your space buns are complete!
For a more jazzed up take on the classic space buns, you can also create a zig-zag parting.
Alternatively, if you have long hair, you can sculpt your hair into the super-popular half up-do style with a twist – instead of tying the top of your hair into a ponytail or a single bun, split it into two space buns.
And with this, we round up our list of the hottest beach hairstyles that will not only make you look like a bona fide seaside diva, but also keep the frizz in check for hours on end. Whichever one you chose to rock this summer, we're sure you'll be able to tame your mane in the most stylish way possible.
---