It's true that we find inspiration in the most mundane things. But, it is also true that we find them in the most glorious stories humankind has invented.
Such is the inspiration behind fantasy hairstyles, which are a true tribute to the creativity of one's mind.
If you're dying to try out a hairstyle you've imagined, there's no better time like the present!
Simply let your imagination run wild and your hands will do the rest.
Well, don't let it run too wild.
A mild run.
A trot is just fine.
However, don't be afraid to experiment. One of the best things about hair is that it allows you to express your creativity in unusual and incredible ways. And that you can always try out different styles and see if they fit.
So, without further ado, here are some of the best fantasy hairstyles you might want to try this year.
Side French Braid – Gentle Yet Fierce
The French braid has been popular for centuries (actually, for millennia, if historians are to be believed), and it's recently gained popularity once again.
The kids have found inspiration in Frozen (who could forget that blockbuster, especially with part II coming soon!) and its independent and magical star, Elsa.
But, teenagers and, basically, every other age, have found inspiration in Katniss Everdeen from the Hunger Games.
Whether you're trying to go for the gentle look Elsa portrays or the fierce one that Katniss embodies, the French Side Braid is perfect for you!
Here's how to create it:
Wash and dry your hair first and then brush it. You can't have tangles when you're French-braiding your hair. For better results, use a leave-in conditioner or an anti-frizz serum.

Another good idea is to spritz on texturizing or

styling spray

. The Herstyler Styling Spray is a good place to start, as it will stop your braid from loosening too much throughout the day.
Part your hair deeply on one side. If you have bangs, tuck them in behind the ear on the opposite side to keep them out of the way.

 Pick up one section of the hair. For Katniss' braid, you should take the hair just behind and above your left ear. If you're going for Elsa's style, you can pick up any strand on one side of your head. Divide that strand into three equal parts.

 Begin braiding your hair by crossing the sections, but don't go too far. After you've crossed the first three strands, take a piece of your hair from behind your left ear and pull it in. Cross the strands again.

 Continue to braid your hair towards the back of your head. Use the same braiding technique throughout, that is, keep adding hair as you go.

When you've gotten to the right side of your head, start braiding downwards. And then, secure your braid.
If you have naturally wavy or curly hair, you don't have to worry about loose pieces. However, if you have straight hair, you might want to curl them a bit for a nice final touch.
If you want a messier style, pull some strands out.
You might need to practice for a bit to get it just right. If you're not sure what you're doing at the back of your head, place one mirror in front and one behind you. You will be able to see your hair from all angles then.
The Waves and Curls of the Medieval Heroine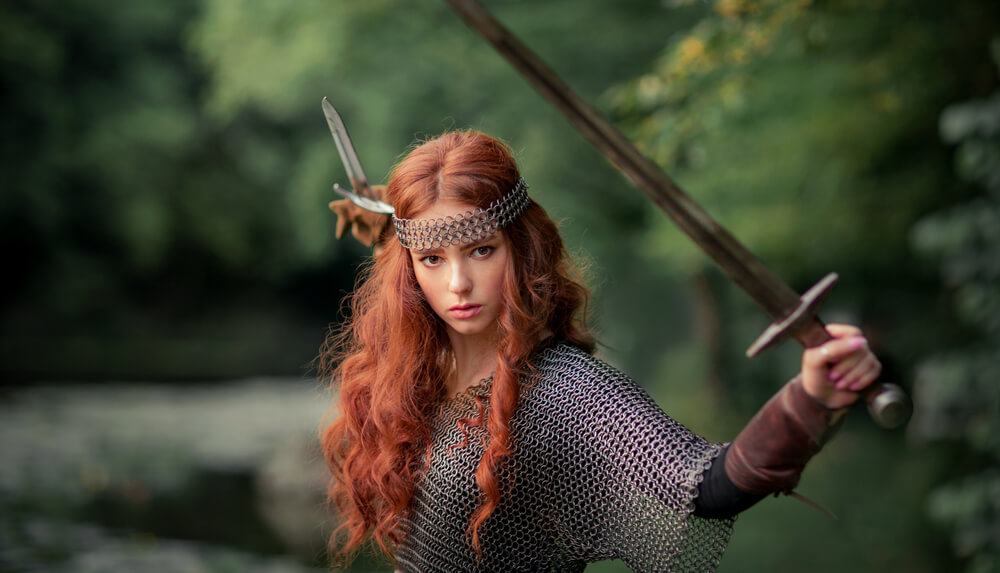 Ladies, imagine this – you've got your chain mail on, your indistinct pants (because who knows what was up with pants at that time) and you're getting ready for a fight!
Your hair is blowing in the wind and you're riding on your horse with a sword (or a bow if that's what you prefer), ready to defend your land…
If you find yourself wanting to relive that fantasy, even through your hair, we've got the perfect solution!
Messy waves or curls, perhaps the kind that Keira Knightley had in King Arthur. Or, if you're feeling brave, there's always Merida to look up to.
Of course, there are quite a few ways to make waves or curl your hair. However, the easiest one is – with a curling iron.
Here's how to recreate this simple, yet effective fantasy hairstyle with a curling iron:
Start with dry hair, more preferably, hair that hasn't been washed a day.

This will hold this hairstyle much better than when your hair is freshly washed.

Spray a heat-protectant. You should do this not just for the top layer of your hair but also for the lower layers, as well. Don't bother trying to run your fingers to get it to dry faster, it will do that on its own fairly quickly.

Then, tie the top section of your hair into a bun. This way, you'll be able to see more easily what hair you have already curled.

Heat up your curling iron.

Now, don't use too high temperatures because they are more likely to damage your hair, even with the heat-protectant.

If you have thin hair, set it to the lowest heat. If you have thick hair, you can set it to the medium.

If you want beach waves, you should use a thick barrel iron. However, if you want Merida-inspired ringlets, then you need a smaller barrel. With so many options, you can definitely try out various styles and various sizes. See what works best for you and your hair.

Curl your hair from bottom to the top. You should hold the curler horizontally and have the clasp facing away from you. Take a strand of your hair and clip it into the clasp. Then, wrap the hair around the barrel. Hold for about 5 seconds. Again, don't hold it for too long, as it can damage your hair.
Once you've curled your hair, if you want to add a messier look or simply more volume, run your fingers through it. Another thing you can do is flip your hair forward and then back.
Of course, for a final touch, spray your hair with hairspray lightly.
Romantic Low Bun Straight out of a Novel
One of those simply everlasting hairstyles that bring out the romance in the most cynical people, the low bun seems to have come straight out of some Jane Austen's novel!
If you like to read, you've probably (most likely) come across a Jane Austen novel or two.
How often have you imagined yourself in a role of one of her heroines that walks along the pathways of England, breathing in the fresh May air and reminiscing about the last ball?
Or possibly about a certain someone at the last ball…
Well, we can safely say that, for some of us, it may have been too often.
And if hairstyles are the thing to get us to relive our (day)dreams, then so be it! We gladly take the opportunity.
But, for this romantic hairstyle that will take you back in time, there are things you need first – a curling iron, hair elastics, bobby pins and hairspray.
Here's how to create it:
Brush your hair so it doesn't tangle.

Gather it into a low ponytail. You can also leave a few strands on both the left and the right side of your face, which will frame it beautifully later.

Now you should make a bun. Since you want your bun to look puffy, you can use a doughnut if your hair is a bit thin. Also, if you don't have a doughnut, you can use a sock to

create a sock bun

. On the other hand, if your hair is naturally thick, there's no need for that and you can simply use a hair elastic.

Take your curling iron and curl the hair that you've left on the sides of your face.

Take the bobby pins that you've prepared. Clip a few curled strands to the back of your head and over your bun. Apply some hairspray so it would stick.
There are, of course, different variations of the style. You can create waves on your hair before you put it in a bun for an overall cleaner look.
One of the options is also to add some wild flowers into your hair.
Or, you could use a bonnet to "get with the times," but what would be the point in covering that precious hairstyle?
The Roaring 20s Look
If you've ever read the Great Gatsby, or if you've seen the countless movies made (with particular emphasis on the ones with Robert Redford and, of course, Leonardo DiCaprio), you must have noticed the elegant yet simple style of the women of that time.
The Roaring Twenties, as you can probably tell just by the name, was an outstanding period of economic prosperity in much of the Western world. In France, it was known as the Années folles. Affluent men and women flocked to great cities such as NYC, London, Paris, Berlin, to party like no one before them (and, quite frankly, no one after them), partied.
But what is most memorable from that era is the perfect style.
Oh, the style…
From clothes to hair, this era left its permanent mark on the world of fashion.
If you want to recreate the glorious look of the twenties and party, here's how:
Wash your hair and put in conditioner. Thoroughly dry it before you start curling it; otherwise, it won't curl.

Heat up your curling iron. Again, don't put it on the highest setting. Instead of damaging your hair, you can also damage your face, due to the length of your hair and the closeness of the curling iron.

Apply a styling mousse or gel, which will help hold your curls. Choose products that say they are specifically designed for curls.

Tie up two-thirds of your hair, since it's best if you curl your hair in layers.

Take one-inch section at a time and curl it. Repeat until you've done the bottom layer of your hair.

Then, lower down another third of your hair. Once you've repeated the steps, lower the last part.
If you want tighter curls, use a smaller barrel curling iron. Apply hairspray at the end.
For another great addition to this "flapper" style, you can also adorn your hair with a sparkly headband, which will accentuate the style perfectly.
Lord of the Rings-Inspired Hairstyle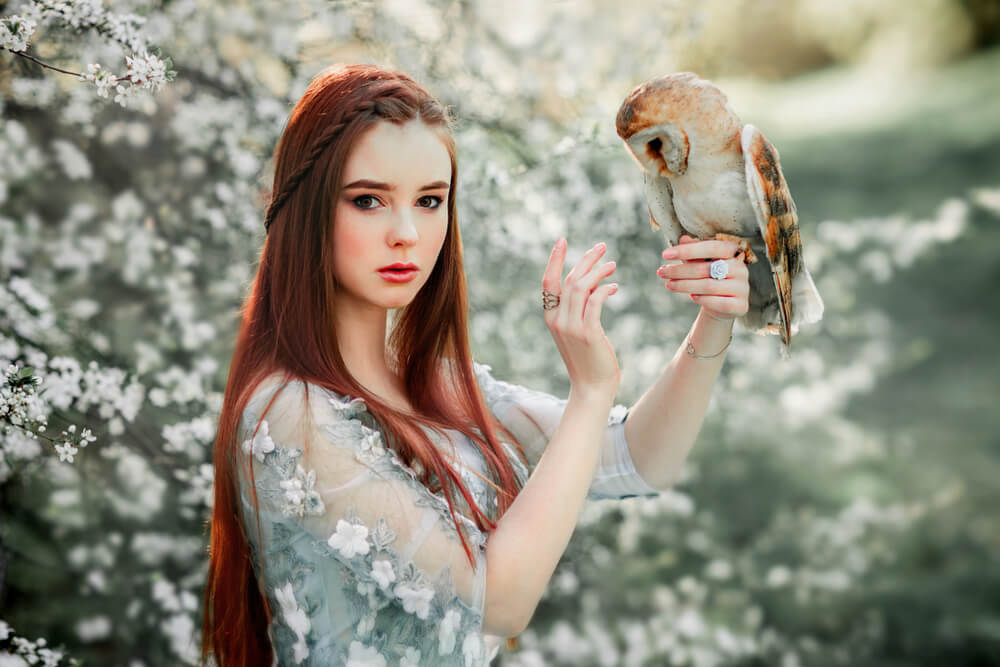 No, we're not talking about Gimli's hairstyle.
Although, if you want to do that, sure, anything's possible.
As they say, don't knock it till you've tried it.
But, our focus here is not the grumpy Gimli.
It's the Elven Princess, Arwen.
Now, if you've seen the movies, you know that she's all about long hair (really, really long hair), sometimes straight, sometimes wavy.
So, whether you have naturally straight, wavy or curly hair, you can definitely pull off this hairstyle, which is, incidentally, incredibly easy to do.
Here's how:
Take a 2 inch section of your hair. You can take it at the top of the head, near the parting, or you can take it from right above your ear.

Split the strand into three parts.

Now, this is where it gets interesting. You can make a regular braid, a French braid or even a Dutch braid. If you know how to do them, go for it. Experimenting with this style is half the fun.

It's better if the braid is tight, because then it will look like a crown. (Well, she

is

royalty.)

After you've finished the braid, put an elastic band to secure it.

Repeat the process on the other side.

Then, take one braid and pull it around the back of your head. It should rest about an inch or two above the back of your neck.

Pin it in place with a bobby pin.

Repeat the process with the other braid. Just make sure you've not pinned them too high up, as it looks better if it's a bit down.
See?
Incredibly easy, but also, incredibly effective if you're going for that "Elven princess" look.
You can also decorate this hairstyle with some flowers or embellished bobby pins for added glamour.
But, have no fear, even without that, you'll still be glamorous and ready to fight for peace shoulder to shoulder with humankind.
---