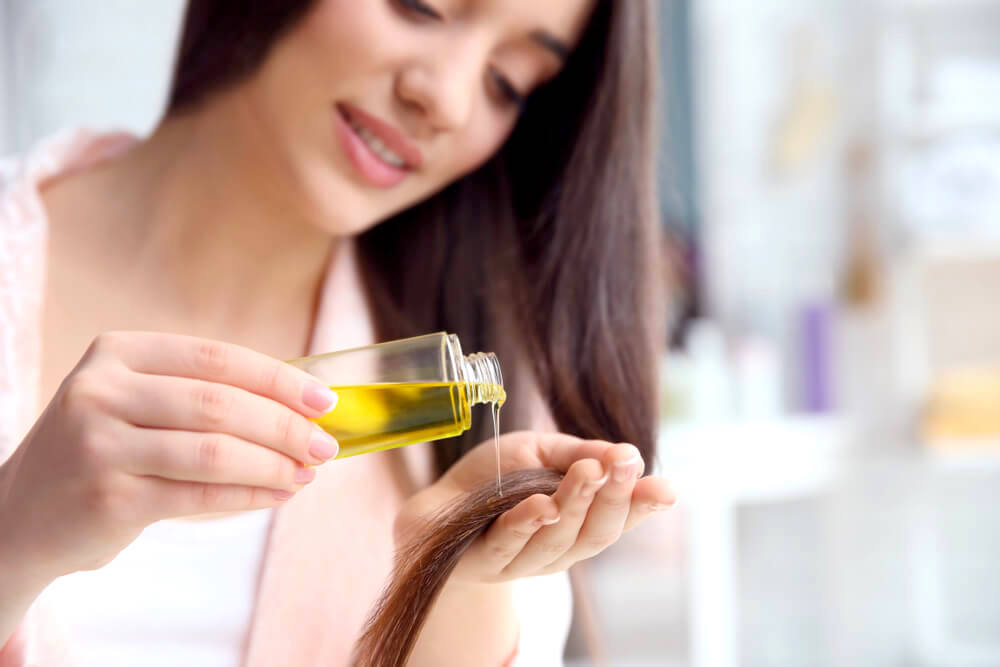 Do you use an oil on your hair?
If not, you really should be…
Whether your hair is thick and oily or fine and dry, there is at least one oil out there that will be able to benefit your locks.
Here are the very best oils to look into for a truly healthy head of hair:
Coconut Oil
Coconut oil has really made the headlines recently, going from a relatively unheard of ingredient to one that people use for a whole variety of issues.
When it comes to the hair, coconut oil is one of the best that you can use, and works with all hair types.
Why is it so great?
Because it does all of the following:
Repairs damage –

the oil is packed with lauric acid, which is similar to hair proteins, meaning that it can easily penetrate into the hair shaft and repair damage

Hydrates the hair –

has incredible moisture retention properties, preventing water from evaporating from the hair

Treats and prevents dandruff –

thanks to its many different types of fatty acids

Prevents hair loss while encouraging growth –

the oil has been used since ancient times for this purpose

Antibacterial properties –

prevents dandruff along with other bacteria and sources of infection
You can also use coconut oil when styling your hair…
Thanks to the way in which it turns into a liquid when it is warm, but then solidifies when it is cold, it makes for quite an effective styling cream.
Argan Oil 

Thanks to the fact that argan oil is formulated into so many hair care products, you are likely already well aware of the fact that argan oil is good for the hair.
But what exactly is it?
It comes from argan trees, which are native to Morocco. The tree produces nuts, which are then pressed in order for the precious oil to be extracted.
The trees are extremely slow-growing, so much so that UNESCO declared Morocco's argan forest a biosphere reserve in 1998.
As you can imagine, this means that pure argan oil is often accompanied with a high price tag, but this is more than worth it when you know about the many ways in which argan oil can help your hair.
These include:
Eliminating dandruff and treating dry scalps –

this is all down to the vitamin E and antioxidant content in the oil. Plus, the essential fatty acids within it also work as an anti-inflammatory while preventing dryness

Protects the hair from heat –

enriches and strengthens the hair, giving it the nutrients it needs to flourish and heal any damage

Promotes stronger hair –

this can treat brittleness

Protects the hair from chemicals –

this is especially important if you frequently swim in a pool, as the chemicals used in this can really damage your hair in the long term

Promotes hair growth –

encourages the hair to grow faster in a shorter period of time, while also preventing hair loss
How should you actually use argan oil?
You have quite a few options…
As mentioned above, there are already so many products, from shampoos and conditioners to styling products, that contain argan oil, so you could just purchase one of these. Just make sure that the one you choose contains the oil in a high enough concentration for it to make a difference. 
Alternatively, you could purchase the pure oil, since this is the oil in its most concentrated form, and use it either as a hair mask, or as a styling product.
If you decide to go down this route, keep the following in mind when purchasing the oil:
Opaque packaging –

light degrades the beneficial properties of argan oil, so make sure that the packaging is dark and opaque

A nutty smell –

this is usually quite distinct, but will disappear after a few minutes of being in contact with the skin

A smooth texture –

make sure that the oil is not too watery

Cosmetic grade –

this will ensure that the oil hasn't been roasted, which culinary oils usually are. This means that the oil will have retained even more of its beneficial properties

Made in Morocco – argan oil can only really come from Morocco. An ECOCERT certificate is also important
Macadama Oil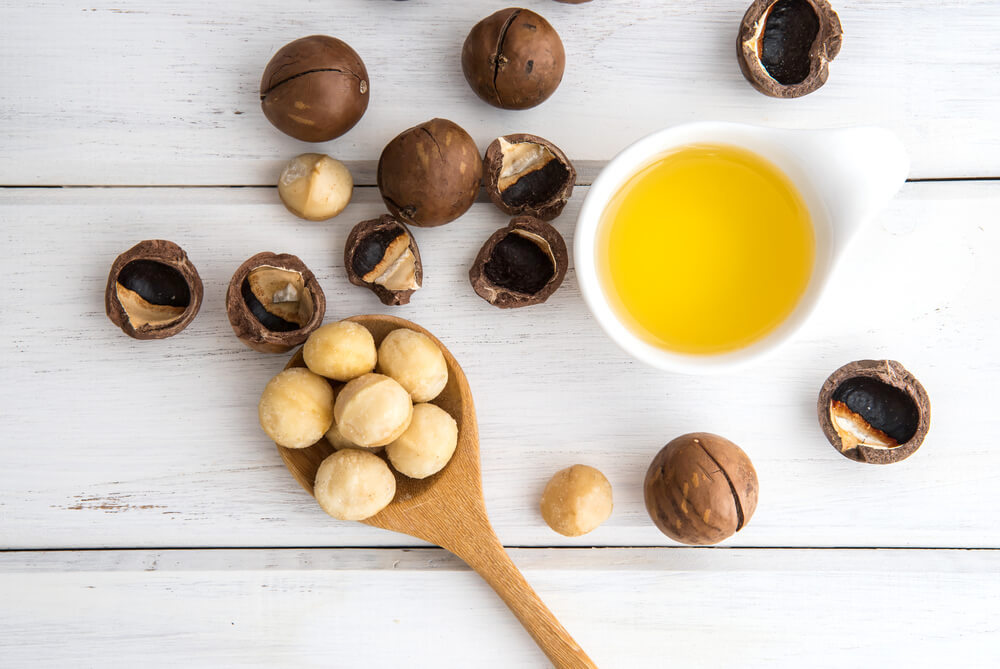 While macadamia oil may not be quite as common as some of the other oils on this list, this rich nut oil is incredibly nourishing.
The oil itself is quite light, and doesn't have a greasy texture, meaning that it easily absorbs into the hair without weighing it down.
Macadamia oil is packed with vitamins, minerals and fatty acids, bringing with it a number of different hair-boosting benefits:
Moisturizes the scalp –

thanks to its squalene, a naturally occurring antioxidant, as well as its fatty acids

Strengthen hair –

again, this is down to its fatty acids

Calms frizz and tangles –

leaves the hair with a satin finish, but does not make it look oily

Balances out oil production –

this can help to counter an oily scalp and oily hair
Marula Oil
Marula oil comes from the marula fruit, a yellow fruit that is native to countries in the southern half of Africa.
It has been used for thousands of years to treat a number of different health issues, and its benefits continue to be witnessed today.
Here are a few of the benefits that marula oil can bring to your hair:
Nourishes the hair –

the oil is incredibly rich in vitamins, with the fruit itself containing around 8 times more vitamin C than an orange, meaning the oil contains even more

Treats dandruff, dryness and flaky scalps –

its vitamin E content keeps the scalp moisturized, while the antioxidants in the oil balance out natural oil production

Lightweight and non-greasy –

easily absorbed and does not leave a heavy finish
How does marula oil compare to some of the other oils on this list?
Well, when it comes to argan oil, marula oil actually contains 60% more antioxidants. This makes marula oil especially effective for ridding the hair and scalp of germs, bacteria and free radicals. 
There is no denying that marula oil is a fantastic ingredient to use on your hair, but keep in mind that this ingredient can sometimes be quite costly.
Why?
Because it takes a fair bit of time, about seven years to be exact, for a marula tree to begin producing fruit. Although every marula tree out there is protected by law, the fruit is not as readily available as some of the other oil sources on this list.
Don't forget…
When purchasing marula oil, make sure that you go for a cold-pressed version, as this will ensure that the oil has retained the majority of its beneficial properties. 
Olive Oil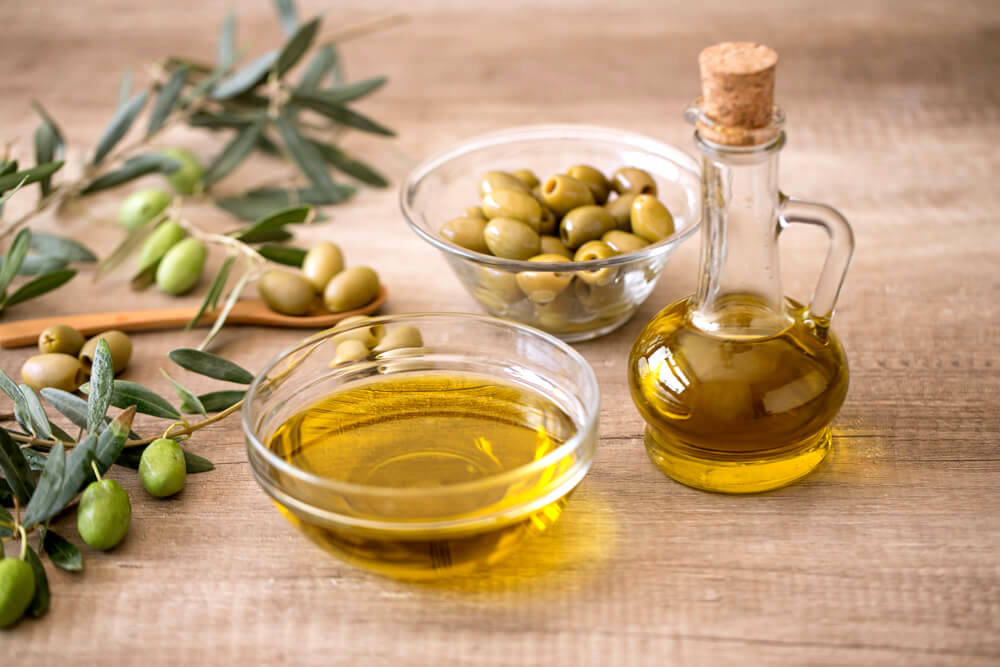 A popular cooking oil that just about everyone has in their kitchen, olive oil is known for being one of the healthier oils out there when it comes to food.
But did you know that olive can also really boost the health of your hair?
It does this in a number of ways, including:
Moisturizes the hair –

packed with vitamin E, which is an antioxidant and lipid protector that moisturizes while preventing damage

Strengthens hair –

thanks to its high concentration of vitamins and antioxidants

Repairs damage –

by filling in any gaps in hair cuticles. This makes olive oil a popular remedy for split ends

Treats dandruff –

thanks to its fatty acids and vitamin E, as well as its antifungal and antibacterial properties

Prevents hair loss – decreases the production of DHT, which is a hormone that causes the hair follicles to slowly narrow. This means that hair becomes thinner over time, and soon eventually stops growing 
When it comes to choosing an olive oil…
The same that applies to your body also applies to your hair.
This means that you should always go for an extra virgin olive oil.
What does this actually mean?
It means that the oils have been extracted without the use of chemicals or heat, keeping the oil as pure as it can be.
Jojoba Oil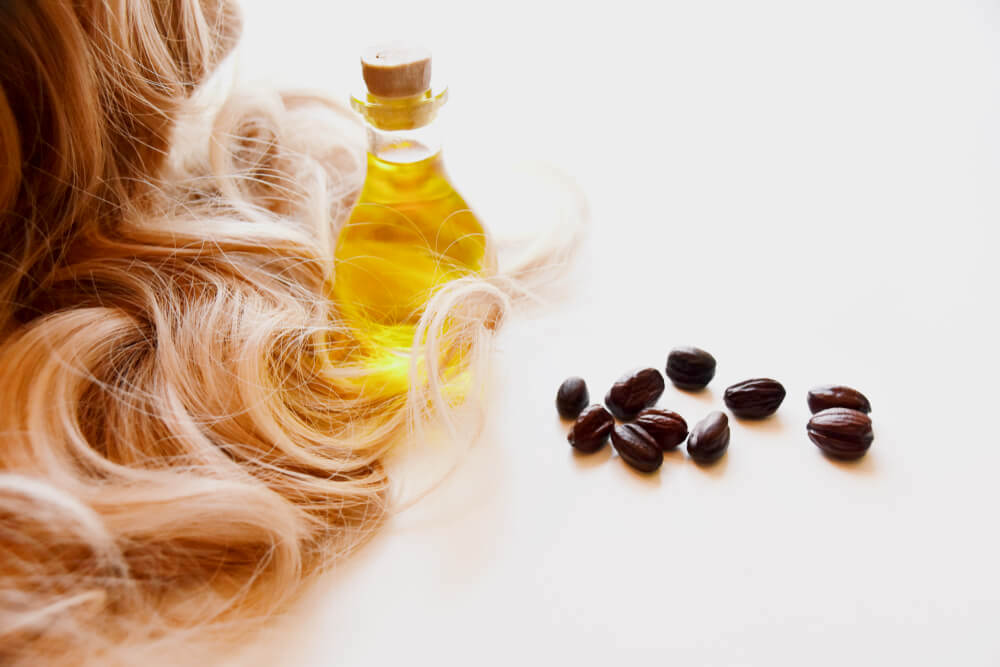 A shrub that is native to the southwestern USA, the jojoba plant produces seeds, from which the oil is then extracted.
The oil first started becoming popular in the 1970s, and, since then, even more benefits have been discovered.
Jojoba oil is quite unique, because its chemical structure closely mimics that of the oils produced by the scalp itself.
This means that when you apply it to your scalp, your body thinks that these are its own oils, and readily accept it. This makes the oil perfect for just about everyone, even those who are prone to sensitivities.
So, what does jojoba oil actually do for the hair?
Quite a bit, such as:
Antibacterial properties –

this makes it effective in treating dandruff and other dry scalp issues

Strengthens the hair –

thanks to its composition of 98% mono-unsaturated fats, along with 2% saturated fats, jojoba oil penetrates into the hair follicles and strengthens the hairs from within

Conditions the hair –

helps with elasticity, shine and softness

Helps with hair growth –

by unclogging hair follicles and clearing away blockages that would have otherwise prevented or slowed down hair growth

Thickens the hair –

by hydrating it and adding volume

Repairs damaged hair –

the oil is an emollient, meaning that it can fill in any cracks along the hair cuticle, whether this has been caused by heat, chemicals or anything else 
Just like with many of the other oils on this list, there are plenty of products out there that already contain jojoba oil. 
Alternatively, you can purchase this oil pure and use it directly on your hair. You could also mix the pure oil in with your existing shampoo and conditioner each time you use it. 
Abyssinian Oil
Abyssinian oil, which many refer to as crambe seed oil, is one that you may not have heard of before…
This oil comes from the flowers of the Abyssinian plant, and many would say that this ingredient is going to be the next big thing in hair care.
Why?
Because it contains some unique properties, such as:
Adds gloss and shine –

thanks to its high concentration of omega-9 fatty acids

Strengthens hair –

easily penetrates into the hair shaft, strengthening hair from within

Moisturizing properties –

keeps the hair and scalp moisturized, preventing dryness while retaining moisture. In fact, just one application of the oil can lock in moisture for quite a few days

Protects against heat –

the oil itself is quite heat-resistant, and it applies these properties to your hair, making it a great alternative to heat protectant products

Packed with antioxidants –

this helps to fight free radicals and keep your hair healthy

Nourishes the hair – the oil contains so many different vitamins, minerals and proteins 
Compared to other plant oils, Abyssinian oil is extremely resistant to oxidation. This is due to its high concentration of C22 fatty acids, and means that the oil itself has a long shelf life.
For this reason, the oil is often combined with other oils in order to act as a preservative.
If you want to make use of Abyssinian oil for its specific benefits, make sure that you either purchase the oil pure, or find a product that contains it at a high enough percentage for it to really make a difference.
No matter your hair type, using an oil on your hair can really help to improve its health and appearance. Not only that, but each of these oils will soften and nourish your hair, meaning that it will be more pliable and manageable, and therefore easier and quicker to style.
---