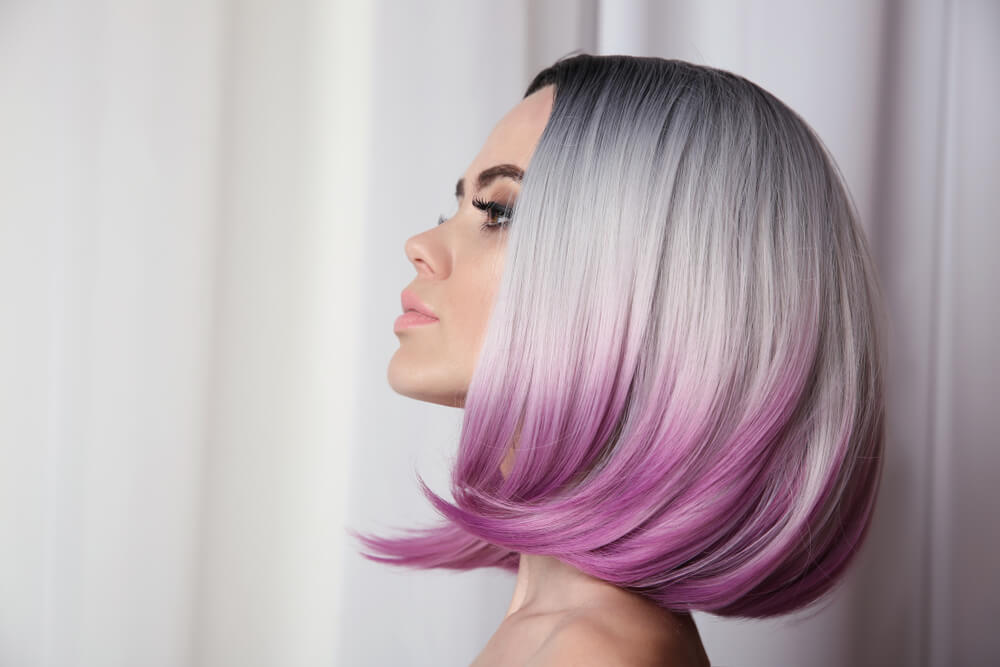 Ombre and balayage hair dyeing techniques have become extremely trendy lately, with a number of celebrities all over the world giving these styles a try. 
The results have been spectacular, so if you have been considering giving your hair a touch of ombre or balayage, here are some hairstyles to inspire you. 
Straight, Sleek and Sophisticated 
Ombre shades tend to look their best on sleek and straight hair, because this enables you to really see all of the different transitions in color.
It also keeps the overall look quite muted, meaning that even the bolder shades can look relatively conservative if you keep your hair straight. 
Want to stick to a more natural shade? 
The example in the image above is perfect. For those of you with brown hair, going for a warm blonde about halfway to three quarters of the way down your strands is a great way to highlight your facial features, while still bringing some lightness to your look. 
When it comes to deciding exactly how straight to go…
There is nothing wrong with ironing your locks out to really give your hair a sleekness and shine, but even a quick and simple blow dry should give you the straightness required to pull this look off. 
Ombre Updo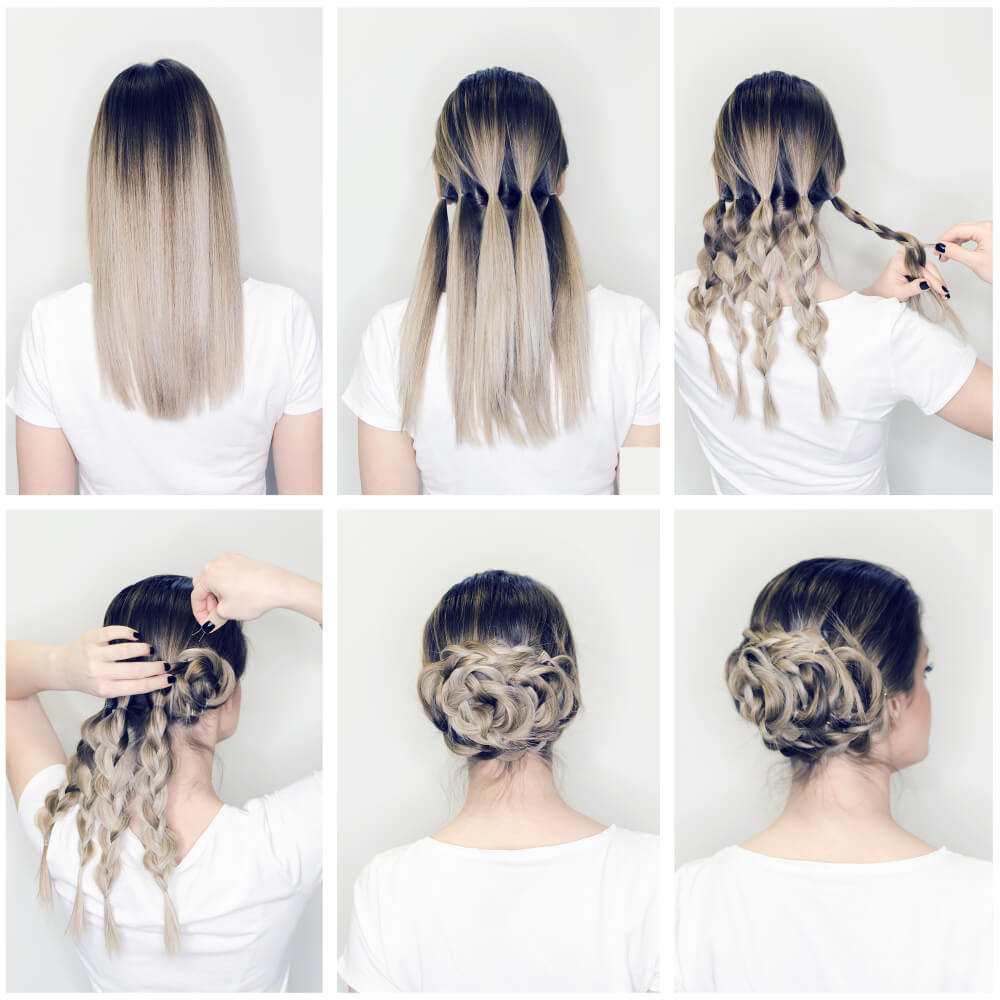 It can be hard to find a good updo when you want to show off your ombre hair, because so many styles end up either hiding the key color transitions or mixing them all together. 
Well, if you want an updo that truly complements your ombre locks, here is one to try…
This look can be created whether your hair is straight or curly, and while the final result looks quite elaborate, it is actually so simple to put together. 
Ready to get started? 
Follow these steps: 
Begin by brushing your hair out, ensuring that there are no tangles
Separate your hair into multiple sections, tying each one off in a ponytail with a clear elastic band. The number of sections you will need depends on your hair thickness, so you may need to experiment with different amounts. Ideally, try to have around eight ponytails tied off

 

Now, take each ponytail and braid it, using a simple three-strand braid technique. Once you are done with each braid, tie it off at the bottom with a clear elastic band

 

Starting at the side, take a braid and twist it around on itself, so that it forms a bun
Use bobby pins to pin the bun in place

 

Take the next braid and do the same, making sure that this bun joins on to the first

 

Continue this process with all of your braids, until all of your hair has been tied into the updo

 

Finish off with some hairspray to hold your style in place

 
Don't worry if you haven't washed your hair for a day or two either, as this style tends to work better on unwashed hair. 
Why? 
Because this means that your hair contains more natural oils, enabling your hair to be easier manipulated into braided styles, while giving your strands more grip and hold too. 
Silver-Purple Bob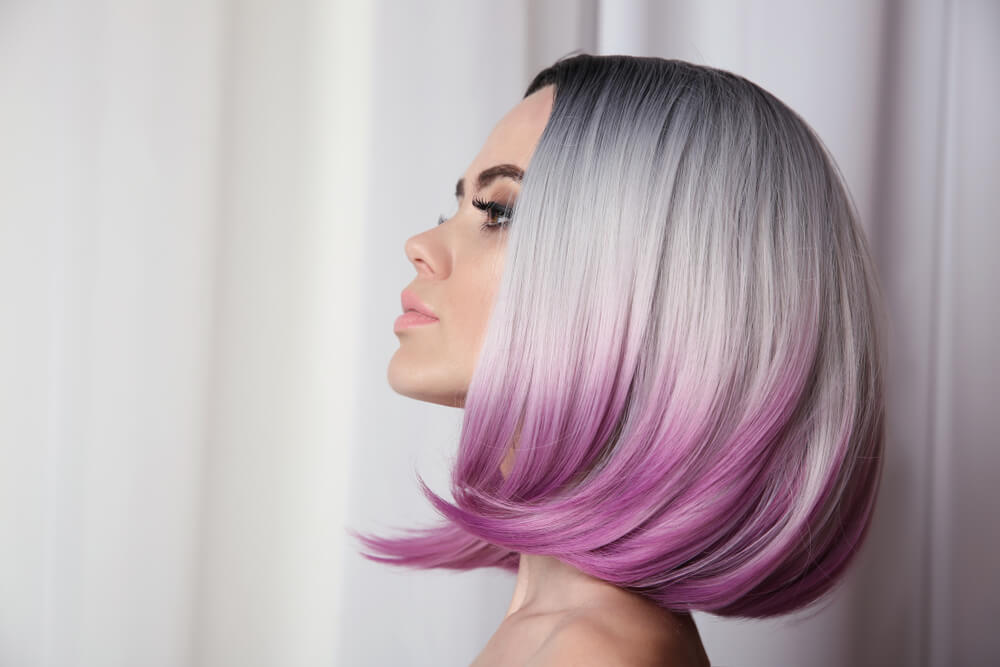 The great thing about ombre and balayage styles is that these colors can be applied to any length of hair. This means that those of you with short hair do not need to feel left out, as you can pull of these shades just as well as someone with long hair! 
The silvery gray shade of this look is pretty trendy right now, which, if you have Instagram, you have likely already seen many times by now.
What made gray so popular? 
It could be due to the fact that this shade is so delicate yet edgy at the same time, and is able to complement just about every hair type and texture, as well as skin tone. 
One thing to keep in mind when choosing an ombre style featuring gray shades…
As a hair dye color, gray does not usually last for very long. 
While using a shampoo and conditioner for colored hair will help to keep your color vibrant for longer, you should also look into using a shampoo that features a blue or purple hue, as this will keep the gray so much fresher.
When it comes to the actual bob in this style…
There are so many different bob styles out there, so make sure that you pick one that complements your face shape. 
Here are a few guidelines: 
Heart-shaped faces – try to keep your bob slightly longer, adding some extra fullness or layers at the bottom to balance out your face shape

 

Round-shaped faces – aim to have your bob falling to just below your chin, keeping your hair at an equal length around the sides

 

Square-shaped faces – avoid having your bob fall at jaw level, as this will only make your face appear squarer. Instead, have it fall either above or below your jawline, going for a softer cut to balance out the angles in your face

 

Oval-shaped faces – since this is quite a universal face shape, just about any bob would work
Glamorous Curls
Many people with naturally dark hair are often afraid to go lighter. However, opting for an ombre or balayage style is the perfect way to add some light shades to your hair, without fully committing. 
As you can see, Beyonce manages to pull this off perfectly, with a softer, caramel brown at the top of her head, and then a darker, more natural, brown at the bottom. 
The best way to show off such gorgeous colors? 
With glamorous curls, of course! 
Don't worry, this hairstyle isn't just suited for the red carpet…
It works for just about any occasion, even if you are only doing something totally casual. However, this style does take a bit of time to create, but the results are completely worth it! 
Want to know how to get this look? 
The method all depends on your natural hair texture. 
If your hair is naturally straight or wavy, follow these steps: 
Apply some mousse from your roots towards the ends of your hair, stopping about two inches before the end. Do this while your hair is still damp. Make sure that you also apply a heat protectant product

 

Then, create a side part and use a flat brush to blow dry your hair

 

Divide your hair into four sections and begin at the front, using a curling iron to add in some one inch curls. If your hair is quite fine and straight, quarter inch curls may be better off for you. Start at ear level, going towards your ends, pinning each curl up on your head once it has been formed. This will help to define the curl pattern

 

Once your pinned curls have fully cooled, remove the pins and brush your hair. You can use a flat iron at this stage if you need to smooth down any frizz around the crown

 

Finish with some shine serum, as well as a spritz of hair spray, to complete your look
What about if you have curly hair? 
Then you will need to begin by blow drying your natural curls with a round brush, in order to smooth them out. Before you put your blow dryer away, switch it over to its cool setting and give your hair a blast of cool hair. 
Why? 
This helps to set the smoothness you have just created, due to the way in which it seals your hair follicles. 
Then, part your hair and section it off. You can now follow the guidelines above, beginning at the third step. The only difference is that once you get to the end, you may want to apply a thin layer of a smoothing serum rather than a shine serum, as this will help to prevent frizz from forming as the hours go on.
Twisted Half Updo
This twisted half updo is a great way to bring together the different shades of your ombre hairstyle, 
Half updos are also such a cute and fun style to rock, keeping your hair away off your face while still allowing it to be loose. 
All you need to do is separate off a section of your hair by each ear. 
Take one section and twist this towards the back of your head. Do the same with the other side, so that both the twists meet in the middle of your head. 
Insert a couple of bobby pins into your hair to secure the twists in place. You can then stretch out and manipulate the twists a little to hide the bobby pins from being visible. 
Adding in other hair accessories at this stage can be a fun way to give this look even more personality. Try adding a decorated pin or a bow to the point at which the two twists in your hair meet.
Finish off this style with a light layer of hair spray. 
Again, this is a style that works with just about every hair length and color, so don't be afraid to give it a try! 
Fun and Flicky
This fun and flicky look really emphasizes the energy and personality behind ombre and balayage styles. 
This look in particular makes use of a mint green at the top of the head, with this then turning into a light pink, which then turns into more of a pink/ purple. 
These colors are quite unique and are very flattering, but this hairstyle can be carried out with whichever ombre shades you decide to go for. 
This is a relatively easy style to put together, but the one question that many have is…
How do I get my hair to flick out at the ends? 
It's simple – all you need is a large barrelled curling iron. 
Make sure that your hair is dry, and that you have applied a heat protectant product, before beginning. A light spritz of hairspray before curling will help to give your flicked out ends a bit more definition. 
Then, using a round brush, wrap the ends of your hair around the curling iron, so that you can then curl each segment of your hair outwards. 
Then, give your hair some time to cool. Once it has fully cooled down, use your round brush to break up some of the curls that you have created, to give this style a more natural finish. 
If you want to add even more definition to some of the flicks you have created…
A pomade will help you to do so. Apply a small amount of pomade to your fingertips, and then use this to pinch the tips of your flicks, pulling them outwards into sharper points. 
You could also try applying a styling gel to the ends of your hair while it is still damp, before blow drying your hair dry. This will give your hair some extra hold when you are using your curling iron. 
Love the side fringe in this look? 
That's another great way to really emphasize the gorgeous ombre colors in your hair.
However, make sure that you pay extra attention when blow drying your fringe. You need to do this from above, rather than from any other direction, as this will keep it smooth yet bouncy. Even though this style is all about flicked out hair, your bangs will usually look their best if they are sitting smoothly against your face. 
If your bangs are particularly long…
Give them a curl with your curling iron too. However, make sure that you add the curl in at the right spot, as you don't want your bangs to curve unnaturally against your face. 
Ombre and balayage hairstyles can be so much fun to experiment with. No matter your natural hair color, style or texture, you will no doubt be able to find an ombre hairstyle that perfectly complements your look. 
---