Here's Why You Should Be Using Hemp on Your Hair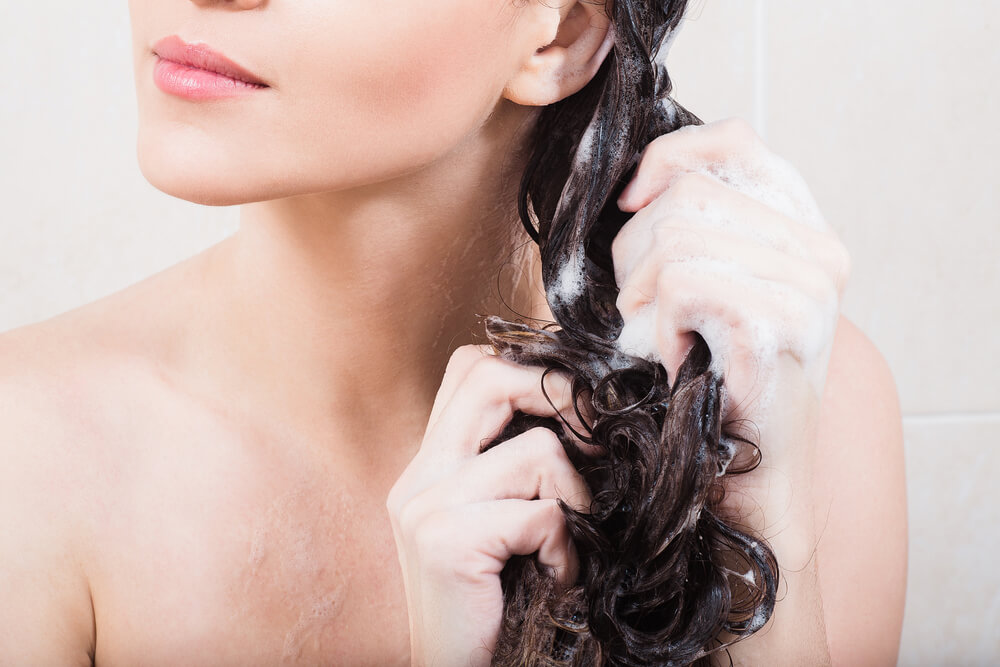 Seems like the trends never stop, right? Well, the beauty industry is no different! By now you've probably heard of hemp, one of the fastest-growing plants on our Earth. As of late, it may seem as if hemp is in almost everything. From our food to hair products, skincare, body care, even proving useful for our pets! We even use it in our HerStyler Hemp Shampoo!
It turns out that hemp is actually quite beneficial for us internally and externally. This is why you'll find it in several HerStyler products. 
But first, let's learn more about exactly what hemp is and how it can help us look our best. Join us at HerStyler for a hemp discovery journey! 
What is Hemp?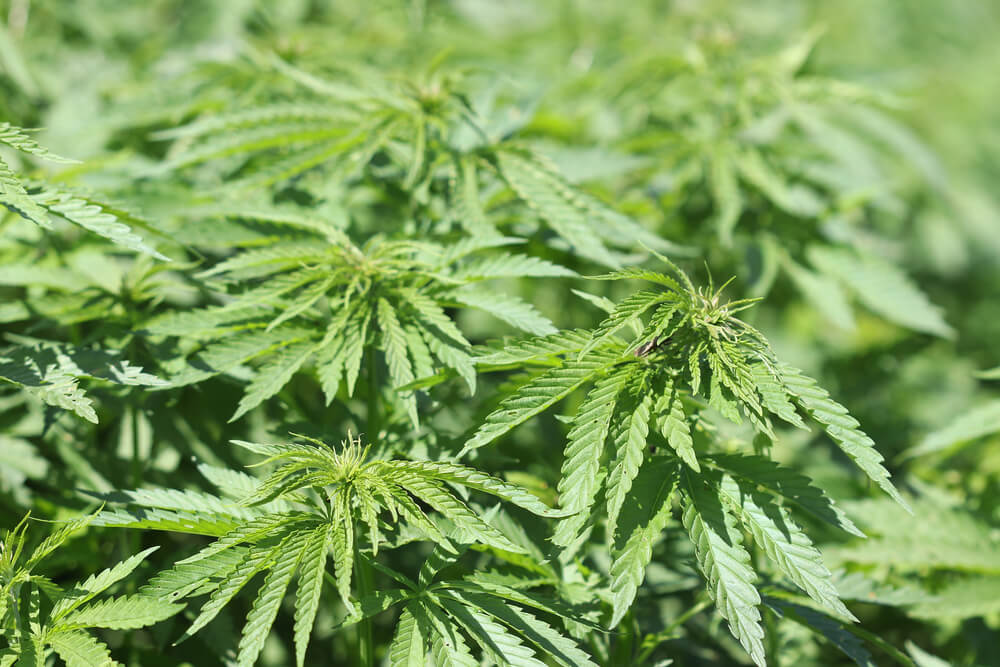 Hemp has been around for over 50,000 years and has been used in a myriad of things including food, health and wellness products, and pottery.
We don't even have enough room on this page to list all the ways that humans have used hemp but, needless to say, it's pretty durable!
Well, no matter how many different uses hemp has there is actually still a lot of mystery and confusion surrounding it.
Is it safe to use on my body? What about my hair? Isn't this marijuana? Will it make me feel weird? If it's just a plant is it even worth all the hype?
Hemp originated in what is now modern-day China and Taiwan. While it is part of the Cannabis family, hemp is not the drug marijuana. Hemp does contain tetrahydrocannabinol or, THC, but it is far from the amount contained in marijuana.
Hemp, or really, industrial hemp, is produced for its fiber and/or its seeds. There are records of hemp being cultivated for its fiber in China as far back as 2800 B.C.E!
For the beauty world, we're most in love with the seeds of the hemp plant. It's from pressed hemp seeds that we get our precious hemp oil, the main ingredient in a lot of body care products that feature hemp.
Cold-pressed hemp seed oil is fantastic when used as a skin moisturizer while hemp seed extract is more for internal benefits and overall health. No matter which way you put it, hemp has been proving itself to be incredibly useful for centuries!
So, What's in it?
Let's take the time to list some of the amazing nutritional benefits of hemp seed oil:
Great supply of antioxidants

Loaded with minerals like magnesium, sulfur, potassium, iron, and zinc

Good source of

chlorophyll

which has been proven to help with anti-aging

Contains essential fatty acids

High-quality protein
As you can see, hemp is chock full of super beneficial nutrients and minerals that are vital for healthy hair and skin. Many brands have included hemp in their products or even introduced an entire line featuring hemp as a marketing tool while failing to even inform people on how beneficial it actually is!
The nourishing effects of hemp seed oil are well known and HerStyler has developed two amazing products dedicated to showcasing the incredible effects of hemp!
The Herstyler Hemp Shampoo
It is imperative for us to have an effective hair care routine that tackles our hair issues from start to finish. This means from shampoo to styling we want to do everything we can to ensure that we are giving the best to our hair. The HerStyler Hemp Shampoo is a great start to your hair routine to achiever softer and smoother hair!
The HerStyler Hemp shampoo is able to thoroughly cleanse and refresh the hair while still imparting some intense moisture and nourishment. In addition to hemp seed oil, our HerStyler Hemp Shampoo is filled with a few other hair loving ingredients:
Sage Oil – We absolutely love

sage

oil for all of its great benefits! Not only can sage oil assist in preventing hair loss, it is able to penetrate the scalp easier, making the delivery of vitamins and minerals a lot faster.
Vitamin E Oil – The benefits of Vitamin E oil are well known and it adds an ultra-moisturizing effect to the hair. Vitamin E oil is known for keeping hair moisturized an improving the overall look of our strands.
Jojoba Seed Oil – Thought jojoba seed oil was only good for the skin? Think again! Jojoba oil is just as good for our hair. Supporting healthy hair growth and preventing a dry scalp, jojojba oil is a great addition to have in our hair arsenal!
You may be thinking that all of these oils will just weigh your hair down but guess again! Instead of feeling oily and heavy, the HerStyler Hemp Shampoo will leave your hair fresh, clean and feeling and looking great.
The HerStyler Hemp Conditioner
What's better than a shampoo featuring hemp seed oil? A conditioner featuring hemp seed oil, of course! Once you're done using the HerStyler Hemp Shampoo do your hair a favor and follow up with the amazing HerStyler Hemp Conditioner! Take the nourishment up a few levels by using both of these products to get great results.
Get the most out of this conditioner by pairing it with the HerStyler Hemp Shampoo and using it correctly. Instead of towel drying your hair after washing your HerStyler Hemp Shampoo out, leave your hair wet. Apply the HerStyler Hemp Conditioner to your strands focusing on mid-length all the way to the ends of the hair. Apply and let it sit on the hair for two to three minutes.
For some extra T.L.C, once you apply the conditioner, put a plastic cap over your head for around twenty minutes and then rinse the conditioner out. After rinsing thoroughly with warm water, do a final rinse with cool. This helps to close the cuticle making the hair feel smoother and giving a fantastic shine to the hair.
Using the HerStyler Hemp Shampoo and Hemp Conditioner together will leave your hair feeling and looking healthier and thicker than ever with even better results through consistent use.
Hemp is not the only focus of the HerStyler brand. Adding to the Hemp collection are two other lines that are great for achieving healthy and thriving hair. Let's take a look!
HerStyler Smooth and Shine Collection
No matter what your hair texture, smooth and shiny hair is desire for all of us! There is nothing worse than ending up with frizzy, dull hair that looks both dry and lifeless. Here is where HerStyler takes center stage.
In addition to the HerStyler Hemp Shampoo, the HerStyler Rosehip and Sage Shampoo is another fan favorite. Why? Because of the following reasons:
Rosehip oil is filled with Vitamin C and Vitamin A, making this oil a great ingredient to incorporate in your hair care practices. The shampoo uses Rosehip oil to restore and repair the hair promoting strong and shiny hair!
As mentioned before, Sage oil is great at refreshing the hair and scalp. The hair is left with more volume because of the lack of build-up on the scalp while also looking and feeling softer.
The two featured products in the Smooth and Shine Collection are the Rosehip and Sage Shampoo and Conditioner. When used together these products deliver enviable results! Smoother, shinier and healthier hair is eventually revealed.
HerStyler Restore and Repair Collection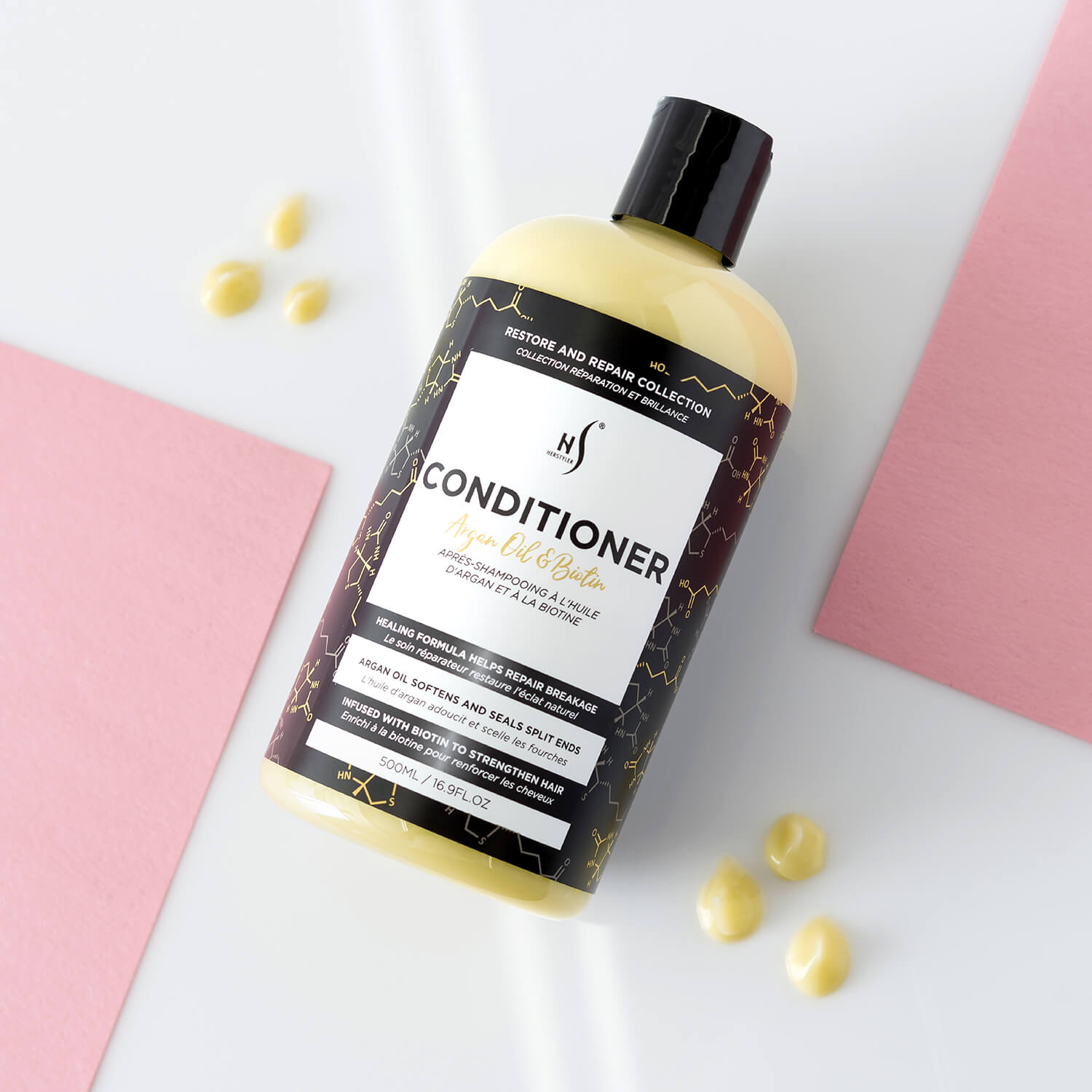 Damaged hair is no laughing matter. Trust us! Not only can it make your hair look less than appealing, it can lead to long-term problems for the future if not treated. Damaged hair that is neglected can lead to breakage and stunted growth. Ever wonder why your hair tends to stop growing once it gets to a certain length? It could be breakage! Combat that with HerStyler's Restore and Repair Collection, featuring the Argan Oil and Biotin Shampoo. 
In this collection, the goal is to bring the hair back to a healthy state and mend any signs of damage. To do this, HerStyler focuses on Argan Oil and Biotin, two ingredients known for helping the hair in our quest achieve healthy and manageable hair. Let's learn a little more about both of these ingredients.
Biotin – Studies have shown that individuals with biotin deficiencies have benefitted from the addition of biotin in their hair products. This helps to prevent hair loss. 
Argan oil is absolutely incredible at softening the hair, instantly making it easier to manage and manipulate. We all know how incredibly frustrating it is to have that perfect style in mind and not being able to execute it because our hair just isn't acting right. Not. Any. More! Keep your hair in tip-top shape by using quality products like our

Restore and Repair Collection

.
So, What Now?
Wondering what product you're going to go out and buy next? We know! HerStyler makes it a little hard to choose but the best part is you are now a few steps closer to being more informed than ever about what products to select.
Whether you're thinking about choosing from our Hemp collection or one of our others, you'll be able to make a better decision based on your current hair situation. Now that you know all the different benefits that can come from using products that contain hemp, you'll be confident as you make your selection.
One of the first steps to gaining this confidence is having a good understanding of what we're working with! Think about it for a second. Imagine how hard it can be to choose a product but you don't exactly know what you should be looking for or even why you should be looking for it. Having an understanding of our hair, such as its texture, habits, how it reacts to products and more can greatly help us when choosing products for our hair.
Remember, knowledge is power and power is truly beautiful!
What's the Bottom Line?
Hemp is great to use in hair products for a lot of reasons but some of the biggest are:
It is chock full of vitamins and minerals that are very beneficial to our hair.

Hemp seed oil contains fatty acids that encourage hair growth.

The moisturizing effects of Hemp seed oil can create softer more manageable hair.
The HerStyler Hemp Shampoo is a great introduction to using hemp-focused products, especially when used with the HerStyler Hemp Conditioner. Treat your hair to something different yet amazingly effective with our Hemp line!
With consistent use, you're bound to end up with hair that's easier to style and healthier-looking! No matter what hair concern you may be facing, HerStyler is sure to have a collection that is perfect for you.
---