7 Genius Ways to Style Thick Hair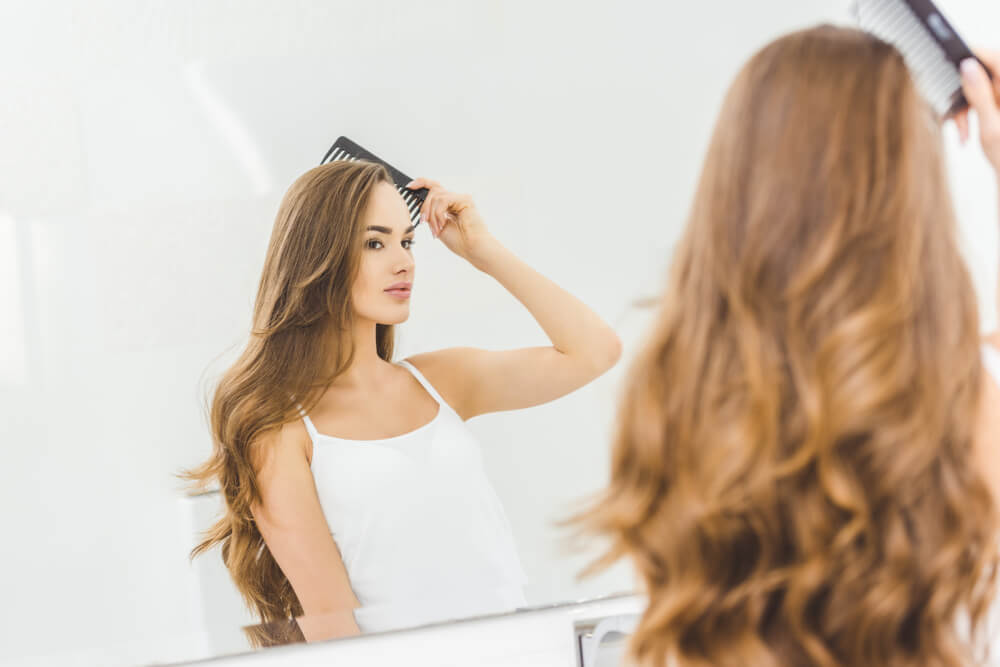 Let's not be coy about it, having thick hair is generally a huge blessing! Your hair has tons of body, looks great up or down, and maintains a youthful appearance thanks to its gorgeous volume and healthy-looking strands. The only slight issue we sometimes run into when dealing with our thick hair? You know it – styling. 
Curls and various other looks can be hard to maintain as they often get weighed down. Hairbands break trying to contain the sheer capacity of our voluminous manes. Not to mention brushing our locks through before blow-drying into the style we want takes about six months! If you're sitting there twirling your super-thick locks wondering how you can improve those styling processes to make things easier on you and your hair, HerStyler is here to help. Keep reading for 7 genius ways to style thick hair from seriously pretty everyday looks to those you'll wear for evenings out.
1) Train Your Hair to Hold a Curl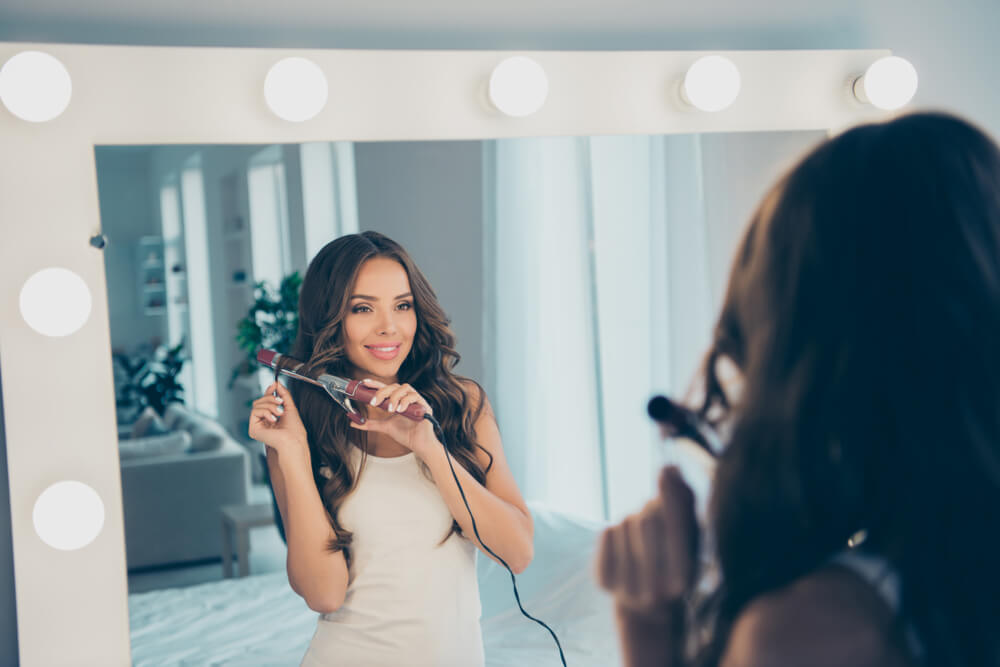 As you style thick hair into a curl, it always looks amazing at first but, more often than not, proceeds to drop out within about fifteen minutes. This is not only frustrating, it also feels like a waste of time when we put all of that effort into creating all those beautiful bouncy curls.
Well, no need to fret. Even with super thick hair, keeping your curls is totally possible, it's simply a matter of training your hair before and after to maintain your style so it holds all day (or night) long.
How to Style Your Curls… and Keep Them!
Before we get to the actual curling, let's talk about what you can do beforehand to give those curls a fighting chance!
Step one: You're going to go very light on the conditioner before completing this style. This will ensure your hair isn't overly silky so the curls simply slip out before they've even cooled. 
Step two: Make sure before you start applying heat that you prep your hair ready to receive it. Whilst it's still wet, apply a high-quality heat protection cream (you'll find an amazing one available from HerStyler) or spray so you don't damage your locks. Also, be sure to add plenty of mousse. This will create texture for the curl to grip onto before you blow dry it. What's more, the alcohol within this product will soak up excess moisture creating even further hold for your curl. A generous spritz or two of holding spray is also a great idea. It'll ensure all of that glorious thick hair stays put once the curls are in!
Step three: Section out your hair and begin curling. Make sure you choose the right heat tool for your thick hair and don't try to curl huge sections at a time. Smaller pieces of hair will curl easier and hold the style much better. Unsure which curl size you'll want? HerStyler's signature Teflon 5P Curler gives you five different size options to create whichever look you're dreaming of. Not to mention it reaches up to 400°F which is perfect for those with thicker tresses!
Speaking of which, make sure your curler is turned up nice and high when you style thick hair. These temperatures are there for those of us with thicker tresses. Our more robust strands can take a fair amount more heat than those with fine locks. Not to mention, higher temperatures will also help us hold that style even longer.
Want to know how to keep each curl?
It's easier than you might think!
Step four: Instead of simply letting the section fall after you're done curling it, keep it twisted. Then, go ahead and press the curl up and against your roots (being careful not to burn your hand!). Then, take a no crease styling clip and slide it in to hold the curl in place until it cools. Do this with every section then release them all at the end. Your curls will have had the chance to set in place. This means that they won't simply drop out a few moments later.
Step five: Finish off with a few generous spritzes of the HerStyler Perfect Hold Hair Spray to set your curls completely. It leaves no residue and is perfect for all hair lengths and textures.
2) The Half Up Half Down Bun
As ladies with super-thick locks will know, trying to style thick hair into a simple ponytail or bun isn't as simple as it might seem. Besides the fact that your locks can quickly weigh this style down, it can also be difficult to get all of that hair into a position that looks good and feels comfortable without devoting heaps of time to doing so.
In this case, HerStyler recommends going for a half-up-half-down bun instead. This style still keeps much of your hair up and away from your face but leaves enough down that it's a simple and quick style to complete. Not to mention, it'll stay up and in place for so much longer.
How to Style It…
Begin by deciding just how much of your hair you want up (we usually go from the top of our ears and sweep up in a diagonal motion towards the back of the head for an even top section). Then, section it off from the rest of your locks using the specially designed Easy Comb from HerStyler to get straight partings on either side. 
Next, brush it all up and secure it in place. Be sure to use a hair elastic designed for thicker hair. Even though we're putting up less hair than usual, likely, you'll still need a thicker band than most!
Once you've tied it into that half ponytail position. Take the section of hair you tied up and begin twisting. Once the hair is loosely twisted all the way down, wrap it around itself so it sits covering your hair elastic. From here, you can either use bobby pins to hold the bun in place or, opt for another band if you feel you need it. 
Finish off by loosening a few pieces of the bun as well as a few loose pieces around your face. This will give the whole style a more laid-back, yet stylish appearance rather than looking overly neat and pristine.
We love this versatile style as it's perfect for spring and summer. Plus, it looks great both during the daytime and for evening commitments.
3) Ask Your Stylist for These Specific Layers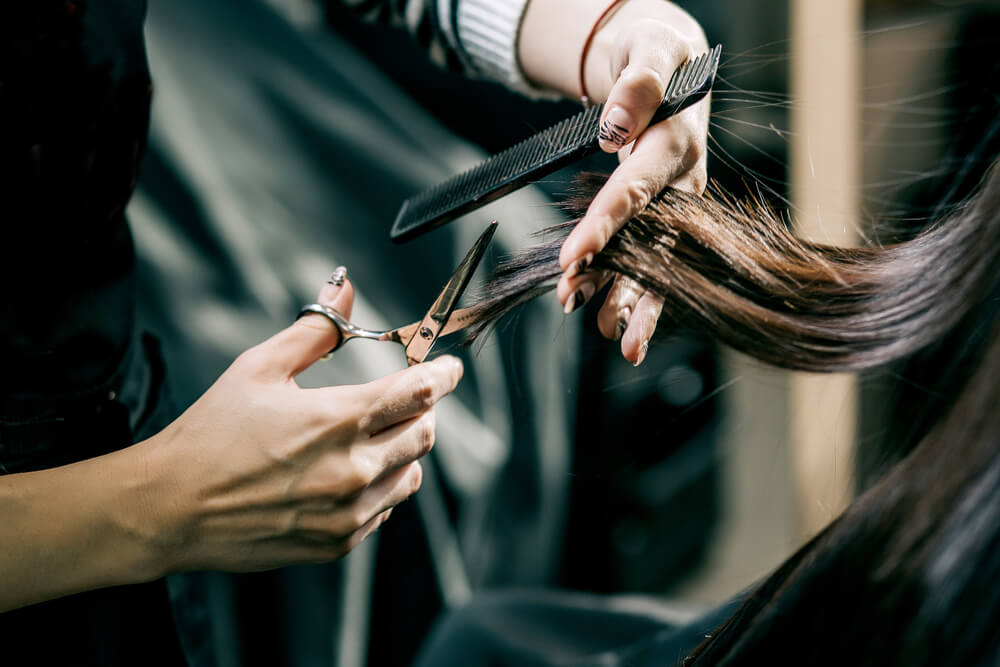 If your thick has caused you to think layers aren't for you, we totally get that. Perhaps it's because you've tried them before and they came out horribly step-like, or, maybe you've never had them because somebody once told you that you couldn't pull them off with such voluminous tresses (how dare they!).
Either way, we're here to let you know that layers can absolutely work for you. Even better, they can make it much easier to style thick hair than ever before.
That said, we do suggest doing your research and having a conversation with your stylist before opting for this style. Some layered looks may be tricky for your specific hair type. However, together, you can certainly find the right style for you!
How to Choose & Style Your Layered Look
In our experience, the best layers for thick hair are those that are softer and take the weight out towards the ends of the hair.
Shaggy, beach-style layers also look best because they celebrate the hair's natural texture. They taper off at the end to create a smooth line from root to tip, rather than a blunt cut end which can create steps throughout the hair. Not only will your locks look great with these types of layers, but it'll also be easier to style thick hair and put it up once some of the weight and volume has been thinned out towards the ends.
To make sure your layers stay smooth and weightless, and to style thick hair into the shape you want, we suggest treating your ends to a hair serum. The HerStyler Marula Hair Nourishing Serum, for example, absorbs easily into your locks, leaving them looking smooth and silky without any greasy residue. You'll be left with a radiant sheen that makes the most of your new style and tames any would-be frizz!
4) Make Thick Braids Your Best Friend
Another reason you should love your thick hair?
Braids were made for you!
That's right, if you're searching out the style you can pull off better than anyone, we can bet you it's braids every time. No matter how you choose to style them, your lovely thick locks mean you rarely find gaps throughout your style, it has plenty of volume despite the fact it's securely fastened, and your braids always look thick and luscious.
How to Choose and Complete Your Braid Style
Whether you opt for pigtail braids, one single low braid, or even a ponytail braid, we can pretty much guarantee that your thick hair is always going to look beautiful.
Now, if you're looking for a style that's genius both in the way it looks and how quick and easy it is to complete (plus it's great for your hair), we suggest turning your skills and attention to a classic, low single braid. 
Amazingly, to complete this style you'll only need one hairband (unless you need a few spare bobby pins to pin back your bangs or any shorter front layers you don't want to be left out!)
Start simply by brushing all of the hair through to make sure it's tangle-free and ready to be sectioned out. Once that's done, go ahead and divide your hair into three equally sized pieces. One on the left, one in the middle, and one on the right.
From here, simply take it in turns to cross the left piece over the center, followed by the right piece. Repeat this process holding the hair relatively tightly as you go. Once you reach the bottom of the hair, leave enough room to secure it in place with a hair elastic, and you're done! It really is a simple as that. With your thick hair, this surprisingly simple style will look seriously chic.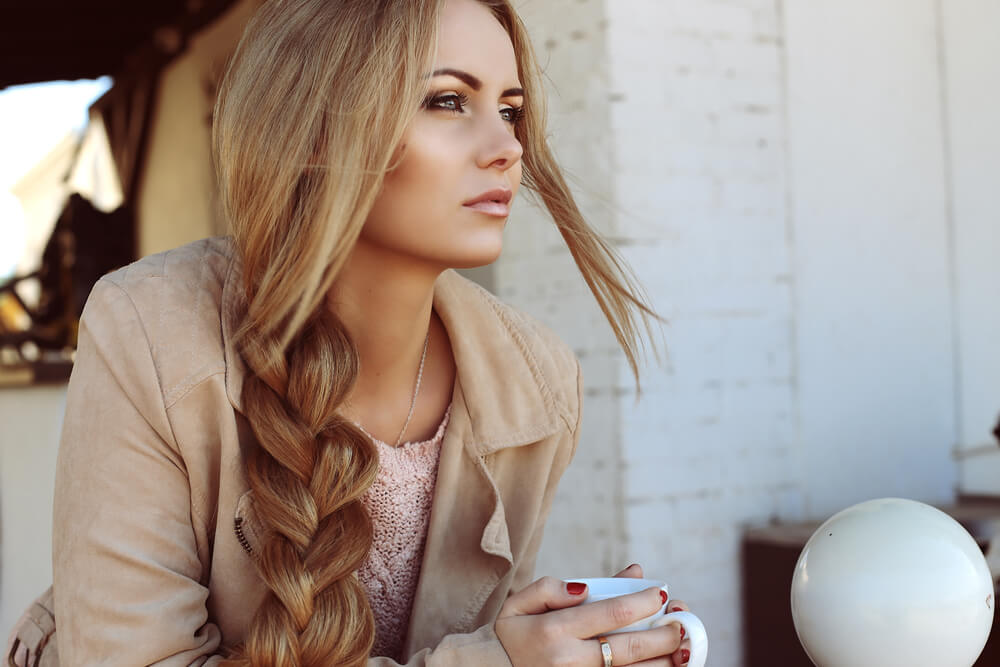 Want to elevate your simple braid?
We thought so! And we have two favorite ways to do this…
5) The Braided Bun
Using the style above as a starting point, simply wrap your braid around into a bun at the nape of your neck. Secure it in place with large bobby pins or a hair elastic. This style may sound incredibly simple but trust us, your thicker locks will create a chic, voluminous bun that you'd be as proud to wear to the office as you would to a wedding!
6) The Elevated Braid
Since your hair is thicker than most it can take larger, statement accessories. Accessories that those with fine hair can find tricky to pull off. Once you've completed your braid, go ahead and use a hair scarf to conceal the hairband at the end. This will add interest and dimension to a simple look whilst balancing out the volume of your braid beautifully. A go-to look for spring and summer!
7) The Sky-High Ponytail
Wondering how to style thick hair into a high ponytail without the volume taking over?
We have you covered!
We absolutely love this celebrity trend and though everyone seems to be wearing it right now, we understand it can be super-tricky to style thick hair into an up-do like this. But, don't despair, it's totally possible for you and we'll teach you just how to style thick hair into this trending look!
How to Style Thick Hair Into a Sky-High Ponytail
Once your hair is ready to be styled, simply comb it all through and pull it upwards to the desired height. Some find flipping their head over helps with this but be careful with thick hair. Being too rough with it can cause unwanted frizz so be gentle if you do it this way!
Once you have your ponytail up, go ahead and allow a small to medium section of hair at the bottom to fall back down to the neck. Make sure it's neat and use your comb to section it out if you need to. Secure the rest in place with a hair elastic.
Once this is done, go back and pick up the section you left out. Brush it upwards and use it to wrap around and conceal the hairband. This creates a chic up-do look, and, it removes some of the volume and thickness from the ponytail itself. Finish off by smoothing out your ponytail for an ultra-chic, celebrity-inspired finish.
---