HerStyler's Favorite Hair Tips for Summer
Girls prepare for summer in different ways. While one might be saving extra cash for that Hawaii vacay, another might be spending an extra 30 minutes on the treadmill working on their beach body. Meanwhile, others could be planning out their tanning sessions and island girl outfits.
But there's something all women have in common when prepping for their summer style – their hair. There are tons of hairstyles you can rock during the summer, from loose curls to classy chignons. But appearances aren't all you should be thinking about. Haircare matters a lot too.
Not sure exactly how to adjust your hair regimen to keep summer heat damage at bay? You've come to the right place! Today, HerStyler is going to be talking about our favorite hair tips for summer — from what type of products to use to how to wear your hair in the most stylish way.
Why Does Your Hair Need Extra Attention During the Summer Months?
Three words: sun, humidity, and chlorine. Your healthy hair is exposed to these three things all the more during the summertime. And while it's relaxing to chill on the beach and take a dip in the pool any day in the summer, these things aren't exactly the best for your hair. That's why you need extra hair tips for summer.
First of all, exposing your hair to the sun's UV rays can cause a high amount of heat damage to your hair cuticles. This damage can lead to brittleness and dryness. It could even fade your hair color faster if you've had it dyed. The worst part is that damaged hair won't be able to hold a curl or wave properly.
Plus, UV rays also break down the keratin in your hair, also known as the proteins and bonds that keep your strands strong and resilient. UV damage ends up giving you split ends over time and makes your hair more prone to breakage. Yikes!
Humidity is another summer curse you should keep an eye out for. When your hair is super dry, a little bit of humidity can make it look poofy and insufferably frizzy. Parched strands absorb humidity in the air when there's too much of it. This causes your hair fibers to swell and lead to breakage. We'll talk about how to combat this in a bit.
Lastly, we have chlorine — the chemical you usually find in swimming pools. Chlorine buildup, along with other chemicals like copper, can dry out and weaken your hair. If you have lighter-colored hair, you could even end up with a green tinge because of the pool chemicals.
Even with all these, you can still rock gorgeous, healthy, hydrated hair — as long as you play by the rules. Here are 10 hair tips for summer, so you can flaunt beautiful locks the entire season:
Always Shield Your Hair from the Sun with a Heat Protectant
One of the most important hair tips for summer you should always keep in mind is to protect your hair as much as you can from the heat. Always apply a hair product with UV filters or heat-protecting abilities to shield your beloved locks from the sun. This also prevents your hair color from fading.
Consider wearing a cute floppy hat or a breezy scarf next time you hit the beach. They'll help cover up your hair, minimizing sun exposure. They'll also hold your hair in place, preventing tangling caused by the wind.
Protecting your hair from heat isn't just limited to the sun. You also need to work extra hard to minimize damage when you're using your heat-styling tools. Every time you want to style your hair with heat this summer, make sure you apply the HerStyler Heat Protective Straightening Cream first.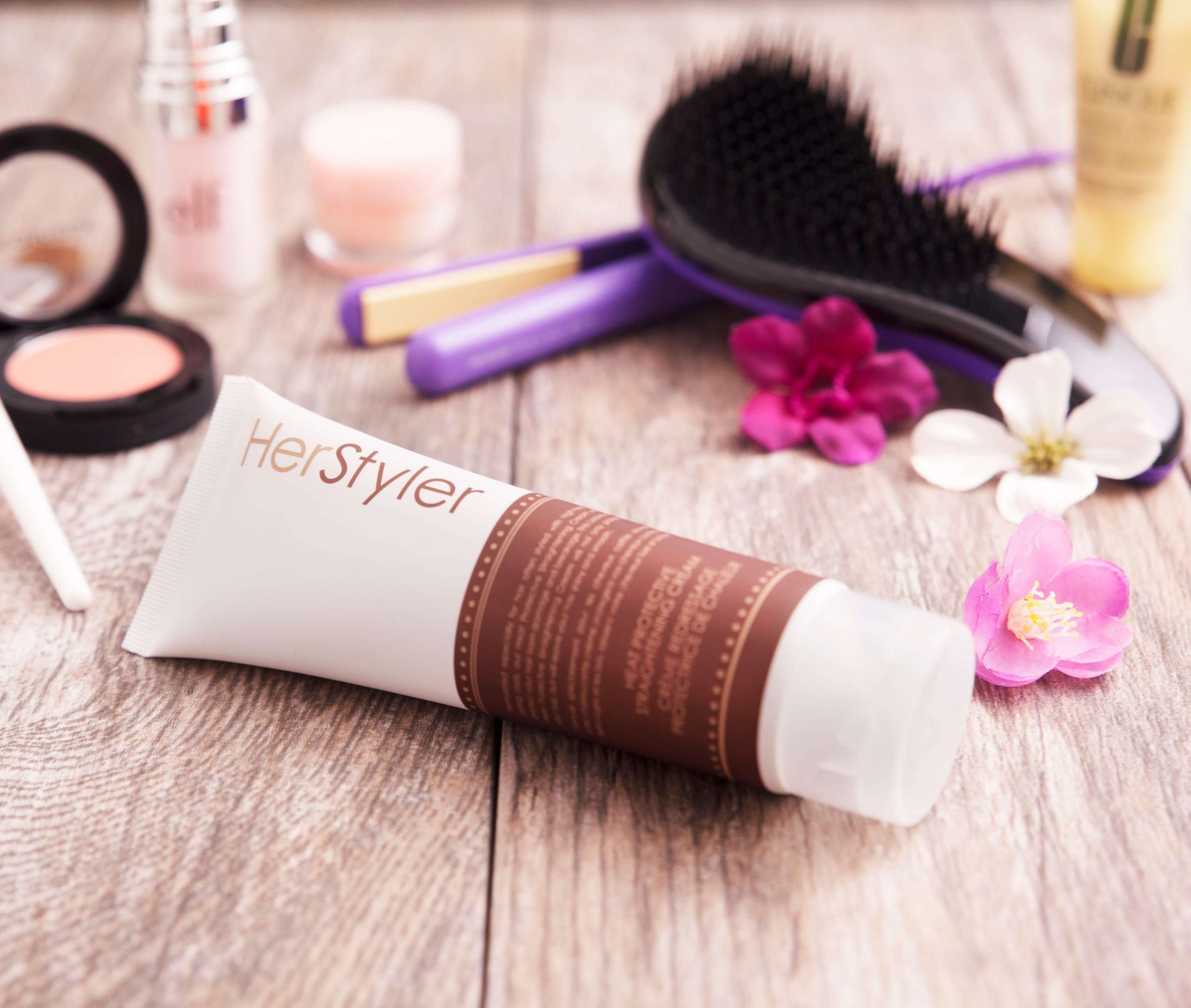 Experiment with Fun, Sultry Beach Waves
Is there any hairstyle that suits summer more than loose, beachy waves? Get this classic sultry look to match your sunkissed skin on your next tropical vacay.
Using a curling wand is the best way to get those perfect waves. The HerStyler Beach Curler is designed exactly for that. It has two barrels — a 19mm one for tighter coils, and a 32mm for beachy waves.
You can also check out a more traditional curler, like the HerStyler Extenso. Its thick, clip-less barrel allows you to create wide, natural-looking waves without tugging and pulling at your hair. It's also designed with negative ion technology to eliminate the look of frizz and flyaways!
If you're on the more low-main side, there are also ways to effortlessly create waves without heat-styling. All you have to do is put your hair in a bun or some braids before going to bed. When you wake up, just tousle and shake your hair out to bring those waves to life.
Switch to a Hydrating Shampoo and Conditioner
Your hair is prone to drying out during the summer, so switch out your regular shampoo and conditioner for more moisturizing formulas. Many of these hair tips for summer will involve hydrating your hair more often, and getting the right shower products is just the first step.
One combo that's sure to replenish the feel of your hair with moisture and strength lost to the hot summer months is the HerStyler Argan Oil & Biotin Shampoo and Conditioner.
These products are infused with argan oil to soften and condition the feel of your hair as you cleanse it. Argan oil also keeps your hair looking sleek and smooth, preventing the appearance of frizz from taking over and ruining your hairstyle.
Meanwhile, biotin and vitamin E work double-time to strengthen the feel of your hair to curb split ends, breakage and, snapping. Together, these powerhouse hair ingredients work to add shine and luminosity to the appearance of your mane.
Wash Your Locks Less Often to Curb Dehydration
Try not to shampoo your hair every day. Washing your hair with harsh surfactants can leave your hair dry and stripped of the natural oils that keep it moisturized.
When shampooing your hair, limit it to just the roots. This area is the greasiest part of your hair since it's the closest to the scalp.
Meanwhile, your ends are the driest part of your hair, so you don't have to concentrate the shampoo in that area. As you rinse the shampoo out of your hair, the suds will glide through the lengths of your locks, cleaning your ends that way.
If you have a particularly oily scalp, use dry shampoo between wash days. This can suck up the excess sebum and grease, leaving your hair fresh and clean without you having to shampoo it.
Moisturize Your Hair with a Weekly Deep Conditioning Mask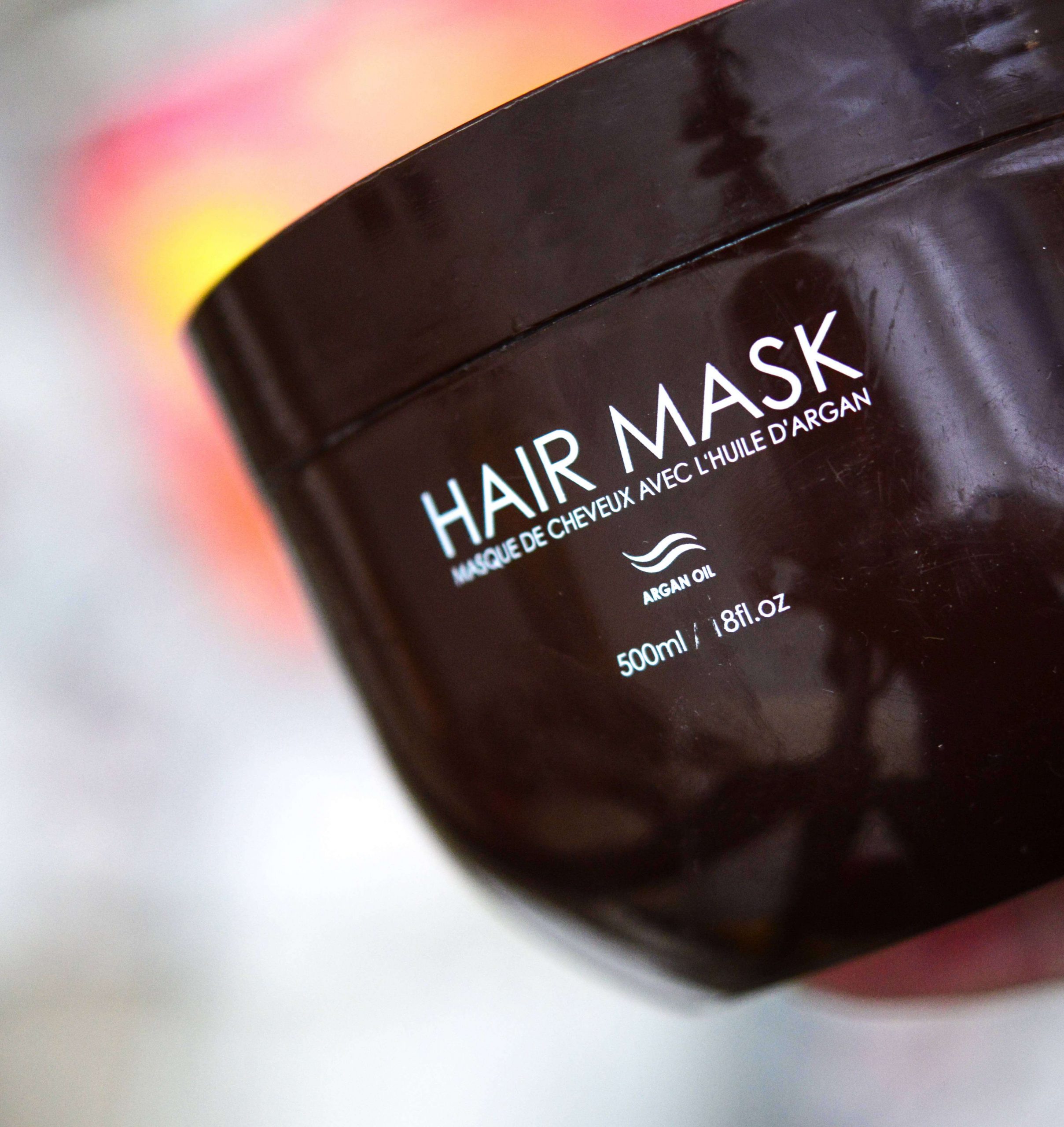 Once a week, treat your hair out to a deep conditioning mask. This is a great way to moisturize your hair again and restore its healthy look after being dried out under the sun for days. Just be sure to do it weekly, not daily, to avoid over-moisturizing your hair and leaving it feeling gummy. The HerStyler Argan Oil Hair Mask is a great product to try. 
If you like DIY-ing your hair masks, you can do a hot oil treatment at home. Coconut and avocado oils are excellent at penetrating your hair strands and pampering them from the inside out. You can even be creative and add rich, fatty ingredients to your treatment too, like egg yolks or yogurt.
But don't take this to mean that moisturizing is just a once-a-week thing. You also need to have a leave-in conditioner on hand to hydrate your hair daily.
Beat Humidity and Frizz with Serums and Oils
Humidity is a huge culprit of frizzy hair in the summer. When your hair is dehydrated, it absorbs the excess water molecules in the summer breeze. This makes your hair swell and look poofy, giving you an afro when what you wanted was delicate waves.
To lock humidity out, seal your hair cuticles with an oil or serum. This will lock in hydration from your hair care routine while keeping excess moisture from the environment away from your hair while you're outdoors.
One of our favorite hair serums is the HerStyler Marula Hair Nourishing Serum. It's made with marula oil, which is easily absorbed by the hair. This helps seal your cuticles, leaving them looking smooth and silky. It also contains vitamin E and aloe vera for extra shine.
Don't take these hair tips for summer frizz for granted. Using a good-quality serum might just make or break your sleek, sultry hair look.
Get Regular Trims or Chop Your Hair Off Completely to Beat the Heat
Having long hair can make the hot months extra sweltering. The fact that hair grows faster in the summertime than in the colder months makes it even a bigger problem. Beat the heat by getting a new haircut, whether it's just taking an inch off or trying out a new, daring, short-haired look.
Chop your hair off and rock a bob or pixie cute. Not only will you be experimenting with something new and bold, but it allows you to cool off when it's extremely hot.
Getting a trim might not have a huge effect on how hot and sweaty you'll feel, but it can do wonders for your hair health. Trimming your ends means cutting off those awful split ends, preventing even more breakage. It's one of those hair tips for summer that benefits both the health and beauty of your hair.
Always Saturate Your Hair First Before Taking a Dip in the Pool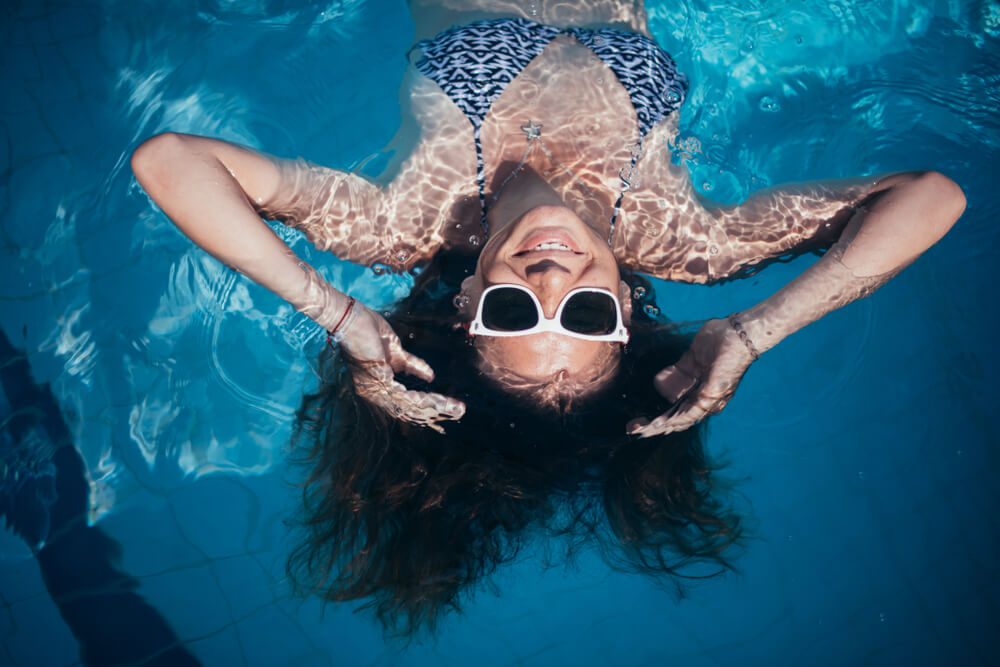 If your hair is wet before you jump into the pool, it won't be able to absorb that much chlorine and copper, resulting in little to no buildup. So before jumping into that pool, make sure to rinse your hair with clean water first to get it damp.
But caring for your hair while swimming doesn't stop there. You should also make sure to wash your hair right after swimming.
This is one of those hair tips for summer that people usually take for granted, waiting until hours after their swim to shampoo their hair. But the sooner you wash those gunk and mineral deposits in your hair, the more likely you'll save it from damage and buildup.
Clarify Your Blonde Hair if it Turns Green from Swimming Too Often
If you have blonde hair, you're prone to getting green hair after swimming for a while in a chlorinated pool. This is because the pool's chemicals rough up your hair cuticles as you swim, leaving them exposed to chlorine and other compounds in the pool that can give your hair that grimy green hue.
But not to worry! If you end up with green hair after a dip, just use a trusty clarifying shampoo to wash away all those mineral deposits. Clarifying your hair can be drying, so make sure you follow up with a deeply moisturizing conditioner.
Wear Your Hair Natural As Much As You Can
Yes, styling your hair in all sorts of textures and curls is a lot of fun during the summer. After all, it's a party season where looking your best calls for adventurous and evolving looks. But as much as possible, give your hair breaks in between heat-styling sessions and wear them natural.
Because of the heat, humidity, and other sources of stress, your hair will likely be exhausted a few weeks into summer. Heat-styling every single day might not help with that — it could dry your hair out even more and aggravate the stress and damage.
So when you can do without the heat-styling, wear your hair down. It gives you a chance to embrace and show off your natural texture while giving your locks a chance to recuperate from damage.
Conclusion
In the summer, your tresses need extra attention—not just with the manner you style them, but also with how you care for them. Tweaking your regimen to incorporate these hair tips for summer helps your tresses during the summer.
Follow these hair tips for summer to the best of your ability, and you'll be rocking lustrous, hydrated, happy tresses all the way to that end-of-summer party. The more meticulous you are about moisturizing your hair and slathering on the heat protectant, the healthier and smoother your locks will look.
---