Our Favorite Straight Haircuts for a Sleek & Polished Look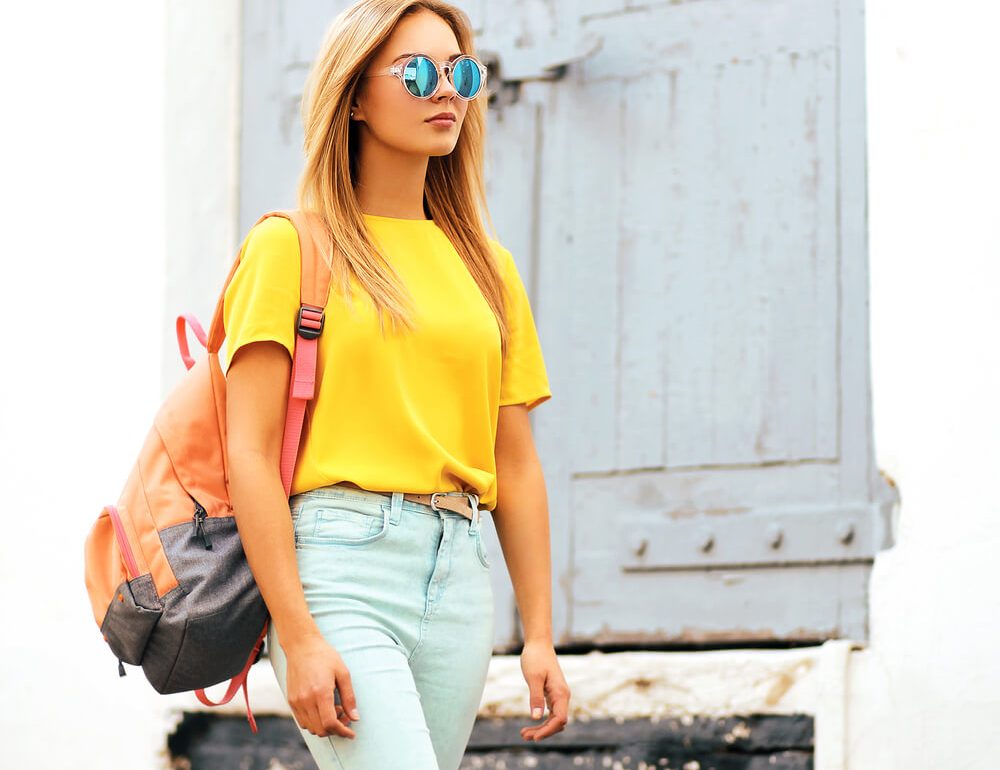 Don't get us wrong, curls and waves will always have a special place in our hearts, but when it comes to looking undeniably chic and perfectly polished we're all about sleek straight haircuts! So, if you happen to be thinking about getting one yourself, you've come to the right place.
HerStyler has rounded up all the best straight haircuts for 2022 and beyond, from short bobs to ultra-long lengths. Keep scrolling to discover the list of cuts, our top recommended straightening tools for your new do, and all the inspiration you need for your next visit to your stylist…
How to Maintain a Sleek, Straight Haircut
Whether you've already gone for the chop or are planning ahead for taking care of your new look, we have your back.
Need a product recommendation or two?
We hear you!
Start With Shampoo & Conditioner
First thing's first, caring for a straight haircut and making sure it looks its best at all times all begins with the washing and conditioning products you choose to treat it with. 
A firm favorite of ours has always been, you guessed it, the Herstyler Sleek Hair Shampoo. Designed to leave your locks feeling strong, smooth, and purified, this dreamy formula is our go-to for all dos sleek and straight. 
Additionally, we always recommend combining it with the Herstyler Sleek Hair Conditioner. It has a buttery-soft blend of ingredients, including nutrient-rich argan oil. Used alongside the Sleek Hair Shampoo, you'll find it leaves your locks looking and feeling silkier, smoother, shinier, and easier to detangle. Essential for the super long straight haircuts on our list! 
Opt for an Extra Moisture Boost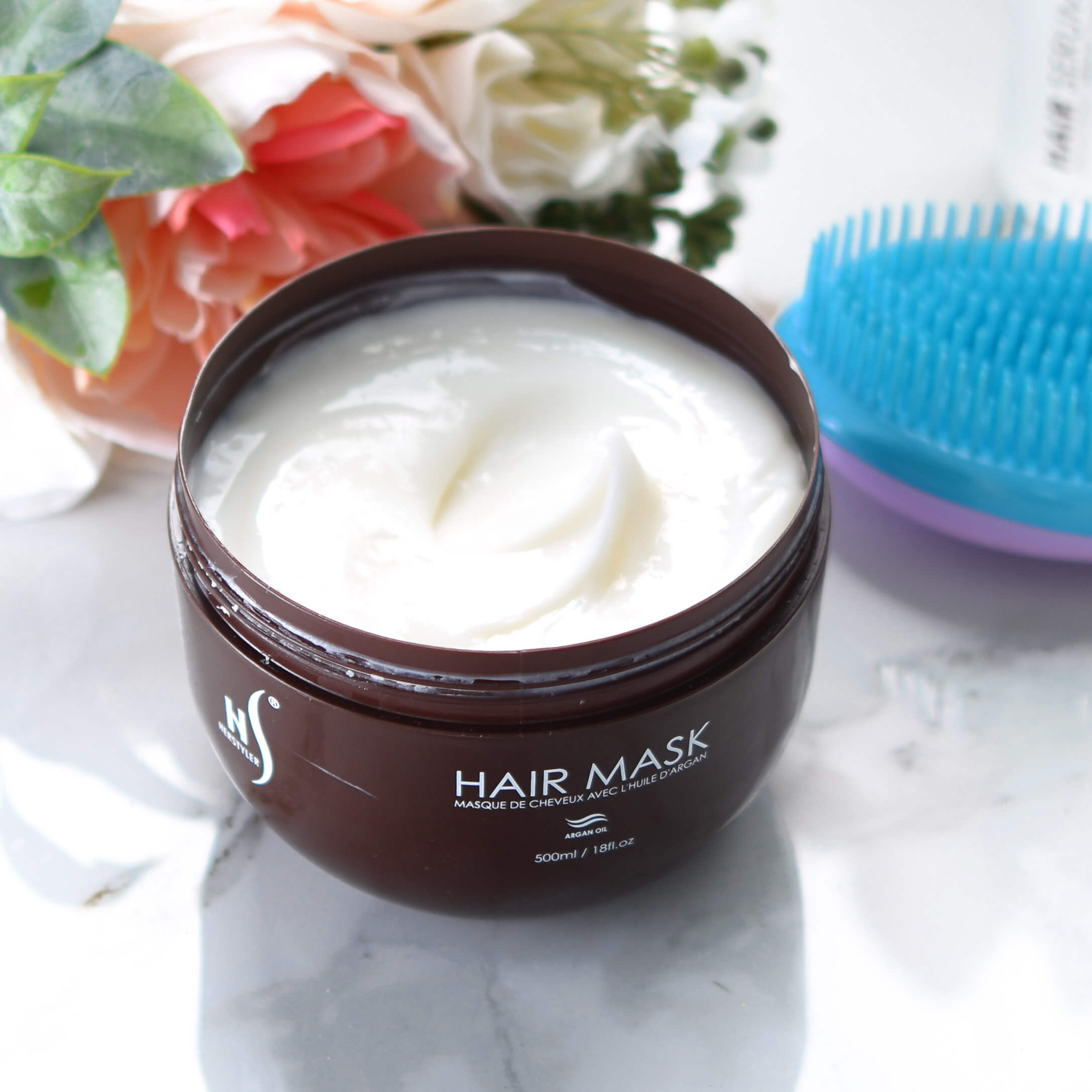 In between washes, don't forget to give your straight locks some well-deserved TLC to keep them looking and feeling sleek and shiny! For us, that means slathering on a generous helping of the Herstyler Argan Oil Hair Mask infused with Argan Oil and Panthenol.
Use this gorgeous mask once a week to help your hair look and feel healthier and stronger!
Shine on the go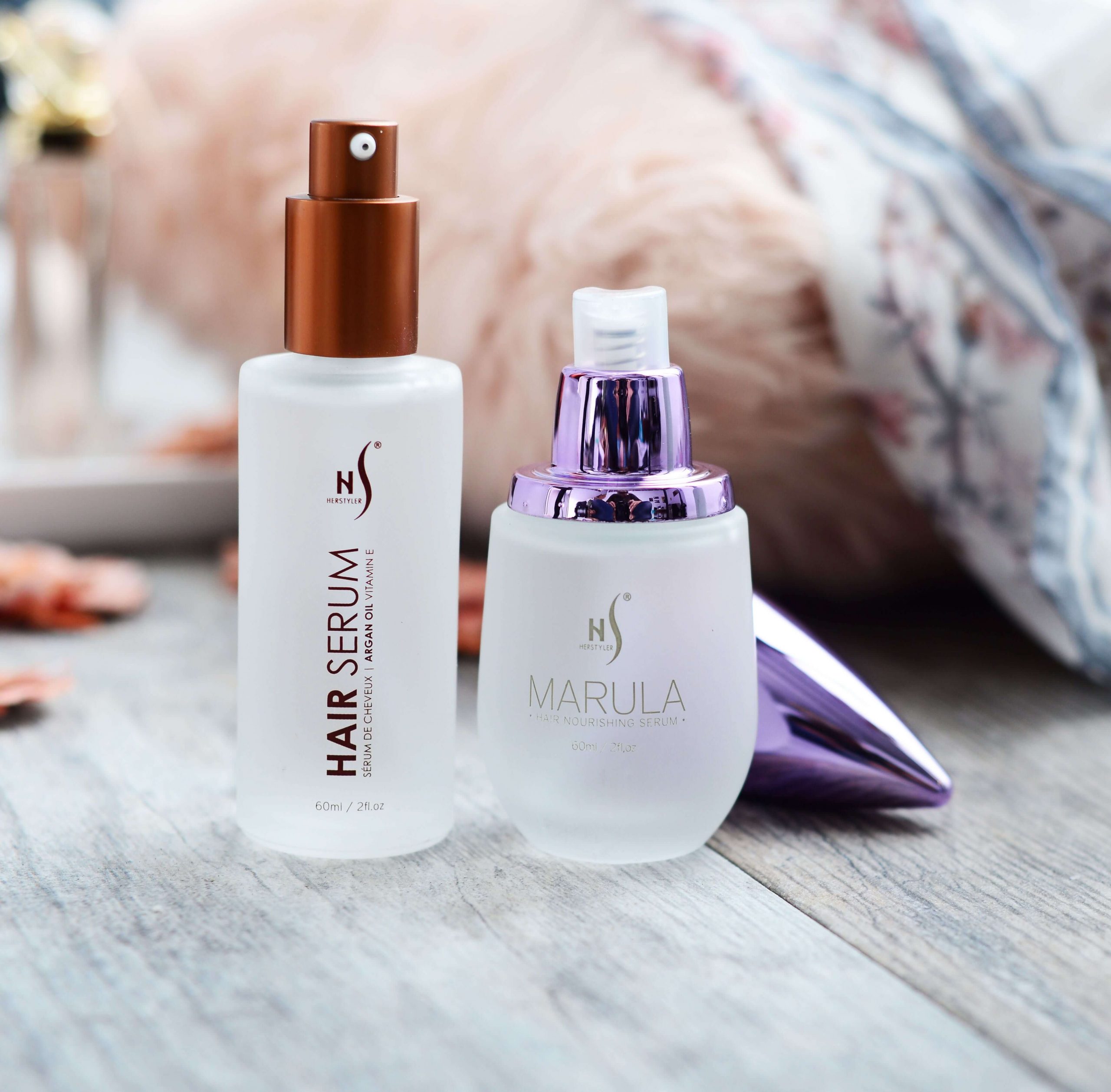 When you're out and about and your hair's feeling a little dry or lackluster – don't panic! Our Marula Hair Nourishing Serum fits easily into your handbag and can take your locks from feeling dry and frizzy to soft and manageable in seconds.
Simply apply one or two pumps to the palm of your hands as needed and allow it to warm for a second. Then, distribute the serum evenly through the mid-lengths and ends of your hair for a silken finish!
Why Opt for a Sleek Straight Haircut?
If you're all about looking chic and put together no matter the occasion, a sleek straight haircut is a perfect choice for you. Luckily, whether you love longer locks that cascade way past your shoulders or shorter shoulder-grazing tresses are more your vibe, we have plenty of styles to choose from. 
Wanna see?
Keep on scrolling!
The Asymmetric Bob
If you're in the market for a new shorter do but feel a classic bob might be just a little too simple for your tastes, we highly recommend giving this super-chic asymmetric style a try!
It comes with the freshness of a bob/lob with just that little something extra that makes it truly unique. Also, the unusual shape makes for one of the prettiest straight haircuts we've seen so far this year!
Style Notes:
When it comes to styling your new do, you might be worried that an asymmetrical haircut offers few styling options. Well, we're very happy to report that's definitely not the case! There are so many ways to style this straight haircut that are both simple and chic. 
For off-duty days, try wearing yours all down in a deep side parting. Tuck the shorter side behind your ear for a laid-back yet intentionally stylish nod. 

Meanwhile, if the occasion calls for something a little more glam, get your hands on a few sleek hair slides. Designs with a metallic or embellished finish will work perfectly! Try one or multiple hair slides just above your ear on the shorter side. It'll hold the hair gently away from your face whilst giving your new cut an undeniably stylish, red-carpet-worthy edge!
The Long, Straight, Centre Parted Cut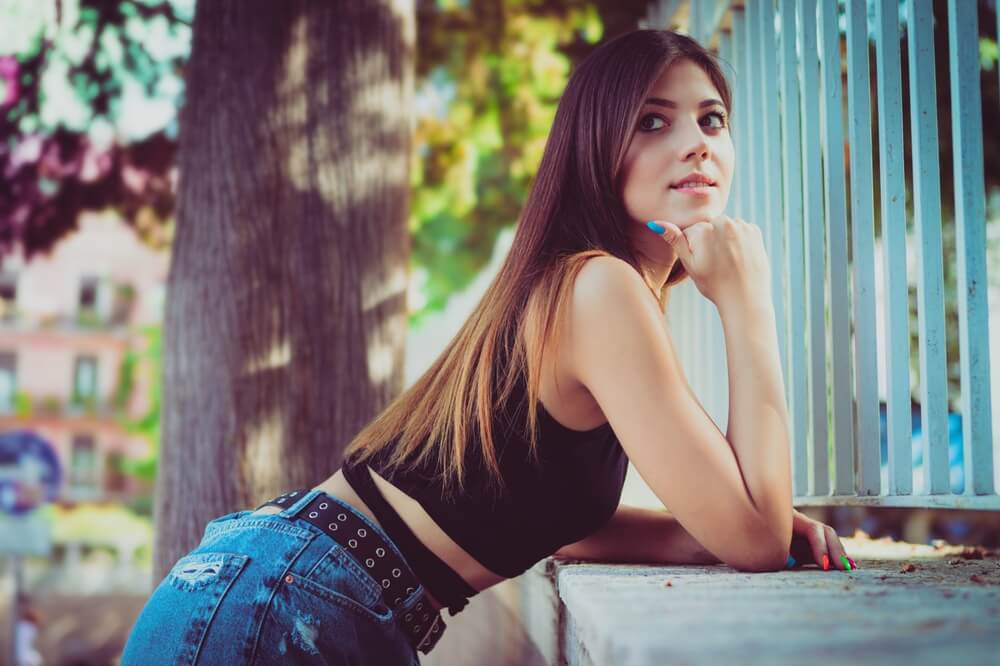 Love your long lengths but fancy a chic straight haircut that'll really show them off? Simply ask your stylist to gently trim the ends of your locks to keep them lusciously long then opt for a contemporary center parting. 
This style will work wonders for elevating the impressive length of your hair. And gentle trims every 4 to 6 weeks from your hairdresser will keep your hair looking and feeling healthy, shiny, and super soft. 
Style Notes:
Whether you always opt to wear your hair loose and flowing or love to use your endless tresses to create complex styles, with lengths like this the options are truly endless! 
To really show off your cascading straight haircut, make sure you have a really fantastic flat iron on hand. One capable of tackling your length without damaging your precious locks in the process.
For this, we highly recommend the Herstyler LED Pro Luxe 1.25" Black Straightener. It has an adjustable temperature control that reaches up to 450°F to accommodate every hair type. It also boats floating plate technology for gentle, flexible movement as you straighten out your hair. 
Worried about frizz?
Not anymore!
These ceramic plates emit negative ion technology to help your hair feel smoother and look less frizzy. 
Additionally, this straightener is equipped with 1.25" solid ceramic plates embedded with LED lights in the top, middle, and center, as well as two infrared lights in between. These lights are included to help make your hair look and feel healthier, shinier, and more moisturized.
The Extra Short Bob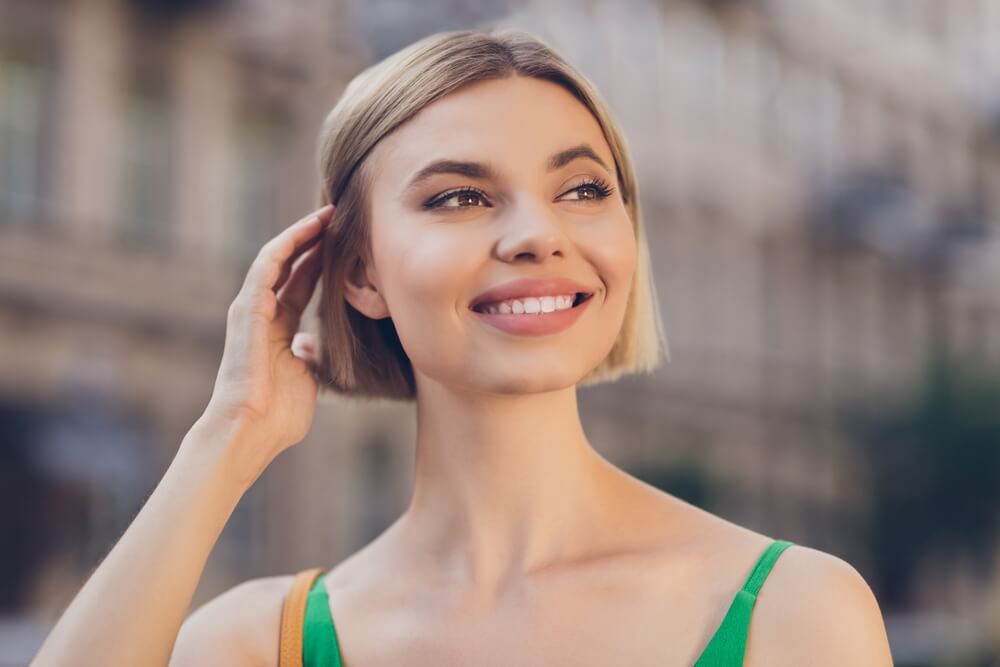 Finally, summer is in full swing! With that in mind, we're all for super short, not to mention super-chic, straight haircuts. Styles that make us look and feel as cool as possible as temperatures soar!
Firstly, we're head over heels for extra short bob haircuts like this one. As chic as it is manageable, the moment you opt for this elegant chop we guarantee you'll be wondering why you didn't do it sooner! 
Style Notes:
This gorgeous straight haircut makes an instant impression and is ideal for this time of year. The surprise? Even though it doesn't give you much length to play with, you'll have plenty of ways to style it!
Our fave? Wear your short bob down and sleek in a classic center parting. Simply run the Rose Gold Titanium Turbo Styler

over your lengths a few times and watch the chic short bob of your dreams come to life! 

Need your locks away from your face for exercising, running errands, and everything in between? A simple bobby pin on either side will look super stylish. It'll also feel seriously practical no matter your plans for the day! 

Meanwhile, for nights out or days where you want to feel a little dressier, try symmetrical, decorative barrettes on either side of your hair. It's a cute yet undeniably chic look. It's as fitting for red carpet events as it is for dinner dates and drinks with friends.
The Chic Lob
When it comes to short haircuts we have loved and will love forever, you can always count on a chic straight lob. 
This haircut is totally timeless and perfect for every hair type and face shape out there. So, if and when you can't decide which straight haircut to go for, you can be safe in the knowledge that opting for this style is always a winning choice!
Style Notes:
Honestly, we know we've already made our love for this cut clear, but the styling options are genuinely endless! You have enough length for more complicated styles, yet if and when you choose to wear it down, you'll still look and feel cool. This applies even in the height of summer.
The best of both worlds?
Absolutely!
When wearing this style down, a center part or a side part will look incredible. For something a little more contemporary and suitable for every day, we love the center-parted look with straight lengths and plenty of volume.

For an evening event, try making your lob even smoother and sleeker for a truly polished finish.

First, reach for your straightener of choice. For us, it's always the classic Herstyler Forever Black Straightener. Second, section out your hair and run the plates over for a smooth and shiny finish. Finally, smooth a little of the Herstyler Argan Oil Hair Serum through the ends for added shine.
The Classic Bob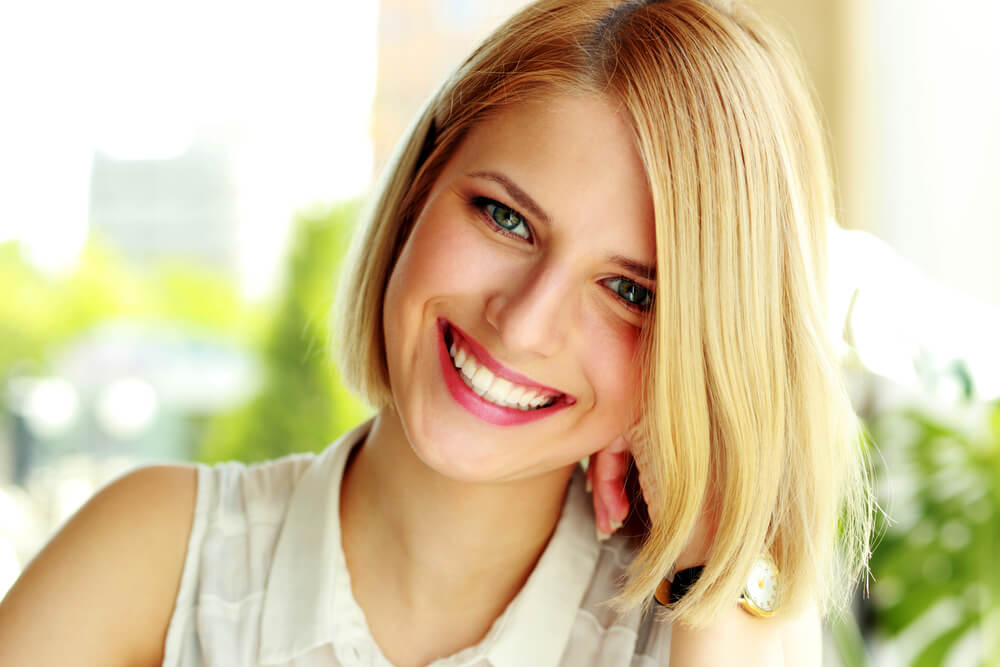 Want a new straight haircut that'll look eternally stylish no matter what? The classic bob is for you! As gorgeous now as it ever has been, this bold and beautiful cut is perfect for summertime. It will leave you and your locks feeling refreshed and lighter for the warm weather ahead. 
Style Notes:
When it comes to a classic bob the key is to keep things simple!
Blow dry it straight with a round brush to keep the volume intact. Then, use your straightener on low heat to gently smooth out your style without overheating your locks or flattening them in any way. The result? An elegant do that works for all ages and hair types!
The Side Part With Long Lengths and Layers
Another straight haircut we'll always love and recommend to lovers of Rapunzel-esque tresses is this long side-parted style with long layers! It's simply stunning and made all the more flattering thanks to the gentle movement from those slightly shorter pieces. They also offer tons of shape and definition without compromising on length!
Style Notes:
This sleek style is all about the deep side part, so make sure yours is flawless! Use either your fingertips or a tail comb to create a nice straight line from the hairline towards the back of your head. 
Pro tip: for extra volume in your roots, create your side part after straightening to get an instant lift!
The Long Lengths With Bangs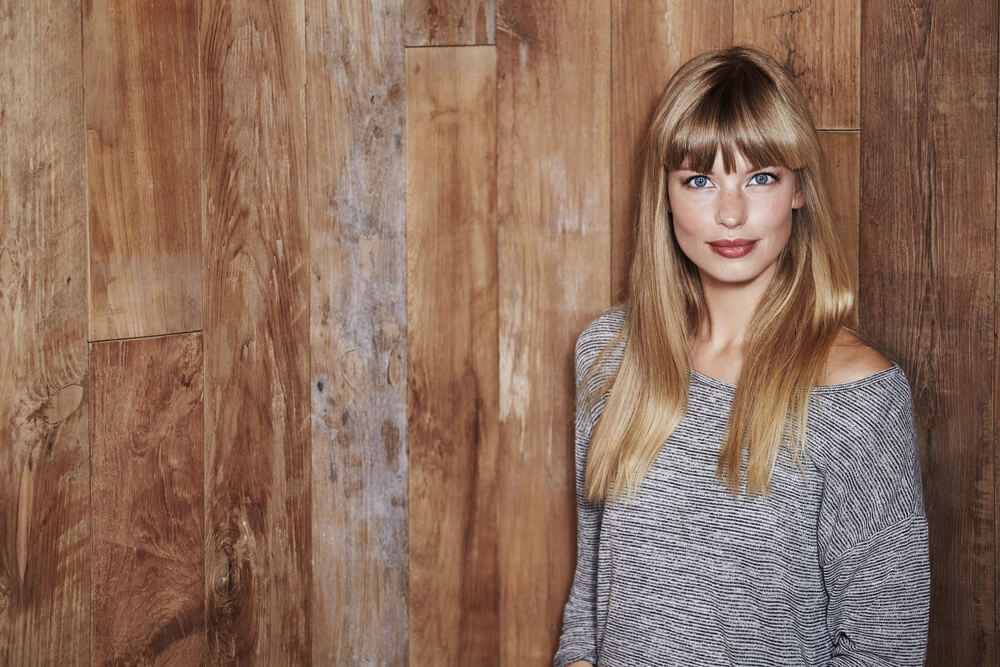 If you've always wanted bangs but are afraid to try them out, we suggest opting for longer lengths to go with them. You'll have plenty of hair still to play with, so your regular styles (high ponytails, braids, etc) should still work for you. This means you can get slowly used to your bangs without also suddenly having shorter hair that doesn't behave the way you're used to. 
Style Notes:
Though we're looking to make this straight haircut as sleek as possible, avoid using a straightener on your bangs if you can help it. The high heat can easily frazzle the ends of your new fringe. This will leave it frizzy and unmanageable – not the look we're going for!
Instead, try using a round brush and your blow dryer on low heat to get the sleek bangs look instead. You'll avoid unwanted creases that easily appear when clamping down with plates. Plus, you'll usually find your bangs stay in better condition and last all day!
More Gorgeous Straight Haircut Styles We Just Had to Include…
Need more inspo? Here are a few extras:
The Almost Lob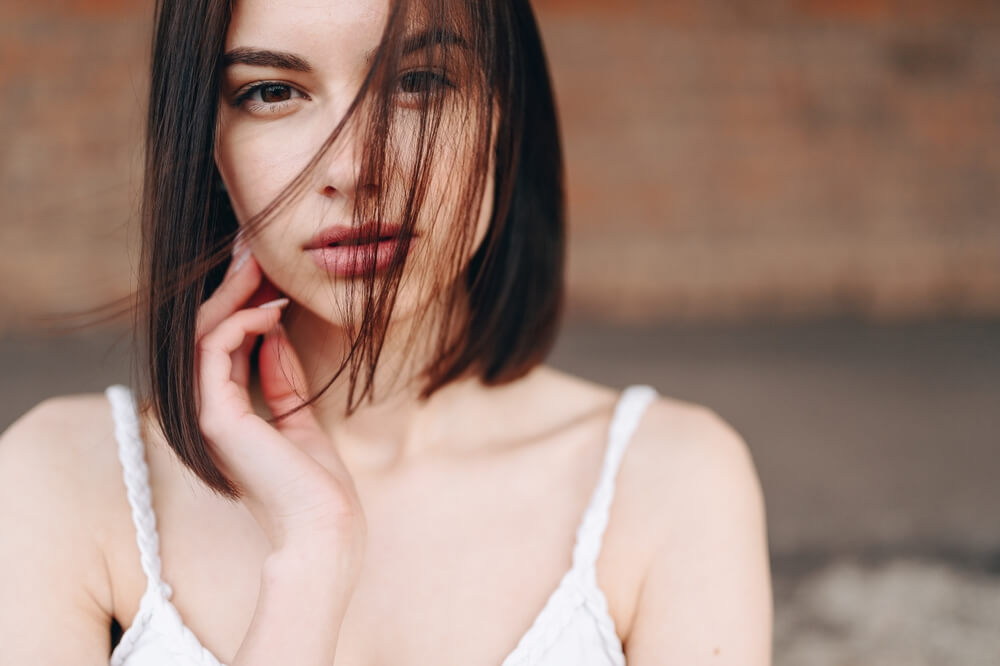 If you've always loved the way your bob looks when it starts to grow out, this is the look for you. Not quite a lob and slightly longer than a bob, this in-between style is fresh, chic, and perfect for the summer months!
The Blunt Cut Bob With Bangs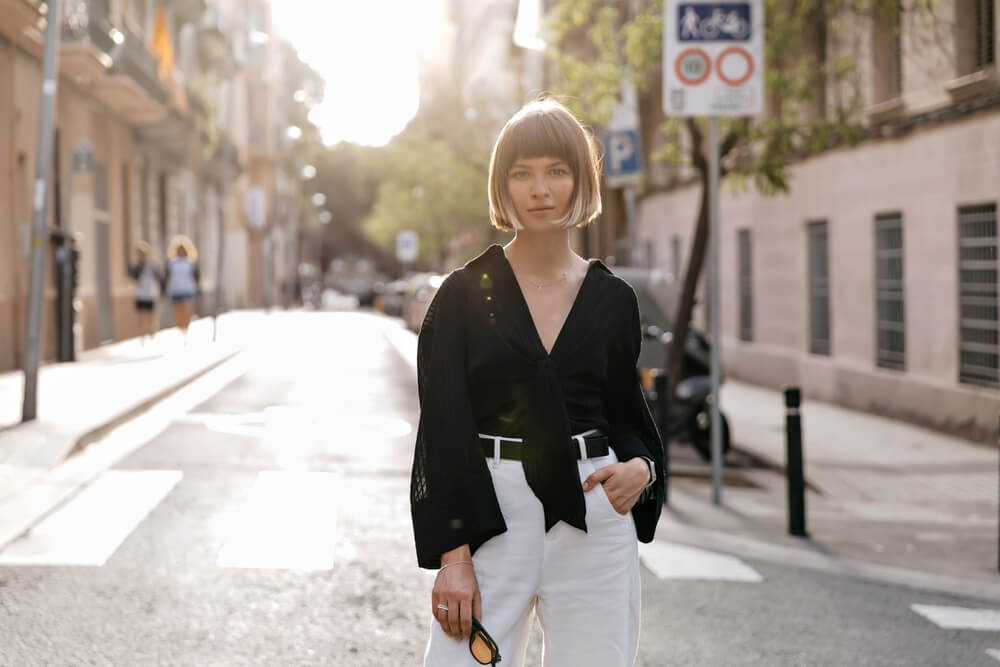 Rocking a bob but fancy trying something new? 
We have the perfect style!
Since you can't create more length, straight haircuts are limited when your hair is on the shorter side – unless you opt for a bob with bangs! Modern, elegant, and undeniably cool.
The Mid-Lengths With Soft Layers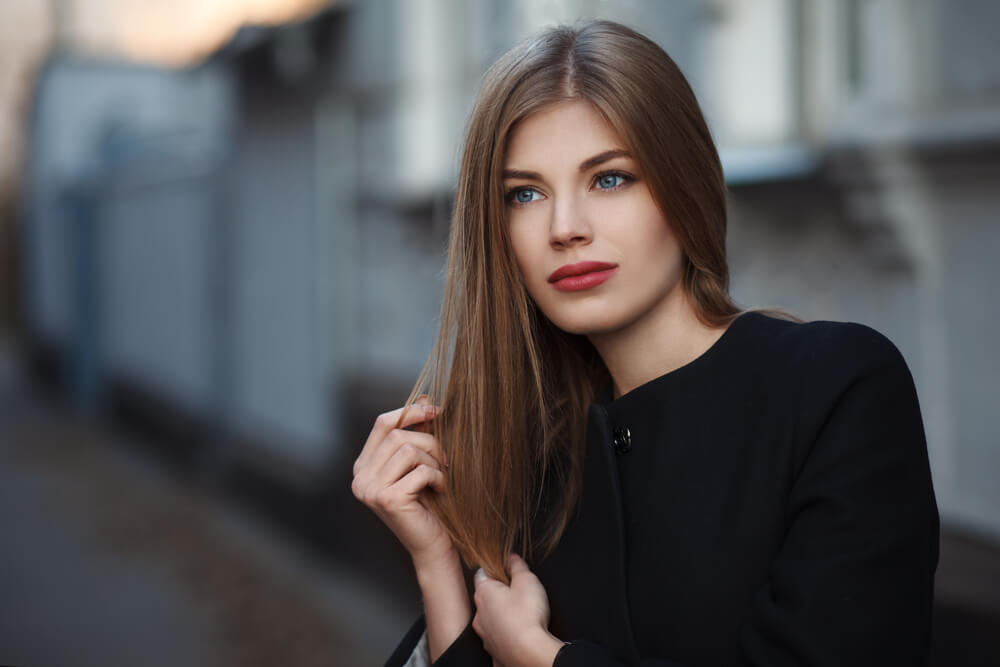 Framing your face and giving you plenty of length is the name of the game with this irresistible mid-length straight haircut with soft, face-framing layers. Ask your stylist for this cut on your next visit and we promise you'll be swishing your locks with pride all the way home!
Summary
So there you have it, our definitive list of irresistible straight haircuts! Will you be bold and opt for a beautiful bob complete with bangs for summertime? Or have those lengthy locks with face-framing layers caught your eye? One thing's for sure, whichever chop you choose, your hair will look seriously sleek!
Need some new styling tools to perfect your new straight 'do? Click here to browse HerStyler's bestsellers!
---