The 8 Best Haircuts for Thick, Straight Hair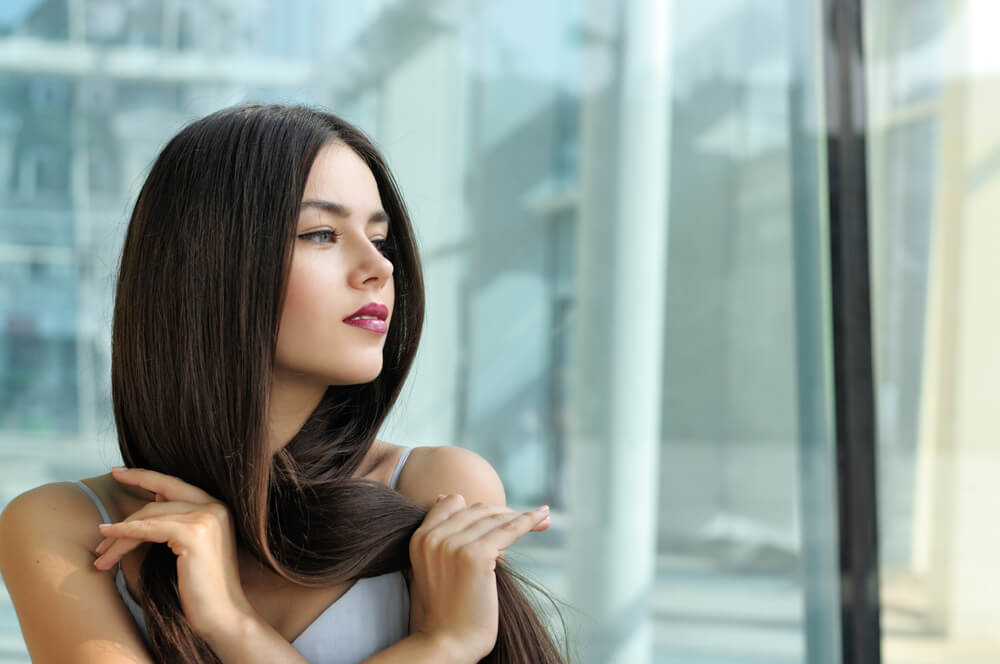 Having long, thick, gorgeous tresses is nothing short of a blessing from the hair gods. In some regions of the world, like Asia, it's even considered the standard of beauty.
But there comes a point when any woman with thick straight hair says, "this is too much work"! A long, dense mane can be a pain to maintain. It gets tangly, takes forever to dry, and doesn't always have that perky bounce because it's so heavy.
Thick straight hair may sound boring and basic. But as long as you have your trusty HerStyler flat irons and curling wands by your side, you can always spice it up and make your hairstyle more lively.
Another way to shake things up is to get a haircut. Not only will it thin out your hair and give it a lightweight texture, but it also gives you a chance to try something bold and new. Here are eight fabulous haircuts for thick straight hair. You'll be able to take your locks from big poofy and unruly to flattering and striking.
Why It's Important for Thick, Straight Hair to Get the Right Haircut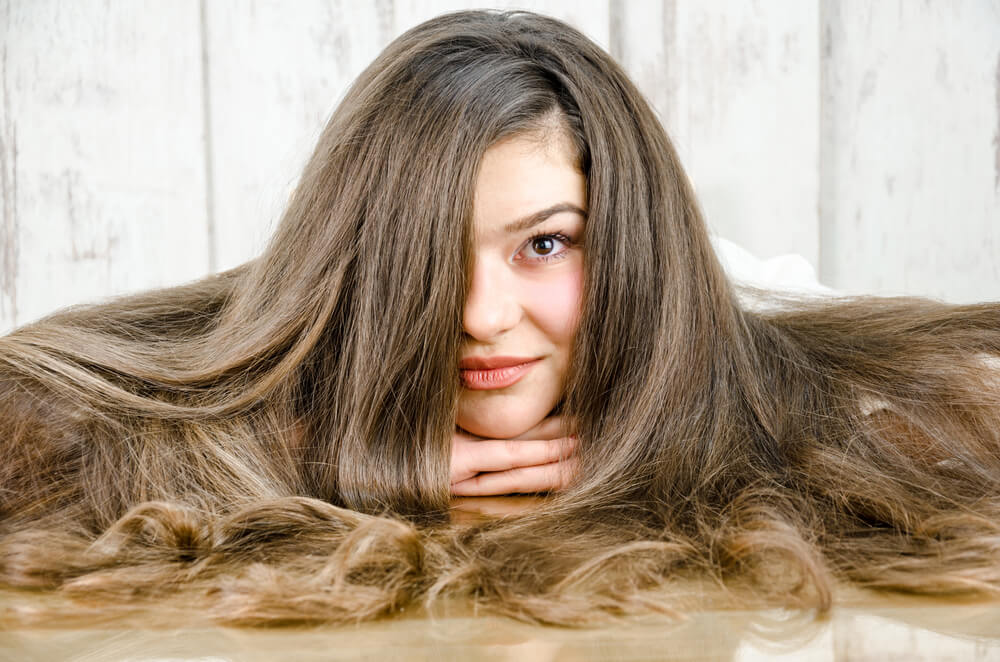 If you're fortunate enough to have naturally thick and long hair, you also know the struggles of caring for a high-maintenance mane. There's a lot of brushing and tying involved just to tame your hair. But one of the hardest things about having thick straight hair is finding a haircut that suits you well.
Anyone with super thick hair can relate to triangle head. Thicker hair is prone to taking the shape of a bulky triangle, especially when it gets frizzy. This makes your hair look like it's drowning out the rest of your body, taking away from your facial features. It doesn't frame your face and is far from flattering.
The best way to get rid of the dreaded triangle head is by getting a proper haircut. Layers are a huge help for those with thick hair. It thins out your hair density, making your mane bouncier and more flattering in shape. It also frames your face, bringing out your best features.
Thick and long hair in one length also looks extremely heavy. Feathery layers will make your hair look and feel more lightweight, giving it a sultry, glamorous movement when you walk down the street.
Plus, you can't discount the fact that regularly cutting your hair is a terrific way to maintain its overall health. Even easy trims are enough to ensure you don't deal with split ends and breakage, so getting a haircut is a must if you're dealing with unmanageable hair.
Here are eight stylish haircuts guaranteed to transform your hair from bulky and heavy-looking to chic, lightweight, and flattering:
Long Hair with a Middle Part and Layers that Frame the Face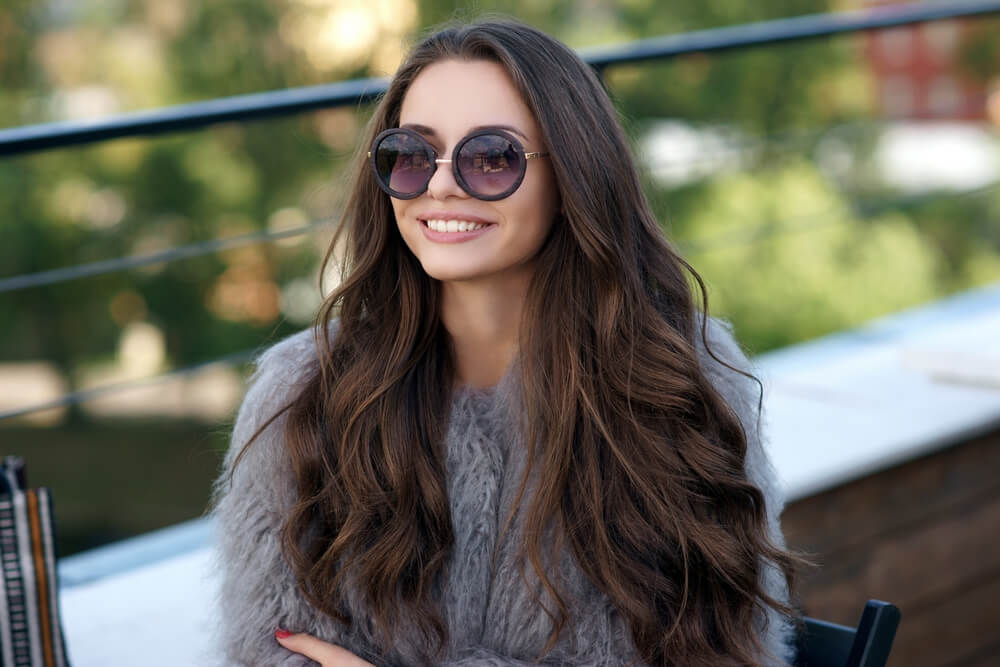 Frame your face with layers instead of drowning your features in thick straight hair. A middle part is terrific for layers that bring out the symmetry in your facial features. It also helps elongate your face.
Sure, a middle part is often scary for thick, long hair. It can end up giving you triangle head. However, with the right layers and texturizing, you'll be left instead with softer tresses with gorgeous movement.
One great way to play around with a classic middle part is by getting curtain-style bangs. If they stop right by your cheekbones, then can give your face a little more width. It helps frame and soften your face while blending in naturally with the rest of your locks.
Long thick hair in a middle part can get a bit boring over time, though. So now and then, whip out your Extenso curling wand to give yourself bouncy, shiny curls. It's a terrific way to get creative with your thick hair and add a bit of oomph on special occasions.
Give Your Hair Dimension and Sultriness with a V-Shape Cut
A V-cut is when your layers are cut at a super-sharp angle, forming the shape of a V at the ends. That way, the front sections of hair are a bit shorter than the rest of your locks, adding dimension and depth to your mane. This is best on long hair, so the V-shape is prominent at the back.
This hairstyle is elegant and sophisticated but has a bit of attitude, too. It allows you to keep your length without adding heaviness and unnecessary thickness to your hair. It's a fantastic way to add movement when you whip your head. It also frames the face well and makes your waist look a bit more slender.
When you put your hair in a ponytail, it will have a tapered look that goes thinner closer to the ends. This is a way more flattering shape compared to tying thick straight hair with blunt tips and ending up with a super bulky ponytail.
It's also a very versatile style. What's cool is that since you get to keep your long tresses, you can heat-style it to try out different textures that can go with your new cut. Use HerStyler's classic Forever iron to leave your hair super-sleek, or the Beach Curler to give yourself loose, tousled waves, without the thickness.
Wavy Hair and Wispy Side-Swept Bangs to Soften Hard Angles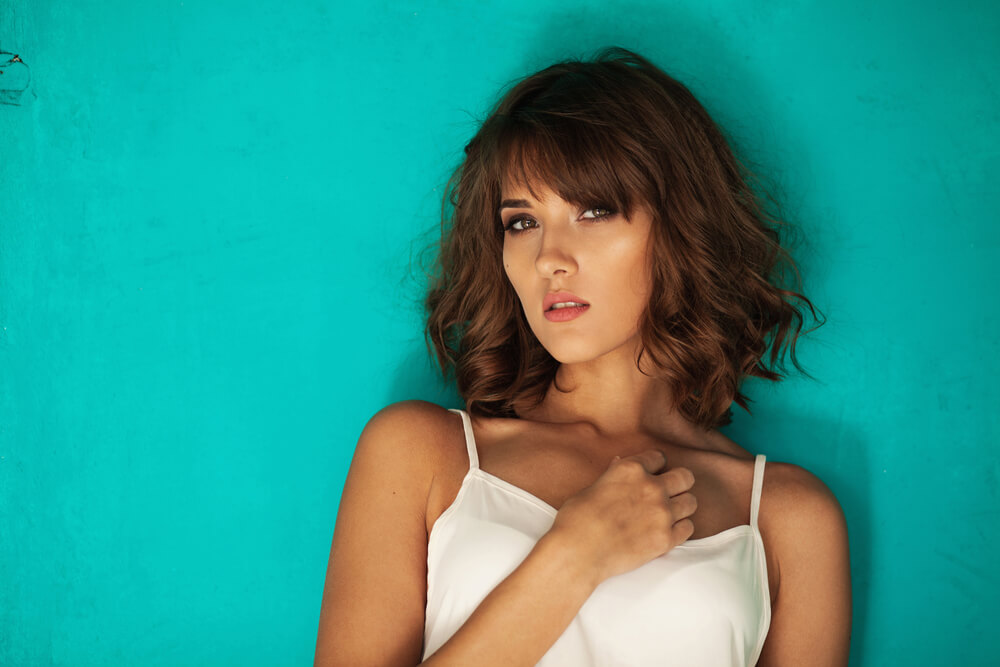 Aside from being cute and framing your face nicely, bangs can also add dimension to your face and play up your favorite features. Side bangs are among the most popular styles for bangs — they're flattering on wider, rounder face shapes because they add more length to your face.
When bangs are swept up to the side of your face, you highlight your cheekbones. At the same time, if your stylist keeps the cut soft and wispy, it softens hard angles in your bone structure, like a sharp, masculine jawline. You get the best of both worlds!
Pair your side-swept bangs with long, layered hair, and use your favorite curlers to create waves for added volume and body. What you'll get is the modern, sexier version of "big hair" that was all the rage in the 80s.
A Blunt Bob for that Chic and Professional Look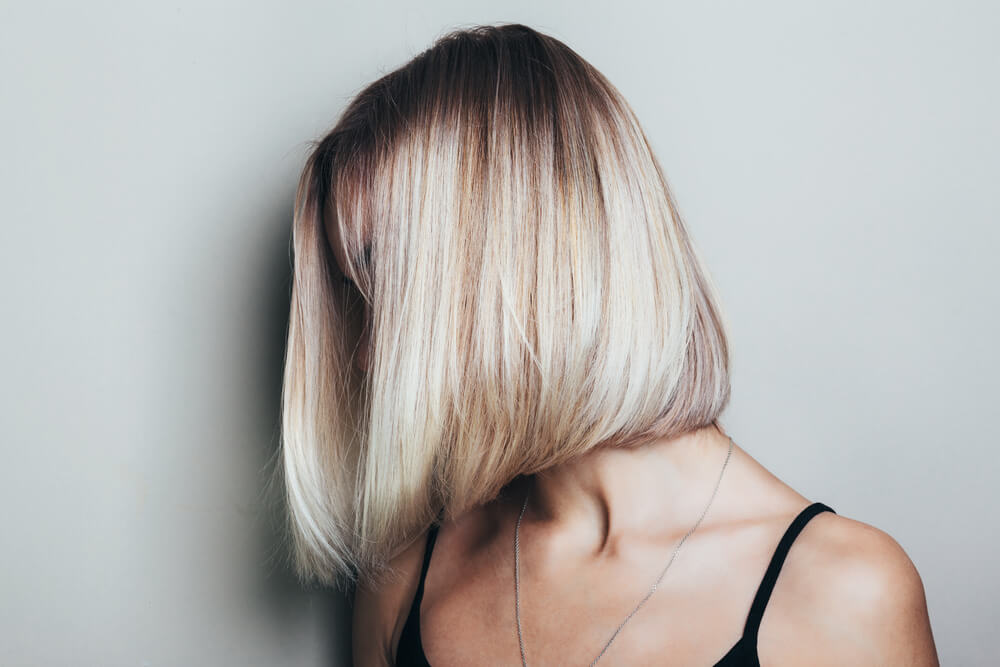 One hairstyle that looks universally good among all hair types is the classic bob. It's a look that never goes out of style. It's super versatile because you can wear it sleek and straight for a professional look, or take a curler to your bob to add curls for subtle movement.
The blunt cut makes it look super chic. On thick straight hair, it looks modelesque and full because there are no gaps and spaces to make it look overly wispy.
But getting a bob cut doesn't always mean having just one length for all your locks. Ask your stylist to thin out the locks on the back while still keeping it long. Leave fewer layers towards the front of your face. This takes away the heaviness and bulkiness.
To keep your bob looking sleek, run some of HerStyler's Hair Serum over your strands before heading out the door.
Maintain Your Length While Still Being Sleek with a Lob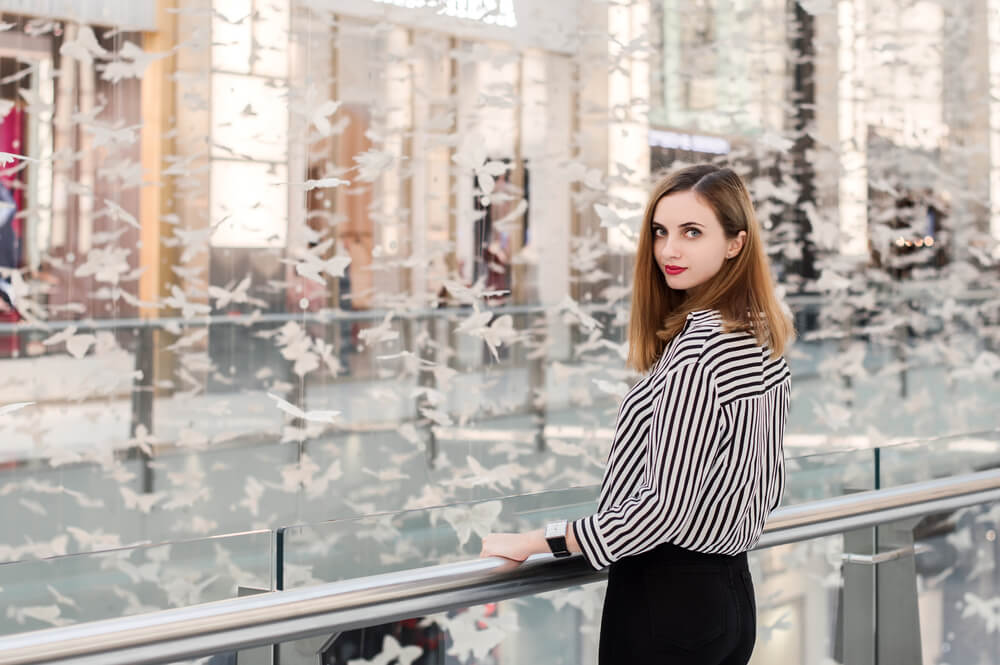 Want to go for the classic bob but don't want to give up your long locks? You can always go for the more modern "lob" — a long bob. This cut falls right on your shoulders, or a little bit past it. It's the perfect in-between of short and long.
If you have a rounder face shape, a lob might work better for you than a bob. It elongates the face, making it more oval. And if the ends of your lob brush right across your collarbone, you can create an illusion of length, even if your hair is technically just mid-length.
It's also suitable for heart-shaped faces, since a lob can add more fullness and volume to the jaw.
Straight-Cut Bangs to Bring Back Your Youth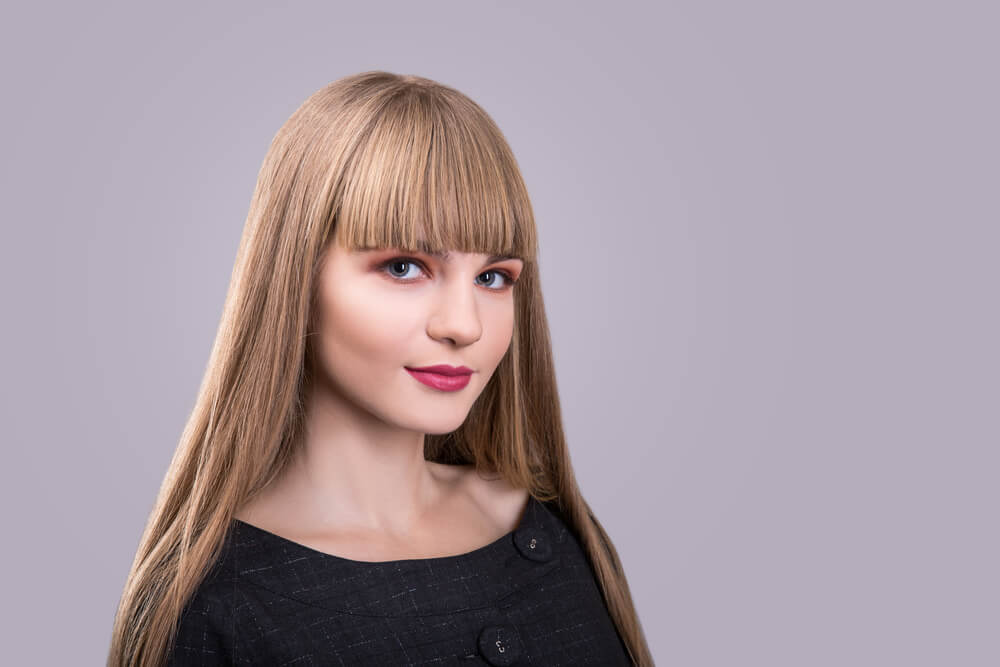 The problem with a straight-cut, one-length fringe is that it usually looks stringy and has too many gaps between strands. Lucky for you, thick straight hair doesn't do that. With your hair's volume and density, you can get even-looking bangs effortlessly.
Blunt bangs are known to make your face look younger, so it's perfect if you're trying to get a more youthful and charming look. It's also a strategic way to hide a bigger forehead or wrinkles and lines creeping up in that area.
Worried about your bangs looking flat and lifeless? Use a round brush while blow-drying them to give them a subtle wave, allowing them to be light and bouncy.
Be Extra Daring by Rocking a Bold and Edgy Fauxhawk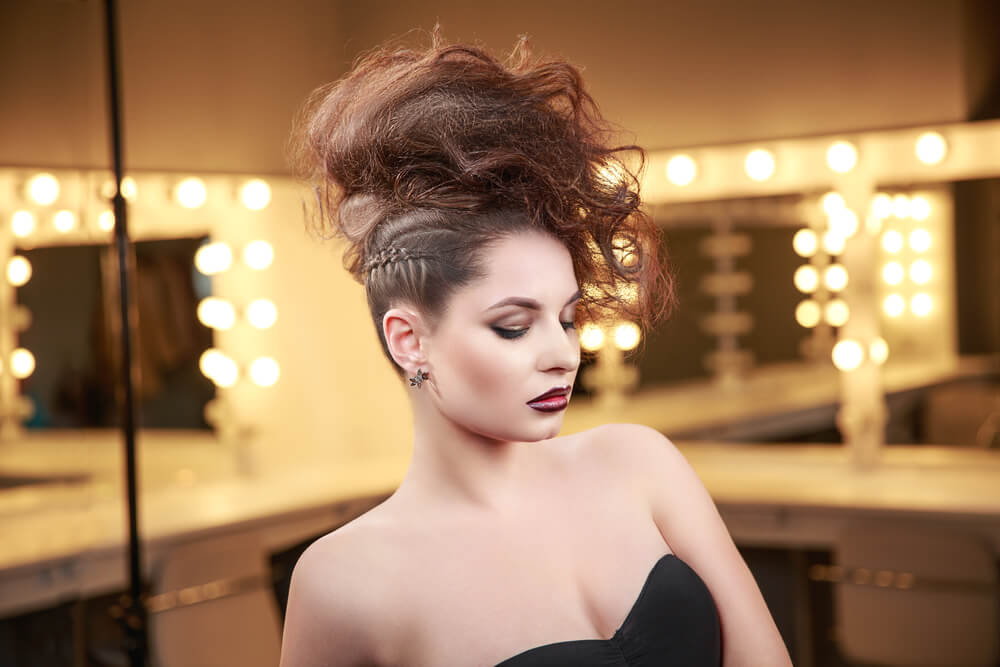 If you want to bring something new to the table and catch a few double-takes as you strut down the street, think about rocking a fauxhawk — the signature style of icons like Ruby Rose and Pink. It's a super stylish way to bring out your grungy, edgy, tomboyish side.
This short hairstyle is pretty self-explanatory — it's a mohawk, but you get to keep some length. A fauxhawk is more than just a hairstyle you fix up with pomade or gel. It requires precision in the haircut itself, but is a great way to style thick hair. 
The sides are cut shorter, while the hair at the top of your head (especially near the forehead) stays longer. It's kind of like a pixie cut, but with more volume, making it perfect for thick straight hair.
The secret to a perfect fauxhawk that lasts hours is locking your hairdo in place with a high-quality hairspray. For that, you can use Herstyler's Perfect Hold Hair Spray. Its fast-drying formula gives your hair firm yet flexible hold with no residue, giving you a more natural finish.
Show Off Your Bone Structure with a Low-Main Pixie Cut
If you've got the bone structure for it, you can go from long, thick hair to a bold and daring pixie cut. It puts your cheekbones, jawline, and neck in the limelight, so it's just the cut for you if you want to highlight those features.
Many people think you can only wear pixie cuts one way because they're so short. But they're actually pretty versatile. You can wear them tousled or spiky and grungy, depending on your mood for the day.
If you're not ready to have super short hair but want to try out a pixie cut, you can always soften it with longer front pieces, creating wispy bangs to frame your face. That way, you'll look less spiky and boyish but more feminine and shaggy.
Extra Tips to Make Sure You Get the Exact Haircut You Want
When you can't explain what specific haircut you want to your stylist, there's a huge chance you'll end up in tears over a hairdo you didn't want in the first place. It's especially painful if you're taking a risk cutting your long, thick hair for a more dramatic 'do only for things to go south.
Here are a few tips to make sure you and your stylist are on the same page before those scissors even come close to your beloved locks:
Set a consultation

a few days before your actual haircut. For many salons, this is complimentary, so make the most out of it. Get your stylist's advice, talk about the different looks you're considering, and communicate all the details you want them to know (length, bangs, texture, and more!).

Bring inspiration photos, be it from a magazine or online. This can be a celebrity or model whose style you want to emanate, or a photo of yourself with a previous cut you want to re-enact. If you can, bring multiple photos with you, not just one.
Get your stylist's expert opinion even if you have a specific haircut in mind already. They've been cutting hair for a living for ages; they know what will work and what won't. Ask them for their advice — will that bring out your eyes? Can it hide that harsh jawline? They'll tell it like it is to help you make the best call.
Conclusion
Thick straight hair is beautiful, even coveted all around the world. It's something you can effortlessly flaunt as you walk down the sidewalk, your long hair floating in the wind.
But when the urge to get a more daring haircut comes around, it's hard to say no. Transform your thick straight hair into something bolder and chicer with any of the hairstyles listed above.
Assess your face shape and think thoroughly about what kind of style you want to go for. Are you gunning for something more feminine? Boyish? Soft? Strong? Are you trying to show off your cheekbones? Make sure the haircut you select matches your energy and suits your features.
Don't forget to use your fave HerStyler tools to spice things up a bit now and then. Adding waves and curls to your newly cut hair makes it pop even more. And since your hair is no longer as thick and unmanageable, styling will be a breeze!
---