9 Tips for Taming & Styling Thick Hair
From constantly snapping hairbands and taking three hours to wash, condition, and dry your hair, to only ever wearing your locks in a bun because any other style is just too darn difficult! If these problems sound all too familiar, it's likely you're one of the lucky ones with super thick hair.
And yes, lucky is right because, although it might not always feel like it, having thick hair is a blessing for so many reasons that HerStyler is about to get into below. Plus, once you've learned to tame and style it into something other than a top knot (or a high ponytail if you're lucky!), we know you'll feel happier than ever to have won the thick-locks lottery!
HerStyler's Top Tips for Taming Thick Hair
Before you even think about styling those wildly voluminous locks of yours, you'll need to learn how to tame them and keep them in check. To make life easier, we've compiled a list of our top tips for doing just that. All of which should be easy enough to introduce into your weekly hair routine, without too much disruption or taking up hours of your time!
Wash Your Hair Less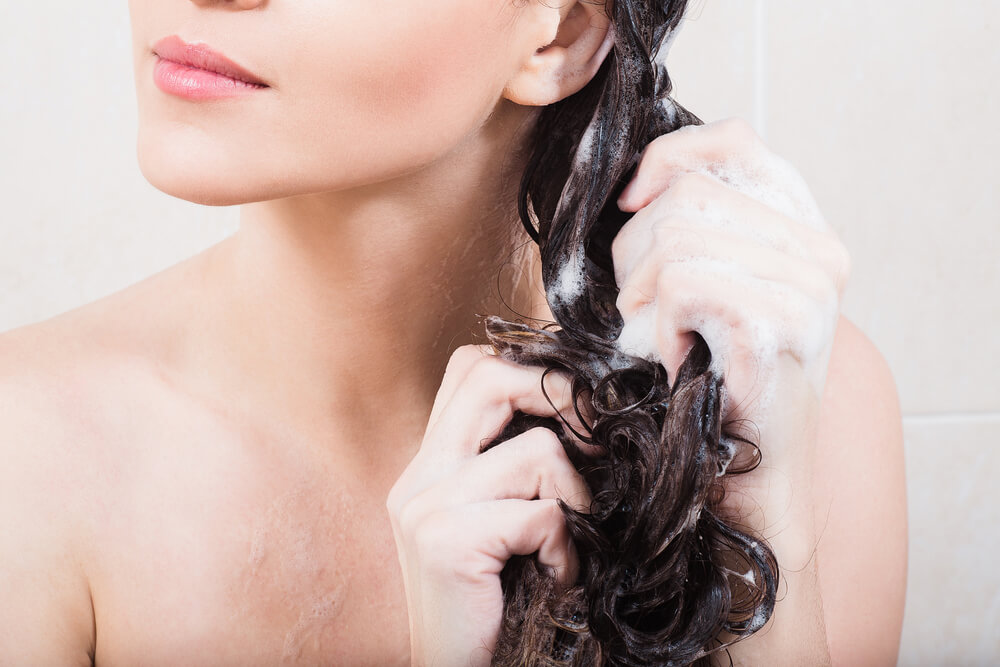 Since your hair's natural oils are what keeps it looking and feeling healthy and manageable, you'll want to make sure your scalp has a chance to distribute those oils throughout your locks before they're washed away.
You can also try using other conditioning treatments. Our faves are the HerStyler Argan Oil Hair Mask or a couple of pumps of Marula Hair Nourishing Serum on the ends.
Now, as your hair is thicker than most, it can take substantially longer for those natural oils we talked about to evenly distribute themselves through the lengths of your locks. This means that where it might be okay for others to suds up their tresses every couple of days, for you, waiting a little longer before reaching for the shampoo is always a good idea.
When you do come to cleanse and condition your hair, we recommend the HerStyler Argan Oil & Biotin Shampoo and Conditioner. They're enriched with a unique blend of biotin, argan oil, and vitamin E. Together, they'll promote strands that feel silkier, softer, and easier to manage.
Massage a generous amount into your thick hair and lather it up before rinsing. Afterward, apply the conditioner to wet locks, focusing on the ends and mid-lengths of your hair. Leave it on for 2-3 minutes before rinsing your hair thoroughly.
Skipping a Wash Day
Meanwhile, skipping a wash day so you only cleanse your hair a couple of times each week (or even less if needed!) will give it the chance to balance itself. Without those natural oils, it can become dry and brittle very quickly. That's when you'll notice an increase in volume (not in a good way) and hundreds more flyaways and frizz than usual.
It also means it'll be tougher to run a brush through when it comes to de-tangling your thick hair. This can result in you pulling too hard with your brush which will stretch and break it. This is another common cause of unruly, unmanageable locks that can seem impossible to style.
The takeaway? Wait to wash your hair for as long as you can without it feeling dirty or overly greasy. It will give your locks a chance to naturally re-set. This way, when you do eventually wash it, the sebum will have already done its job of nourishing the scalp and lubricating the hair follicles to help prevent loss of moisture.
Blot Your Hair Dry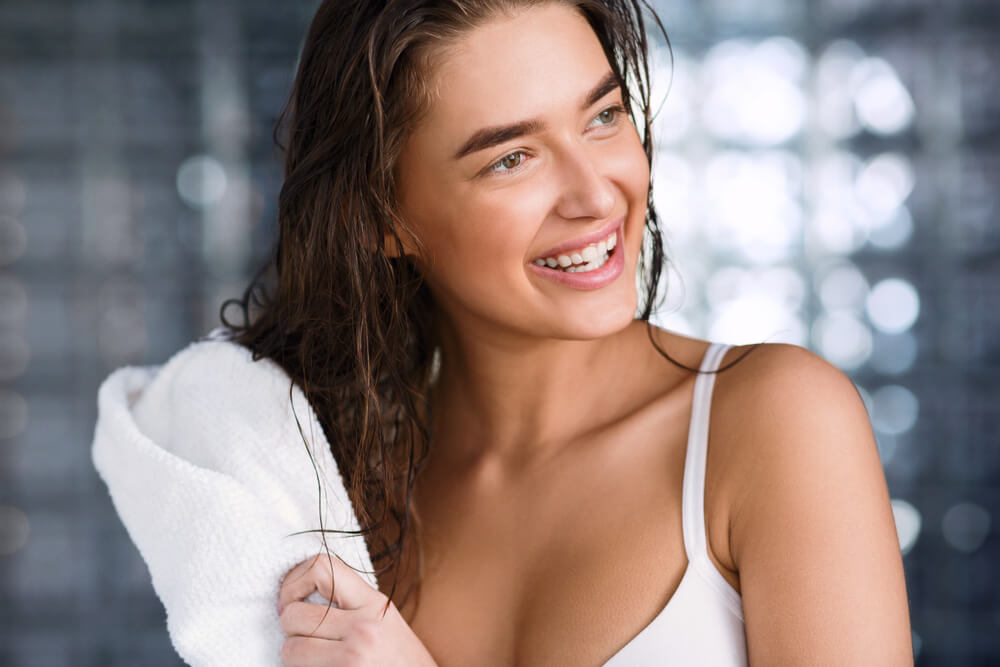 Our next thick hair tip might sound simple, but it's one we absolutely swear by! After all, protecting your locks when they're wet is important for everyone but especially if you're rocking thick hair.
Why?
To understand why this is such an important step, we need to understand the structure of the hair. We also need to be familiar with how it behaves when it's dry, and when it's wet. Then we can fully grasp the horrors of what happens when we roughly scrub at our tresses with a towel fresh out of the shower!
A Closer Look at Your Hair
Firstly, each of your hairs is made up of proteins called keratins. Every strand has a bulb on the end of it, which is held in place by a follicle. When your hair is dry, it forms protein-protein bonds, which are strong and resistant to breakage. When the hair is wet, however, its structure actually changes. These protein bonds begin sticking to water molecules rather than to each other. 
These bonds are much weaker and make it possible for the hair to stretch – and if it's pulled too hard – to snap! This is why it's so important we don't roughly brush the hair. You also shouldn't scrub at it with a towel, or do anything that might put a strain on your strands. If we do, we're likely to see damaged ends. You'll also notice unruly locks that have been stretched out of place.
As you can imagine, when you have thicker hair, the risk of damage is even greater since you have so much more to play with. Therefore, when your hair gets damaged, it can be a lot more noticeable and a lot harder to fix.
The solution?
Simply blot your hair with a clean dry towel. 
This is a gentle way to rid your hair of excess water that won't pull on or snap your thick hair. Also, always avoid wrapping a towel around your hair. This could stretch it near the roots and irritates the follicles. 
Switch Up Your Style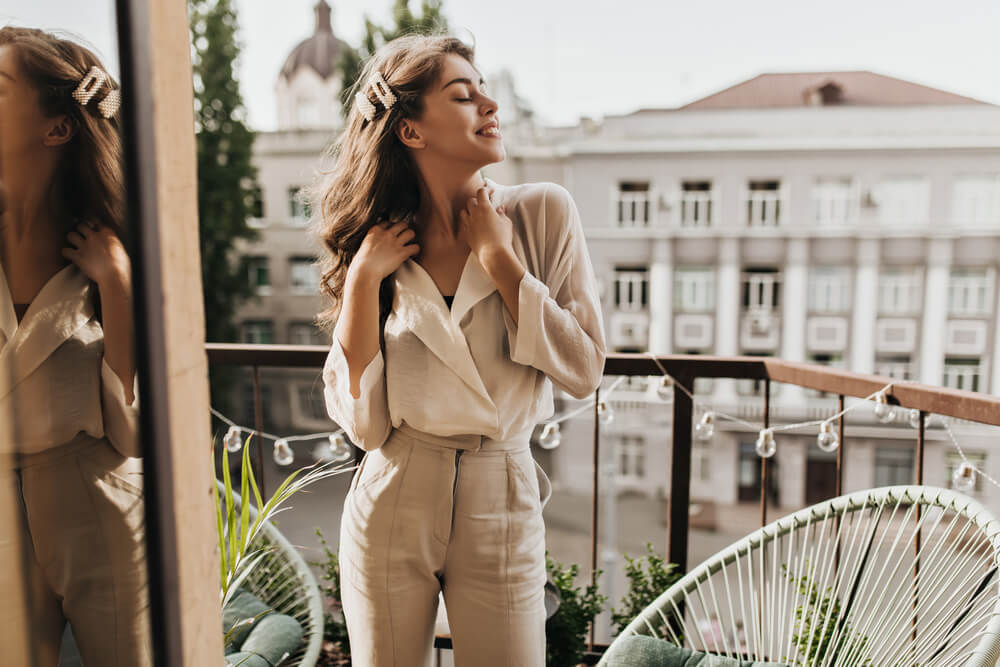 If you're about ready to lop off your thick locks in hopes of a more manageable style, let us stop you right there! 
Whilst shorter cuts can work for thicker hair, you'll likely have more of a job taming it if you don't have much length to play with. Instead, next time you head to the salon for a chop, ask your stylist to create long layers within your new style. 
Avoid round, U-shaped layers. These will only add to the bulk and may make your hair even more voluminous than before. Instead, request that they create V-shaped, textured layers so they flow more easily into the existing shape of your hair. If they're bluntly cut or rounded at the bottom, you're more likely to end up with steps rather than layers!
HerStyler's Top Tips for Styling Thick Hair
When it comes to hairstyles you can rock with thicker locks, it's all about finding looks that both embrace your natural volume and texture but are simple to achieve and remain secure all day long. 
Thinking that sounds impossible?
We promise you it isn't. 
There are countless styles out there you can learn to do in under five minutes with just a little practice. What's more, most of those on our list are super versatile to see you through everything from workdays to special occasions and everything in between.
Want to know the best and easiest cuts and styles for anyone with thick hair to pull off?
We have you covered! Keep scrolling…
Hidden Layers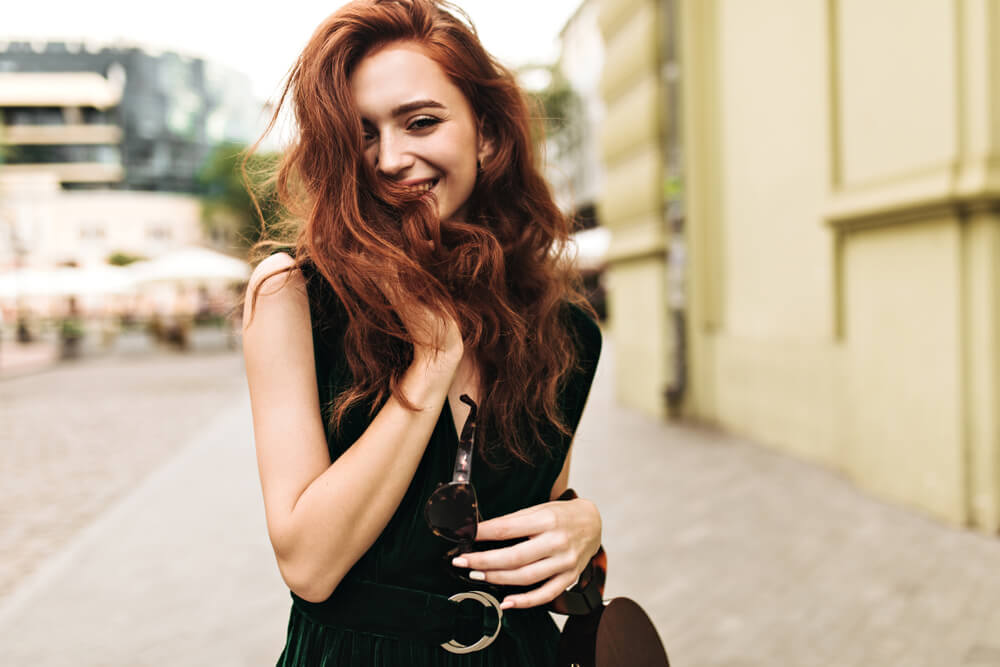 As we suggested above, asking your hairdresser to incorporate layers into your look is a great way to de-volumize some of that thick hair you have (if you want to!). As them to cut the layers in a way that's super-subtle so you can't actually see them. This way, you'll keep your shape and be able to twist, lift, and braid your hair into all sorts of different styles with a lot more ease (and a lot fewer hair bands) than before!
Long Hair With Bangs
Another quick and simple way to take some of the weight out of your hair is to opt for long layers – and bangs! Whilst the layers will ease any out-of-control volume, the length of your hair will also weigh it down a little for a sleeker, more manageable cut.
Meanwhile, having bangs cut in will instantly take out some of the weight from the front of your hair. They'll distribute that weight more evenly, and will give you a whole new style to boot!
If your hair's a little dry and flyaway currently and you think full bangs would be too much of a commitment, opt for curtain bangs instead. They'll have the same effect but will be slightly longer and therefore easier to manage and style.
Go (a Little Bit) Shorter
If long hair's not your thing and you want to freshen up your look, opting for shorter tresses is definitely an option. That said, unless you're happy to go for an undercut, which looks totally chic too, we suggest asking your stylist to create a lob-length style for you. 
With a few gentle layers, this cut is incredibly flattering for thicker hair. It has the weight of longer locks so your voluminous tresses don't look too wild. Meanwhile, your volume will serve to keep the look bouncy and youthful!
For an added touch of prettiness, go ahead and flip your lob style over into a side part for a glamorous touch. This looks especially pretty if your hair is naturally curly!
A Low Chignon
If a high messy bun is your go-to when styling your thick hair, we get it. It takes seconds to style and keeps your voluminous locks out of your eyes all day. Even better, it never goes out of style! 
However, we can also guess you're getting pretty fed up with creating this same style over and over again. You may want to mix it up from time to time with something a little chicer. That's where the low chignon comes in!
This style is perfect perfect perfect for thick hair! Simply comb your locks into their desired parting, a center part will look effortless and trendy whilst a side parting radiates glamour!
Then, use your De-tangle brush to smooth out your locks, gathering all of the hair at the nape of your neck. At this point, you could start to twist the hair into a bun. However, as you'll be working with a lot of volume, we recommend securing it into a low ponytail with a sturdy hair elastic first. Don't worry you won't see it when the style's complete!
Next, twist the ponytail, then wrap it around until it forms a bun. Use another elastic to secure the bun in place. Then, gently tease out the outer part of the bun to cover any parts of the elastic that can still be seen.
Rock this look for work, weddings, and everything in between!
Half Up Half Down Hair
Half up half down hair is perfect when you want to wear all of your hair down but the thickness of it means your locks just aren't behaving! You get the feeling of a down-do but you have all the control of a securely fastened style.
Gather the upper section of your hair (we recommend starting just above the ears). Then, brush it all upwards or back depending on the height you desire. Create a ponytail or bun with this section. Then, reach either for your straightener or the curling wand of choice to style the remaining hair you've left down and loose for a more polished finish. 
Braids
When you have thick hair, braids will always be a good idea when it comes to styling. From simple, single three-strand looks that are perfect for work to dutch braids that offer a super-cute off-duty vibe on weekends. We love how braids give you a beautiful style with tons of control over your locks. Not to mention they look even chicer with the sheer volume of your hair.
Our favorite braided style to try?
A long, thick three-strand braid! 
It's simple, elegant, takes minutes to complete, and stays put all day long.
Which of our hair tips or styles is your favorite and which have you not tried before? Whichever styles or hair practices you take on going forward, your thick hair will look and feel more beautiful and manageable than ever before!
For styling products that are perfect for thick hair, check out HerStyler's bestsellers here.
---