10 Ways to Switch Up Your Hairstyling Routine
Are you tired of the same old hair care routine and styles you've been wearing for years? We get you. It's easy enough to grow tired of your hair over a normal twelve-month period, but after a year of spending 99% of our time indoors, we're even more eager to switch things up when it comes to our hairstyling routine. Luckily with our HerStyler Superstyler, you can change up your hair style super easily.
So, get ready to introduce some new steps, products, and hairstyles into your life, because HerStyler has all you need to fall back in love with those glorious locks of yours.
Treat Your Tresses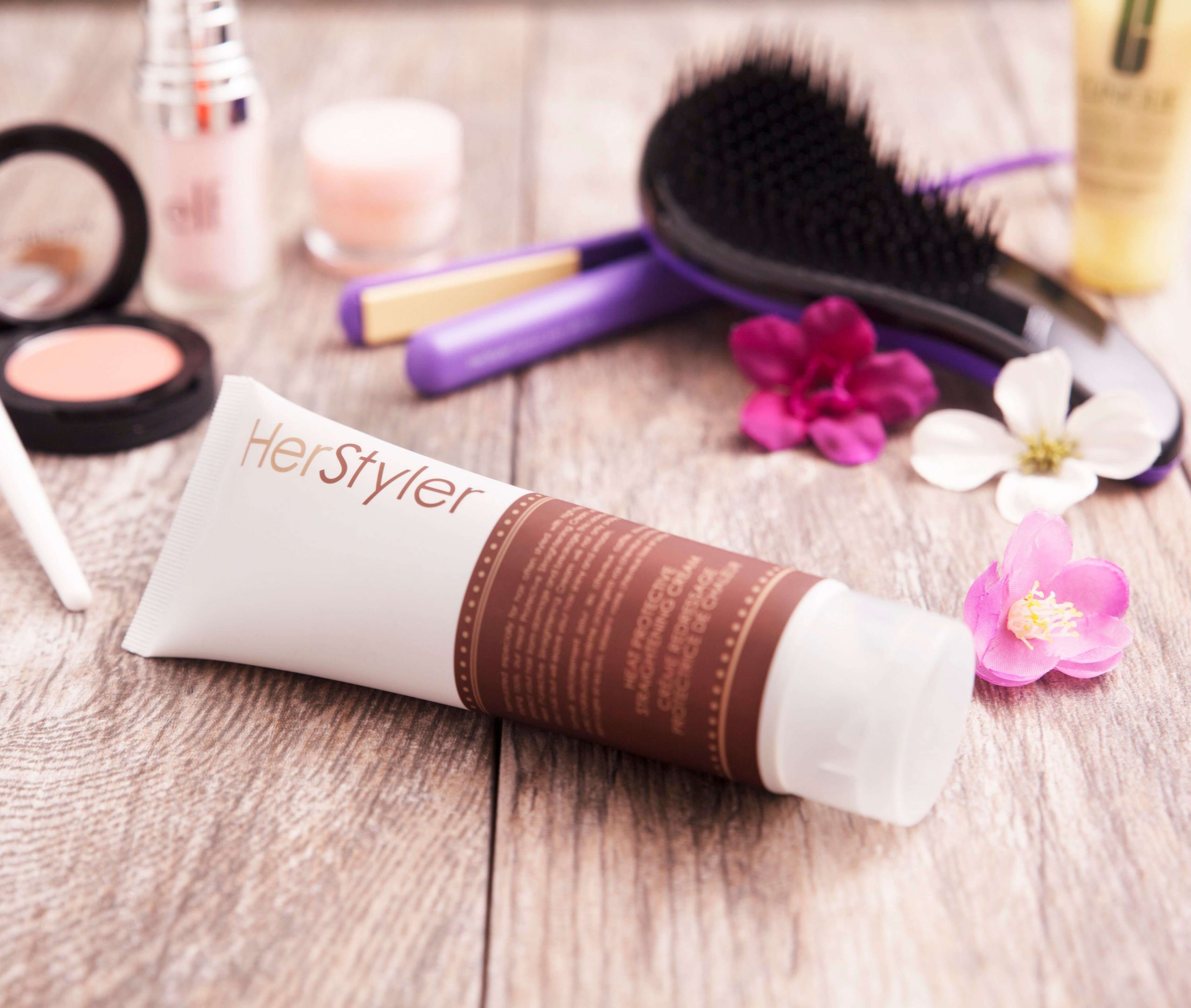 While we totally get that the most exciting part of your hairstyling routine is changing up the look of your locks with your hair styler, this step in the process usually involves heat. Therefore, we need to make sure our hair is ready for high temperatures before we go ahead and start curling or straightening.
It may not be the most thrilling way to mix up your hair routine, but once you see the results, we're pretty sure you'll be stoked you did it!
But how do we suggest you protect your hair?
By using a high-quality heat-protective cream, spray, or serum.
The HerStyler Heat Protective Straightening Cream, for example, is perfect for anyone regularly applying high levels of heat to their hair. Additionally, this leave-in formula will not only prevent your hair from feeling damaged or broken during the heat styling process, but it'll also leave it feeling smooth and looking beautifully shiny.
Simply apply the cream before touching your hair styler to your locks and don't be concerned if it steams as you go. It's perfectly natural and only means the cream is working as it should.
Change Your Parting
We love simple yet effective hair tips here at Her Styler, and this has to be of our favorites. When you've no extra time on your hands but you still feel totally over your hairstyling routine, why not change up your parting?
This will take seconds to do yet will give you and your locks an entirely different look once it's done. Center part ladies, give that hair a flick to one side then simply use your HerStyler Easy Comb to create a more defined line if neat and tidy is the look you're going for. When you're ironing with your HerStyler Superstyler, make sure you iron out from the apart for the best look.
For something more laid back, leave it flicked over and nonchalant, perfect for summer!
If, on the other hand, you've always been strictly into side partings, now is the time to try one straight down the middle. We do recommend using a comb for this. A center parting tends to look much better and more purposeful when they're nice and neat.
What's more, every hairstyle you're used to creating from high or low ponytail to braids and half-up do's will look fresh and new now you've altered your parting which is a huge bonus in our book.
Switch Out Your Hair Brush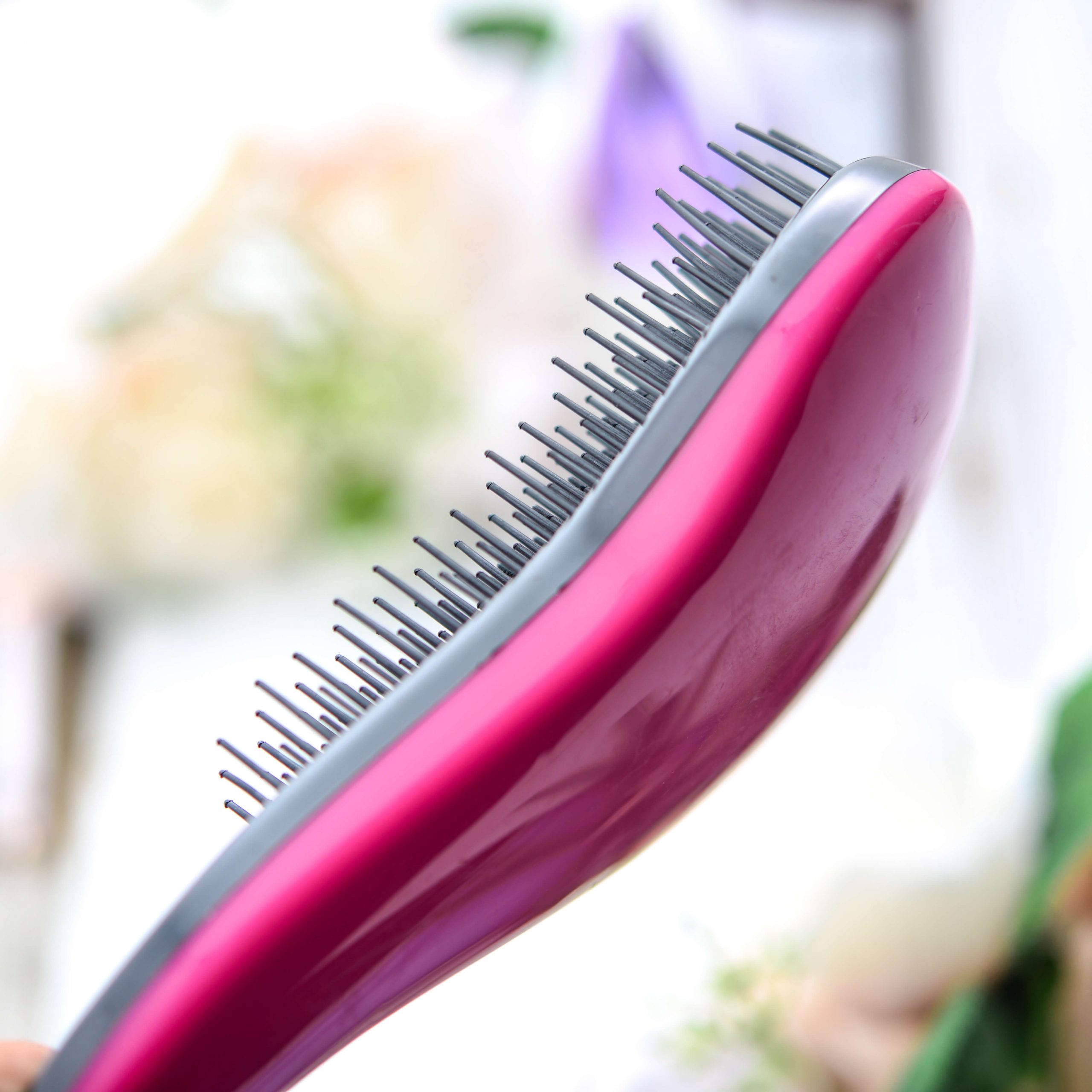 Another way of switching up your hairstyling routine is to take a look at all of the products and tools you use every day.
For example,
What about your hairbrush?
It's something a lot of us use 365 days a year, yet do we really pay much attention to it or consider if it's really working for us? Yes, it might get through your hair well enough. But is it pulling on your precious locks in a way it shouldn't? Are the bristles made of natural materials or synthetic ones? Could a wide-tooth comb be kinder on your hair?
These are all questions we should ask ourselves before deciding which hairbrush is right for our hair type. Once you know the answers, you'll be surprised how much of a difference this one small change can make. 
From cutting down your post-shower brush through time to easing through tangles, make sure your brush is working for your hair and not the other way around.
Introduce a Hair Mask
We don't know about you, but one of the most common times we'll get tired or frustrated with our hairstyling routine is when, no matter what we do, we just can't get it to look good!
By that, we mean it feels dry, lifeless, and lacking in shine. There's no point spending all that time making an effort with your hair styler if the end result looks limp and flat!
So, to combat this, we suggest you shake things up the next time you're washing your hair. Conditioner is amazing and all, but if you really want your styles to shine and your hair to feel as healthy as it can, a hair mask is the way to go.
Luckily for you, the HerStyler Argan Oil Hair Mask is intensely moisturizing. It's great for every hair type. It even works brilliantly for those with, particularly thick or voluminous locks.
Switch things up by adding this mask into your hairstyling routine. You'll never go back once you see how shiny, soft, and healthy it feels!
Find the Right Blow Dryer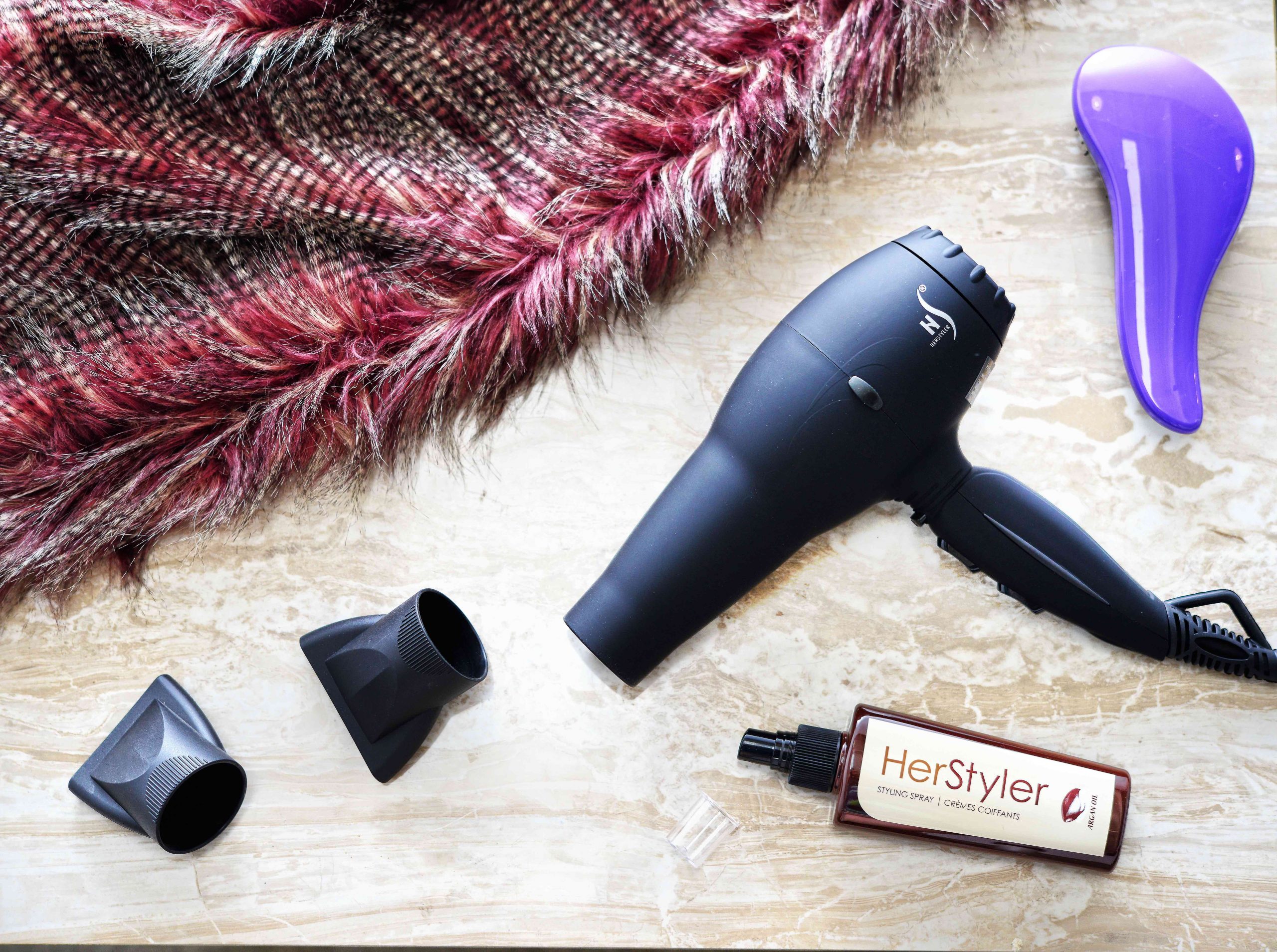 Before we even think about curling or straightening our hair, we need to remember one of the most important hair styler tools at our disposal. That is, of course, the humble blow dryer.
Ladies with straight hair, try one with an attachment specially designed to keep those looks flowing in a downward motion as the hot air travels through your tresses. And for those with gorgeous curly locks, we recommend making sure your blow dryer has a diffuser attachment included before you purchase it.
Meanwhile, anyone looking to grow their hair will benefit greatly from using the HerStyler LED Pro Luxe Dryer. It's designed for precise styling that will give you salon-quality results. What's more, the red LED Technology helps to leave your locks feeling thicker and healthier than ever.
Drying your hair in a way that's designed for your hair type is the best way to get your style looking how you want in less time and with improved results!
Give Yourself Some Beachy Waves for Summer
Without a doubt, one of our favorite ways to liven up our hair routine is by changing our hairstyles with the seasons. For some that might mean a brand new haircut or changing the color of your hair. But, there are way more simple and equally satisfying ways to do this without reaching for the dye or the scissors.
So how do we do it?
With beautiful beachy waves of course!
In our opinion, it's the ultimate summer hairstyle and with our incredible Beach Curler hair styler, it couldn't be easier to create. What's more, this hair styler has an advanced ceramic coating. It's perfect for daily use. It'll curl your hair to perfection but you won't see any damage or breakage occurring.
And, if you're thinking you want to shake things up but don't actually have any extra time to do so, you'll be happy to hear this curler heats up in just 90 seconds and reaches temperatures up to 356°F. That means you won't need to wait before you can use it. Plus, the super high temperatures will create your style just as fast, or even faster than your current heat tools.
Think it can't get better?
It can…
The Beach Curler comes with two different-sized, detachable barrels. Therefore, you can now create not one type of beach wave, but two! If that's not switching things up for the season ahead, we don't know what is!
Choose a Superstyler Curler That Does it All
If you love curling your hair but feel you're kind of over how it looks the same literally every time, we have a purchase suggestion for you!
Can you guess?
As you've probably surmised, this incredible curler offers five different barrels all in varying widths. That means by adding just this one tool to your hair styler collection, you'll actually feel like you're getting five new ones!
We adore and always recommend this revolutionary heat tool for that very reason. You can create so many different looks from large, Hollywood-esque barrel curls to playful. 80's style skinny wand twists. The options and ways you can use this hair styler to renew your styling routine feel almost endless. Once you have it, you'll wonder how you ever went without! 
Make your styling routine exciting again and see how many different hairstyles you can come up with with the HerStyler 5P Curler!
Try a Straightener Brush Instead of a Flat Iron
Don't get us wrong, we love flat irons here at HerStyler (like our HerStyler Superstyler). We couldn't imagine our hairstyling journey without them. However, since we're looking to switch up our daily routines, we just have to recommend you try a straight brush as an occasional alternative because we guarantee, you won't believe the results.
This is an especially good idea if you're noticing your hair has become dry or a little brittle than you'd like over the years. Constant clamping of the hair between two incredibly hot metal plates will do that!
A straight brush on the other hand uses heat bristles to straighten out the hair as it glides through your tresses. This means it's immediately kinder and more gentle. Plus, it allows the hair to breathe even as the heat is applied.
And we know what you're thinking, won't it take a really long time brushing to see any results? No! Straightener brushes surround the hair as you brush so they work incredibly fast. What's more, they leave your hair looking and feeling super soft and glossy so it really is a win-win!
Use a Post Styling Treatment
Once your hair styler has cooled and your locks are looking fabulous, it's time to think about your post-heat styling treatment. So many of us are guilty of skipping this step way too often. So, if you're feeling guilty about neglecting your hair on more than one post-heat occasion, don't worry we promise you're not alone.
That said, if you really want to make a permanent and noticeable change within your hair routine, we recommend making sure you always make the effort going forward. We all love the effect our favorite heated hair styler can have on our hair. However, if we don't keep our locks looking healthy, we either won't be able to continue using them, or we'll start to notice breakage pretty quickly.
Try Skipping a Wash Day
The first step in any good hair routine involves washing and conditioning your locks. This will make them feel clean, healthy, and ready to be transformed with your hair styler.
And, whilst there's nothing like the feel and the scent of freshly washed hair, there's a chance you could be over-washing it. This is especially probable if you find your hair gets greasy super quickly.
Why?
It's all to do with your hair's natural oils…
When your hair begins to feel greasy only 24 hours (or sometimes sooner) after washing, the natural reaction is to want to wash it again, right? That's totally understandable. Nobody desires the look of heavy, oily tresses. We certainly don't like the feeling when we run our fingers through it.
Here's the main problem with this. Every time we wash our hair, we put it into a somewhat fragile state as we clean away all the hair's natural oils (known as sebum). Therefore, the hair instinctively fights to bring those oils back to replenish what it now perceives as a dry scalp and hair crying out for moisture.
So you see, if you continually wash your hair to make it feel clean again, you could be working against yourself. Instead, you might want to try training your hair to go without a wash so it can re-balance itself. That way it won't get greasy so quickly. You also won't have to worry about constantly washing and drying it and pulling out your hair styler every single day.
Summary
Hopefully, you're now feeling inspired! Experimenting with your hair styler and creating different looks should be fun – try out as many as you can to see what works for you best!
---