Should You Use a Hair Serum Before Straightening Your Hair?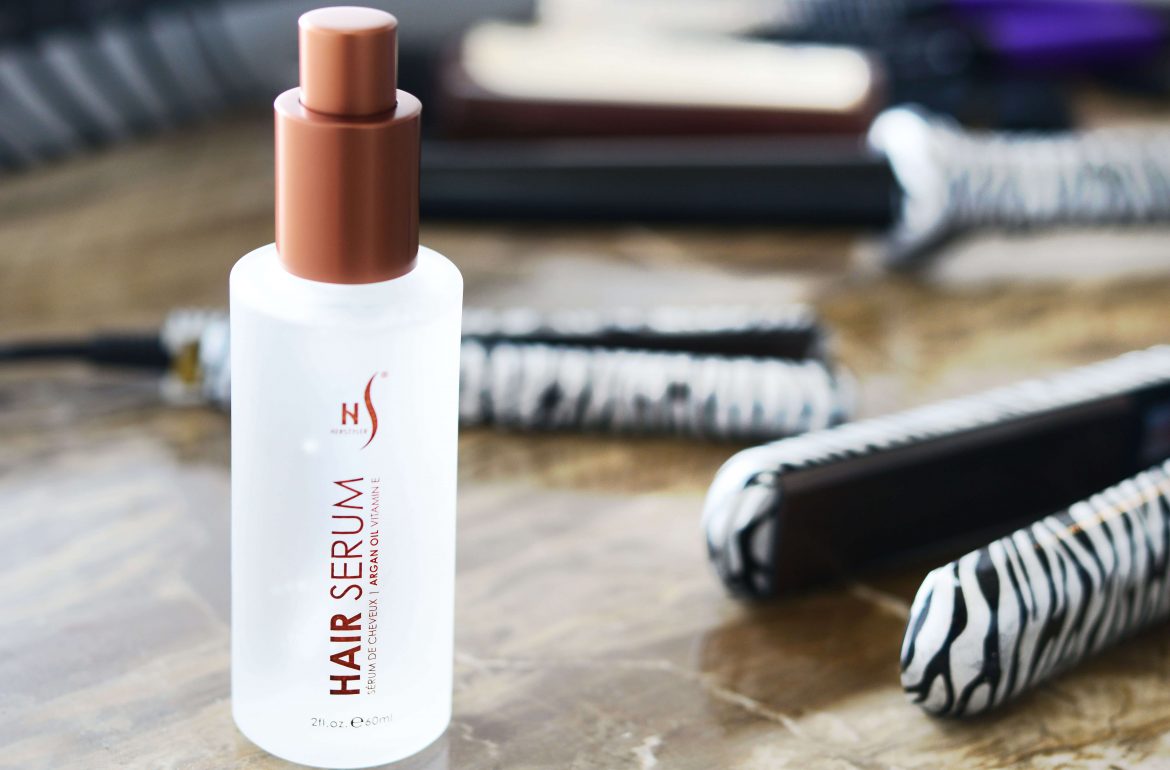 When it comes to successfully straightening your locks, curating a step-by-step routine that works perfectly for you and your hair is always a good idea. Not only will it protect the look of your mane and make your style last for longer, but it'll also optimize the natural texture of your hair and keep it feeling in great condition! 
So the question is, in said routine, should you be using a serum? If so, where does the application fit in when straightening your hair? Before? After? During? HerStyler is about to answer all of these questions and more. Keep scrolling to discover all you need to know, plus our top tips for how to apply your hair serum and which ones are best to use when straightening.
What is Hair Serum?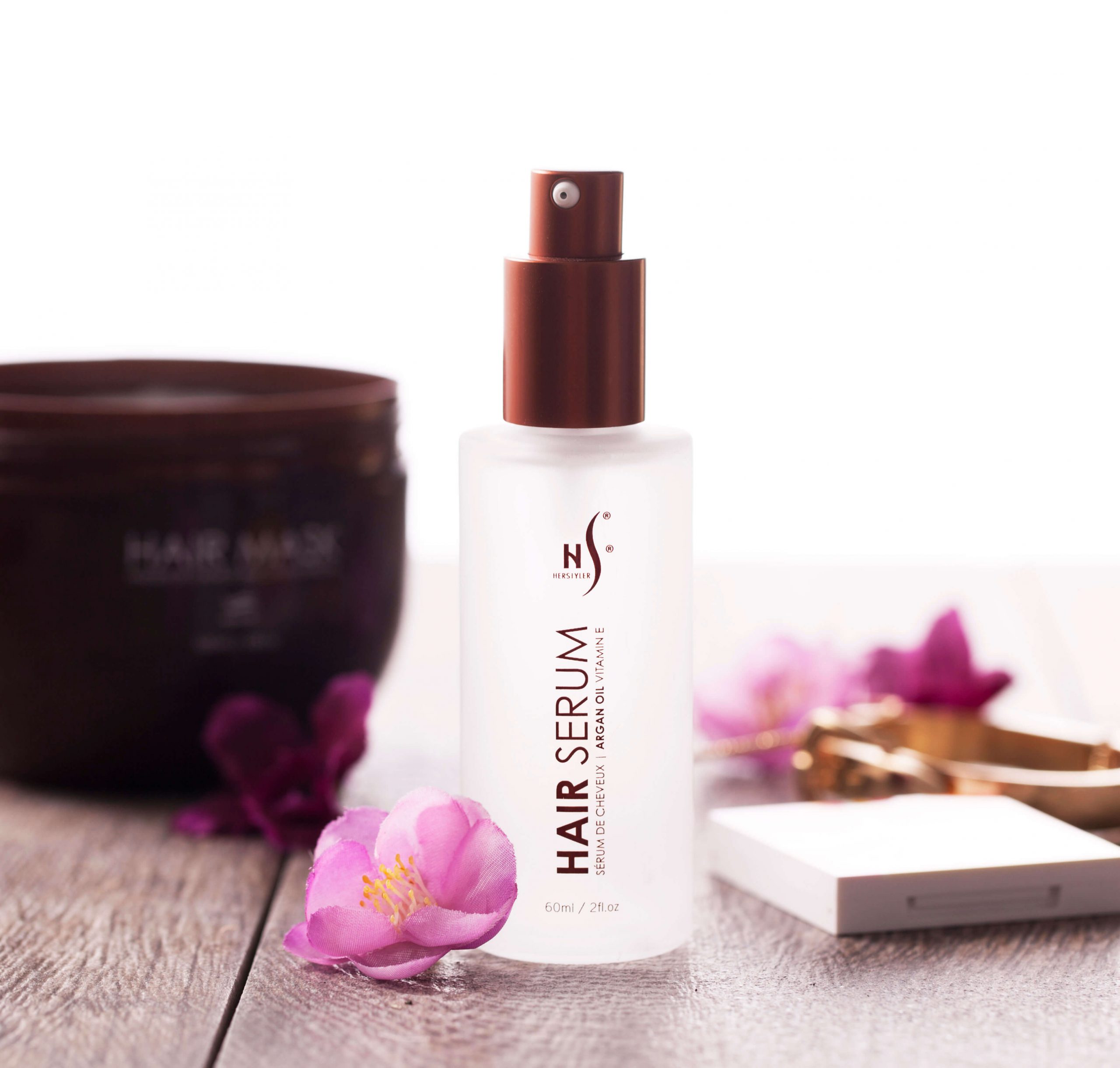 Before we get into the how, the when, and the why, we should probably talk about the what. After all, if you've never used this particular product in your styling routine before, you're likely wondering what exactly it is and why you should even be considering using it in the first place!
So, very basically, hair serum is a hair styling product used to coat the surface of your hair. It leaves the hair looking and feeling shinier and healthier than it did before.
Generally, these products are made using a silicone base. Silicone has many uses (you've probably come across it before), but for our hair, it's used to coat and protect the feel of those strands.
Don't fancy using silicone?
No problem, there are plenty of silicone-free formulas out there for you to try out too!
Now, just because we said that hair serum is designed to coat the hair doesn't mean it won't absorb into your locks and aid them in that way too – it definitely will! Let's move on to the benefits of hair serum so we can look at that in a little more detail…
Which Hair Serum is the Best?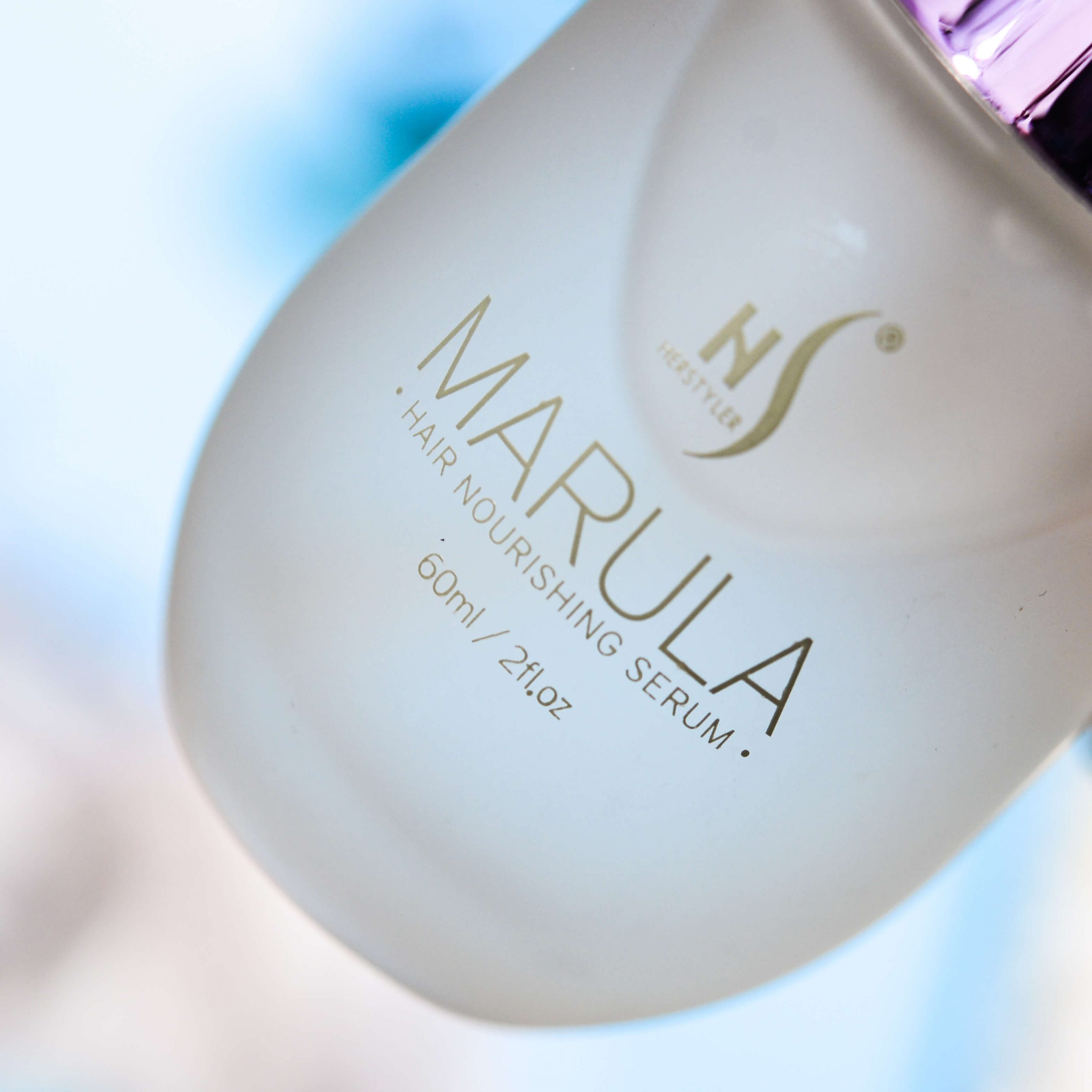 When it comes to picking out the ultimate hair serum, it really comes down to which is best for your hair type. Luckily, we're pretty spoiled for choice these days when it comes to the different formulas available. This means that you'll always be able to find the right one for you.
However, if we're talking recommendations and which we think are the best out there, we certainly have a few suggestions!
VitaOil Biotin Hair Serum
Infused with biotin and vitamin E, the HerStyler VitaOil Biotin Hair Serum is designed to prevent breakage, combat the feel of brittle hair and weak follicles, and protect the appearance of your locks from harmful environmental factors like sun exposure, making it our top choice for summer! It's also suitable for use on damp or dry hair. So, you can introduce it into your hair care routine at either stage. 
Argan Oil Hair Serum
This dreamy hair serum is infused with Provitamin E and argan oil. It's designed to eliminate the look of frizz and tame wiry, unmanageable hair. You can use it on damp hair before styling, or on dry hair before or after straightening – perfect! 
Marula Hair Nourishing Serum
The HerStyler Marula Hair Nourishing Serum is designed to moisturize and renew the look of your hair from dull and frizzy to soft and manageable. Use 1-2 pumps of this non-greasy formula (depending on the texture and thickness of your hair) on the mid-lengths and ends of your tresses when they're damp, dry, or both!
The Benefits of a Hair Serum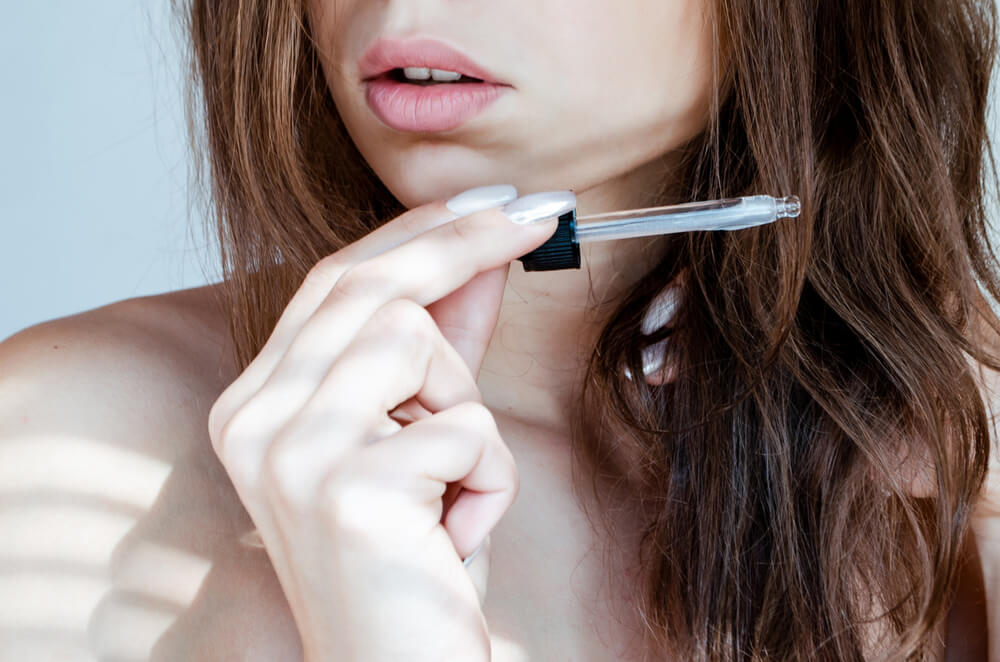 Thought you knew all of the benefits hair serum has to offer?
Think again!
Aside from what we've already covered, there are so many more reasons to start (or continue) using it within your daily/weekly hair care routine. Such as…
It Locks in Moisture
One of the main reasons we use (and love) including hair serum in our daily and weekly hair care routines is that it works so well to lock in moisture, keeping our hair thoroughly moisturized! 
So, whether your hair is naturally soft, shiny, and hydrated and you're looking to keep it that way, or your locks are looking and feeling a little dry these days and you want to give them a helping hand, hair serum is the key ingredient for doing either of these things. 
How does it do this? 
We're so glad you asked! 
Though certainly some of this dreamy formula will get absorbed into your locks, much of it remains on the surface to coat your strands and prevent moisture from leaving them as you style your hair and throughout the day too. 
Therefore, this is the perfect product to use to maintain any moisture already in your hair or to make the most of conditioning treatments you've just started using, such as intense daily conditioners. Herstyler's Sleek Hair Conditioner is one that was made to moisturize and protect the feel of your locks. Or, weekly hair masks, such as the Argan Oil Hair Mask infused with, you guessed it, Argan oil. It also contains panthenol to intensely condition your hair.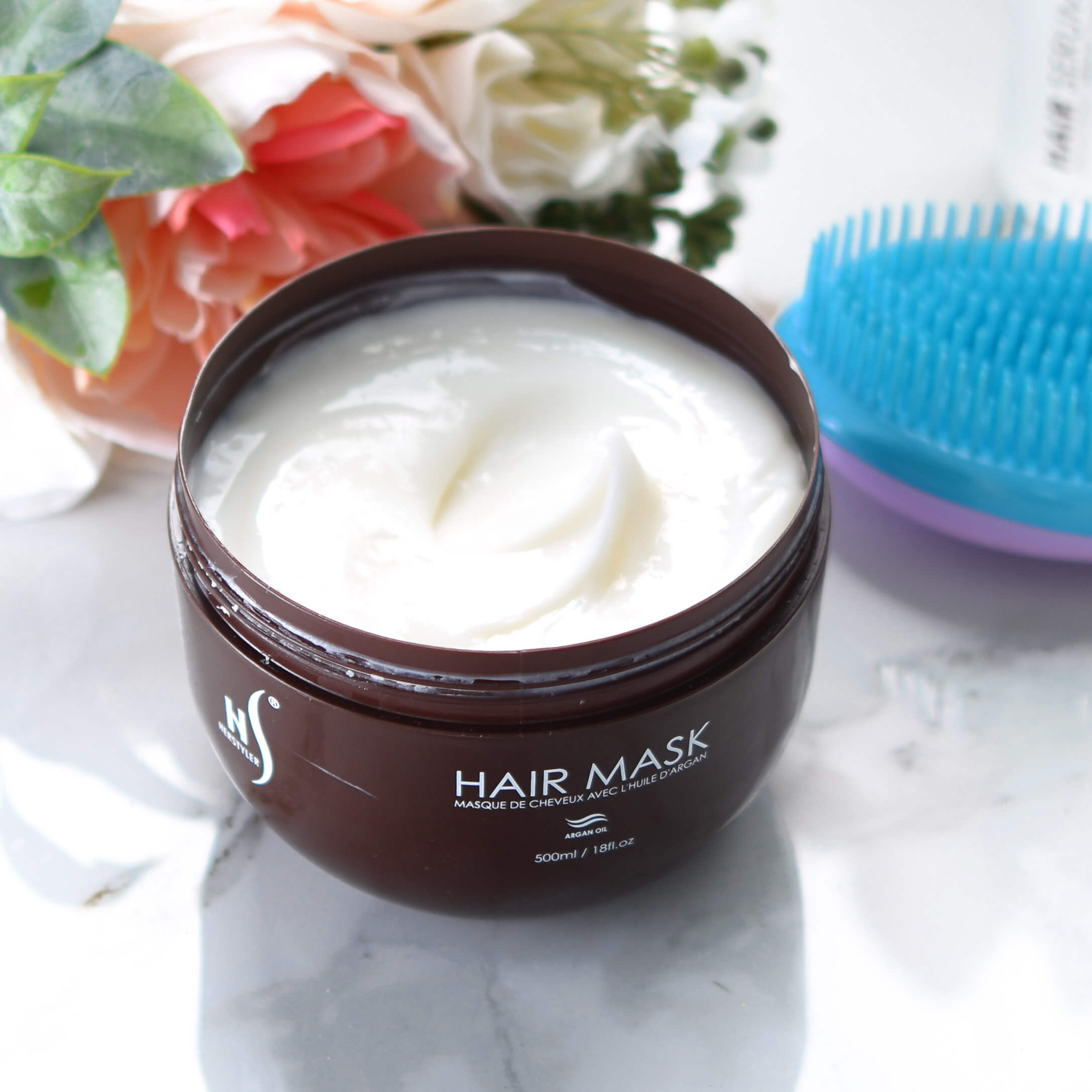 It Reduces Frizz
Yes, the rumors are true! If you have frizzy hair and struggle to control those flyaways no matter the season, a hair serum could be exactly the product you've been looking for all this time!
Why?
Firstly, as we know by now, hair serum coats the hair after application. 
As it does this, it smooths out the strands. This makes them instantly sleeker and therefore less dry and flyaway. A smoother texture will not only be much more manageable for you day to day, but it'll also make a huge difference when it comes to successfully heat styling your hair!
It Makes Your Hair Feel Softer
Alongside your hair looking instantly smoother, you'll also find it feels way softer after applying your hair serum. As your locks are lightly coated with that dreamy formula, you'll start to notice a healthier, and much more youthful, feel to your hair when running your fingers or hairbrush through it. 
The perfect base for straightening? 
It looks that way! 
It Makes Your Hair Look Shinier
Of all the benefits this miracle product provides, it can't be possible that it'll also make our hair oh-so-shiny… can it? The answer is yes – it absolutely can!
Since hair serum makes your hair so much smoother, that sleek surface area will reflect the light making your hair appear brighter and shinier – pretty much the moment you smooth it onto your tresses.
It'll Keep Your Style Intact for Longer
As you might have guessed having read all about the above benefits, applying serum to your hair can definitely help to maintain your hairstyle for longer. And yes, we're counting straightening the hair in this too!
Unlike dry, frizzy locks, which can quickly become unruly, especially after applying intense heat like the temperatures that come from your straightener, softer, smoother, shinier tresses will behave much better and stay sleeker for longer after straightening. 
It's Great for Curls Too!
Whilst we're thinking of serum in terms of how and when to use it whilst straightening your locks, we also thought it worth mentioning that, if you're working with beautiful naturally curly locks instead, we still highly recommend you use a serum to treat those too! 
The moment you do, your curls will appear smoother, more defined, and much easier to manage – even on humid days! 
You Can Use it All Year Round
Using serum in the winter months might feel like a no-brainer. After all, we're frequently contending with sub-zero temperatures and truly unpredictable weather that just loves to dry out our hair! When summer rolls around, however, we can often forget to use it, don't think it's necessary, or worry it will cause our hair to become too moisturized and, therefore, oily. 
Let us be the first to tell you – that's not the case! With summertime comes scorching temperatures, seawater (hello beach days!), chlorine (hello pool days!), and, let's just be honest, rather a lot of sweat… all of these things can be super damaging to your hair and can cause it to look dry and unruly before you know it. Not good for straightening – or any other kind of styling for that matter! 
The takeaway? 
Use your hair serum all year round! 
It's Beneficial for Every Hair Type
Unlike hair oils, where even the smallest amount can be too heavy for some hair types, hair serum has a much more lightweight formula. That means it works wonders for everyone!
Simply adjust the amount of serum you're using depending on your specific hair type. If your hair is super fine, for example, you should only need a very small amount to coat the ends and mid-lengths of your locks. If your hair is on the thicker side, a couple of extra pumps will do the trick before reaching for your heat tools!
When Should I Apply a Hair Serum?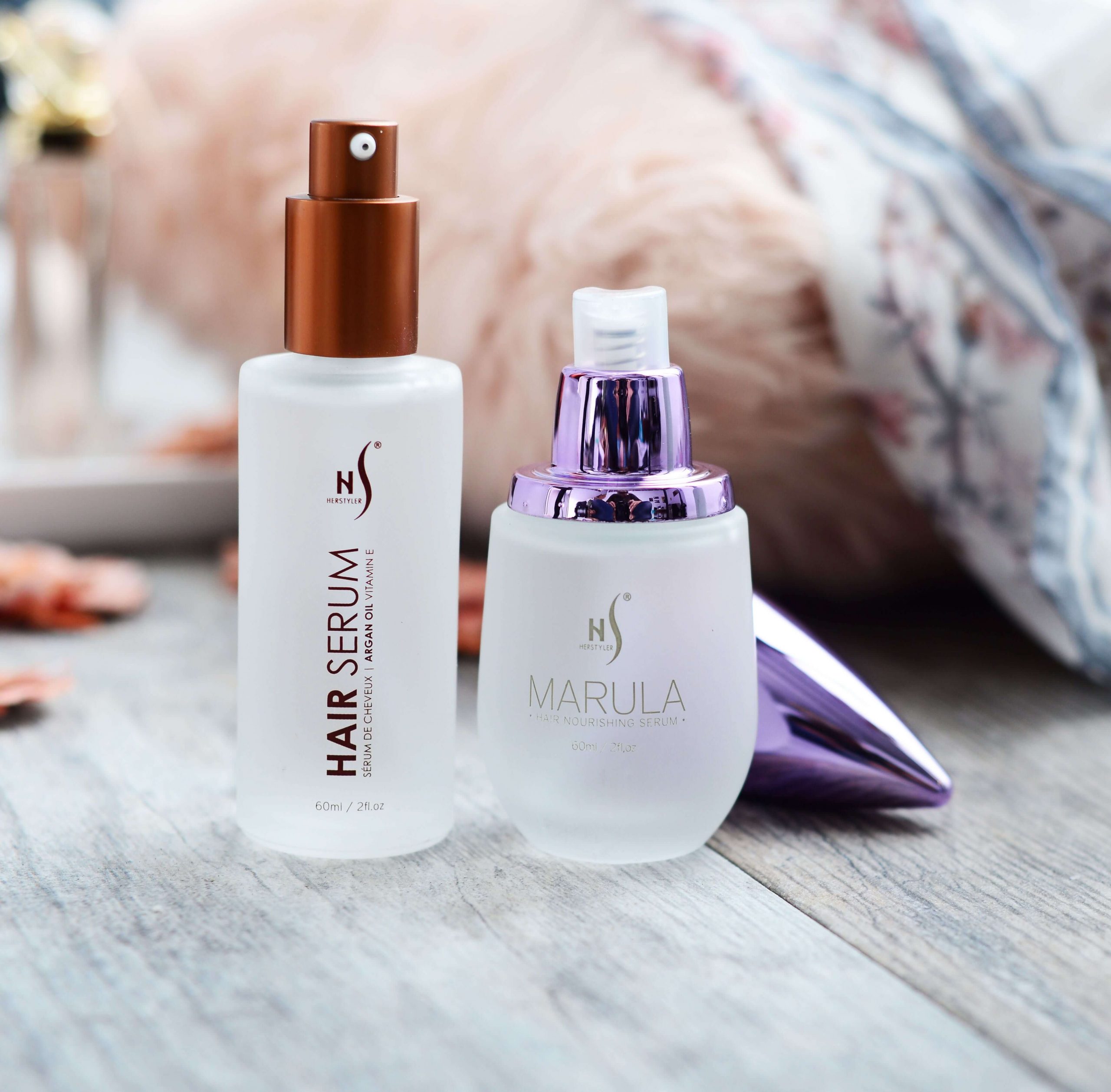 So, now that we know what serum does, let's determine whether we should apply it before straightening our hair. Of course, the answer is – absolutely yes!
Now, you might have heard that using a hair serum before applying intense heat is bad for your locks. Some say it's like applying oil to food before cooking it up and that doing so will only serve to fry your hair and leave it dry and damaged.
However, this isn't true. Yes, whilst in some cases applying large amounts of hair oil to your locks right before straightening can be troublesome, applying just the right amount of serum, letting it absorb a little, then straightening your hair, certainly won't be.
Firstly, the whole purpose of applying a hair serum is to coat your locks. This prevents them from feeling damaged. It provides an extra layer that actually will serve to shield your hair from the heat, rather than causing damage.
Secondly, hair serum will help your locks feel and look much smoother and softer after straightening.
How to Apply Hair Serum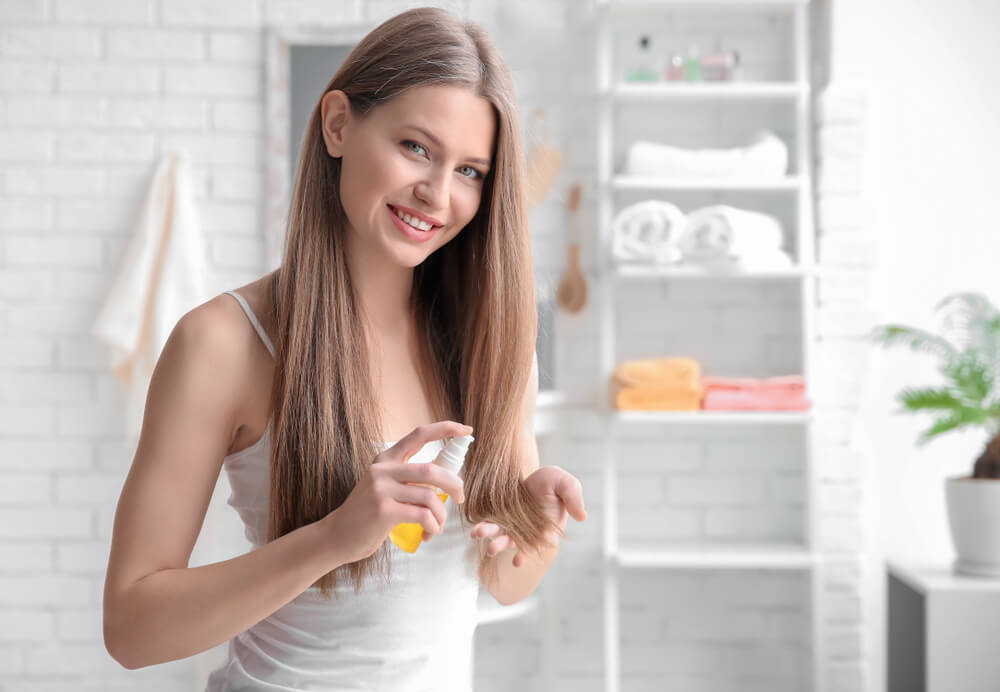 Now that we've established that using hair serum before straightening is a great idea for the look and feel of your hair, let's talk about how to apply it!
In Damp Hair
If you want to apply the serum to damp hair before blow-drying or straightening it, we say go right ahead! You can always smooth a little extra onto the ends after straightening as well to really lock in that moisture and give it a great shine. 
For damp hair application, simply pat your hair part way dry with a soft, clean towel (preferably made from a non-damaging microfibre material). Then, pump 1-3 pumps of hair serum onto your fingertips, depending on the thickness of your locks. Gently warm the serum in your hands then evenly apply it to the ends and mid-lengths of your hair. 
Pro tip: try to avoid pumping the serum directly into your hair and make sure you're avoiding the top of your hair. Otherwise, the application will be uneven and you could end up with oily roots! Now, blow dry your hair and straighten it as usual.
On Dry Hair
If you prefer to apply your serum right before straightening, this will work perfectly too. Follow the same steps as above to apply it. Just note that, when doing this, the shine from your serum will likely be a little more intense on dry hair. Plus, you'll probably find it won't distribute as easily as it does on damp locks. So, just be aware of this so that you get a nice even application before straightening. 
For example, sometimes applying just a very small amount of serum to a section at a time will give you more control. We also recommend brushing the hair through with a wide-tooth comb afterward. This allows you to gently make sure it's tangle-free and that the serum has been distributed evenly. 
Summary
So, there you have it! The many benefits of hair serum, when and how to use it, plus all of our top product recommendations.
We hope that you're now feeling totally knowledgeable and confident on how to introduce (or better use) hair serum in your hair care routine. Now, go forth with shinier, healthier-looking hair that feels super-soft, sleek, and better protected from heat styling!
Click here to browse more of HerStyler's bestselling hair care products.
---