8 Features to Look for When Buying a Hair Straightener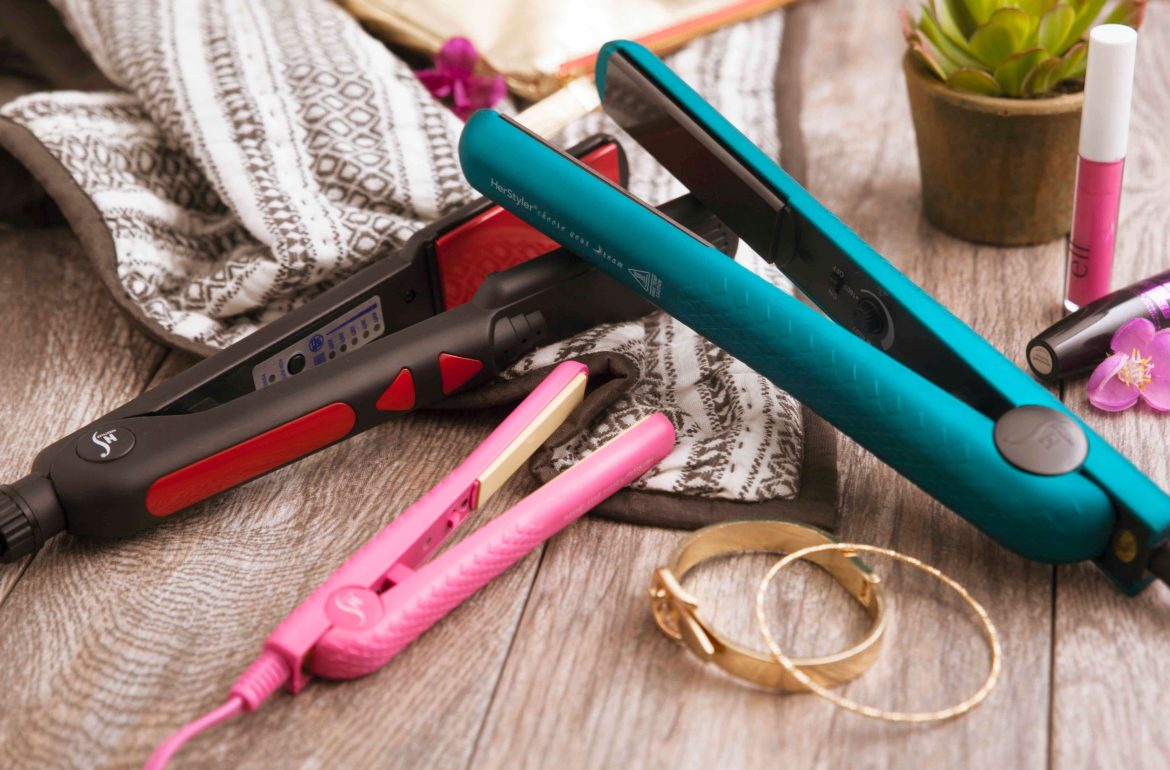 A hair straightener can be expensive, but it's certainly an investment. Think about how many times you have to go to a hair salon to get the professional sleek look you desire. When you have a hair straightener that does it all, salon visits are down to an absolute minimum! So, not only will you be saving good money in the long run, but you'll also have the convenience of being camera-ready whenever you want, wherever you want!
And that's what HerStyler is all about! We have blended the concepts of creativity and innovative hairstyling technology to give you a true all-in-one experience. You can count on our products being an investment because they'll be with you for many years!
Today, we've formed a quick guide for you to give your hair the best styling experience. Here are 8 important features to look out for when you're thinking about buying a hair straightener!
Floating Plate Technology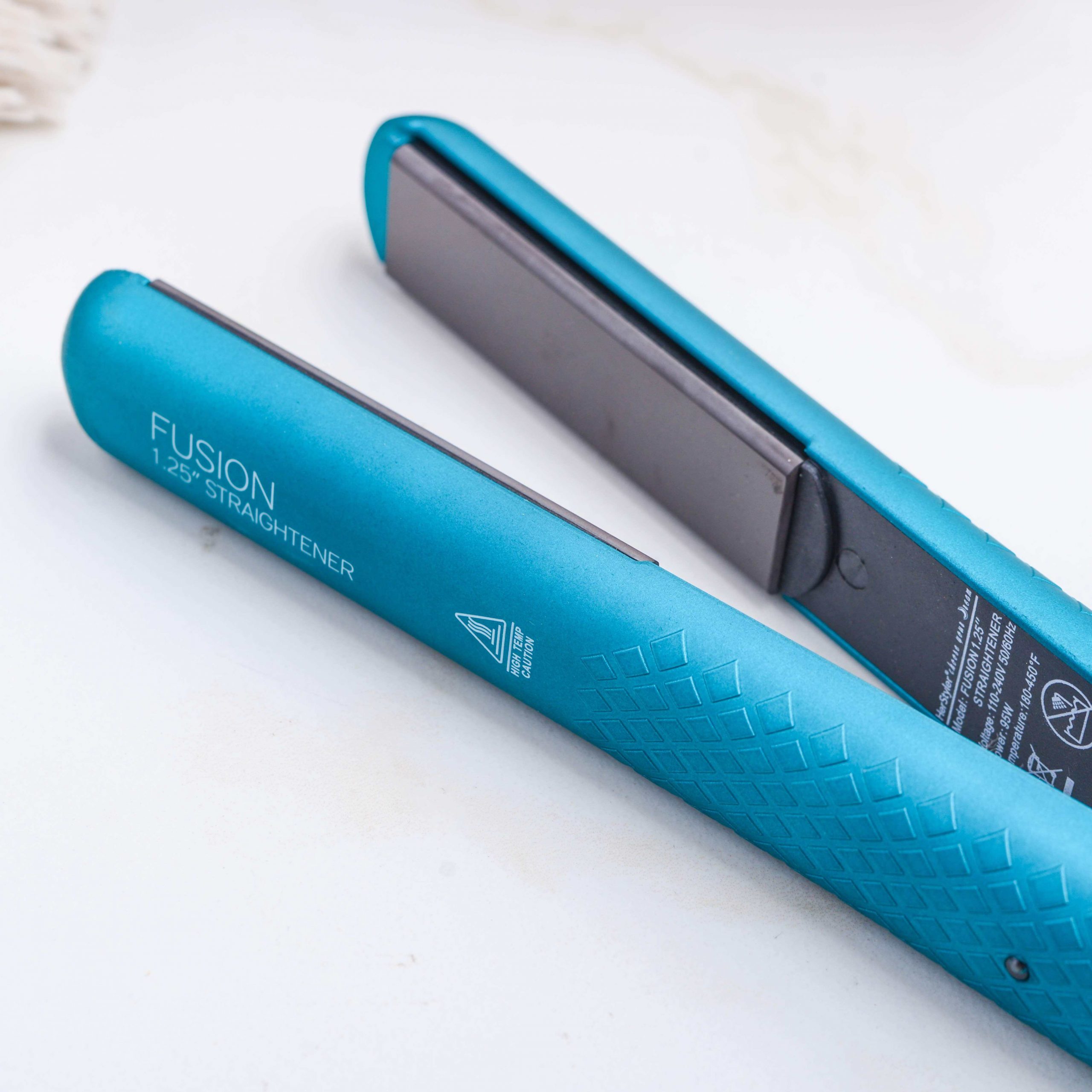 The key to an effective hair straightener is the freedom of movement of the plates. This doesn't mean the plates should be completely detached from the straightener, it just means that they are attached enough to leave room for flexing. This tiny bit of freedom of movement will allow the plates to adapt based on different angles. They can get as close to each other as possible, allowing the hair straightener to clamp your hair properly and give exceptional results.
Floating plate technology uses springs to give the plates some flexibility to easily tilt at varying angles and prevent snagging or tangling. This way, you'll be able to straighten your hair while the tension from the plates adapts to suit your desired hairstyle. This advanced tech makes it a lot easier for you to create a sleek, professional hairstyle when heat is properly applied without any setbacks. It also lessens the time needed to straighten your hair.
HerStyler has just the right hair straightener in mind to help you get the perfect, camera-ready look! Our Blushing Marble Styler is the ultimate choice to create any hairstyle you like. Whether it's straight, wavy, or curly hair, the floating ceramic plates offer a versatile range of styling options. They also heat up to 450°F, giving you sleek, silky hair within a few minutes!
Negative Ion Technology
What are negative ions? An ion is an atom that has gained or lost one or more electrons. In the case of negative ions, it means an increase in electrons.
Negative ions have been associated with many health benefits, including enhancing cognitive performance and alleviating signs of depression among some individuals. But what does all of this have to do with your hair?
It's believed that your hair follicles can become positively charged because of external aggressors. For example, UV exposure, pollution, dust, etc. So, when an external negative charge is supplied to them, it helps neutralize and balance everything out.
Negative ion technology has been incorporated into our straighteners to help alleviate the look of frizzy hair, minimize the visible signs of damage, and keep your hair looking healthier than ever. The technology supplies a negative charge to your hair with the help of heated plates as they come into contact with your hair. This is why hair straighteners embedded with negative ion tech have become all the rage in the hair care world!
If you're interested in seeing the effects of this latest technology in action, we've got just the right product for you. Our SuperStyler Hair Straightener uses ceramic plates that emit negative ions to help keep the appearance of your hair safe from frizz, damage, and breakage. Your hair is bound to look silky, shiny, and healthy after using this fantastic styling tool!
The plates can heat up to a maximum temperature of 500°F to give you fast and efficient straightening results. Enjoy creating professional hairstyles from the comfort of your home with this handy hair straightener.
Ceramic or Titanium Plates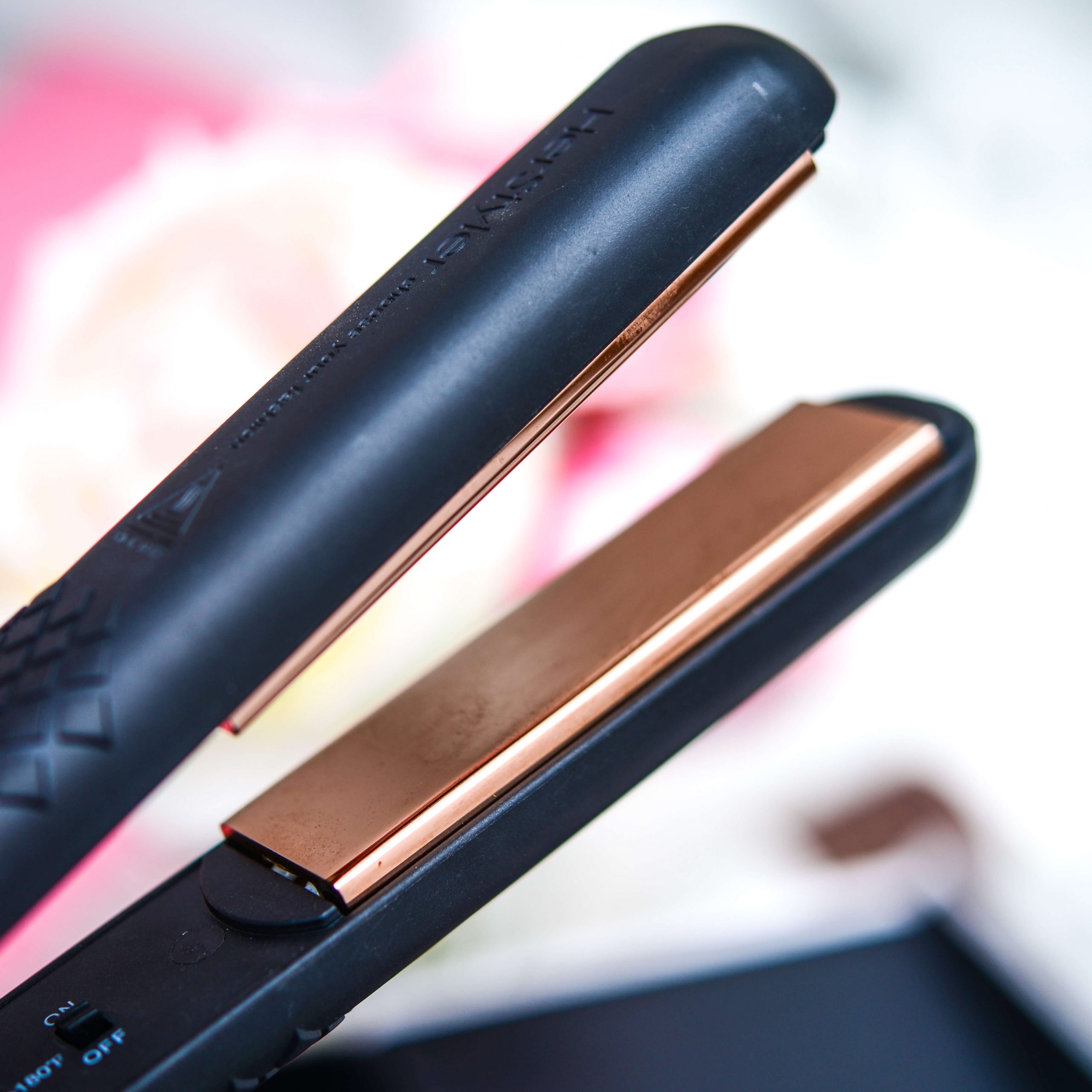 We've told you about some of HerStyler's noteworthy hair straighteners featuring ceramic plates, but what about titanium plates? What's the difference between the two?
Solid ceramic plates tend to take some time to heat up. When used in a hair straightener, they function by heating your hair from the inside out. This effect is gentler on your hair compared to heating the top of the hair shaft first. This is the reason that many people prefer ceramic plates over other options since they can minimize the visible effects of damage. If you have very thin, already-damaged hair, it's better to go for a hair straightener with ceramic plates. 
Titanium plates, on the other hand, heat up very quickly. They heat your hair from the surface to the inside, which isn't the best for weak hair. Titanium straighteners are a great option if you're in need of a quick hairstyle but they aren't suitable for thin hair. If you have thick, coarse hair that can take a while to get straightened, a titanium hair straightener will be your savior!
If you need a quality hair straightener with titanium plates, our Rose Gold Titanium Turbo Styler won't disappoint! This advanced styling tool allows you to straighten, flip, and curl your hair any way you like. The plates heat up quickly to minimize styling time and give you quick, salon-like results that last! With a maximum temperate of 450°F, our Rose Gold Titanium Turbo Styler is the perfect choice to tame stubborn thick hair.
A Tourmaline Coating
You've got your basic ceramic and titanium plates, so where does tourmaline come into the picture?
Tourmaline is the name given to a group of crystalline minerals. They're semi-precious gemstones that have been incorporated into the hair care world for many reasons.
In hair straighteners, tourmaline is ground to a fine powder and used as a coating material for ceramic or titanium plates. Compared to regular plates, those coated with tourmaline produce more negative ions. This can give you even straighter, shinier, and healthier-looking hairstyles with long-lasting results.
Another added benefit is that when tourmaline is used on titanium plates, in particular, it can make the hair straightener suitable for ALL hair types. Due to an increase in the production of negative ions, it ensures minimal damage in the case of delicate hair.
No need to look any further than HerStyler to find the perfect hairstyling tool! We have a special range of straighteners that feature tourmaline-coated plates to give you outstanding results. Our Straight N' Style collection will leave your hair looking fabulous and sleek all day long! It doesn't matter what hairstyle suits your look of the day — sleek straight, loose curls, waves — because the tourmaline-coated ceramic plates incorporated into this straightener know no bounds!
Get the perfect look you want with this convenient styling tool that supports a maximum temperature of 450°F. You won't be spending a tedious amount of time in front of the mirror getting your hair ready — this hair straightener can get the job done within a few minutes. For added convenience, it also houses a closing hinge to make travel storage easy for you! You can find these flat irons in Black, Peach, Pink, and Purple colors to match your style.
Infrared Heating Technology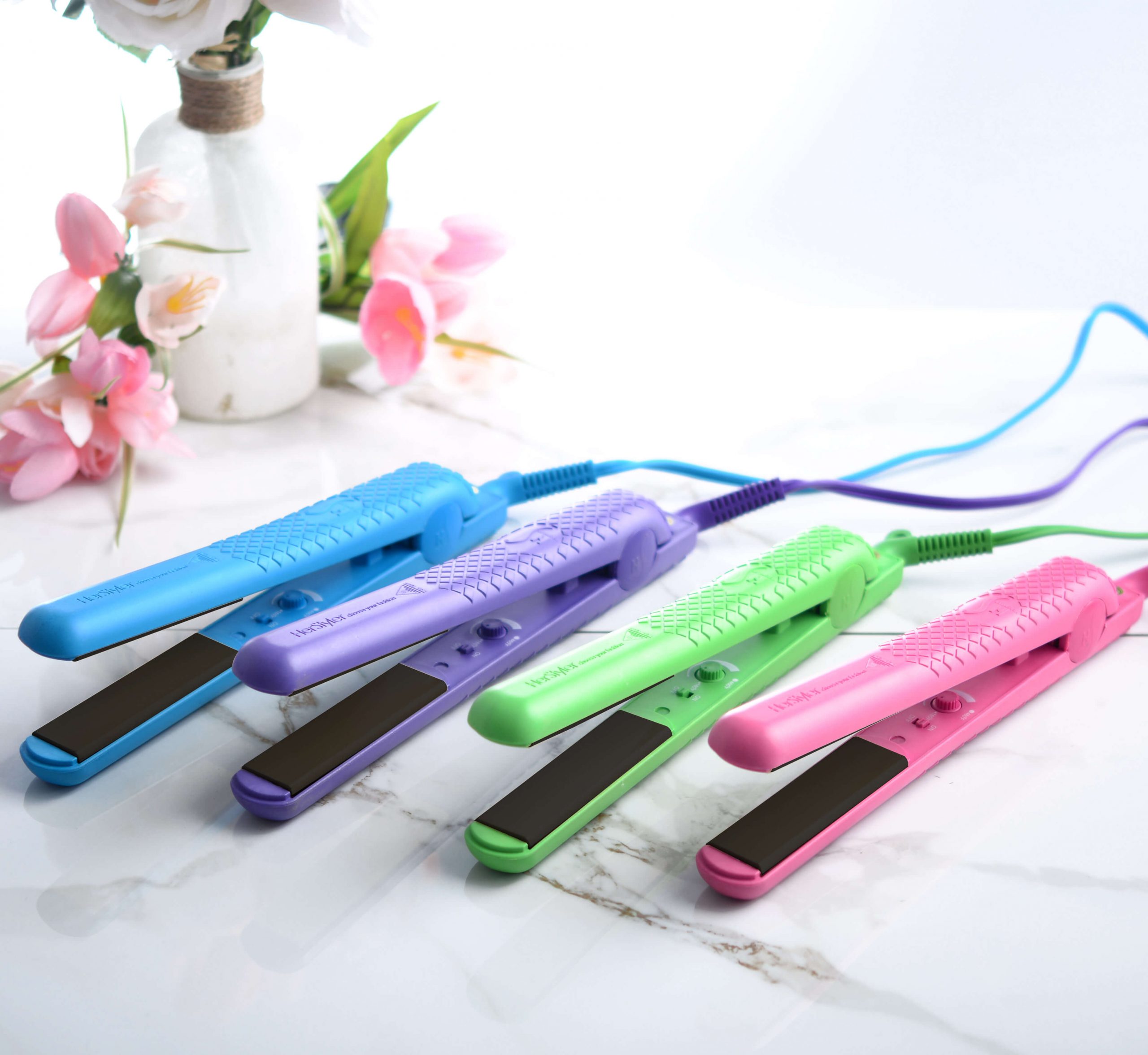 What is infrared technology and what does it have to do with a hair straightener? It's time to get a little "sciencey" and refresh some physics basics.
Infrared or IR is part of the electromagnetic spectrum and is the same form of heat that our bodies emit. It has been associated with many therapeutic benefits and a decreased risk of visible damage to the hair.
If you're someone who has to straighten your hair every day, it's important to consider safety above all else. And that's where IR hair straighteners will be your best friends! Compared to traditional heat-based hair styling tools, IR straighteners can reduce the risk of visible damage to your hair and keep your mane looking healthy and shiny! They take much less time to give you the look you want. So, they're time-efficient and beneficial for your hair's glossy glow!
The Colorful Seasons Straighteners are the ultimate hairstyling accessories to give you a silky-smooth, professional look within minutes! They feature 1.25" 100% ceramic floating plates that generate 6x more negative ions than your regular flat iron (we'll dive deeper into negative ions in a bit). These plates infuse IR heating technology to distribute heat to your hair from the inside out. They heat up to 460°F, making them perfectly suitable for all sorts of hairstyles! Our Colorful Seasons Straighteners ensure even heat dispersion throughout your hair, minimizing the look of damage and delivering quick results!
Adjustable Heat Settings
If you're not able to set your hair straightener to your desired temperature, then you're missing out. Different temperature settings are needed depending on what type of hair you have, what your haircare routine is, and what hairstyle you're trying to achieve.
A high-temperature range can give you quick results, but it's not suitable in the long run. Your hair will be damaged from constant exposure to high heat if you're a regular user.
Similarly, low temperatures might not work if you have very thick, stubborn hair. They wouldn't give you the results you're looking for. So, when you're picking out the perfect straightener, it's important to go for one with adjustable heat settings!
Dual Voltage
How many times have you had to take a device overseas, only to find out that it can't be used there? Many hairstyling tools fall in the same boat because they only use one voltage that works in your own country.
A dual-voltage hair straightener means that the device has two options —110-120V and 220-240V.  So, when you enjoy your next summer in Europe, you can manually change the voltage setting from 110-120V to 220-240V. When the latter voltage setting is applied, you can use the hair straightener in Europe as well! So, if you were to bring this trusty tool with you to your next summer vacation destination overseas, it needs to support dual voltage — suitable to use anywhere you want.
At HerStyler, all of our hair straighteners come equipped with dual voltage capability, making it the least of your worries! When you shop at HerStyler, you're always guaranteed convenience and state-of-the-art tech to bring your favorite hairstyles to life.
An Ergonomic Design 
Straightening your hair can be a challenging ordeal, so it's important that your hands feel comfortable while holding the device. Choose a hair straightener that's lightweight and easy to grip, eliminating stress from your hands.
To prevent unnecessary tangling, go for one that features a 360° free-movement swivel cord of a professional length. This allows you to move the tool in any direction you like without ending up with knotted wiring.
And that's precisely what you can expect when you purchase a HerStyler hair straightener!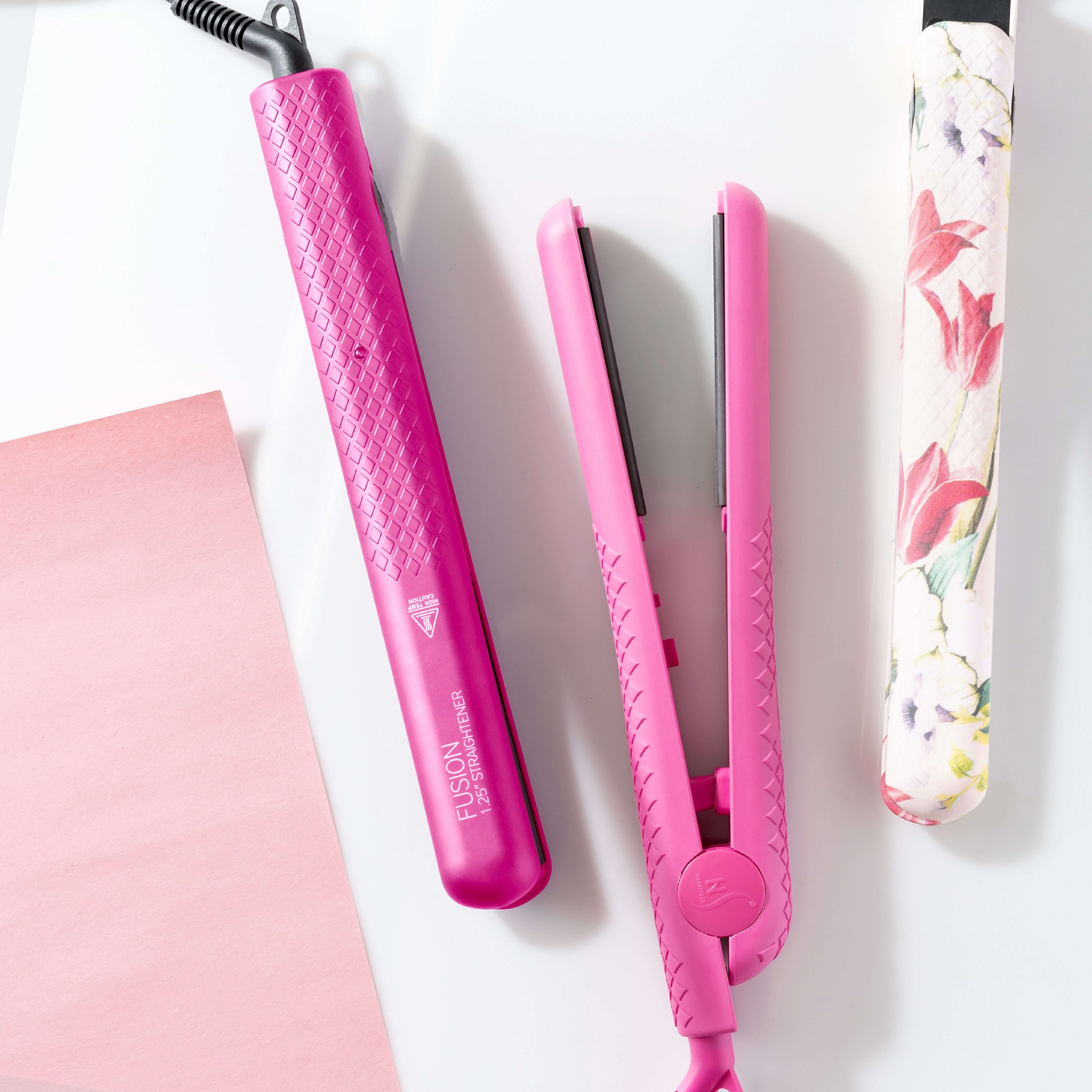 Get the Hair Straightener You Need From HerStyler!
There is no shortage of quality hair care products and devices at HerStyler. We have so much for you in-store to enhance your hair care routine and add some spice to your hairstyles. Get your hands on one of our hair straighteners and treat yourself to a salon-like styling experience at home!
Check out the rest of our hairstyling and hair care products by browsing our online shop here.
---