A Closer Look at HerStyler's Colorful Seasons Straighteners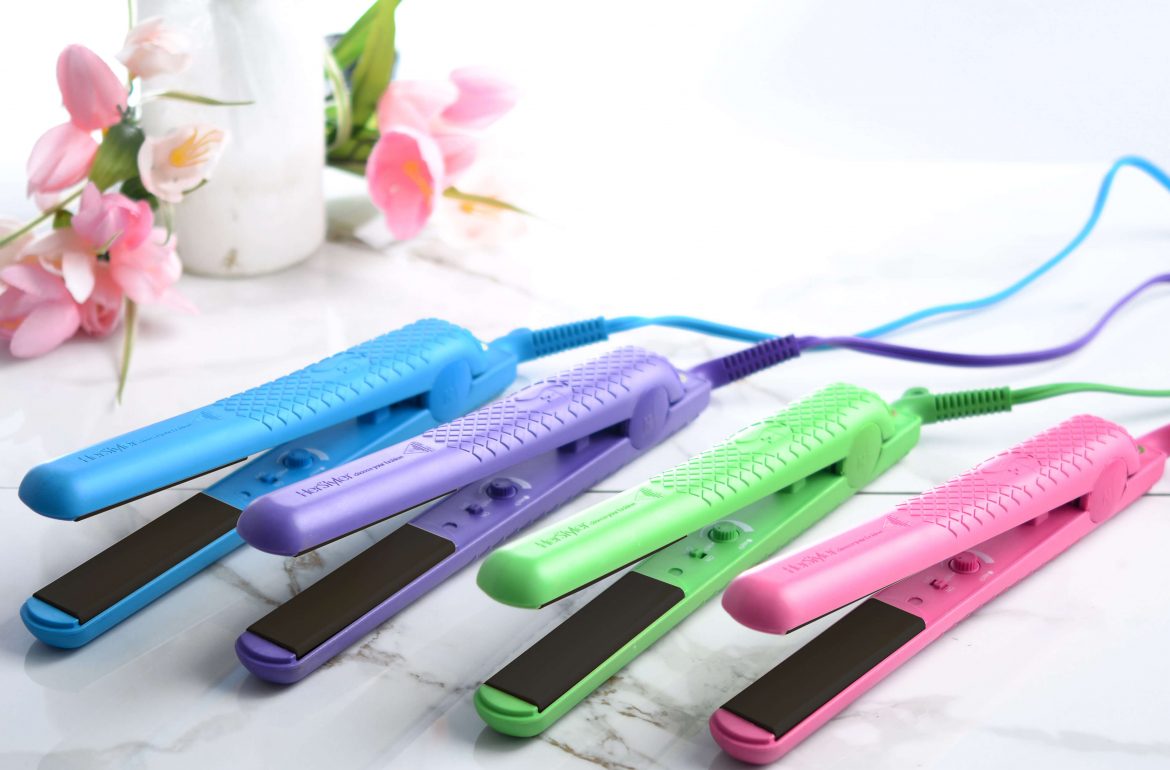 When it comes to the sleek, straight, shiny tresses of your dreams, the HerStyler Colorful Seasons straighteners are the only flat irons you'll ever need. Designed to leave your locks looking sleeker, smoother, and softer than ever, every styling session from now on will end with that 'just left the salon' feel!
Intrigued? You've come to the right place. Below, HerStyler will take an in-depth look at this miracle heat tool; how it works, why it's so coveted, and what it can do for YOUR hair.
We'll even deliver some helpful tips and tricks for prepping your locks before straightening and suggest some of our most beloved styles that you can then create with your very own Colorful Seasons straightener. 
What are the Colorful Seasons Straighteners?
Maybe you're already lucky enough to own a pair of Colorful Seasons straighteners, or perhaps you're only just discovering them now. Either way, we have all you need to know about them right here!
Simply put, our Colorful Seasons straighteners are a range of bright and beautiful flat irons with 100% ceramic floating plates. They come in a variety of different colors, from pink to purple to red and more.
But that's certainly not all! Keep scrolling to discover all of their amazing benefits…
They Generate Six Times More Negative Ions Than a Regular Flat Iron
Wondering what negative ions are and what they actually do for your hair? 
We can explain!
Negative ions are negatively charged atoms (or molecules) that, when they come into contact with your hair, neutralize frizz by dispersing themselves between the strands. This prevents your hair from looking static or flyaway and leaves you with much smoother and softer looking and feeling locks. 
With this in mind, you can only imagine (unless you already own a pair – lucky you!) what 6x the regular amount of negative ions can do for your tresses. 
They Have 100% Ceramic Plates
One of the many reasons the Colorful Seasons straighteners are so beloved is thanks to their 100% ceramic plates.
Ceramic plates are highly coveted. Why? Because they evenly distribute heat throughout the hair as you glide the plates through your mane. Even heat distribution, as you might imagine, is important for so many reasons. 
Firstly, since there's not a huge amount of heat applied all in one place at one time, it helps to prevent the appearance of heat damage. This is especially important if you're the sort of person that reaches for their straightener regularly or has hair prone to heat damage. 
Additionally, even heat distribution means your style will look way more precise and have a salon-quality finish every time. You'll also notice it looks and feels much smoother and softer as the hair glides through the plates. There'll be no dragging or snagging!
They Have Floating Plate Technology
Whilst this might sound like some sort of science fiction trope, floating plate technology is actually a pretty simple concept!
Rather than the plates being rigidly fixed in place inside your Colorful Seasons straightener, these plates are sat slightly away from the base allowing flexible movement along the central axis.
This means the plates will move gently and almost unnoticeably with your hair as you glide the plates over. Much better for your locks, it will also make your styling sessions quicker and more accurate for a sleek result. What could be better?!
There's an Adjustable Temperature Control
No matter whether your hair is long, short, curly, wavy, or somewhere in between, the Colorful Seasons straightener will work perfectly for you. 
Why?
The adjustable temperature control, of course!
It's just as ideal for those with fine or thin hair that requires a lower temperature setting as it is for those with thick or super long hair that needs a little more oomph in the heat department. The adjustable temperature control between the plates means you can set the heat as high or as low as you require. That means no more damaging your hair by having to continually go over pieces that won't straighten on a lower heat. And, no damaging more sensitive locks that almost burn on a locked-in super high temp!
Customize the temperature for a specific hair type or style and simply change it with the twist of a button as required. 
They Heat Up to 460°F
Whilst not all of us need such intense heat, the Colorful Seasons straighteners can of course be modified to a lower setting to accommodate more sensitive tresses.
However, for those with super long, super thick, or super coarse hair that they struggle to straighten for even a moment, let alone keep it that way, these straighteners have you covered! Reaching an impressive 460°F, they can tackle even the most stubborn locks. They'll give you a polished style that looks and feels as smooth as it does shiny. 
They Boast Infrared Technology
That's right, just when you thought the Colorful Seasons straighteners couldn't get any more impressive, they go and pull this one out of the bag! 
Infrared technology works to heat the hair from the inside out. This means you're thoroughly treating each strand for a style that will last, instead of simply gliding over the top of the strands. This can not only damage the hair but see your style drop out within minutes. 
Also, much like the way the floating ceramic plates distribute heat evenly throughout your hair, this technology does so with each individual strand. Therefore, it's much kinder to your hair in the long run. As a result, your hair won't damage as easily as it might with other types of straighteners. 
They Look Amazing on Your Dresser
Now, we know that the way your straighteners look is most likely the least important thing about them.
However, there's no denying that the beautiful vibrant colors of the Colorful Seasons straighteners are a huge bonus! Take your pick from our lineup of undeniably pretty hues and give your dresser a welcome pop of color. That's sure to brighten your day every time you switch them on!
How to Prep Your Hair for the Colorful Seasons Straighteners
As we all know by now, applying excessive amounts of heat to our locks is never a great idea. Luckily, the Colorful Seasons straighteners, as we mentioned, have floating plate technology that prevents your flat iron from dragging or pulling on your hair as you straighten it. 
That said, it's always a good idea to give your tresses as much help as you can in terms of protection. That means making minor, yet super-helpful, changes to your weekly haircare routine. However, don't panic – just a little TLC goes a long way! Simply follow our simple steps below so that your hair is ready are raring to go by the time you switch your straighteners on.
Pick Out a Great Shampoo
Whilst conditioning your hair and adding in extra conditioning serums and treatments is a sure-fire way to keep it looking and feeling smooth and healthy (where would we all be without the HerStyler Marula Hair Nourishing Serum?!), beginning your haircare routine with a shampoo designed to gently yet thoroughly cleanse your locks, whilst strengthening and moisturizing at the same time, is the perfect jumping off point. 
With that in mind, we highly recommend getting your hands on the HerStyler Sleek Hair Shampoo infused with argan oil. This dreamy formula will leave your tresses feeling cleansed and revived. The perfect prep for the next step – conditioner!
Don't Skip the Conditioner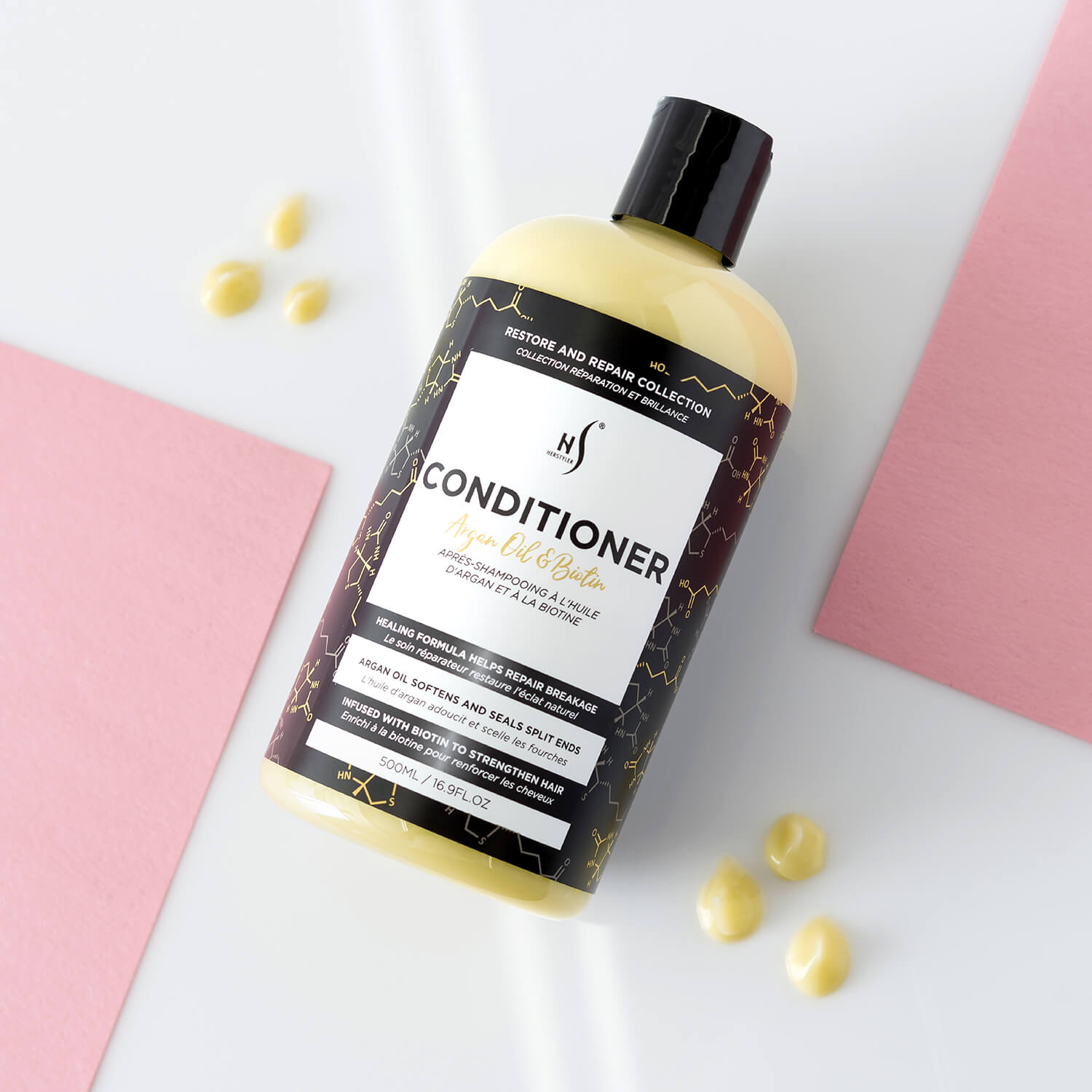 Now, don't get us wrong. If your hair doesn't always need it, we're not saying you have to use conditioner every single time you wash your hair.
However, whenever you can, we say definitely do! The conditioner will help to restore any natural oils cleansed away by your shampoo. It will also make it much easier to de-tangle your hair without pulling or dragging it down. This can lead to damage and breakage.
Our recommendation? The HerStyler Argan Oil and Biotin Conditioner, of course!
Everything about this gorgeous conditioner makes us swoon. From the highly decadent argan oil and biotin content to how it helps our hair look instantly stronger, shinier, and full of life! It even helps to prevent the feel of breakage and frizz for fuss-free styling. It allows for an easy comb-through post-shower too. Bliss!
Always Apply a Form of Heat Protection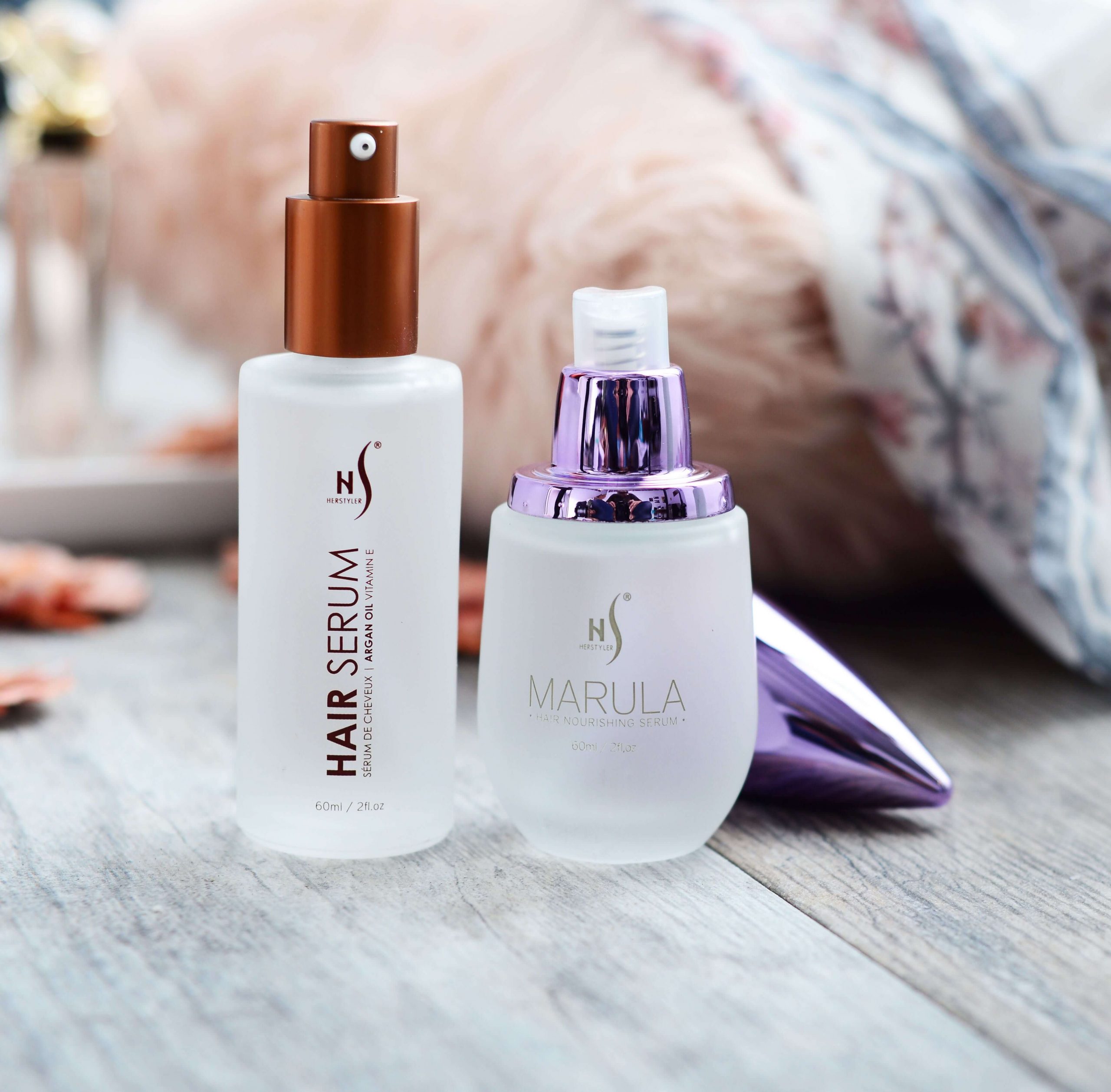 Whether you prefer to use a serum, a spray, an oil, a mousse, or a combination of the above, we always recommend treating your hair with some form of heat-protecting product before going in with any kind of heat styling tool. 
It goes without saying but – we'll say it anyway! Without this step, you leave your hair open to direct contact from super high heat. This can, over time, lead to damaged hair and even breakage.
However, if you don't skip this step, you allow your hair to receive the heat with a barrier in between. So, whilst it still heats up, it won't burn or dry out.
Us? We like to keep things simple with a couple of pumps of the HerStyler VitaOil Biotin Hair Serum before reaching for our Colorful Seasons straighteners. Simply add the desired amount to your fingertips to warm it up. Then, gently smooth it into the ends and mid-lengths of your hair for a salon-quality looking softness and shine.
Simple Hairstyles to Create With the Colorful Seasons Straighteners
No HerStyler guide would be complete without a quick roundup of the go-to hairstyles we love to create with our chosen heat tool. And, when it comes to the Colorful Seasons straighteners, we have plenty! 
But, before you go thinking it's all straight, straight, straight styles, think again! This baby can do it all, from soft straight lengths to beachy waves to tousled curls!
Silky Smooth & Straight Hair
Hardly surprising, we know, but one of our absolute fave styles to create with the Colorful Seasons range is simple straight locks with a classic center parting.
One, this style is super easy to create. Simply prep your hair following our steps above, then divide your hair into three sections. Move from top to bottom, straightening in small sections as you go.
The result is a timelessly pretty look that's just as perfect for office days as it is for off-duty ones. Not to mention, you'll look chic and polished with this hairstyle whether you're rocking a killer suit or jeans and a sweater!
Soft Bouncy Curls (or waves)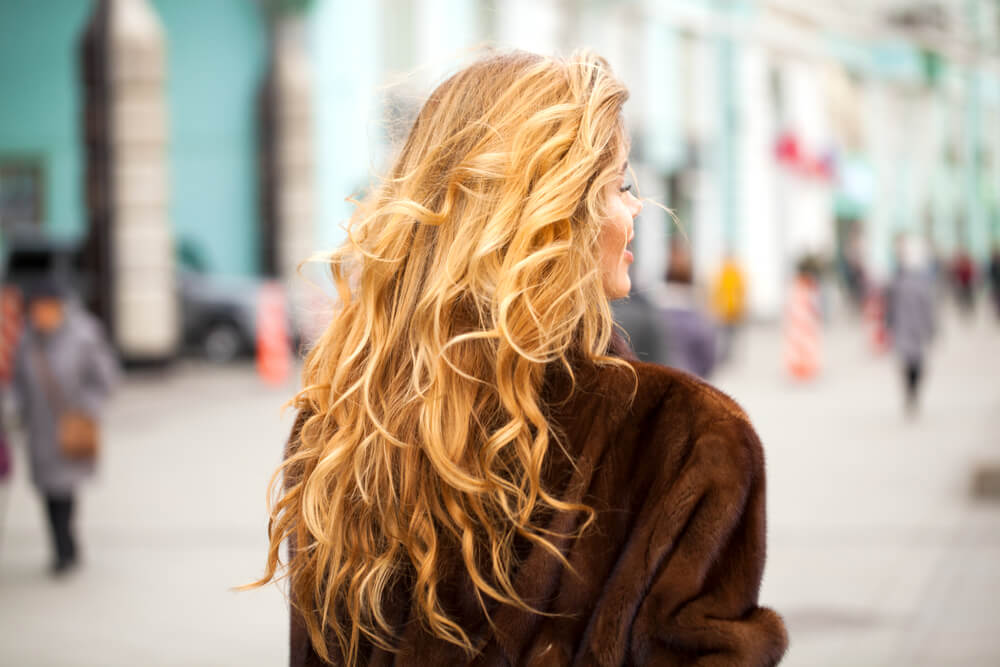 If you're only just arriving at the 'straighteners as curlers' party, where have you been?!
Whilst we adore the results a curling iron or set of curling tongs can provide, there's just something so cool and nonchalant about straightener-created curls. So effortlessly chic!
Simply hold your straightener with the cord facing up, and twist the straightener as you gently glide down your hair to create a gentle curl that will last all day and night. You can even flip your curls over into a deep side part for an extra dose of volume!
Beautifully Styled Bangs
If you're currently rocking bangs and looking for quick and effective ways to style yours, the Colorful Seasons straightener is just what you're looking for.
Thanks to its rounded edge and adjustable temperature control, you can lower the heat to suit the length and thickness of your bangs for a smooth finish that's gentle to your tresses but will last all day long!
Summary
And that's it! Every reason, tip, and style we have to share that makes the Colorful Seasons straightener one of the most powerful and sought-after hair tools out there!
Do you already have yours and are now feeling inspired to use it in different ways? Or are you just about to make that all-important, hair-changing purchase? Either way – we know your hair will soon look the best it ever has with these must-have professional quality straighteners.
Click here to browse more bestselling heated styling tools from HerStyler.
---