Why's Everyone Talking About the HerStyler SuperStyler?
Every now and then a product comes along that works so amazingly well and makes our lives that much easier, everyone in the beauty world becomes instantly obsessed and can't stop talking about it. Right now, that product is the HerStyler SuperStyler and we totally get the hype.
What makes this styler so special, you ask?
Where do we even begin!
We love it for so many reasons it's hard to narrow it down to just a few. But, since you asked…
The HerStyler SuperStyler reaches an incredible maximum temperature of 500°F

It has ceramic plates for an eternally smooth straightening action

These also emit negative ion technology to help eliminate the look of frizz

It's suitable for all hair types, and 

It even boats infrared technology that heats your hair from the inside out. This distributes heat evenly to cause minimal damage to your precious tresses
With all of these pros in mind, let's take a look at them in more detail. Plus, we'll explore all of the other reasons we're so in awe of this must-have styler. Just remember, reading ahead means you're set to become just as obsessed with the HerStyler SuperStyler as the rest of us – you have been warned!
Say Hello to Your Most Versatile Heat Tool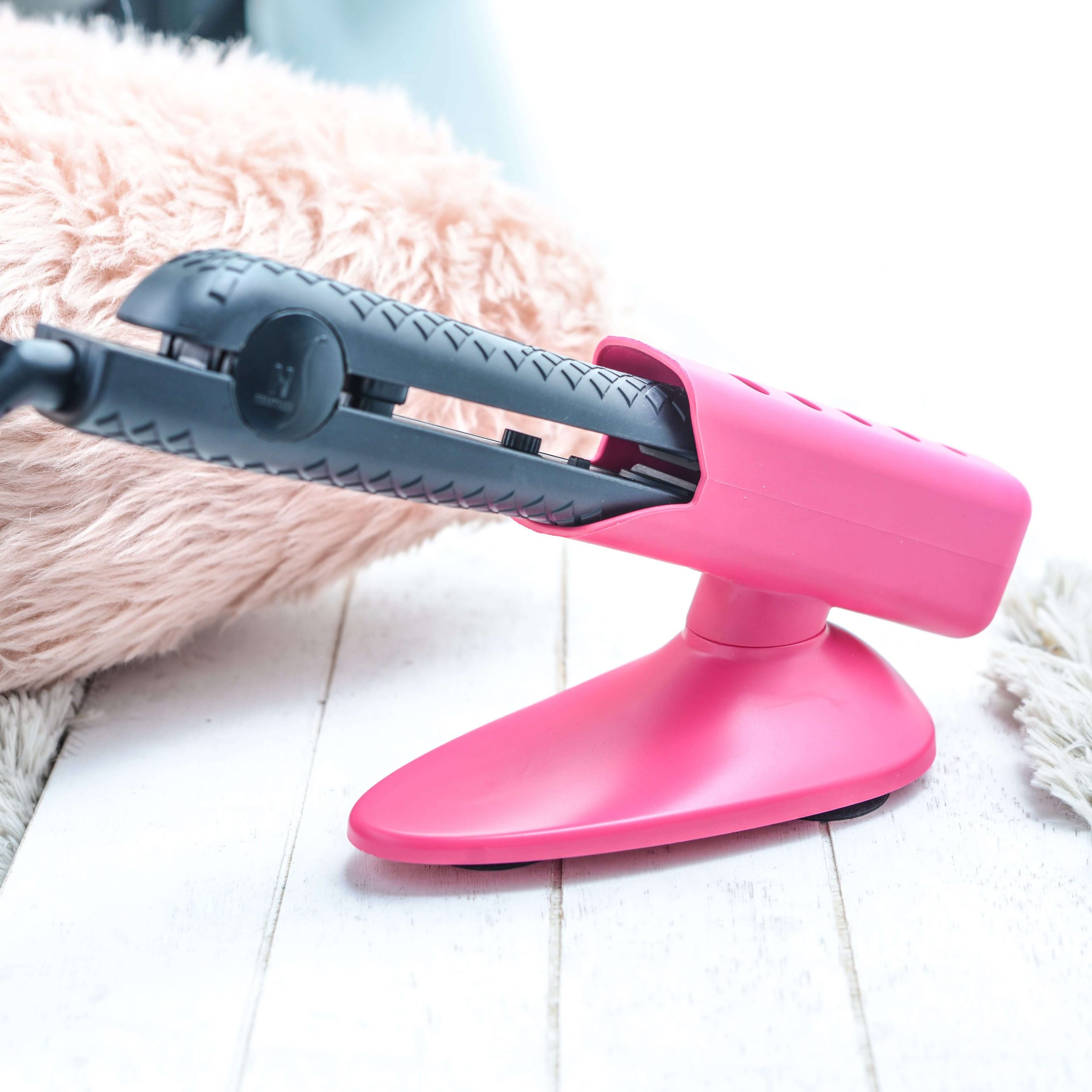 The HerStyler SuperStyler might look just like an ordinary flat iron, but it's so much more than that. Firstly, thanks to its gorgeous curved edges and 360˚ professional length swivel cord, it also works brilliantly as a curler and wave creator.
We love owning heat tools that are dedicated to creating a certain style, but, having one that can do it all in one compact design is even more of a bonus. We'll dive further into the endless styles you can create later on. For now, let's see who this amazing flat iron is recommended for…
The Adjustable Temperature is Perfect for All Hair Types
That's right, thanks to the fact that you can quickly and easily change the temperature of your HerStyler SuperStyler with the adjustable heat control, this heat tool will work wonders for all hair types.
For example, those with short or fine hair will often find very high temperatures are too harsh on their locks. The heat doesn't distribute evenly. This is because there's less hair to play with. Unfortunately, this can end up causing lasting damage.
Well, with the HerStyler SuperStyler, that's really no problem. If you feel you need a less intense heat, simply adjust the dial. This means that you can style your hair at a bespoke temperature chosen by you.
Meanwhile, those with thick or very long hair often need that heat to get the job done in a timely manner. If this sounds like you, the option to turn your HerStyler SuperStyler all the way up to 500°F will make styling your hair a breeze. 
Using the HerStyler SuperStyler at a Higher Temperature Can Benefit Your Hair
Wondering how styling your hair using high temperatures could possibly benefit it in any way?
We totally understand the confusion, but we can explain!
It's true that exposing your locks to excessive heat for long periods can cause damage. However, if you're using your SuperStyler at the right temperature for your hair, you'll only need to pass your hair through the plates once instead of multiple times. This can only be a good thing! 
Now, don't get us wrong, that doesn't mean turn it up all the way and leave it there! What we mean is, find the lowest setting possible that allows you to pass each section through the plates just one time. For example, passing your hair through once at 400°F is a lot better than passing it through three times at 350°F.
This Styler Will Look Gorgeous on Your Dresser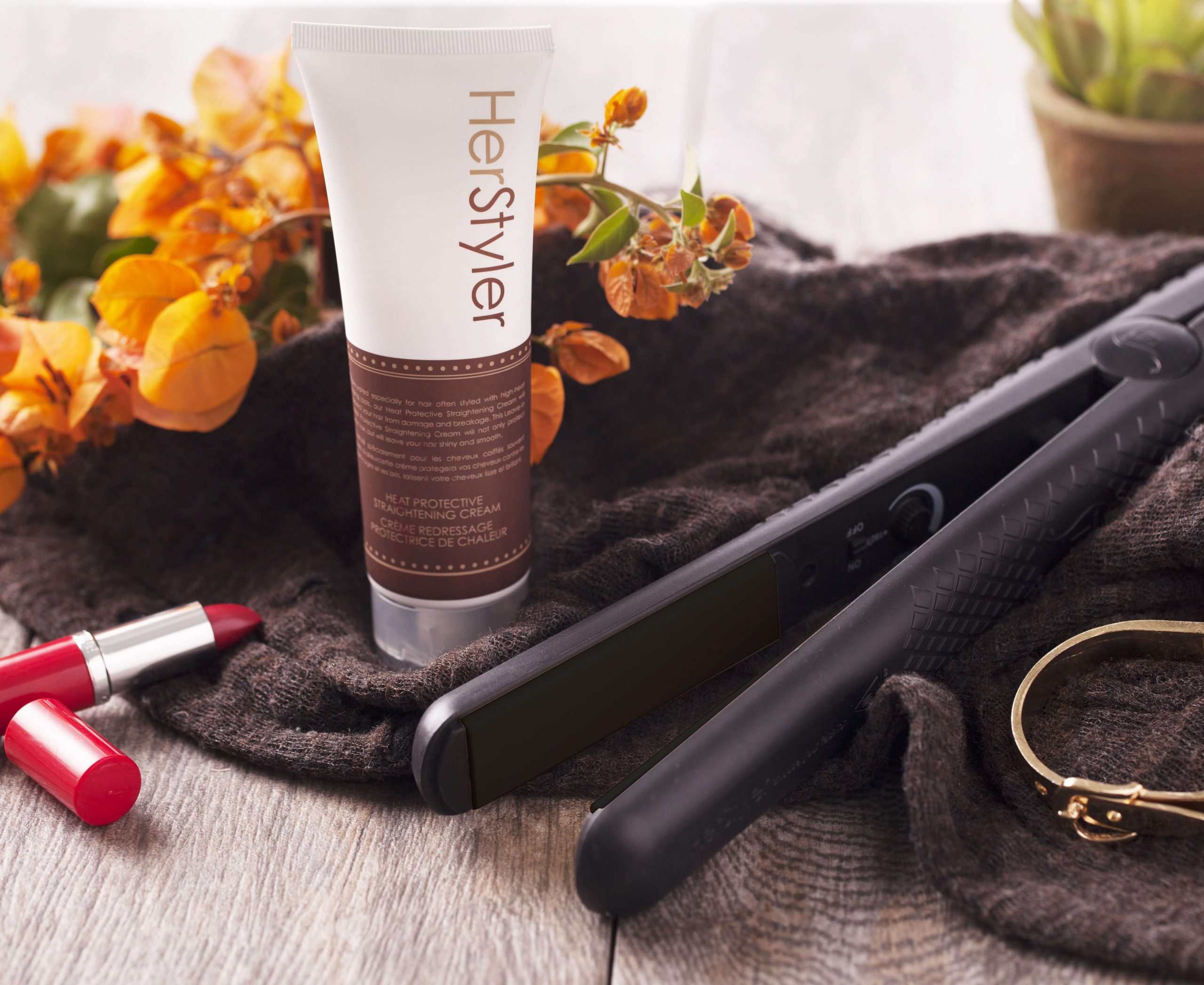 Okay, so we know the way that your hair products look isn't exactly the most important thing. However, when they're as undeniably chic as the HerStyler SuperStyler, it's definitely something worth mentioning. After all, it's yet another reason we love it as much as we do.
What are we talking about?
Let's start with that elegant, all-black design!
Don't get us wrong, we love colorful heat tools. There's certainly a place for them in our lives and on our dressers. That said, there's just something about the SuperStyler's coordinating black handles, plates, and cord that looks so streamlined and designer. We'd happily make it a permanent feature, leaving it out intentionally to get the most out of its iconic design.
What's more, seeing as the majority of hairstyling tools, brushes, and accessories come in black, this flat iron will instantly match the majority of those things you already own. Again, we know it's not super important to everyone. However, if you're like us, a sleek-looking collection of hair styling tools just puts a smile on your face!
The SuperStyler's Floating Plate Technology is a Dream Come True
Wondering what 'floating plate technology' actually means?
Floating plates basically mean that the two ceramic plates you clamp over your hair are not set rigidly in place against the flat iron handles. Instead, they're secured in a way that allows them to flex and move slightly. They work with the angle at which your hair is passing through the plates. 
Additionally, there are springs attached behind the plates. These make sure the movement is soft and smooth. This way, as you glide your SuperStyler over your locks, you won't feel any pull or drag that can ruin your style and damage your hair.
As you might have guessed, these are our favorite styles of plates. They make for a quicker and easier styling session. Plus, they never pull on your hair uncomfortably or cause any unnecessary friction or breakage.
Infrared Technology for Even Heat Distribution, and More…
If you've read about all of the amazing things this styler can do, you probably noticed it even offers infrared technology. But what exactly does that mean?
Firstly, infrared technology works by penetrating the hair shaft on a deeper level than regular heat. This means it's able to heat the hair from the inside out rather than the other way around. (Heating the hair from the outside first on the other hand can burn it leading to sometimes irreversible dryness and brittle, broken ends.)
Therefore, as you smooth your new flat iron over your precious tresses, you can feel confident knowing you're doing the least amount of damage possible whilst heat styling. You can also afford to use less heat with this technology. This leaves your hair looking and feeling smoother and more healthy than it otherwise would.
More About That Swivel Cord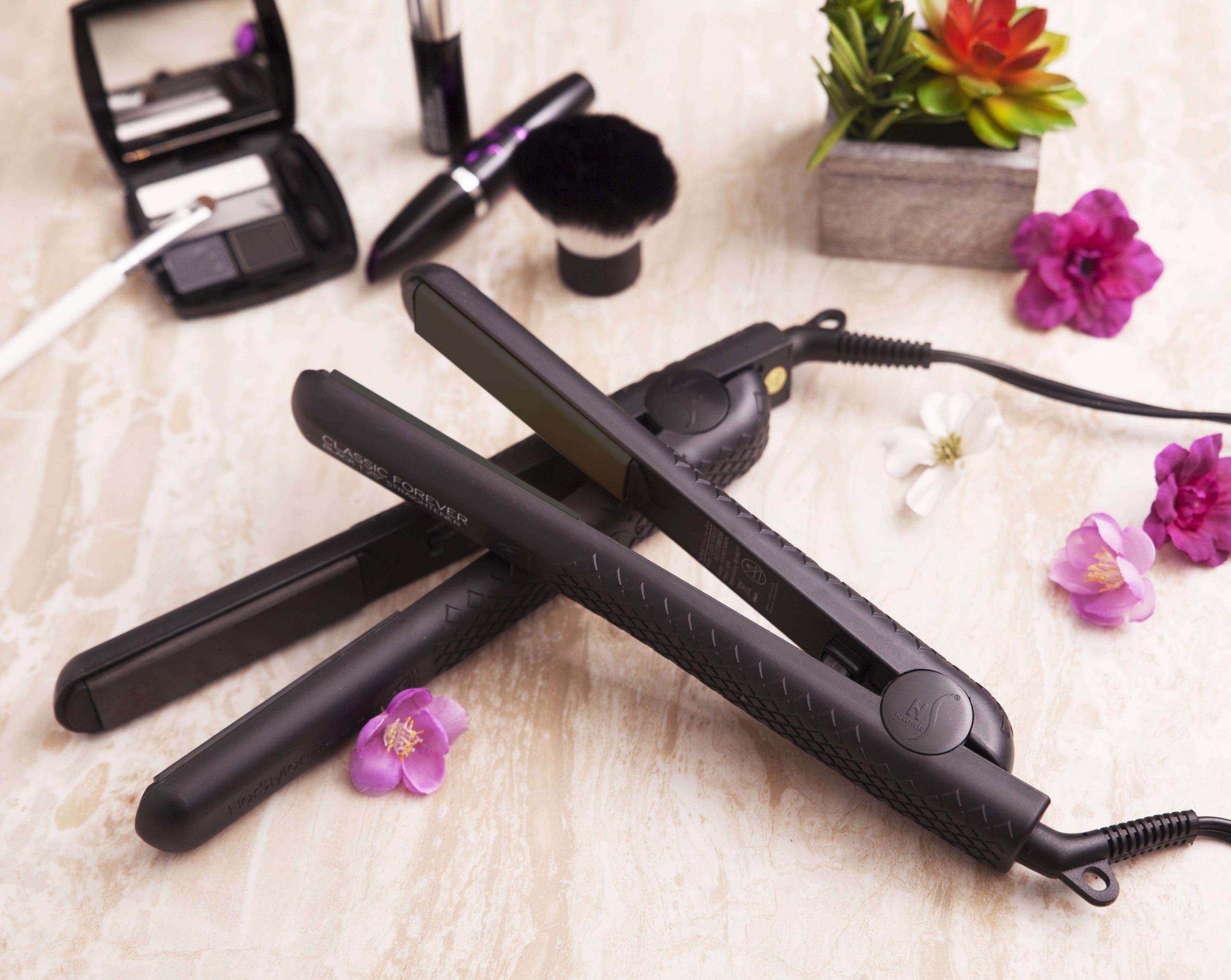 We mentioned above that the HerStyler SuperStyler has a 360˚ professional length swivel cord. However, did we really dive into all of the reasons it's such a dream to have? We didn't, so let's do it now!
No Need for Extension Cords
We don't know about you, but having to plug one thing in to plug another thing in is pretty annoying when you're trying to set up a good area to style your hair in. It's messy, cords get wrapped around each other and you still never seem to have enough length to use your heat tool where you want to. Well, thanks to your SuperStyler's professional length cord, you won't need to worry about leaning right over to be able to see in the mirror. You can say goodbye to extra cords!
It Has a 360˚ Swivel
Being able to move your flat iron as much as you need to is essential when creating different styles, especially curly ones! After all, heated curls mean you're usually twisting your heat tool every which way to get a good balance and shape to your finished look. 
Once again, the SuperStyler comes through with its swivel cord and allows you to do just that. This full spin action means you won't be twisting and knotting up the cord every time you create a curl. Honestly, we'd forgotten what non-twisted wires even looked like until now.
The SuperStyler is Great For Frequent Travellers
Now that the world is opening back up again, many of us have travel on our minds, whilst others need to begin again travel for work. And whether you plan on going overseas, are on the road for business, or feel like exploring new areas within your own country, packing your bag is always easier when you can compact your beauty essentials down into just a few simple items.
Luckily for you, this heat tool is perfect for that! Not only is it pretty streamlined in general, but it also does everything you could possibly need in terms of heat styling your hair whilst you're away from home. Straight hair? Check. Curly hair? Check. Waves, sleek ponytails, and cute down do's? Check!
Slip this into a larger suitcase or take it with you in your carry-on. It takes up only a small amount of space but will do huge things for your hairstyling game when you reach your destination.
Gorgeous Hairstyles to Try Using the HerStyler SuperStyler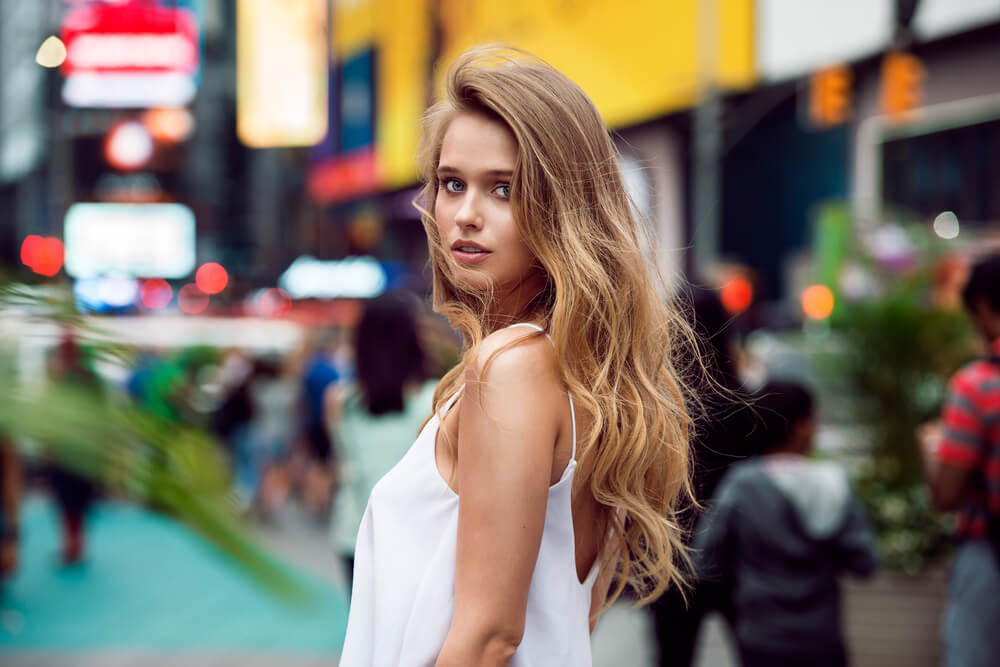 We're going to assume that by now, after having discovered just how incredible it is, you've already ordered your HerStyler SuperStyler and are eagerly awaiting its arrival! Therefore, we thought it only right we share with you some of the most gorgeous everyday and red carpet-worthy hairstyles you'll be able to create with it once it's in your hands.
The Sleekest, Super-Straight Hair
Okay, so this may seem like an obvious one. However, we almost feel like you haven't even tried straight hair if you've never used the HerStyler SuperStyler.
Start by washing and conditioning your hair. Then, once it's been blow-dried, go ahead and spritz in a little heat protection spray to preserve your locks. After this step, you can go start sectioning out your hair. Pass the plates of your new flat iron just once over each section. 
If you find you need to go over it more than once, simply adjust the temperature so it only takes one go for each small section. Once every section has been straightened, you can marvel at just how glossy, smooth, and healthy your straight locks look.
Glamorous Red Carpet Worthy Spiral Curls
Unlike loose, lived-in, beach-style curls (don't worry we'll get to those too), chic spiral curls require a little more definition. You may be surprised to learn that this is pretty simple to achieve with this flat iron.
To get started, make sure your hair is clean, dry, and protected. Then, section out your hair either from bottom to top or from front to back. Go with whichever works best for you and your hair type.
Next, to create the curls themselves, begin by clamping the styler on the first section of hair near the roots or slightly further away if you'd prefer the curls to start lower. 
Make sure it's clamped in a diagonal line with the cord end facing up. Once you've pressed the plates together, immediately start twisting the styler away from your face rotating it at least 180 degrees. Gently pull the clamped plates down your hair to create a curl. 
You can even continue twisting as you pull if you want a more defined curl. Do this for each section and you'll have the curly hair of your dreams in no time.
Finally, let the curls sit as they fall until they've completely cooled. This will set them in place. From here you can choose whether you want to leave them as they are or use a brush, comb, or your fingers to separate them out a little.
Beautiful Beachy Waves
Now that summer's here, we're more determined than ever to create the prettiest beachy waves imaginable. If you're nodding along as we think you are, you'll be very glad to know your SuperStyler can make that dream a reality.
Think that's good?
Wait until you hear how simple the technique is!
There are indeed many ways to create beachy waves with a flat iron but our favorite (because it's the easiest) is by far the back and forth method.
Don't worry about neatly sectioning out your hair for this one. You want this style to look lived in and nonchalant after all! 
So, after applying a heat-protecting spray, take a section of hair. As you clamp down on the hair twist the styler away from you to create a slight wave. Then, twist it back the other way as you make your way down the hair. 
It may take you a second to get the hang of this without accidentally un-clamping the section you're working on. But, once you have it down, we promise it'll be your go-to style of the season!
Summary
As technology evolves, heat styling tools are getting more and more advanced. The HerStyler SuperStyler is, without a doubt, one of the best styling tools on the market. Grab yours now to transform the way in which you style your hair!
---