Struggling to Style Thick Hair? Here are 11 Pro Tips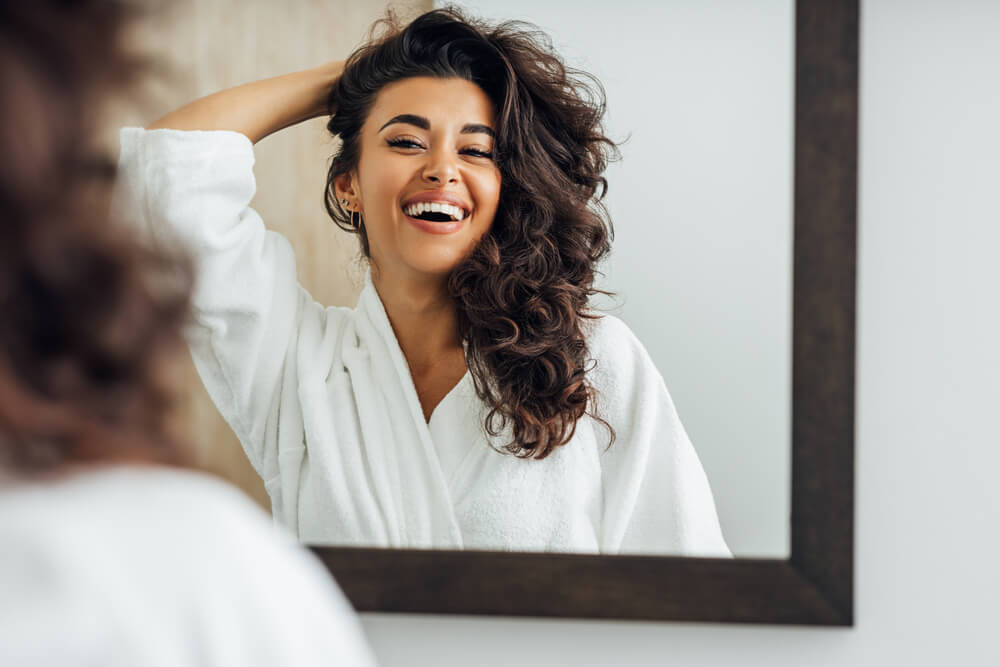 Though you'll certainly be told on repeat how lucky you are to have such lusciously thick locks, actually living with them, having to wash them, style them, and tame them, can sometimes feel like a different story! Buying new hair bands is almost a weekly occurrence since they snap so easily in your hair or quickly lose their elasticity. Your drain clogs up with hair every time you wash and condition your locks. Finding ways to style your hair that look good, feel good, and actually last all day seems almost impossible! Especially if your day involves anything evenly slightly physical! Well, no more…
We at HerStyler are here to help offer up our best tips and tricks for how to style thick hair. From haircuts that'll make it easier for you to control those heavy locks to haircare tips and even product buys we know will help you to prepare for styling thick hair. Keep scrolling to discover them all. However, we must warn you… you're about to fall completely back in love with your thick hair!
Get the Right Shampoo & Conditioner for Your Hair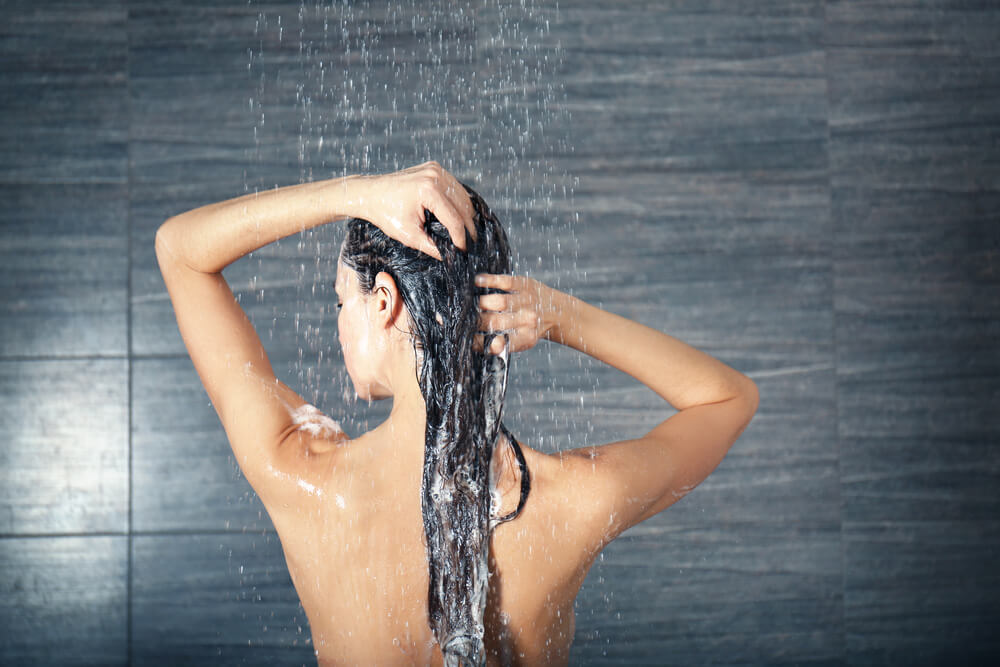 We hardly need to tell you that choosing the right products for thick hair makes all the difference in the world to how your hair looks from day to day. However, in case you're at a loss for which products actually help style thick hair instead of making it look and feel heavy or greasy, we're about to tell you.
As you've probably guessed, we're going to start right at the beginning.
Why?
We're glad you asked.
Aside from the fact that we want this guide to be something you can refer back to whenever your gorgeously thick locks start misbehaving, for many of us, the washing and conditioning of our hair is where it all goes wrong. And, considering these are the first couple of steps in everyone's hair care routine, it's so important to get them right from the get-go.
So, which shampoos and conditioners do we suggest? We do have some specific recommendations. However, let's first start with the main qualities and ingredients to look out for when choosing the perfect washing and conditioning combo.
Now, as you'll most certainly be aware, super thick locks are prone to drying out more than any other hair type. Generally, it's due to the sheer amount of volume and unending layers of hair that the product needs to penetrate through to do its job well. Therefore, if you use just any old hair products, they likely won't stand a chance. You'll end up with unruly tresses that are super hard to control. Instead, look out for shampoos and conditioners that offer super hydrating ingredients that leave your hair feeling strengthened and protected.
The Herstyler Shampoo & Conditioner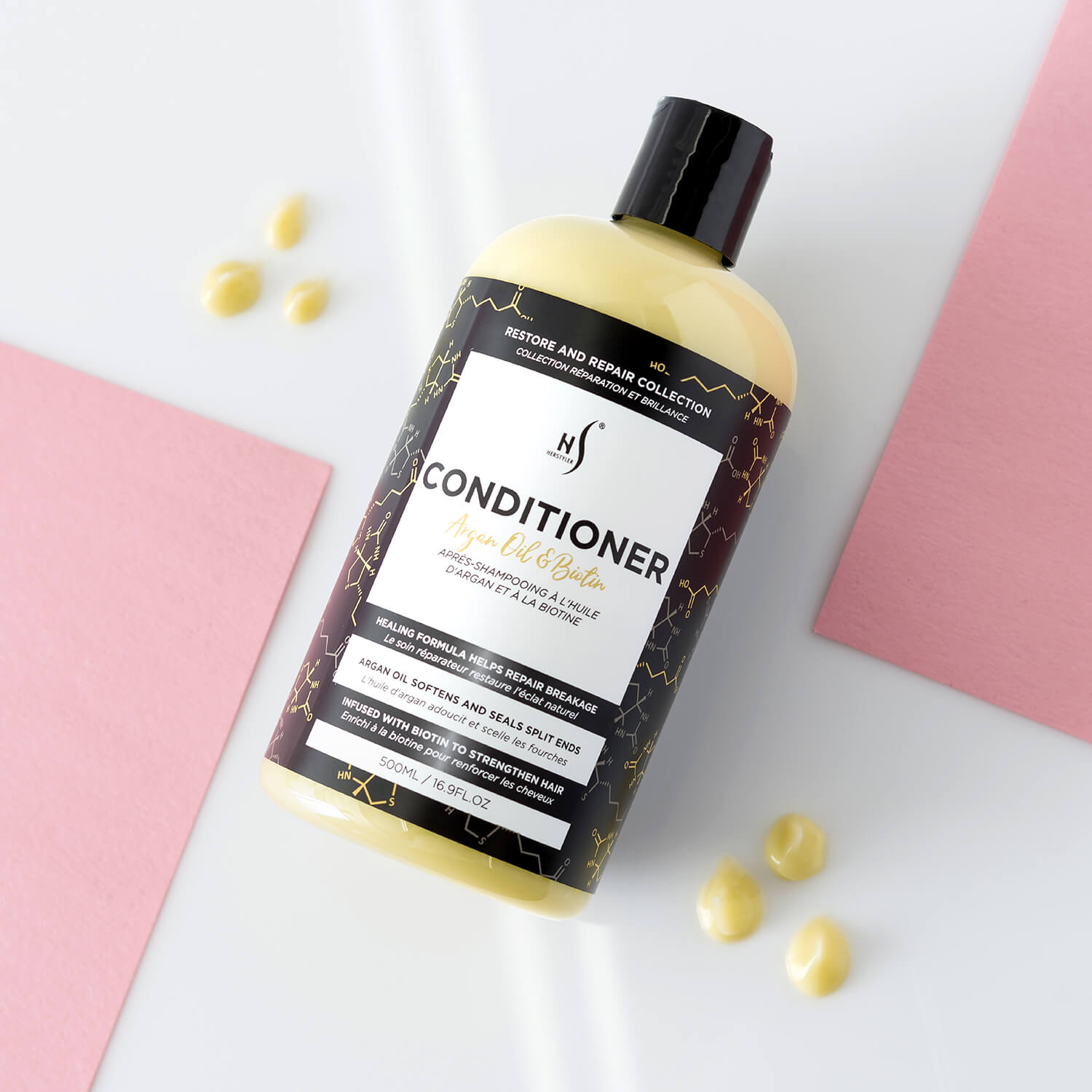 Our advice? Add the HerStyler Sleek Hair Shampoo and Conditioner to your haircare routine as soon as you can. Firstly, the shampoo formula is designed to clear away dirt, oil, and impurities from your hair but simultaneously delivers an infusion of argan oil to keep it looking and feeling soft, strong, and well moisturized. Meanwhile, the conditioner, with its buttery soft formula, will give your hair a further nutrient-rich dose of argan oil that you definitely need to easily and effectively style thick hair. It'll also leave your tresses looking and feeling silky smooth and shinier than ever. This makes it easier to de-tangle your locks and fight the frizz.
We also adore the HerStyler Argan Oil & Biotin Conditioner for this very reason! It'll help improve the feel and appearance of split-ends, helping your hair look bouncier, shinier, and full of movement. What's more, since it's infused not only with Argan oil but with biotin too, you should find that this conditioner helps your hair to look and feel stronger, less damaged, and super-healthy from the inside out.
Give Your Hair a Moisture Boost
Whilst choosing the right shampoo and conditioner is certainly an important start, as anyone who's tried to style thick hair knows, you'll usually need a moisture boost to keep your hair from drying out, becoming tangled, or looking super frizzy throughout the day. With that in mind, you guessed it, we have some excellent product recommendations that your kit for styling thick hair just won't be complete without!
The Ultimate Hair Mask for Thick Hair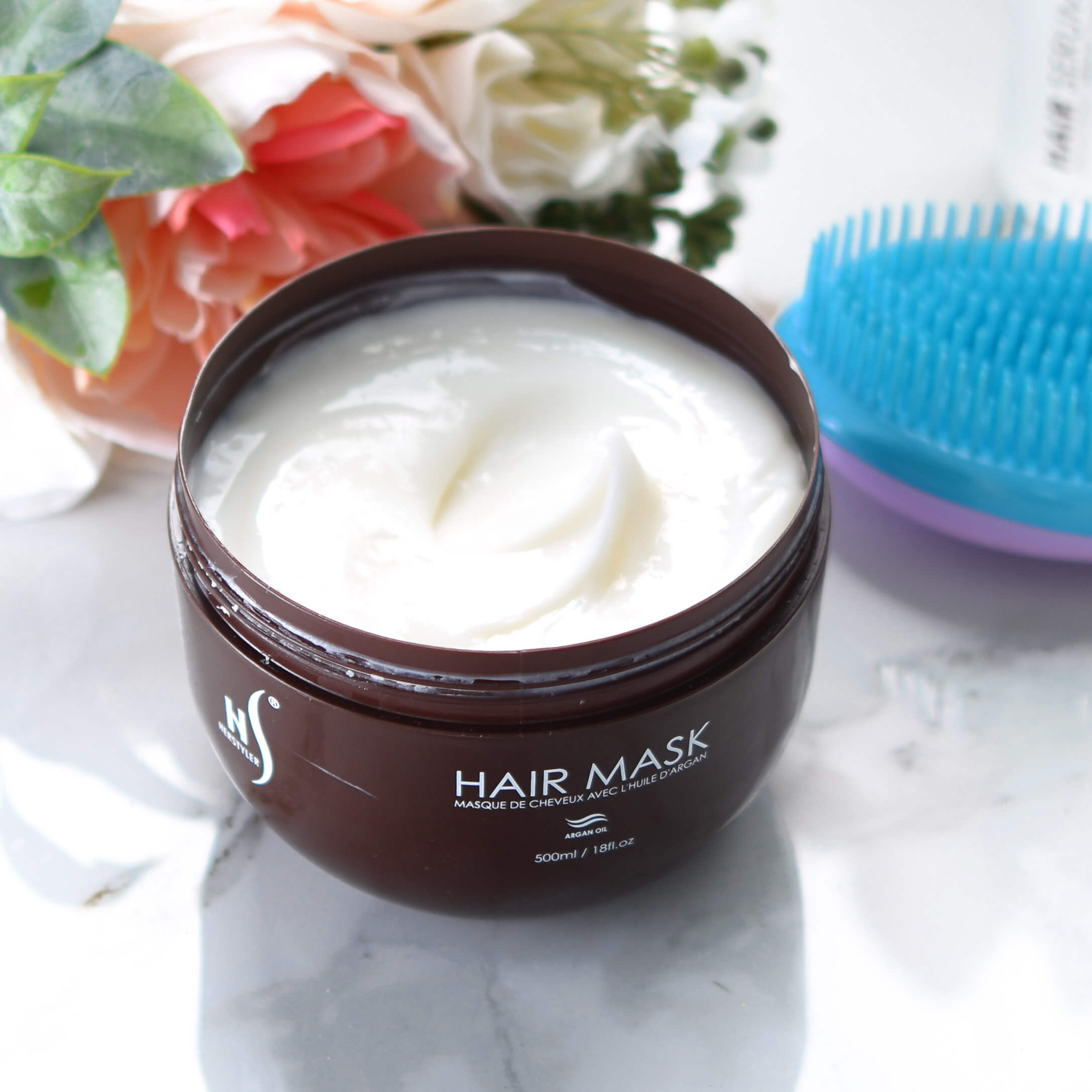 Firstly, for a regular weekly boost of moisturization, we recommend introducing the HerStyler Argan Oil Hair Mask into your hair care routine. Use it in place of your conditioner on a hair wash day if your hair becomes oily when you use too many conditioning products in one day. Alternatively, you can use it as an extra after washing and conditioning if you find your locks are particularly dry when you come to style thick hair.
Why do we recommend this formula so highly?
Let us fill you in!
This particular mask will help to repair the feel and appearance of dry damaged locks. Also, when you style thick hair, you may notice it feels over-processed (especially common with thick bleached hair) or dry from the overuse of heat styling tools. If so, this is the hair mask to use! Once you do, your hair will appear and feel thicker, shinier, and healthier.
This mask is super easy and convenient to use. Simply massage a generous amount of the mask into your lengths and leave for 5-8 minutes. Again, if you find your hair becomes oily or greasy at the roots with the use of conditioning products, stick to application in the mid-lengths and ends of your hair. 
However, if it's quite dry all the way through, apply some at the roots too. Once you've let it sit and absorb into your luscious locks, go ahead and rinse with lukewarm water. Remember, hot water can easily damage and dry out your strands, causing them to feel unruly and prone to tangling. It can also dry out your scalp, creating unwanted irritation and even flakes. A nightmare when you need to style thick hair – so always avoid it!
Be Kind to Your Hair Throughout the Day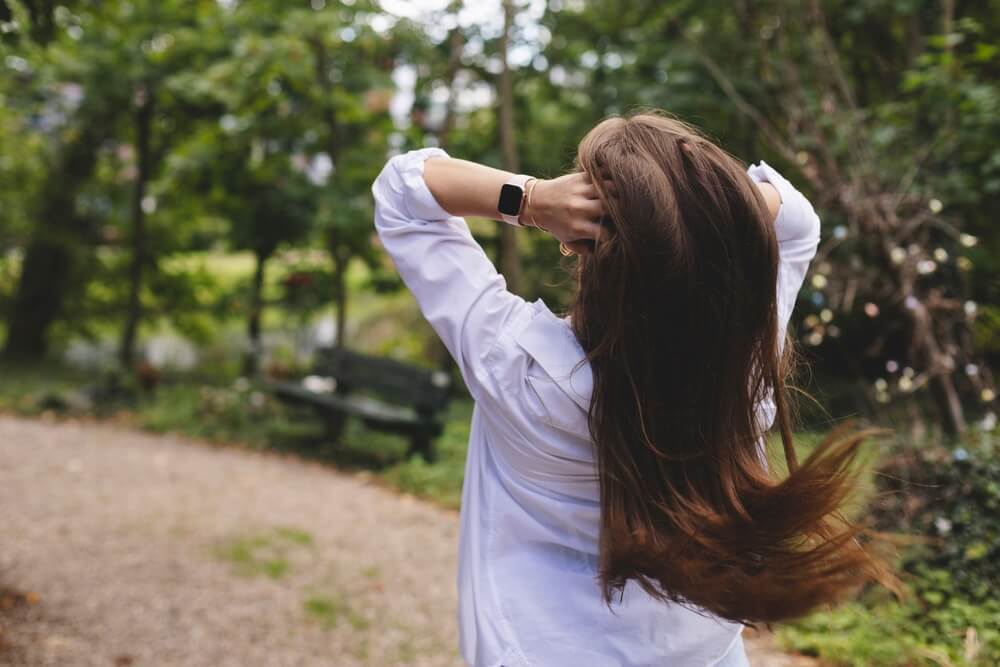 Have you ever treated your thick locks to the most amazing cleansing and conditioning treatment only to promptly ruin it all with some seriously harsh brushing? Tight hair bands? General neglect throughout your day? Well, you're certainly not alone!
However, if you want to get the best benefits when you style thick hair and make it easier for yourself when it comes to managing it, it's time to be kinder to your locks.
How?
Make sure you're doing these things every day/week!
How to be Kind to Your Hair:
Cut back on washing your hair if you can – over-washing leads to, you guessed it, dry lengths that quickly become tangled and are much harder to style!
Don't skip the conditioner – we've made our feelings on this very clear but we still think it bears repeating!
Pat wet hair instead of scrubbing at it – hair is most sensitive after washing. When wet, it's easier for the cuticles to stretch and snap when wet. So, always pat your hair very gently with a clean dry towel
Try not to brush it when wet – We say 'try' as we know it's almost impossible to never brush your hair when it's wet – how would you blow dry it?! So, if and when you do brush your wet hair, make sure you've removed the excess moisture first. Then, start at the bottom with either a brush made for de-tangling or a wide tooth comb. Hold the hair away from your head and gently brush it from the bottom upwards. The hair will separate much much easier this way and prevents all of that harsh tugging action that can easily snap your strands!
Limit heat exposure – this includes everything from hot water to blowdrying to heat styling to time in the sun. All of this excessive heat is not good when you're trying to style thick hair. It can also cause lasting damage. So, use lukewarm water for rinsing, wear a hat in the sun, and always make sure to use a heat protectant before blow drying or heat styling your thick hair.
Carry a moisturizing product with you – whether you're heading to the office, out for Sunday brunch, or going on a trip, always make sure you have a serum or oil with you in your bag to give your hair a moisturizing boost on the go. For us, that means a stash of HerStyler's VitaOil Biotin Hair Serum or the Marula Hair Nourishing Oil. Whichever works best for your hair!
Choose the Right Haircut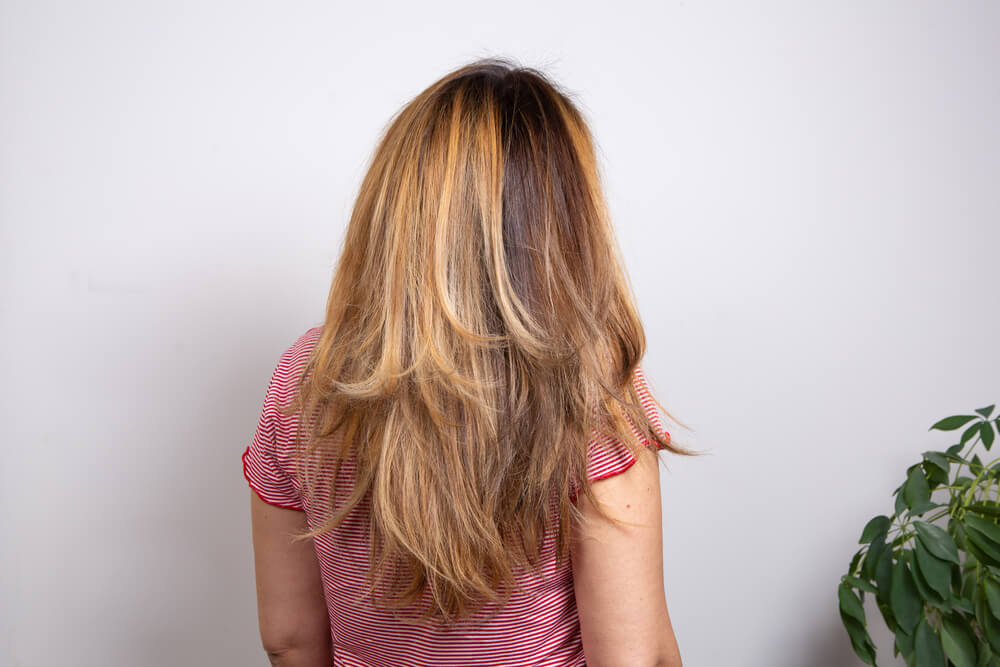 To style thick hair easily and effectively, you'll need to start with a great haircut. And, whilst we of course want you to love the length and overall shape of your style, we're really talking about the type of haircut. When you're working with thick tresses, super short hair cuts, blunt cuts, and those without any layers are usually not a great idea.
Why?
It's quite simple really!
Let's start by talking about super short hair. If your hair is very thick and you want shorter locks, you can definitely have them. However, there are ways to go about it. If you simply ask for a pixie crop, a super short, blunt cut bob, or even a one-length bob, you may find you quickly run into issues when you try to style thick hair.
For example, if your hair is all one length with no layers or texture cut in, it's more likely to puff out. This will make your hair look shapeless and usually a little frizzy too. Similarly, if you opt for a pixie cut without much layering, your thicker locks are unlikely to sit close to your scalp. Your hair can end up looking a bit too voluminous in all the wrong places.
Opt for Layers
With this in mind, instead of a blunt cut, opt for one with soft ends and plenty of layers. This will create texture without adding volume and will take some of the weight out of your hair without flattening it. 
Your locks should sit calmly but still remain bouncy and healthy looking – they'll just be so much easier to manage! We also recommend opting for some light layering and feathering around the face. Again, this will eliminate some of the weight, which, when it's around our faces especially, can make us feel like our hair is unmanageable and taking over. Creating some shape around the face will also help to highlight your eyes and features, which is always a plus!
Get Regular Trims
Additionally, though it's true with every hair type, split ends for thick hair should be avoided at all costs! They'll make your hair feel dry and lifeless but can also cause your hair to appear frizzy and unmanageable. Not exactly the luscious, hydrated, shiny, thick tresses we're going for. So, make sure you keep up with regular trims whatever haircut your choose.
Now, we're guessing you'll be employing the skills of a professional stylist to cut your thick hair. They should know the best cuts and styles. They will be able to advise you on what will suit you best and be easiest to manage. That said, nobody knows your hair better than you. So, it's always a great idea to go in with some basic knowledge. Try to communicate clearly what you need and hope your hair will look like after it's cut.
The takeaway?
At least a little bit of length, plenty of layering, and gentle shaping around the face will always make it easier to style thick hair. It'll also help it look its best and healthiest, since it'll be simpler to eliminate frizz and fly-aways!
Summary
So, now that you know all of our top ticks and tricks for styling thick hair, we're pretty certain you'll have fallen right back in love with your luscious locks. Just remember, the key is to be kind. Even though there may be a lot of it, your hair deserves just as much care as any other hair type. It will respond better the more TLC you give it. Brush gently, heat style sparingly, and moisturize as much and as often as needed. This way, your thick hair will feel smooth, healthy, strong, and perhaps most excitingly, easy to style!
Looking for more ways to enhance the look of your beautifully thick hair? Check out HerStyler's bestselling hair care and styling products right here.
---