The Best Curling Irons for Every Hair Type 
Since you're here, we're guessing you're on the hunt for a new curling iron. And we get it, there are so many out there that choosing the exact right one for your hair type can feel pretty daunting! 
Luckily, HerStyler happens to know a thing or two about hair. Especially when it comes to picking out your go-to heat tools for flawless salon-style curls. So, keep scrolling to discover our top recommendations and learn which curling irons will work best for you!
The Best Curling Irons For Short Hair
When your hair is on the shorter side, finding a curling iron might not be as straightforward as determining the thickness of your hair and knowing which types of curls you want to create.
This is because shorter hair, in general, can be a little more tricky to curl. Not because the curls won't stay in. Actually, it's quite the opposite! You'll often find shorter hair holds a curl much easier and for much longer than lengthy hair does as it doesn't have so much weight pulling it down. Therefore, gravity takes longer to work and the curls usually don't drop out as fast. 
No, the issue lies with the curling process itself. Firstly, burning your fingertips is probably something you're getting pretty used to by now! Also, wrapping short hair around curling irons can be pretty fiddly and quite difficult to master at first. So…
Clamp Style Curling Irons For Short Hair
When you're looking for curling irons, we often like to recommend those with a clamp. Having a clamp means your hair can be held in place whilst the curl forms and you won't need to have your fingers right next to the barrel holding it secure the whole time.
This means fewer chances of catching your fingers for the hundredth time (hooray!). It also allows the full length of the hair to lay flat against the wand. This creates a fuller curl that goes right the way to the ends. 
For longer hair, as we said, this isn't so much of an issue. When you hold the ends in place you can afford to hold a few centimeters away from the barrel without much difference to your curl. With shorter locks, doing this usually means a good third of the length stays straight which isn't always the look we're going for!
Curling Wand Options For Short Hair
All that said, if you really prefer a wand it's definitely still a possibility. All you'll need to do is make sure the curling irons you're considering have a barrel that allows you to safely wrap the hair the desired amount of times.
Luckily, Herstyler's Rose Gold Titanium 3P Curler exists! Our signature curling iron includes three differently sized barrels 9/18mm, 18/25mm, and 25/25mm. So, no matter the curled short hair look you're going for, there'll be a barrel in the set to suit. Not to mention, if and when you ever decide to let your hair grow out, your curler will still work perfectly for you. But more on that later!
Creating Larger Curls For Short Hair With the HerStyler Rose Gold Titanium 3P Curler
For larger, more voluminous curls in short hair, you can certainly afford to use the bigger barrel. Though you might not be able to wrap the hair around it that many times, you'll still get a decent curl. That is, as long as it wraps around at least once, in which case, they'll usually end up looking more laid back and natural. Ideal for work, casual weekend plans, or daytime events!
Alternatively, if it's tighter, springier, more defined-looking curls that you're after, switch to the thinnest barrel. This way you can section the hair into small pieces and wrap it around the thinnest end of the barrel multiple times. This will help you to achieve a curlier spiral. 
Pro tip: No matter which curling iron you end up purchasing, always wear a heat glove. Especially when curling shorter locks to prevent any mishaps or painful burns! If you opt for the 3P curler, you'll find there's one included.
The Best Curling Irons For Long Hair
Are you currently rocking long, luscious locks?
You're in luck!
Having more length means there's more to play with in terms of the types of curls you can create. That does also mean that it might be trickier to decide between curling irons. Especially if you're not sure about the types of curl you want to achieve just yet.
Is this you?
Don't fret, we can help you decide!
Seasonal Curls For Long Hair
Since it's summertime, few of us have the need right now for perfectly polished, red-carpet-worthy curls. Instead, we're all about effortlessly chic, laid-back styles – like beachy waves! Tresses that look as though you've just stepped out of the ocean and allowed your locks to dry naturally in the summer breeze. 
Well, since not many of us live near the beach or have time to head down there, take a dip, and wait for our locks to curl on their own, sometimes we need a little help! If you're yearning for beautiful beach waves through the lengths of your long locks, the Herstyler Beach Curler couldn't be more perfect for you! 
This curling iron has an advanced ceramic coating designed for everyday use. It also heats up to an impressive 356°F in just 90 seconds for speedy styling when you're in a hurry! It even boasts two barrel sizes in one so you can mix up your summer style instantly. 
Therefore, this curler is ideal for everyone whether you have thick or fine locks. And, if you're wondering how you'll hold your hair in place with this unique barrel design don't worry. The Beach Curler has a spring clip inbuilt to secure the hair whilst styling.
Classic Curls For Long Hair
Alternatively, if you're searching for a curling iron with the ability to create all different types of curls, the Rose Gold Titanium 3P Curler is the one for you. With three interchangeable barrels, you'll be able to create everything from tight ringlet-style curls to glamorous Hollywood-style waves!
What's more, since it's usually a little easier to curl long hair (in terms of holding it in place around the barrel) the clip-less design is a dream. Not only does it make wrapping the hair much freer it also prevents your precious tresses from tugging or breaking – as can sometimes happen with clamp-style curling irons!
Find your long hair becomes frizzy after curling?
Not any more!
The 3P Curler has negative ion technology designed to eliminate frizz and leave your hair feeling smooth and soft. 
As if all this weren't enough, this particular curler also has two different temperature settings reaching up to 400°F. So, you can always be sure you're using a safe temperature for your long hair no matter if it's wildly thick or soft and fine.
The Best Curling Irons For Thick Hair
If you're lucky enough to have been blessed with thick hair, long or short, you'll generally find you're the envy of all that you meet! However, if you feel less than lucky when it comes to getting your gloriously voluminous locks to hold a curl, we hear you. Gravity will be working especially hard on pulling the weight of your hair down. That means your curls often drop out in minutes which can be seriously frustrating!
So, what's the solution?
It's all about prepping your hair beforehand and choosing the right barrel size for your locks!
The Best Curling Irons For Thick Hair That Struggles To Hold A Curl
First thing's first. If you're starting with super clean, smooth, and silky locks you might as well not even bother switching on your curling iron at all! Why? If your hair is so smooth it slips off the wand, it doesn't stand a chance of holding a curl in place!
Our advice?
Give it some texture!
There are two ways to do this:
1. Wait
Give your hair a day or two to gain back the natural oils rinsed away through washing. This will give your hair plenty of texture and grip so that your curls last immediately longer than they usually would. So, don't go straight in with your curling iron after blow-drying fresh from the shower.
Pro tip: if you've waited and now your hair feels a little oily before you've even started curling, go ahead and spritz in a little dry shampoo at the roots. Your hair will stay grippy as the dry shampoo absorbs just enough of the oils but leaves it feeling clean once you're done curling!
2. Add Product
Whether you just don't have the time to wait or you simply prefer styling on freshly washed hair, adding product is a great way to make the most of your clean locks whilst still ensuring they have plenty of grip. Our suggestion? Simply add a little mousse into the hair for added volume and texture before blow-drying. You should also add a heat protectant to prevent frizz and make sure you're not damaging your locks. 
Once that's done, you can move on to curling with the correct barrel size for your hair. If you're going for a simple day look that appears natural yet elevated, a barrel of 25mm or wider is your best option. For example, the G25 White Zebra Curler with its Teflon-coated 25mm barrel would be ideal (not to mention it'll look stunning on your dresser!). 
The clip-less design will help you to create soft, bouncy, voluminous curls for everything from work and weekend days to evening events and more. It also has a negative ion technology designer to illuminate frizz, a 360-degree swivel cord for easy styling, and a heat-resistant glove to protect your hand during the process. This curling iron also reaches 400°F, which is often needed when styling thicker hair!
The Best Curling Irons For Thin Hair
When searching out the best curling irons for thin hair, there are a few things to keep in mind. Keep scrolling to make sure you have the knowledge you need to curl your locks with precision and care – no matter their length!
Barrel Coating
Barrel coating can be the difference between a smooth curling process that protects your locks, or one that damages them and results in a whole lot of frizz!
To make sure this doesn't happen, look out for barrels with a titanium coating. These curling irons will heat up faster meaning you can hold them on your hair for a lot less time and still create a long-lasting curl. They're also usually lighter and prevent the hair from snagging – great for fine hair that's prone to damage! 
Temperature Controls
Whilst styling for just a few seconds on a high heat might work perfectly for some, for others, their thin hair just won't be able to take it. If that's you, and your hair damages quickly and easily, ensure the curling irons you're considering have adjustable temperature controls.
This way, you can lower the temperature right down to begin with and see how that works for you. If it's not quite enough to hold the curl for more than a few minutes, you can always work your way up gradually to a higher heat!
The Size of the Barrel
Whilst larger barrels might be okay for long fine hair, we generally find that smaller ones work much better! Tighter curls can be teased apart with your fingertips creating more natural-looking volume throughout longer hair.
Meanwhile, if you're rocking a shorter style, a smaller barrel will give you much more control over the curls you create. Tighter curls will give you tons of bounce and will have your finer tresses looking much more voluminous and thicker than they really are! With this in mind, the Herstyler Beach Curler and the smallest barrel on the 3P Curler set are always our go-to.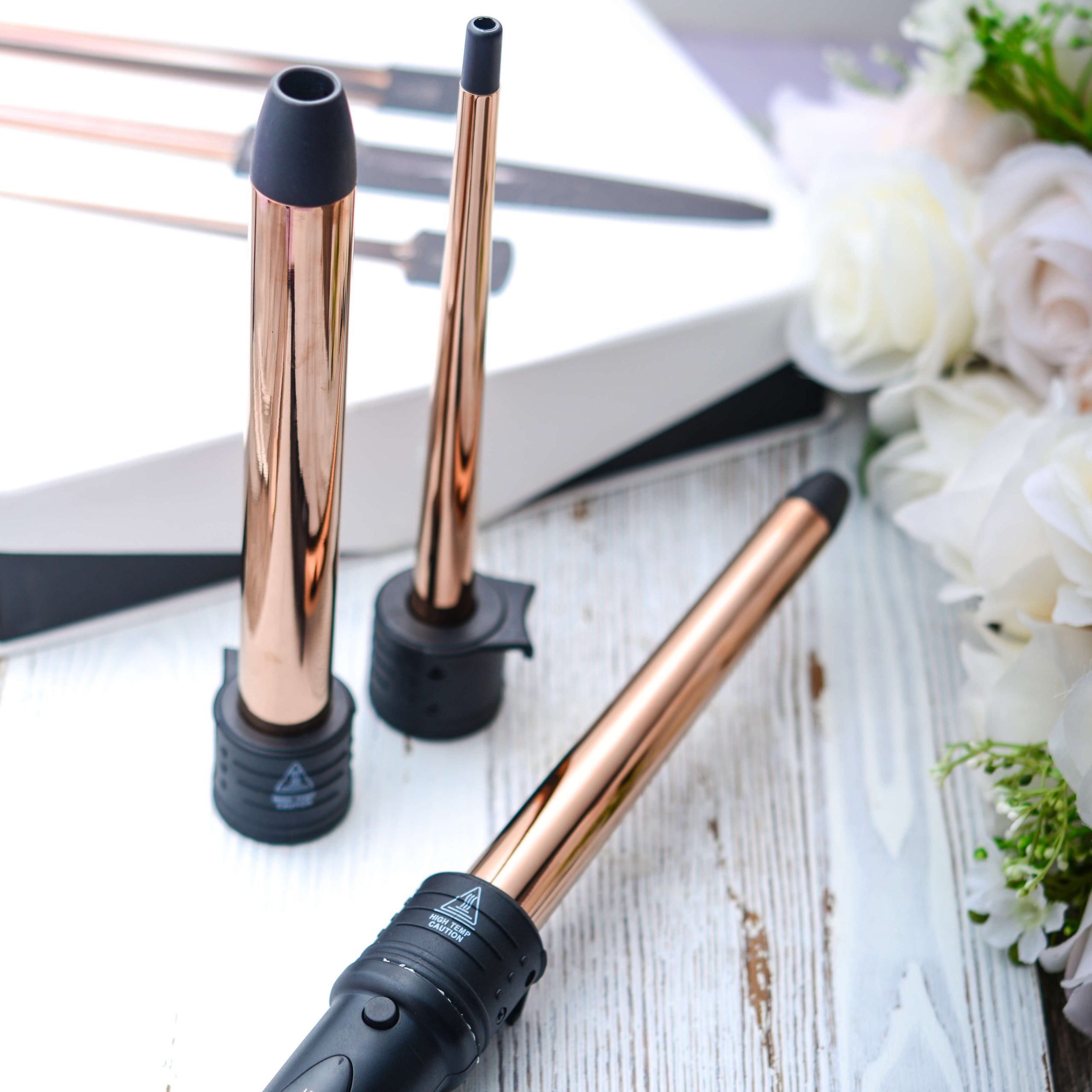 Summary
Always remember: no matter which barrel size you choose, allowing your hair a couple of days grace after washing will put it in a much healthier-feeling condition for curling. Allow the natural oils to return so your hair's not feeling dry or fragile before you begin. Happy curling!
Click here to browse more of HerStyler's bestselling hair care and styling products.
---