How to Choose an Argan Hair Serum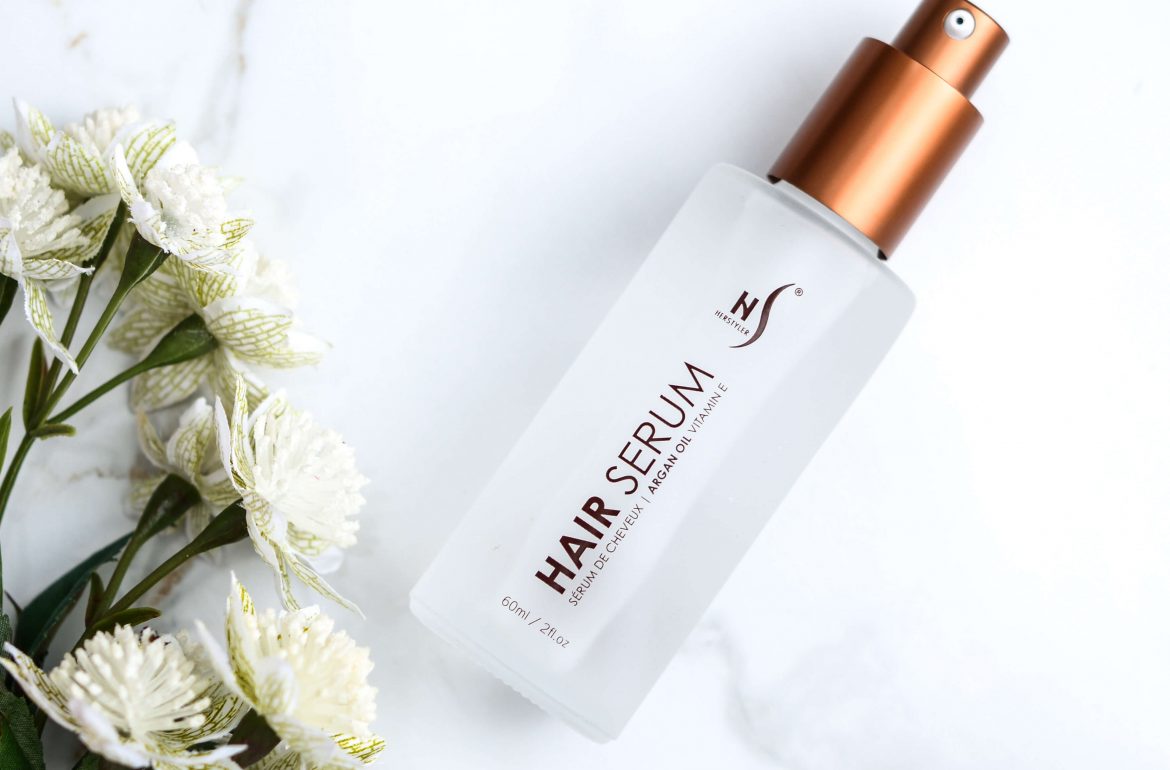 Here at HerStyler, we love hair serums. They're one of the most versatile hair care/styling products out there. Whether you use them pre-styling to boost shine, dab some on post-styling to smooth frizz, or even slather some onto the ends of your hair to combat the appearance of dry, split ends, a serum is a multi-purpose product that everyone should have in their beauty arsenal.
However, let's face it, there is a multitude of different hair serums out there. So, how do you know which to pick?
Chances are that you're at least partially clued up when it comes to beneficial hair care ingredients. As a result, you've probably heard so many people raving about the visible effects that argan oil can have on the hair. So, it only makes sense to start there – after all, this decadent ingredient is nicknamed liquid gold for a reason!
Now that we've narrowed things down a little, read on to learn how to make sure that you're buying the best argan hair serum available.
Make Sure That Your Serum Actually Contains Argan Oil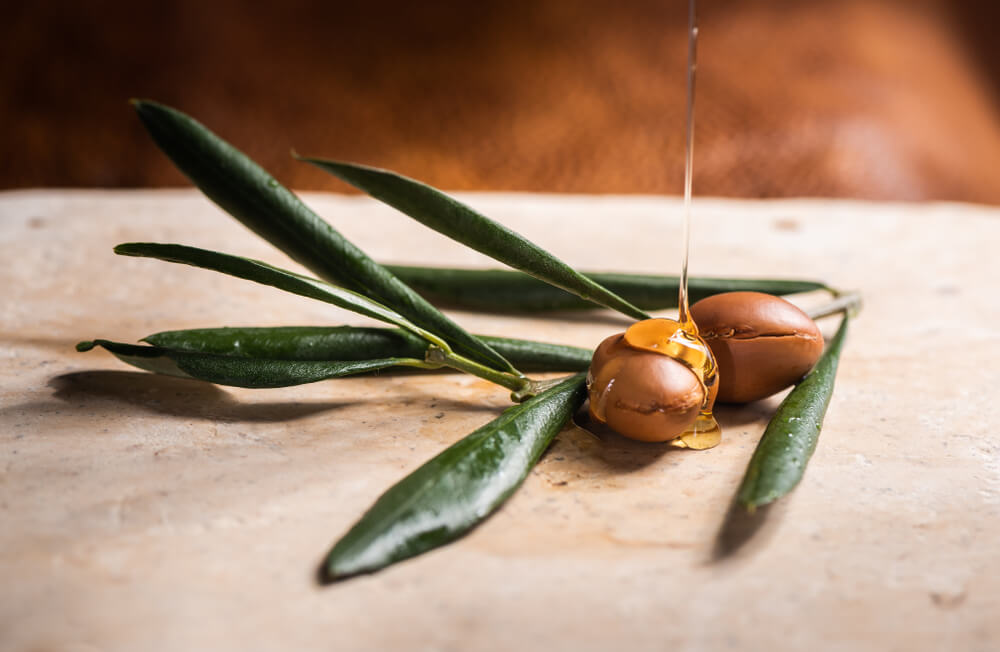 As sad as it may be, there's a lot to be wary of when it comes to product marketing. Sure, a brand may have "argan" in its name, but this doesn't mean that their argan hair serum actually contains argan oil.
So, the very first thing that you should do is check your hair serum's ingredient list.
Now, when shopping for skincare products, it's always recommended that people prioritize formulas that place active ingredients at the top of an ingredients list. After all, this means that those ingredients are used at a high enough concentration to actually make a difference to the skin.
However, when it comes to finding a good argan hair serum, things are a little different…
Have you ever used a hair serum that has left your locks feeling greasy? That's probably because its oil content was too high. Ideally, your argan hair serum should contain enough of the oil to leave your strands feeling smooth, soft, and loved, yet not so much that your hair looks greasy.
This is why, when it comes to the HerStyler Argan Oil Hair Serum, you'll find the ingredient at the end of the ingredient list. It'll still work its magic but it won't leave your mane feeling weighed down. Perfect!
Go With a Lightweight Formula
It's not just the oil content that can make an argan hair serum feel heavy and greasy. There are plenty of other ingredients that contribute to this as well.
While you could spend some time looking up every single one, your best bet would be to pick a serum formula that doesn't have an excruciatingly long ingredient list.
This way, you'll know that it hasn't been stuffed full of unnecessary filler ingredients. Instead, it'll contain just a few compounds in a silky, lightweight formula that's easy to apply, just like the argan hair serum from HerStyler!
Look for Hydrating Ingredients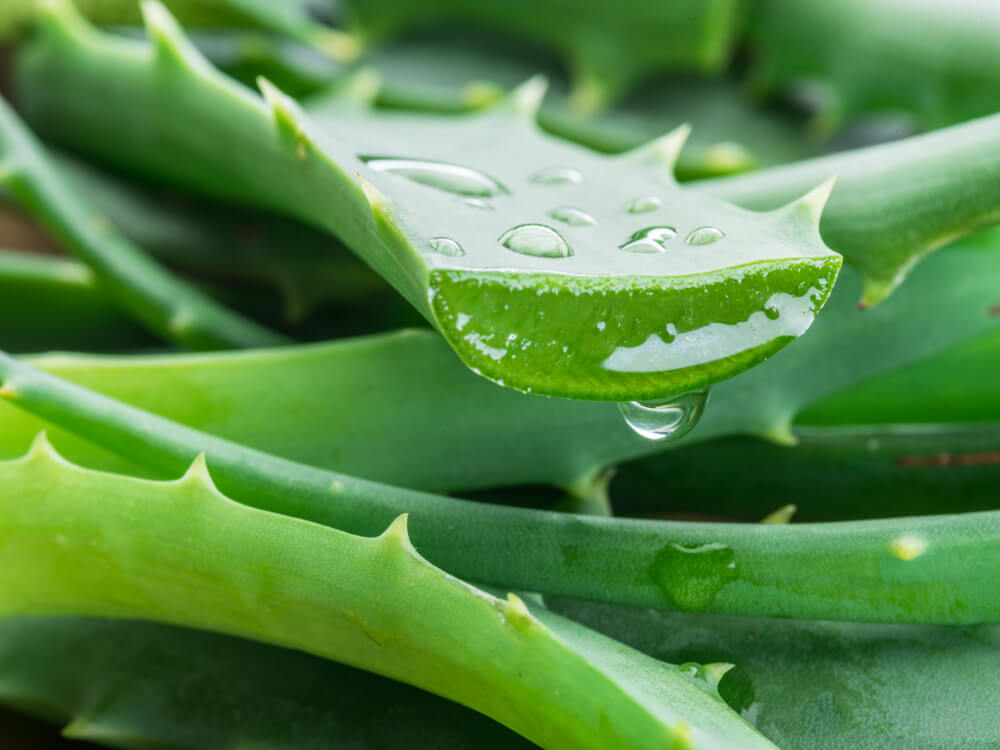 It doesn't matter what your hair type is – everyone's hair needs hydration. This is what gives it that full and glossy shimmer that we so desperately seek.
While your shampoo and conditioner play a big role in treating your locks to hydrating ingredients, go the extra step by using a hydrating argan hair serum too.
Argan oil in itself is an extremely hydrating ingredient. It's packed full of fatty acids, which encourage moisture retention.
However, in HerStyler's Argan Oil Hair Serum, you'll also find aloe vera leaf extract. This is one of the most hydrating natural ingredients out there. You're probably familiar with it in your skincare products, so why not treat your hair to the benefits of this botanical too?
Regular application of aloe vera to your hair will leave your locks looking bouncier and softer than ever before.
Look for Antioxidants
In addition to hydrating ingredients, a good argan hair serum should also contain antioxidants.
Why?
Because antioxidants help to counter the look of visible hair damage. They'll leave your locks feeling protected and strengthened, while helping your hair look healthier in the long term.
When it comes to antioxidants, you'll find plenty of them in argan oil. As we said, it's a pretty amazing ingredient! From caffeic acid to ferulic acid to catechin, there are numerous antioxidant compounds in argan oil.
So, in the Herstyler argan hair serum, we decided to back this up with the inclusion of vitamin E. Argan oil already boasts vitamin E in its makeup, but we've added extra in, in the form of tocopheryl acetate, to double up on the benefits of this underrated antioxidant.
What does vitamin E do for the hair?
It supports the feel of a healthy scalp. This, in return, leads to healthy-looking hair. Even better, when your hair looks and feels healthy, it's also much more manageable and easy to style. If your hair is usually quite unruly and hard to tame, an argan hair serum could be just what you need!
Pick an Argan Hair Serum That Smells Nice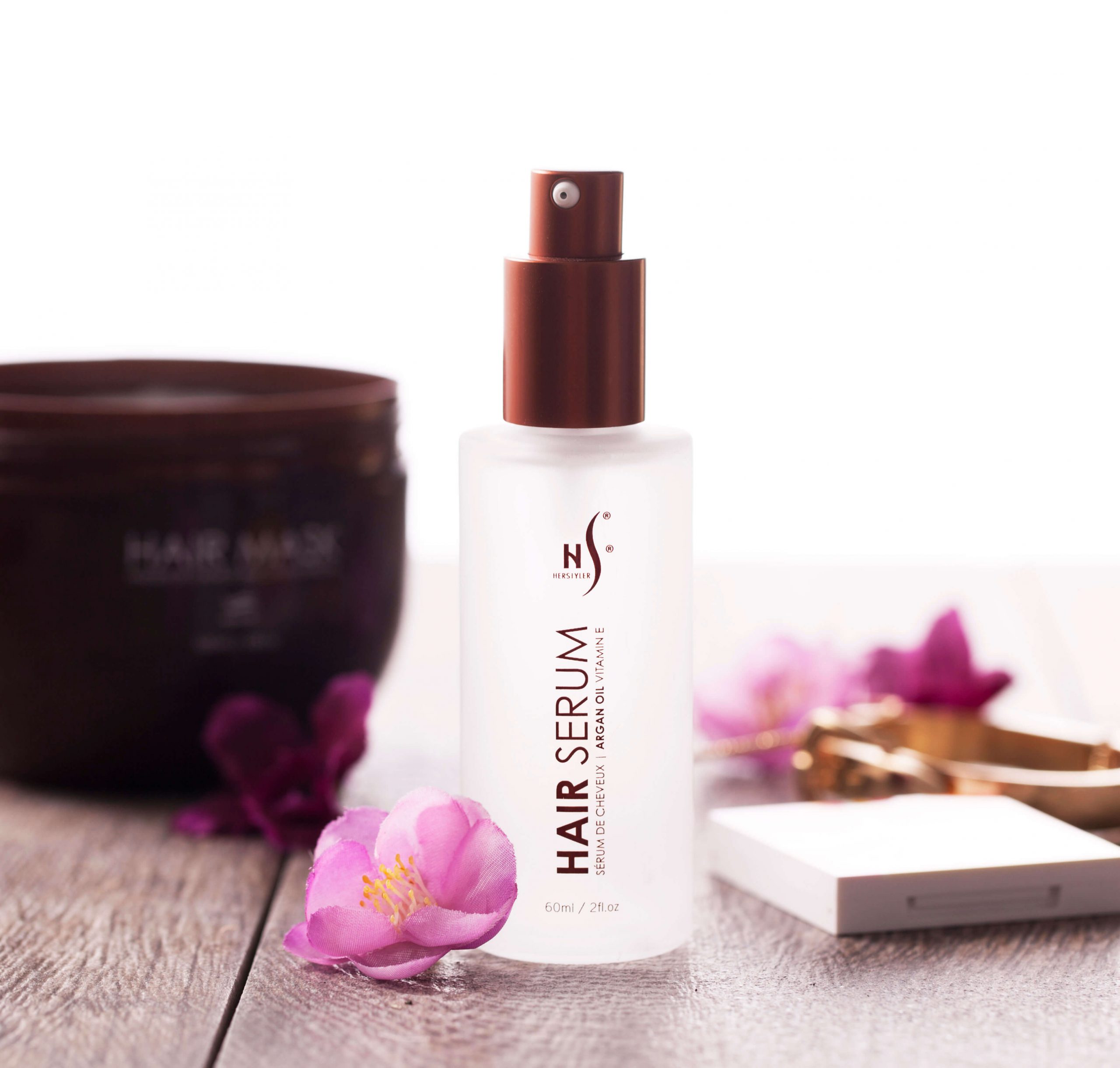 If you've ever used argan oil when cooking, it's important to understand that cosmetic argan oil is a little different. Food-grade argan oil has a delicious nutty scent to it. On the other hand, cosmetic argan oil smells earthier, with some finding that its fragrance is slightly sour.
So, while argan oil may be beneficial, chances are that you don't want your hair smelling like that.
This is why we've added a light scent to the HerStyler argan hair serum. It smells refreshing and uplifting, without being over-powering. Check out some of the reviews of our hair serum to see what other people have thought of its scent!
Don't Overspend
When it comes down to it, an argan hair serum isn't exactly a necessity. Sure, it may be the only way to make your hair look presentable to the outside world, but, when times are tough, this is a product that you're likely to leave off your shopping list if your usual buy comes with a high price tag.
Here at HerStyler, we believe that beauty, along with great-looking hair, should be accessible to everyone. That's why we made sure that our argan hair seurm was affordable.
Don't worry, this doesn't mean that we skimped on quality! In fact, the opposite is true. We only make use of the finest ingredients, and all of our products are manufactured in the USA. Testing and approval procedures are also carried out in the USA, and none of our products have been tested on animals.
Even better, our packaging is recyclable too! Kind to your hair and kind to the environment – what more could you want?
Read Reviews
Last, but definitely not least, always read reviews of a product before buying it.
Don't only read reviews on the brand's website either. Take things further – check Amazon and other beauty retailers to see what people are saying about that argan hair serum on third-party websites.
Of course, almost every product will have a few negative reviews, but if those tend to be the majority, then be wary.
Take Things Further With Other Argan Oil-Infused Hair Care Products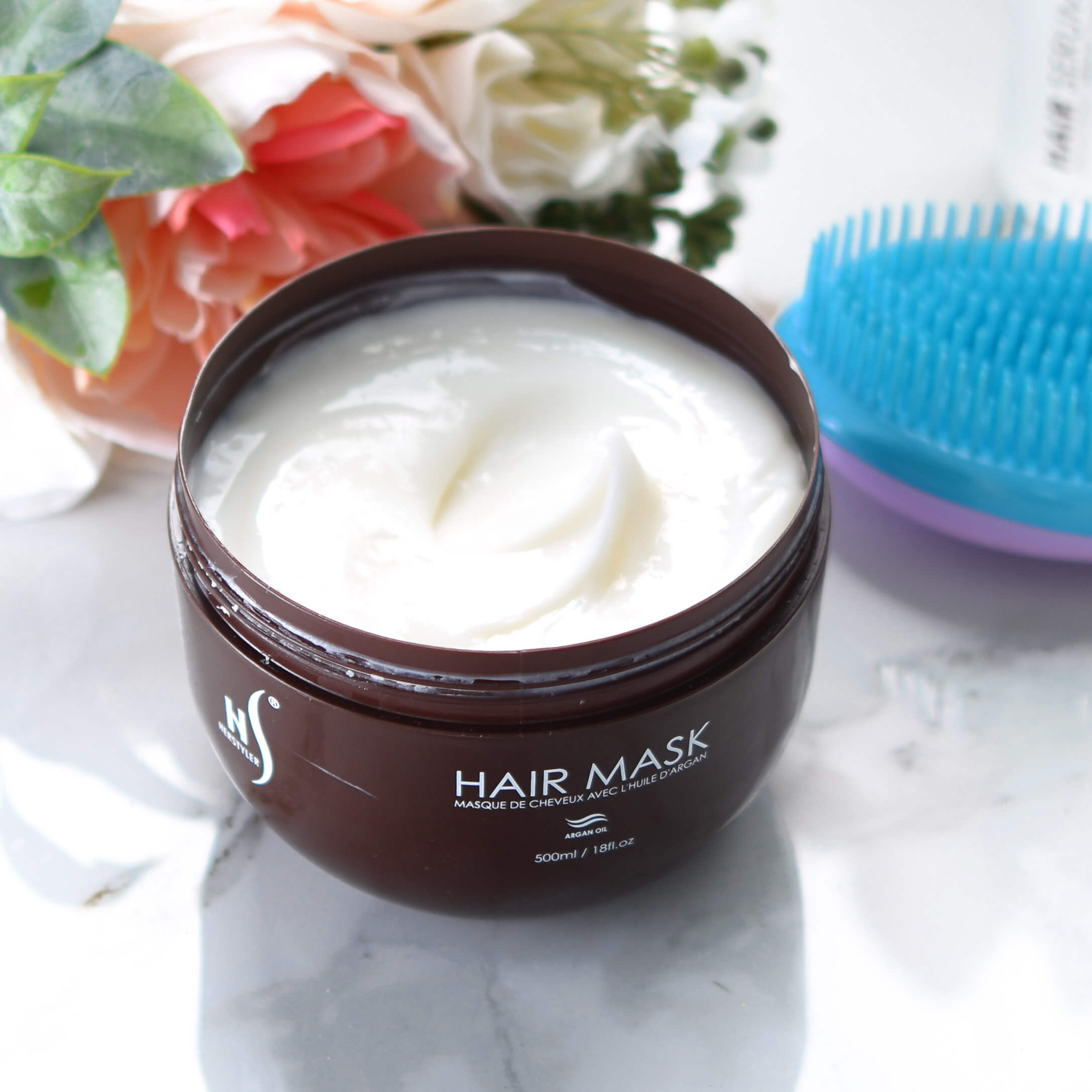 If you really want to maximize on the hair-loving benefits of argan oil, why stop at a hair serum?
Here at HerStyler, argan oil is an ingredient that we truly appreciate. As a result, we've infused this oil into shampoo and conditioner formulas too!
First up, the Sleek Hair Shampoo. Argan oil gives this formula a rich but ultra-silky feeling. It allows the cleansing ingredients in the shampoo to dig deep when it comes to clearing away impurities without leaving your scalp feeling dry, all thanks to how hydrating it is. Safe for use on all hair types, including chemically treated hair, this shampoo will leave your hair looking deeply rejuvenated.
Next up, we've got the Sleek Hair Conditioner. Just like our shampoo, this formula also boasts argan oil. This time, we're banking on how it conditions the feel of the hair while smoothing its appearance. Use this shampoo and conditioner combo and frizzy-looking locks will soon be a thing of the past!
Finally, if you'd like to treat your hair to some extra TLC every once in a while, turn to the HerStyler Argan Oil Hair Mask. It feels more intense than a conditioner, making it perfect for a weekly treat. In addition to argan oil, it also contains glycerin and panthenol to leave your strands feeling fortified and ready to take on the world.
Treat Your Loved Ones to the Gift of Argan Oil
Know someone who would benefit from the hair-loving properties of argan oil?
The HerStyler gift sets are the perfect way to give them the chance to indulge. We have a few different combinations to choose from, but our top recommendation would be the Hair Strength Set.
This set gives the recipient the opportunity to try out argan oil, as well as castor oil, in a few different formats. It's ideal for hair that feels dry, damaged, and tired.
What Other Oils are Good in a Hair Serum?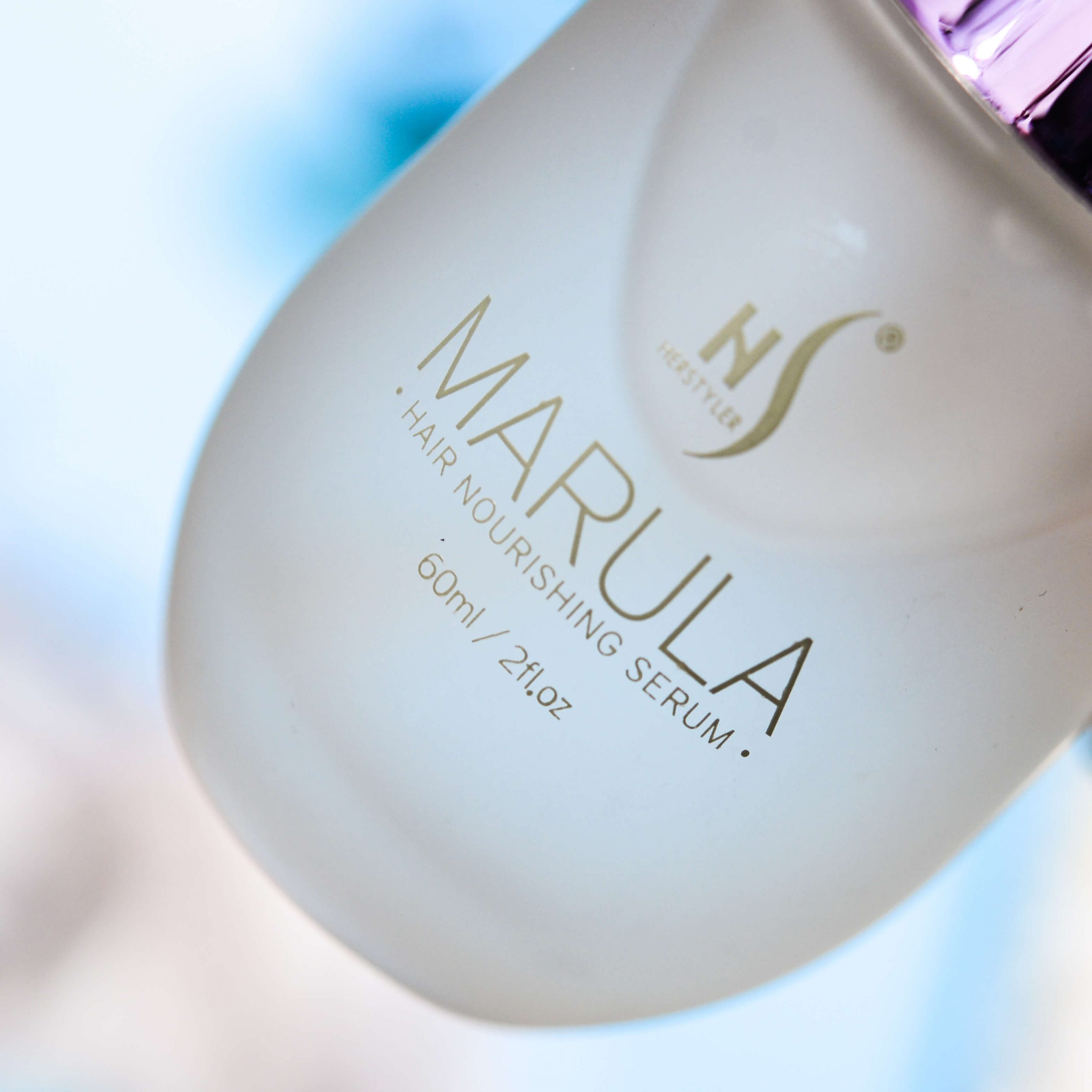 If you're still not convinced that an argan hair serum is right for you, there are a couple of other natural oils that also make for fantastic hair care ingredients, especially when used as a base for a hair serum formula.
Marula oil is one, which you'll find in our Marula Hair Nourishing Serum. It's a very hydrating and moisturizing ingredient, making it great for people with dry or brittle hair.
In addition to marula oil, our Marula Hair Nourishing Serum is also infused with aloe extract and vitamin E, both of which you'll also find in our argan hair serum.
Another bestselling hair care oil is castor oil, which is the star of the HerStyler Castor Oil Hair Serum. It leaves the scalp feeling soothed and refreshed, making it ideal for reducing the feeling of inflammation in the scalp. This serum really packs a double whammy because it also contains argan oil, yet it doesn't feel greasy when applied.
The Perfect Addition to Your Hair Care Routine
Hopefully, you now understand exactly how to make sure that the argan hair serum you're purchasing is going to be a winner. If in doubt, go with HerStyler's offering – with so many 5* reviews attesting to it, you really can't go wrong!
Click here to check out more bestselling products from HerStyler.
---