4 Reasons You Need a Shampoo with Argan Oil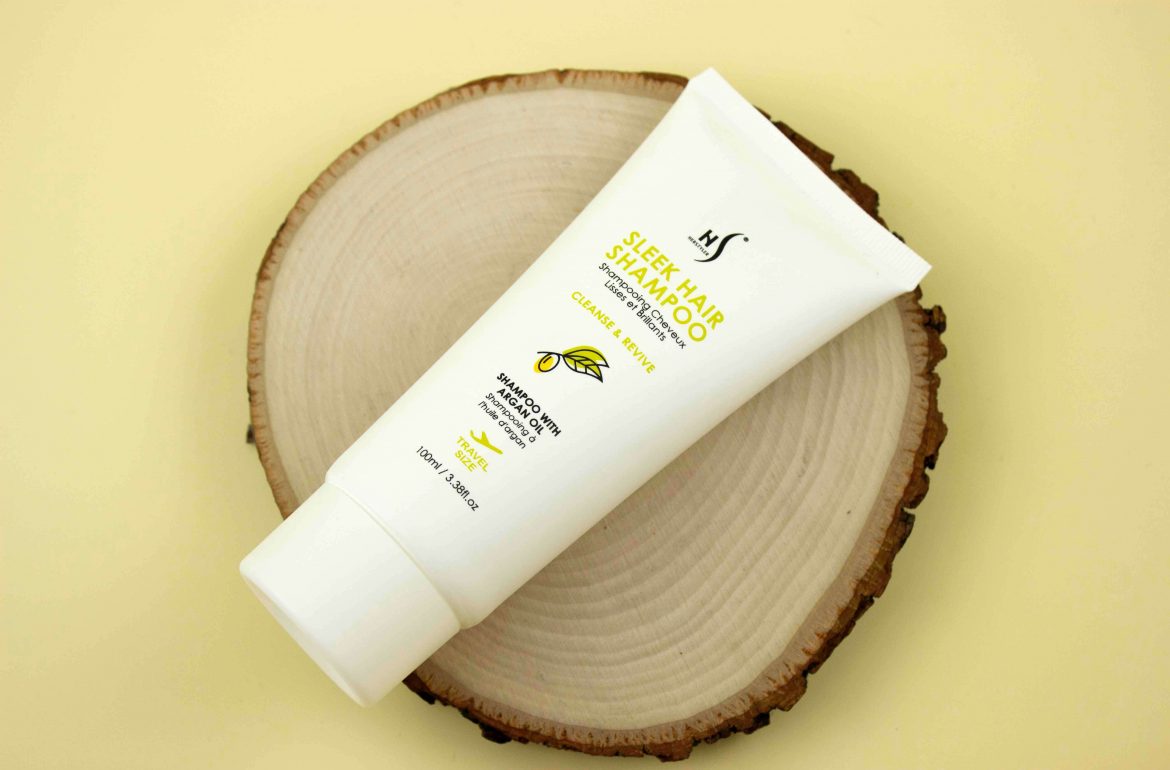 They say a woman's hair is her crowning glory… but what do you do if your natural crown is looking dry, frizzy, and brittle? How do you start revitalizing the feel of damaged hair?
Well, what if we told you that there's a fully organic solution to hair that looks dry and brittle? Something that moisturizes and conditions, but also strengthens the feel of the hair?
That ingredient does exist, and it's none other than argan oil.
With such amazing benefits, just imagine how great it would be if you can fully incorporate this wonder ingredient into your routine!
Fortunately, we at Herstyler have the easiest, most effective solution to this dilemma – a luxurious shampoo infused with argan oil. This amazing product delivers argan oil's conditioning benefits with every wash, leaving your hair feeling healthy and looking silky smooth.
Join us as we dissect why you should totally start using a shampoo with argan oil.
What's Argan Oil, Anyway?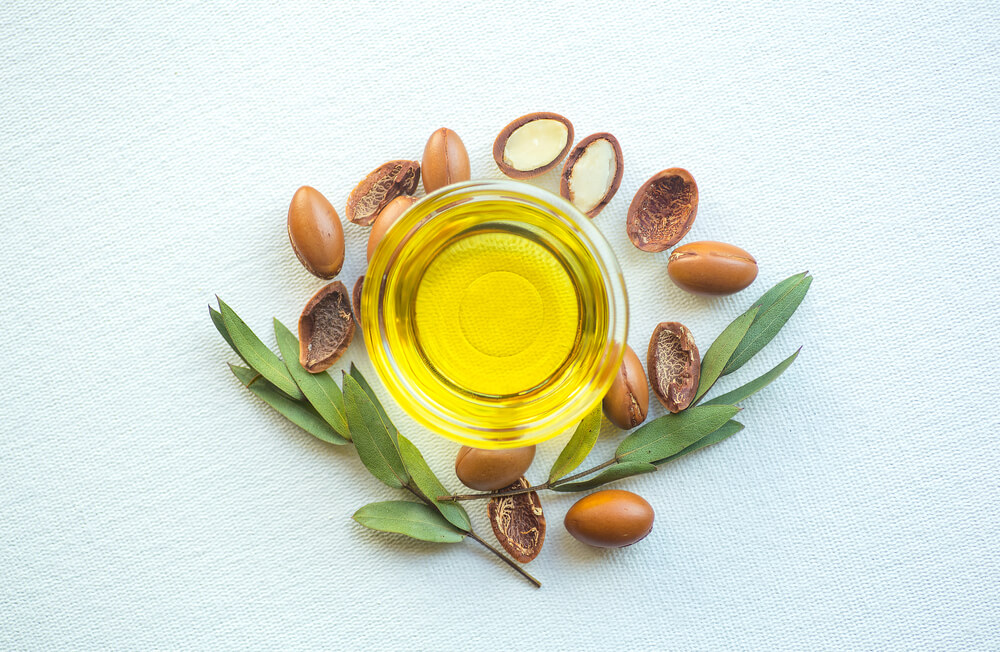 Before anything else, let's first learn a few things about the star of the show – argan oil.
Argan oil, also known in the cosmetic industry as liquid gold, is a plant-derived oil. It's created from the kernels of the argan tree, which is only native to Morocco.
Fully organic, this plant oil is used in the country for cooking, or as a garnish for other types of food.
But, argan oil has also gained notoriety in the cosmetic industry due to its potent benefits, one of which is delivering added moisture and hydration. In fact, argan oil is currently used in a wide plethora of products, ranging from hair serums to body butters and soaps!
That's because this oil is rich in different types of fatty acids. This endows it with its natural moisturizing properties. It also has purported antioxidant and anti-inflammatory benefits, making it a perfect all-rounder ingredient for all your hair concerns!
4 Reasons You Need a Shampoo with Argan Oil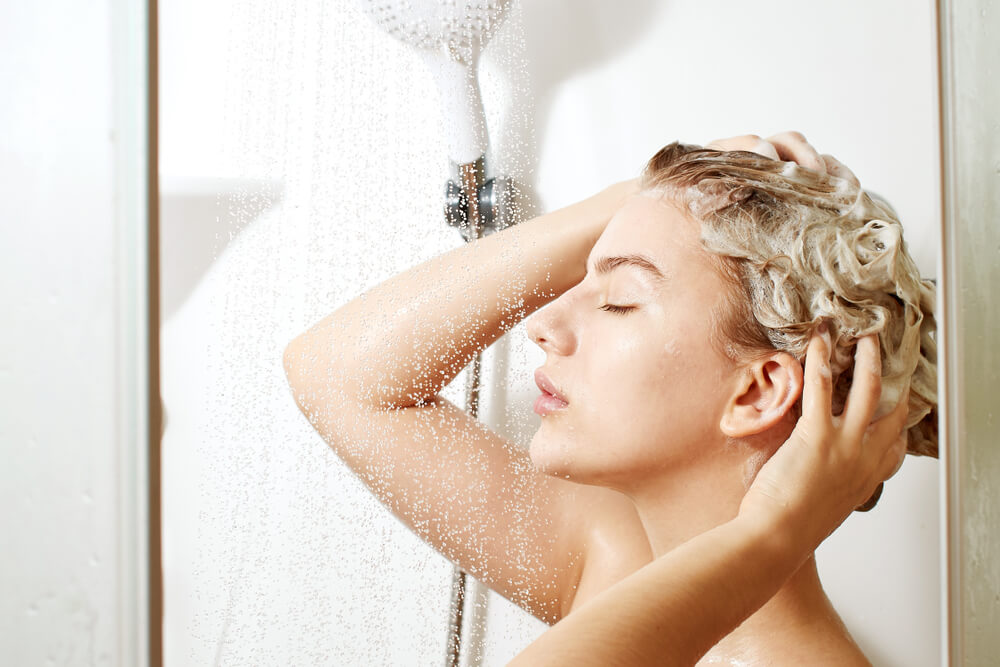 Here at Herstyler, we love argan oil not only because it's organic, but most importantly because it has demonstrated its worth time and again.
This is exactly why we have created not only a shampoo with argan oil, but even hair serums and conditioners utilizing this amazing ingredient.
Here's what a shampoo with argan oil can do for your hair and scalp:
It Makes the Hair Feel Stronger
Argan oil has gained traction as an awesome haircare ingredient because of its ability to prevent, or at least mitigate, the look of hair damage. This is specifically because it's rich in Vitamin E – an essential compound that's used all over the cosmetic industry.
Regular usage of shampoo with argan oil, therefore, can aid in both reducing the appearance of damage and strengthening the feel of the hair.
It Reduces Frizz and Improves Manageability of the hair
Another key tidbit to know about argan oil is that it contains an abundance of fatty acids.
But, what does that mean for your hair?
It's pretty simple – this means argan oil is a strong moisturizer, which can effectively retain hair moisture. This translates to healthy-looking hair that doesn't look dry or frizzy.
In fact, vitamin E and fatty acids in argan oil can together coat the hair to limit moisture loss, thus increasing the feel of elasticity and minimizing the look of dryness and frizz associated with dull and damaged hair. So, it's easy to see how adding a shampoo with argan oil into your hair routine can allow you to reap these boons with every wash!
It Prevents the Look of Styling-Related Damage
Speaking of damaged hair, another benefit of using argan oil is how it prevents the look of styling damage. Thanks to the medium-chain fatty acids present in argan oil, you'll surely be shielded from the feel of drying and brittleness that come from frequent styling and exposure to intense heat.
How, you ask? The secret lies in these fatty acids' ability to create a layer on the hair's surface. This coating not only reduces friction and visible damage from combing and styling, but also provides a buffer to minimize the appearance of damage taken by the hair from heat styling.
What's even more impressive is that argan oil also protects against the look of damage from other styling techniques, such as hair dye application. For example, a previous study has found that applying argan oil helped decrease the appearance of damage to the hair after the application of hair dye.
It Makes the Hair Look Shinier and Healthier
Of course, minimal visible hair damage translates to shinier and healthier-looking hair… but that's not the only way argan oil can revitalize the look of the hair.
Thanks to its potent moisturizing properties, oil treatment with argan oil can actually help limit the development of split ends, which translates to much healthier-looking hair! 
Herstyler's Favorite: Sleek Hair Shampoo with Argan Oil
With all these benefits listed out, there's absolutely no reason to say no to adding a shampoo with argan oil in your hair maintenance routine.
And that's why we're here to help!
To make incorporating this amazing liquid gold into your haircare routine a breeze, we at HerStyler have created a signature product – the Sleek Hair Shampoo infused with argan oil.
This luxurious shampoo provides your hair and scalp with a deep and thorough cleanse while keeping it moisturized. This rids your scalp of dirt, oil, and other impurities, while strengthening and hydrating the feel of your hair at the same time! Thanks to the addition of argan oil, this shampoo won't dry your hair out, but will instead leave it looking shinier and healthier after every wash.
An added bonus? This shampoo was made with you and the environment in mind. It has been tried and tested in the USA, it's completely cruelty-free, and it also comes in recyclable packaging. Plus, it won't break the bank!
To use, simply apply a generous amount onto wet hair and massage gently until a lather forms. Rinse well. For best results, follow up with the Sleek Hair Conditioner.
Up Your Hair Game With These Argan Oil Products
Adding a shampoo with argan oil is certainly one way to give your haircare regimen a boost. However, there's a lot more you can do to take better care of your hair.
Like adding in more argan oil products, for example.
But if you're worried about where to start, fret not!
We've collated the best argan oil hair products for you, so you can focus on saying goodbye to dry, frizzy, and damaged hair:
Sleek Hair Conditioner
Well, what's a shampoo without a conditioner, right?
The Sleek Hair Shampoo comes with its very own conditioner, which – you guessed it right! – features argan oil as its main ingredient.
The Sleek Hair Conditioner was designed to help moisturize and protect the look of your hair, while leaving it feeling silky soft and buttery smooth. This conditioning blend is infused with argan oil, plus a lot of other hair-loving ingredients, to concoct a hydrating formula that will keep your hair looking shiny. With this conditioner, you can expect stronger-feeling hair with less frizz and tangles!
All you have to do is to apply this conditioner on wet hair, focusing on the mid-length to the ends. Leave this on for 2-3 minutes before rinsing thoroughly. Of course, we recommend using this after the Sleek Hair Shampoo for best results!
Argan Oil & Biotin Conditioner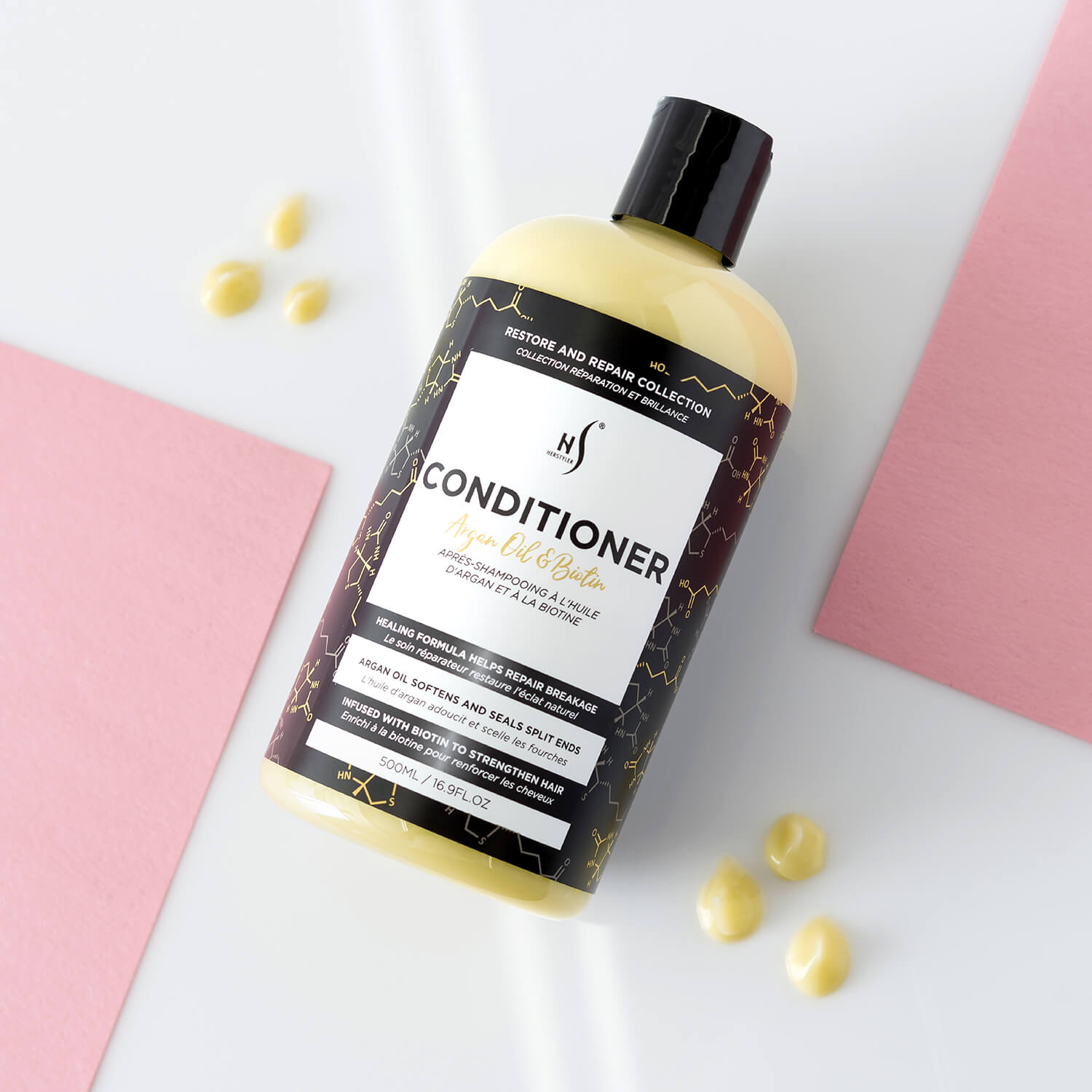 If you're looking for a change of pace, or if you simply want another conditioner for extra hair benefits, why not try out our Argan Oil & Biotin Conditioner?
Made with a concentrated blend of argan oil and biotin, this restoring conditioner was designed to bring life back to dull and damaged hair. The properties of both argan oil and biotin help soften and seal the look of split ends. This makes the hair appear much smoother and silkier. 
What's more, this moisturizing conditioner will also tame frizz, hydrate the hair, and make it easier to style. Together, this wonder combo will keep the hair looking strong, thick, and healthy, so you can say goodbye to brittle-feeling hair!
Just like the Sleek Hair Conditioner, this conditioner should be applied on wet hair, particularly the middle section and ends. After leaving on for 2-3 minutes, rinse thoroughly before drying.
Argan Oil Hair Serum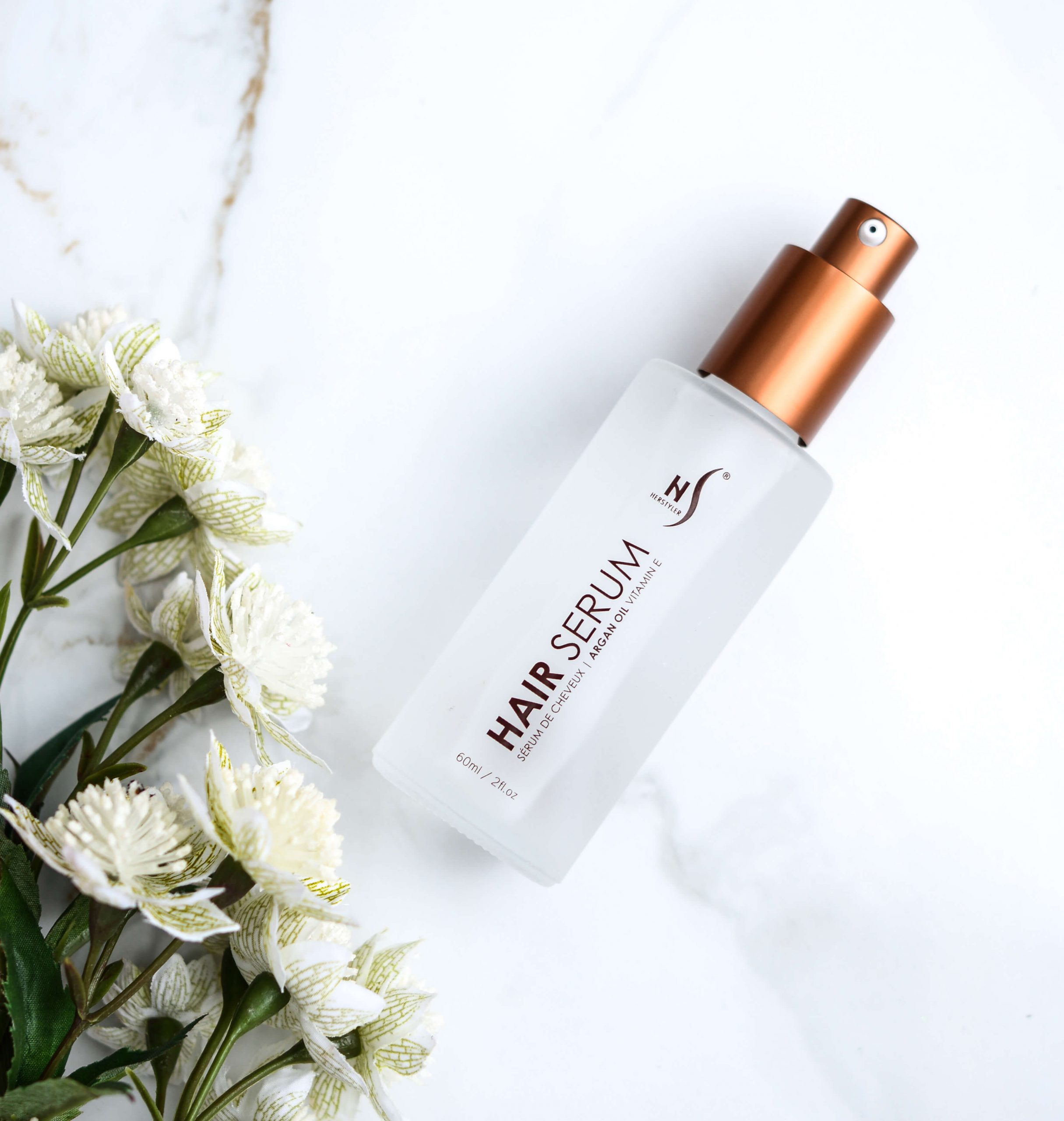 Having a hair serum is an indispensable part of any haircare routine… and on that front, there's nothing better than the Argan Oil Hair Serum. It fully utilizes the wonders of argan oil to repair and moisturize the look of the hair.
Created with our patented Argan Oil with Provitamin E formula, this serum will endow your hair with instant shine, while eliminating frizz. With regular use, it will certainly make your hair feel much, much healthier, making brittle, wiry, and unmanageable hair a thing of the past.
But wait – there's more.
The Argan Oil Hair Serum also features aloe vera, a known humectant. It absorbs moisture from the environment to instantly hydrate your hair. Another benefit of this amazing ingredient? It minimizes the hair's oily and greasy appearance, making it appear naturally silky and glossy!
This versatile serum can be applied to wet hair right after a shower. Alternatively, you can simply apply a few pumps of this silky serum onto dry, frizzy hair. It'll immediately tame it and restore its shine.
Argan Oil Hair Mask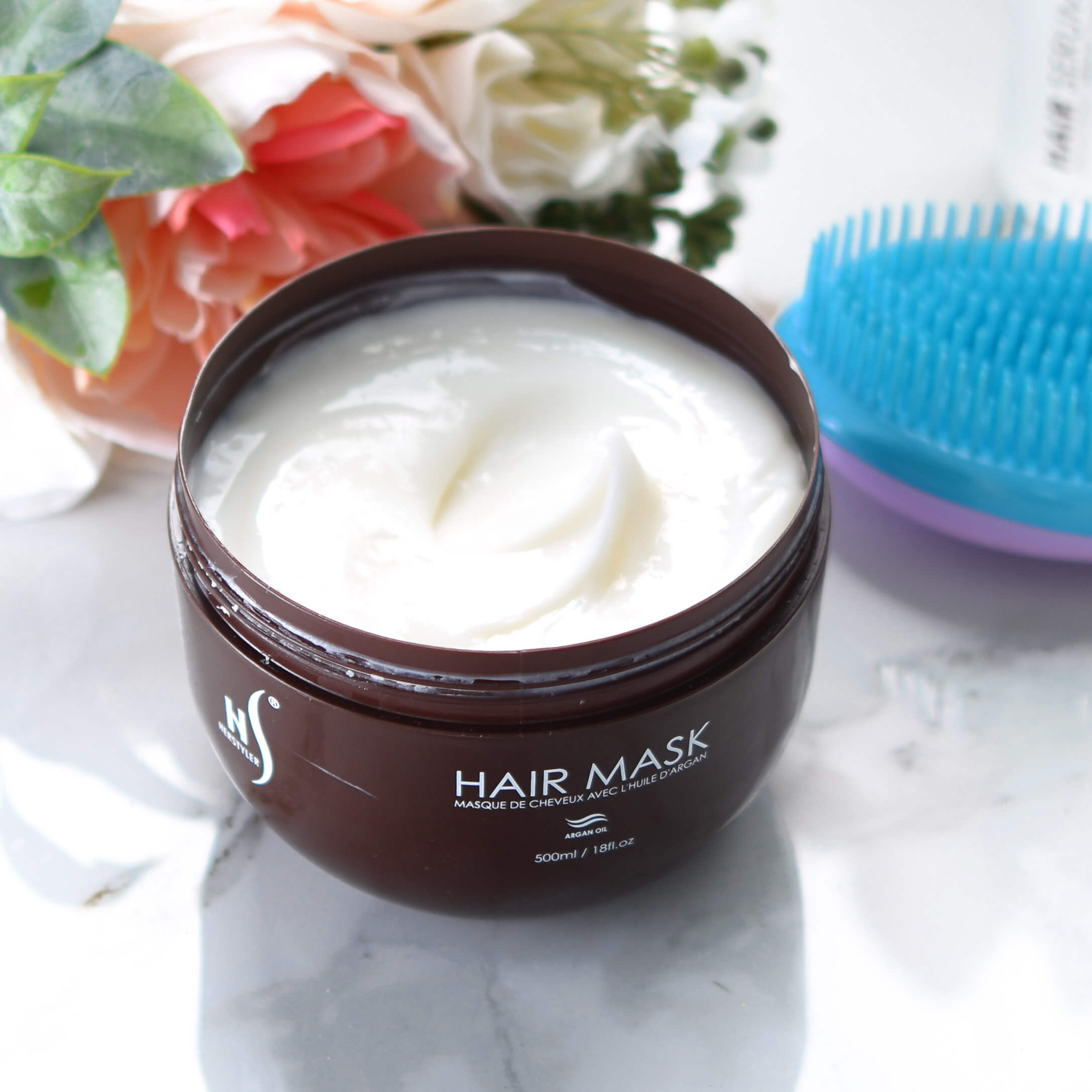 After a tiring week, with your hair exposed to the drying, damaging substances from the environment, you deserve to treat yourself with nothing but the best.
That's where our Argan Oil Hair Mask comes in.
This deeply hydrating hair mask is the stuff of dreams. It will definitely provide your hair a luxurious haircare experience, as it works to nurture and revitalize the look of the hair, while preventing further breakage.
With argan oil as its core ingredient, this moisturizing hair mask will restore hydration to dry and dehydrated hair to help it regain its healthy look. 
The result? Thicker, shinier, and healthier-looking hair that looks like you've just had a salon treatment!
To use, simply massage a generous amount onto wet hair, once or twice weekly. Leave on up to 10 minutes before rinsing thoroughly.
Final Words
There's a reason why argan oil is a darling of the hair, beauty, and cosmetic industry… and hopefully, this article has helped explain why! With incredible benefits in moisturizing, protecting, and restoring the look of your hair, adding a shampoo with argan oil into your routine is certainly the way to go.
Hopefully, you'll finally get to say goodbye to dry and frizzy hair that doesn't cooperate with you no matter what you do. And, if you're one to style your hair repeatedly, you now have a secret weapon for shielding against visible styling damage.
Plus, a bit of extra argan oil – from conditioners, serums, and masks – certainly won't hurt!
Looking for more ways to boost the look and feel of your hair? Why not check out our best sellers to find your hair's next best friend?
---