How to Style Your Hair with a Blowdryer
Ever heard the phrase "Your hair is the crown you never take off"?
Well, there's some truth in that! Your hair is your crowning glory, so we want it to look good all day, every day, and that's where hairstyling comes in.
Hairstyling may look daunting, but it's not that difficult. For example, did you know that you can achieve salon-grade blow dry hairstyles with just a hairdryer?
HerStyler has just what you need to maintain your lustrous-looking locks!
Looking for a Reliable Hair Dryer for that Blow Dry Hairstyle? The HerStyler Hair Dryer Has You Covered!
If you're on the lookout for a hairdryer that makes styling your mane a breeze, you should check out HerStyler's LED Pro Luxe Dryer.
This HerStyler hair dryer is perfect for precise blowdry hairstyling thanks to its 1800 watt AC motor.
The Red LED Technology promotes hair that feels thicker and fuller, while the Negative Ion Technology adds moisture and shine by reducing the look of frizz, so you can say goodbye to those unruly tresses.
There are two heat settings with two speed settings and a cool shot setting that helps lower your hair's temperature.
If you're worried about damaging your hair, don't sweat it!
Proper blowdrying won't damage your hair. However, to be safe, it is best to refrain from applying heat to your hair if it is already dry.
How to Dry Your Hair With Your HerStyler Hair Dryer
When styling, you should use brushes or combs made of soft, pliable plastic. You could potentially damage your hair with forceful tugging and brushing. Try the HerStyler Easy Comb – everyone loves it! 

To help your hair maintain its moisture, keep your HerStyler hair dryer six inches away from your hair. For a more even distribution, start with the back and sides of your head, then move towards your crown and forehead.

Start at a high temperature and start at high speed, and then, as your hair dries, gradually reduce the temperature. This will help you avoid drying your hair out, which can cause damage. For the best results, try to airdry your hair.

Using a diffuser attachment on your HerStyler hair dryer can help dry your hair uniformly.

Try flipping your hair upside down while blow drying to add volume and body. This will give your hair more lift and bounce, which reduces the risk of tangles.
However, styling your hair is more than just running a comb and blasting a blowdryer through your strands⁠.
Investing in good styling tools and products may be the best thing you can do for your glorious mane.
Protect Your Mane from Heat Damage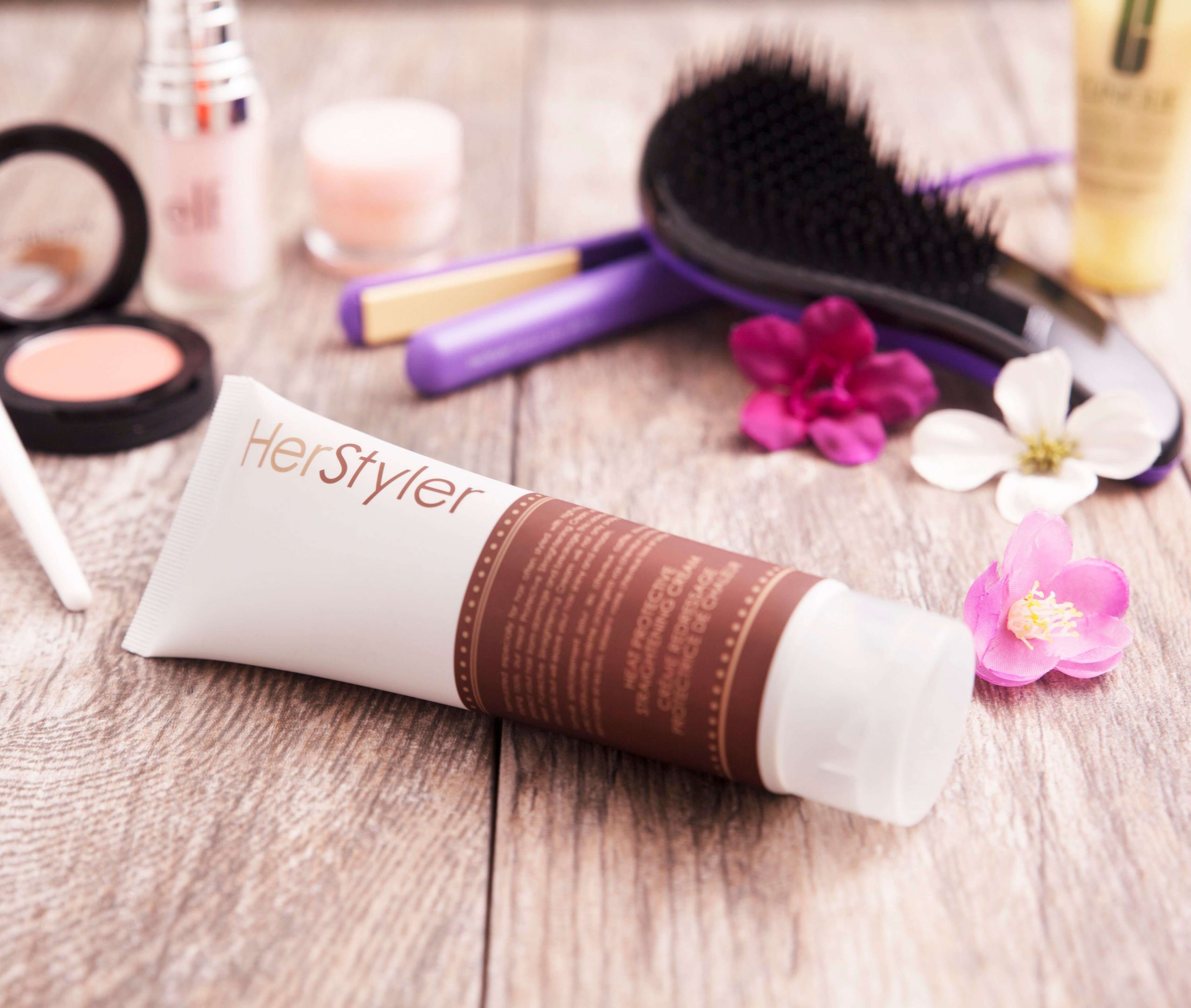 Before using any tools, it's always essential to protect your tresses from the heat.
Heat damage isn't kind to hair; a hair styling tool that utilizes heat could potentially cause damage to your hair, drying out the cuticle of your locks.
Although heat can be a great styling agent, it can also cause structural changes to your hair's proteins.
Obvious signs of heat damage include split ends, hair prone to breakage, and hair that won't retain its shape after styling.
So, how can you combat this?
Well, by making heat protectant your BFF! Dr. Shilpi Ketarpal, MD, likens heat protectant to SPF for your locks, which means you should be using it whenever you find yourself reaching for your styling tool.
A hair heat protectant does two things: It seals in moisture, reducing water evaporation, and it also protects your mane from environmental moisture, which causes frizz.
HerStyler's Heat Protective Straightening Cream was formulated specifically for hair that's often styled with high-heat styling tools, so it shields your blow dry hairstyle from damage and breakage. In addition, it will leave your hair looking shiny and silky.
Now that you've got the bases of hairstyling covered, here are a few tips and tricks from HerStyler on getting that perfect blow dry hairstyle:
Rock Some Beachy Waves for that Summer Beach Babe Vibe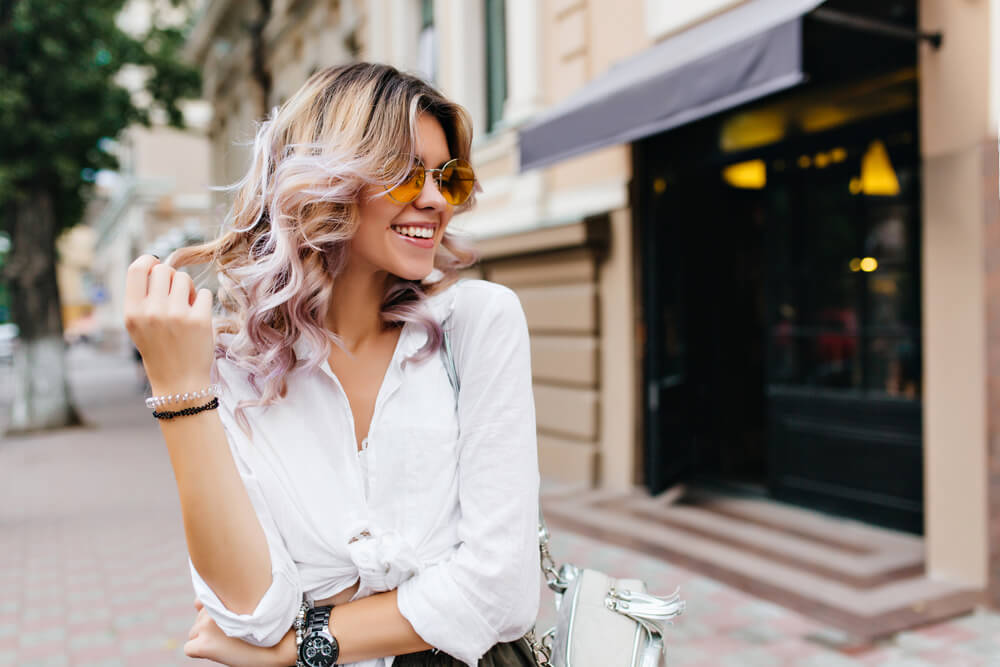 Beachy waves are probably the most effortless blow dry hairstyle you can achieve using a hairdryer.
Wet your hair and divide it into two sections. Braid each section loosely and secure it at the bottom.
Blowdry your braids until they are completely dry, then use your finger to comb through your hair, and you're ready to go.
For more accentuated curls, try the Beach Curler.
This ceramic-coated curler is perfect for everyday use. The curler reaches a maximum temperature of 356°F in 90 seconds and contains two heating chambers in one.
For tighter curls, choose the 19mm barrel, and choose the 32mm barrel for wavy hair.
Get Frizz-Free Silky Straight Hair That's Sleek And Lustrous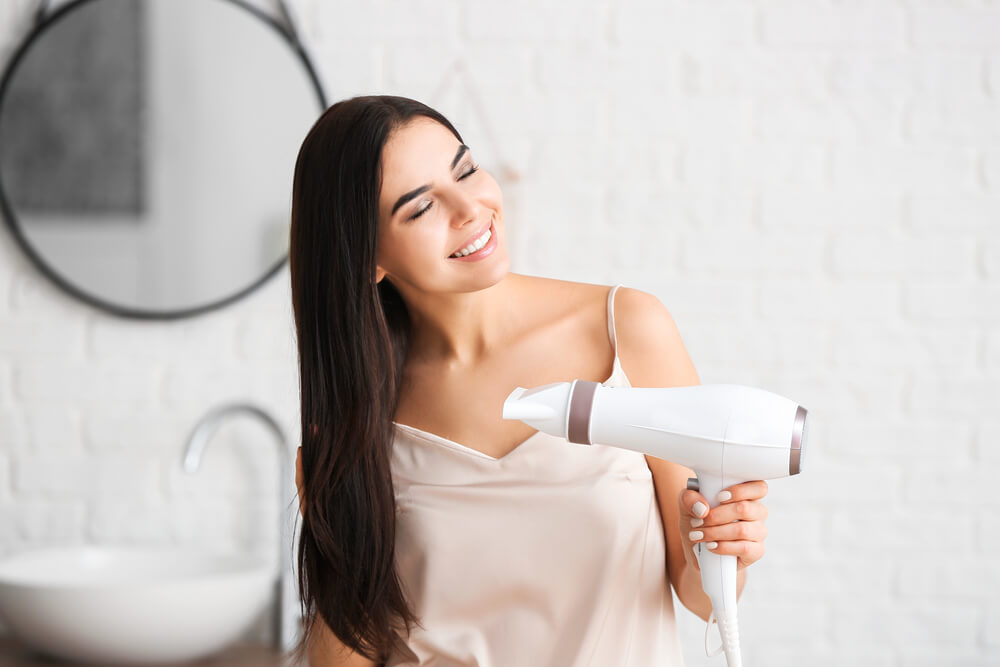 If you're going for a lower-maintenance blow dry hairstyle, you could try the silky straight hair look.
This type of hairdo suits someone with a round face shape because a long and sleek hairstyle can create the illusion of definition and length in the face.
For this look, it's always recommended to start with damp, detangled hair. HerStyler's Pro Detangler Paddle Brush has extended bristles that help reduce the feeling of hair and scalp stress during blow-drying and styling.
Its soft-grip design on the handle minimizes hand fatigue, and it is designed to create straight, smooth, blow dry hairstyles.
Detangling hair helps to reduce breakage. When your hair is more tangled, it is more difficult to comb through without breaking strands.
Then, use your HerStyler hair dryer and part your locks into sections. Start with drying your hair down to the tips, and then begin blow-drying your hair using a large round brush.
On top of that, you could also use HerStyler's Blushing Marble Styler to ensure that every strand of hair is in place.
This is the ultimate go-to styling tool for any hairstyle. The ceramic plates in this styler allow for versatility, long-term results, and easy maintenance.
The plates can heat up to 450°F, which will leave you with hair that looks silky and beautiful in a short amount of time.
This hair straightening tool is also has a marble design that's very aesthetically pleasing, so you can be sure that it will make a statement on your dressing table!
Change Up Your Look with a Short Bob
Having short hair doesn't mean you can't look fashionable.
A bob can add so much personality to your look when done right, making you look tres chic.
To achieve this blow dry hairstyle, just use your HerStyler haird dryer and start drying your hair against the grain. Doing this can give your hairdo a more voluminous look, breathing life into your luscious locks.
While experimenting with new looks are fun, it's very important to pampe your hair as well.
The HerStyler Argan Oil Hair Mask is a creamy mask that helps restore the feeling of elasticity to damaged hair, which improves the hair's overall appearance.
This hair mask can give your hair a look of luster and shine like never before with Panthenol and Argan Oil.
Dubbed 'liquid gold,' Argan Oil has been proven to have a myriad of benefits for the hair and skin.
In addition to being an excellent moisturizer, Argan Oil is also loaded with beneficial fatty acids and antioxidants, such as vitamin E, proven to help the appearance of the hair and scalp. It is also rich in fatty acids, mainly oleic acid and linoleic acid.
Harness the full benefits of Argan Oil for your hair with HerStyler's Argan Oil Complete Hair Care Set that includes:
Argan Oil Shampoo

Argan Oil Conditioner

Heat Protective Straightening Cream

Hair Spray

Argan Oil Hair Serum

Argan Oil Hair Mask
A Textured Pixie Cut Will Give Your Hairdo That Extra 'Oomph'
Thinking of going shorter than a bob? Try out the textured pixie cut for some added drama and dimension to your hair.
It's an easy-to-maintain blow dry hairstyle with sufficient length for a variety of looks. This cut works well on all hair types, but it's particularly effective on thick, wavy hair.
Start with towel-dried, slightly damp hair, then add a small amount of product. Next, use the HerStyler hair dryer and blowdry while finger-combing, and you're done!
Don't forget to finish everything off with a bit of Marula Hair Nourishing Serum.
Enriched with the goodness of Marula Oil, your hair will no longer look frizzy and dull. Instead, it will feel soft and manageable. Marula Oil will leave your hair looking smooth, silky, and lustrous without that greasy feel.
Get Those Luscious, Bouncy Locks For That Va-Va-Voom Factor
Undoubtedly, curly hair maintenance is much more complicated than it looks. Your curls can be uncontrollable and unmanageable, and that can make you feel pretty self-conscious.
Curly hair is a little different compared to other hair types. To put it simply, it takes more water, less washing, and a whole lot more patience when compared with straight hair.
If you're trying to accentuate your natural curls, here are a few blow drying tips you can follow:
Start combing your hair from the bottom.

Condition, condition, condition.

Use a diffuser when drying your hair.

Avoid split ends by trimming your hair regularly.
Angela C Styles, a celebrity hairstylist who has styled the Rita Ora's and Rihanna's crowning glory, noted that trimming your hair can promote better hair growth.
However, your HerStyler hair dryer can also be the perfect tool you need to achieve those curls because the added heat from the hairdryer can help the coil hold better.
Keep your hair damp and use large Velcro rollers to roll the hair in sections around the curlers.
Dry your hair with your HerStyler hair dryer while delicately unraveling the rollers so that the curls stay in place.
The Turbo Style & Dry is a lightweight but powerful hairdryer that is a great budget-friendly option. It has three temperature settings to enjoy that custom styling experience and comes with two concentrators for you to style your hair with better precision.
HerStyler also has various curlers to achieve the type of curls you're after, whether they're small, tight ringlets or big, loose waves.
The Rose Gold Titanium 3P Curler set comes in a gorgeous shade of rose gold and is perfect for all types of curls. This set includes three different barrels: 9/18mm, 18/25mm, and 25/25mm.
Read this HerStyler article for advice on choosing the best curler.
Finish your blow dry hairstyle with the Perfect Hold Hair Spray, a long-lasting hair spray that dries quickly and has a firm hold without any residue.
But, you should never fall asleep without scrubbing all the excess hairspray residue off your locks! A mild shampoo should do the trick, which is why we recommend HerStyler's Hemp Shampoo range. This nutrient-rich formula can help you regain the hydration and supple feel of your hair.
This shampoo is infused with hemp seed oil and vitamin E, which keep your hair hydrated while cleansing toxins away, producing clean, healthy-looking locks.
Now, you can achieve that perfect blow dry hairstyle at home with the help of these products!
Strut your stuff as you don a head of perfectly coiffed hair, ready to seize the day (or night, it doesn't matter!).
---