The Ultimate Guide to Winter Hair Maintenance
Whilst the salt water and sun exposure of summer comes with its problems, once winter hits, our hair is in for even more potential issues! From icy cold winds and sub-zero temperatures to constant indoor heating and ramping up the use of your trusty blow dryer, there are plenty of reasons your hair feels unhappy at this time of year. 
Luckily, there are just as many, if not more, ways to combat those problems. Yes, HerStyler is here to talk you through all of the steps you can take to keep your hair feeling cared for and silky soft, even when it's snowing outside. Keep reading to discover our ultimate guide to winter hair maintenance.
Invest in a Moisturizing Shampoo & Conditioner
With so many factors ready to dry out your hair in winter, it makes sense that giving your locks a moisture boost would help keep them feeling healthy and silky soft all season long.
An easy way to make sure this essential winter hair maintenance step happens?
Get your hands on a great moisturizing shampoo and conditioner!
All of our shampoos have amazing effects. However, the Rosehip & Sage formula, in particular, is specially designed to restore and hydrate the feel of dry, damaged hair. Whilst it gently absorbs excess oils, dirt, and impurities, this shampoo will thoroughly cleanse your hair. Meanwhile, the Rosehip oil will help to restore the look of your locks to their former glory. If all that isn't quite enough, you'll be glad to know this shampoo also contains sage. This ingredient will return the fullness to your hair's appearance and soothe the feel of your scalp. 
Once your hair is clean and rinsed through, finish off your in-shower winter hair maintenance with our luxurious Rosehip & Sage Conditioner. This irresistible formula is packed full of rich ingredients. Rosehip, jojoba, and sage oils will instantly transform the look of your locks from frizzy and dry to silky and smooth. Meanwhile, the inclusion of vitamin E delivers antioxidant properties.
Treat Your Tresses to Some Extra TLC This Winter
On top of a great in-shower routine, you should also make sure you're taking the best possible care of your hair in-between washes. For example, making use of products like Herstyler's Marula Hair Nourishing Serum is a sure-fire way to get dreamy-looking locks you want to run your hands through all day long.
It'll restore the appearance of your hair from dull and leave it feeling silken and super manageable. What's more, the Marula oil will not leave your hair feeling greasy in any way. Instead, it absorbs quickly into the hair and leaves you with a healthy-looking glow and radiant shine.
If you feel like going all out this year with your winter hair maintenance, why not opt for full hair care and styling package?! 
The Herstyler Master Set is brimming with many of the most popular products we have on offer. It includes the Sleek Hair Shampoo and Conditioner, Castor Oil Hair Serum, and our Argan Oil Hair Mask. On top of all these incredibly pampering products, you also get the choice of the amazing Forever Black Flat Iron, or the impressive Grande Curls Curling Wand to style your hair for any and every event on your winter calendar!
Keep Drinking Water!
When the summer sun is beating down and we're super hot (and sweaty!), drinking loads of water is easy because we have the urge to do so. However, this changes when winter rolls around. All we want to do is wrap up under a fuzzy blanket and drink hot tea, coffee, and cocoa. 
Whilst there is still water in these tasty beverages, they're all (we hate to tell you) pretty dehydrating. Caffeinated tea and coffee thanks to their mild diuretic effects, and cocoa with its high sugar content. This is no good for your winter hair maintenance! Your hair needs water to keep its hair follicles in working order, and to stay hydrated both inside and out.
Now, we're not saying you should cut these beverages out in the colder months. After all, where's the fun in that?! Instead, we suggest making a conscious effort to continue drinking your 2 liters of water a day. That way you and your hair will stay fully hydrated and healthy. Set a reminder on your phone, invest in a reusable two-liter bottle with hourly markings on the side, or set specific times of the day when you're going to drink your water, such as when you wake up, before meals, and before you hit the hay.
Wear a Hat Outside
We know the fear of hat hair in the winter months is real. However, trust us, the threat of dried-out tresses that have been zapped of all moisture is much worse! Keeping your locks protected beneath a cute knitted beanie, a chic beret, or a stylish wide brim fedora (or something similar) is essential for good winter hair maintenance.
Now, we know what you're thinking. Won't wearing a thick or heavy hat pull on my hair or cause it to dry out more? The answer is no. As long as you choose a hat that's not too tight and is made from soft materials that don't rub against your hair causing excessive friction, that won't be an issue.
Also, give your hair a break and your scalp a chance to breathe when you're inside by removing your hat when you get home. You can also top up any lost moisture from the day by using a couple of pumps of our Caster Oil Hair Serum. It's designed to strengthen and renew the feel of the hair.
Finally, and we can't stress this one enough, keep your hat clean! Since it's an accessory you grab on your way out of the front door, it's easy to forget about when you're doing the laundry. However, try your hardest not to. If your hat is dirty from being worn constantly outdoors, being accidentally dropped on the floor, and getting wet and drying out on and off all winter long, it can become a breeding ground for germs pretty quickly. Not good for winter hair maintenance. Throw it in with your sweaters on laundry day so that doesn't happen.
Don't Wash Your Hair More Than Usual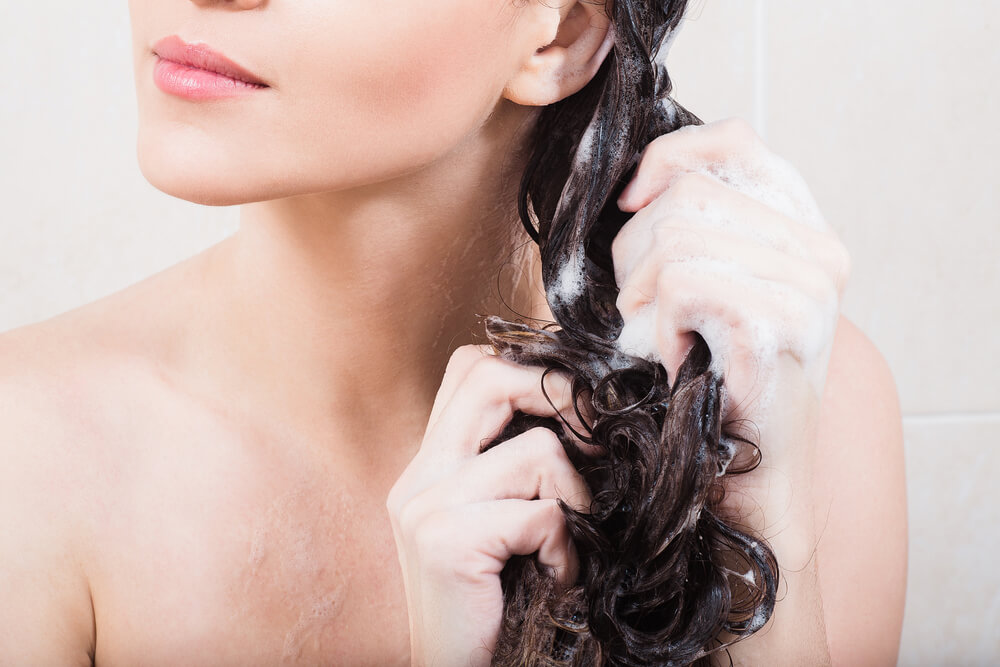 Since our hair is constantly getting rained on, snowed on, and generally blown around in the harsh winter winds at this time of year, it stands to reason that we might want to wash it more frequently to keep it looking presentable. Generally, when it comes to good winter hair maintenance, we would suggest not doing this unless you have to.
Why?
It's incredibly drying for your locks!
Every time you wash your hair, you strip it of its natural oils. Plus, the warm water in your shower dehydrates your scalp. Whilst this is normal practice and your hair can cope with it sporadically, if you increase the number of times you sud up your strands, your hair will begin to fight back. It'll be even dryer than ever. The oils won't have the chance to work their way back into your hair. Plus, if your scalp becomes too dry, that's when we start to see flaky skin developing.
Also, lower the temperature of the water to lukewarm if you can. This will be so much kinder to your hair!
Now, instead of washing your hair more, we suggest either styling your locks into an updo for the day so it's out of your face and still looking beautiful. Alternatively, spritz your roots with a little dry shampoo. This will temporarily soak up oily patches. It will also give your hair its freshly washed volume back in a flash. Perfect for winter workdays and weekend plans!
Handle Your Hair With Care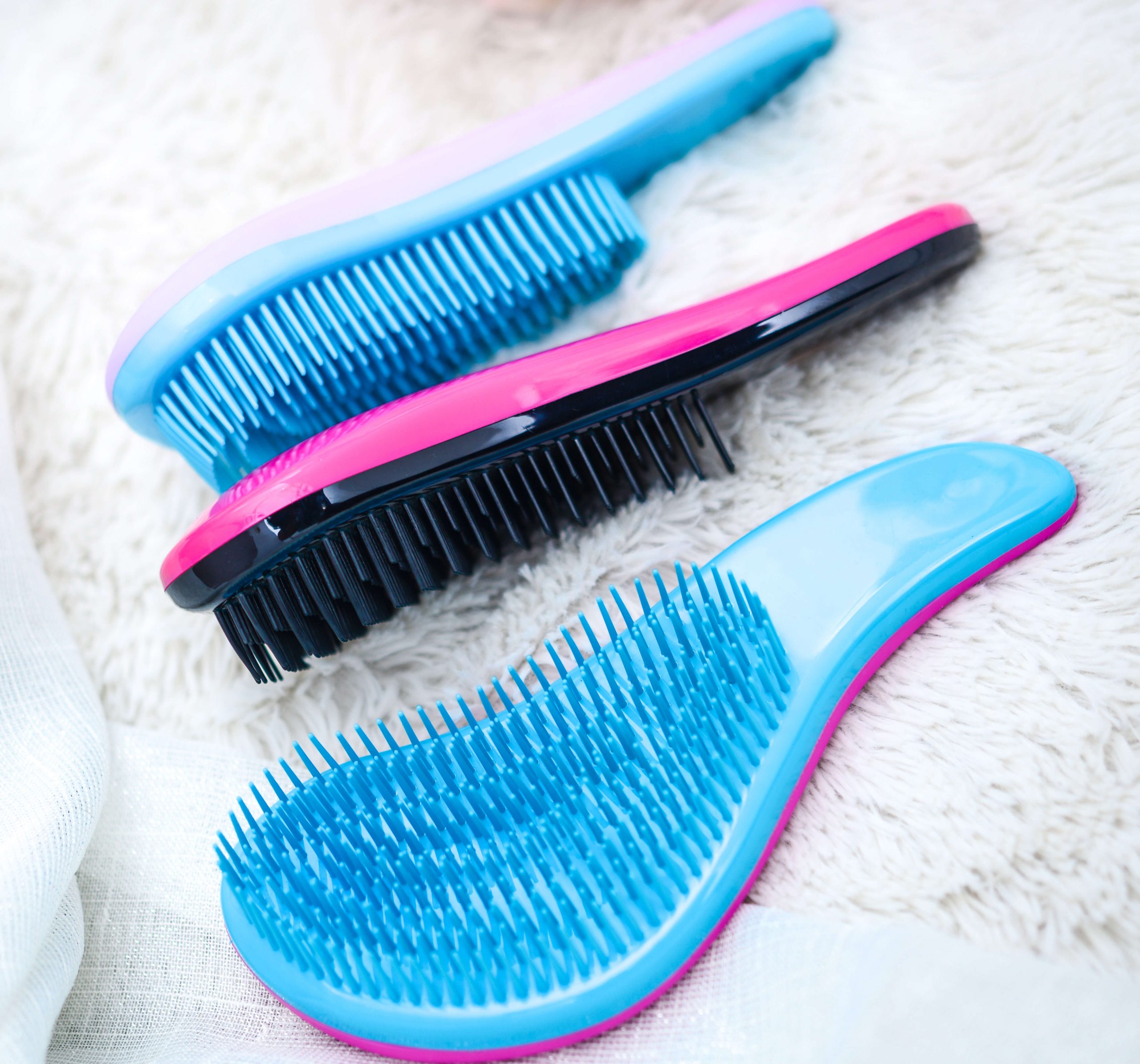 If your locks are feeling a little fragile this winter, the last thing they need is you pulling on them repeatedly with a tough hairbrush or a thin tooth comb to get the tangles out. This action can put huge stress on your strands and can even stretch them completely out of shape when they're wet. You even risk damaging the ends or breaking them off you if you go in too roughly with your hairbrush after a shower.
To stop this from happening altogether, you first need to apply the method of brushing from tip to root. It may be tempting to simply drag your brush down the hair to pull the knots free but it's unkind to your hair. It also won't save you time in your winter hair maintenance routine.
Instead, gently part your hair and separate it into two even halves. Hold your ends tight in your hand and gently brush them out with your Vivid Detangler Paddle Brush or the palm-friendly De-Tangle brush. Start here, and slowly work your way up the hair, continuing to hold the hair tightly in your hand above the area you're brushing. This will stop the hair from pulling on your scalp. This means it'll protect your tresses and prevent them from hurting as we all know they can! 
Trust us, this technique is much quicker than regular brushing. Your hair will feel so much healthier for it.
Lower Your Heat Settings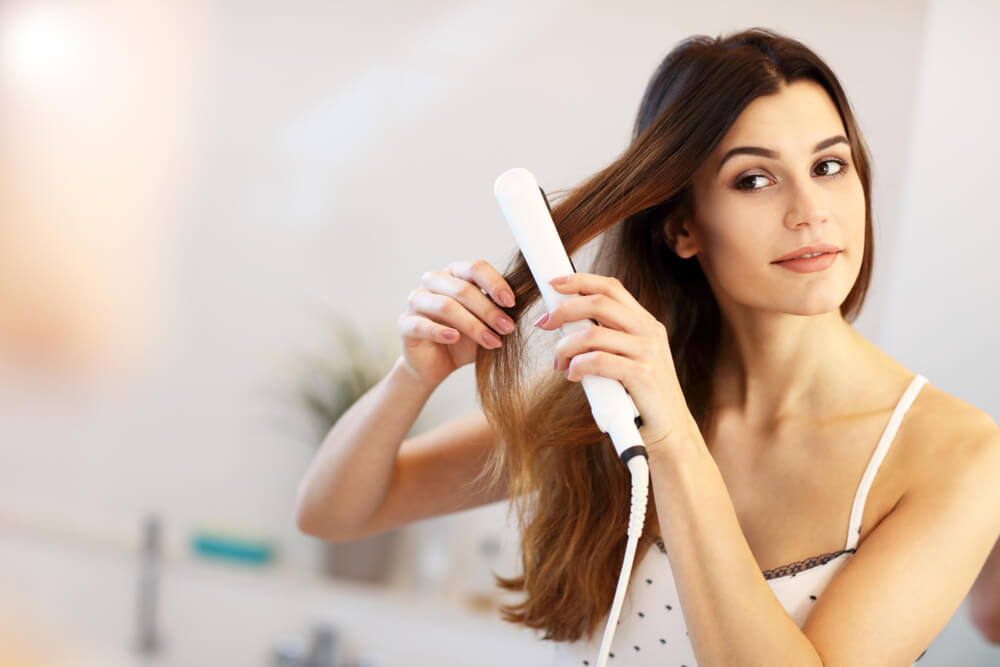 Since air-drying our hair when it's zero degrees is out of the question, a good habit to get into when you're blow-drying yours is lowering the heat setting. Your hair will still dry off way faster than if you leave it to dry on its own. However, it won't get so hot and dehydrated that it looks frazzled and frizzy!
We also recommend you do the same with any heat styling tools you plan on using this winter. Luckily, many of our heat tools come with adjustable temperature dials, like our LED Pro Luxe dryer and Forever Black flat iron.
Go for the Chop
Whilst there's no denying that winter can be busy with the holidays to think of, try not to forget your trips to the salon for a trim. These trims will rid your precious locks of dead ends that have been rubbing against coats, scarves, and hats for weeks. It will restore your tresses to their former healthy-looking glory.
In between trips to the salon, use our Complete Oil Hair Care Set, or commit to weekly hair masks with our Argan Oil Hair Mask. These products will focus on the ends, keep any dryness at bay, and will leave your hair feeling softer and more pampered than ever before.
Feel like pushing that salon appointment back a week?
We don't blame you!
Never leave the House with Wet Hair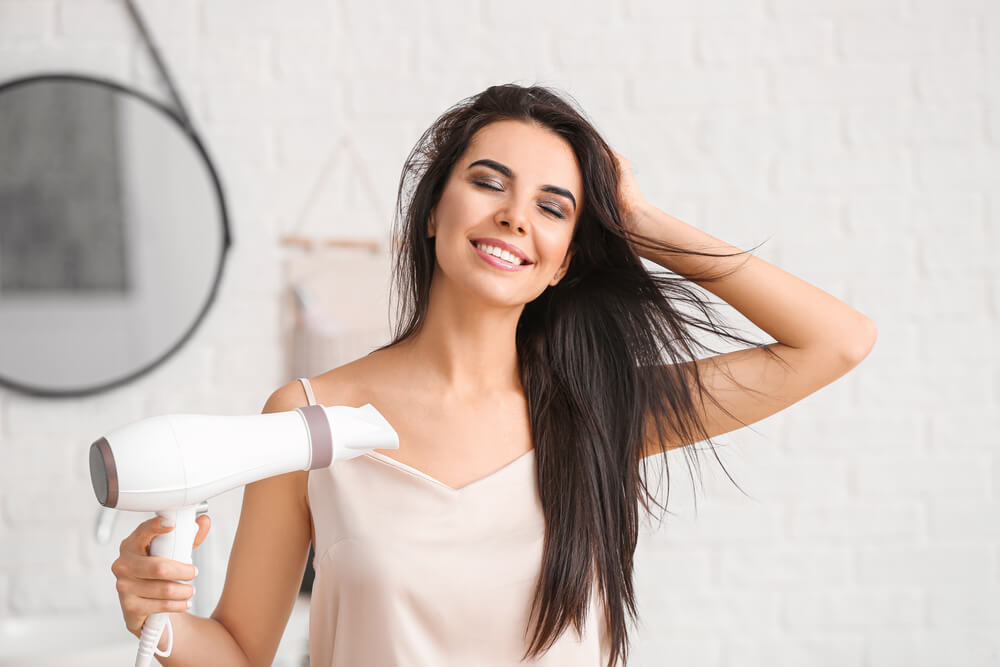 Whilst we doubt this is something you'd be doing regularly (who could stand it?!), we want to stress that leaving the house with wet or even damp hair in the winter is never a good idea.
You see, our hair is made up of proteins called keratins. These sit inside protective barriers called cuticles. When your hair is wet, the cuticle is more sensitive. This means it's not able to protect the keratins quite as well. So, if you leave the house with damp tresses and they get pulled about, stuck on hoods, wedged into hats, and tangled up in scarves, you can see how your vulnerable hair could end up very unhappy.
Therefore, always make sure you're leaving enough time to get your hair dry before you step out. If that's not possible in the mornings, we highly recommend waiting to wash your hair until you have just a little more time to get it washed, conditioned, and thoroughly dry. Your locks will thank you for it!
Are you and your hair now ready to take on the winter chill with ease? We hope HerStyler's tips have you filled with confidence about just how shiny and healthy your hair is going to look this holiday season!
---