HerStyler's Favorite Hairstyles of 2021
We've seen so many truly incredible hairstyles this year, it's hard to narrow it down to our favorites. From sleek and straight looks that work perfectly from day to night, to statement curly styles you can elevate with accessories for every special occasion on your calendar. The ones we've chosen are the quintessential hairstyles 2021 had to offer and we can't wait to reveal them to you. Alongside a few handy tips on how to get the looks yourself, of course!
Ready?
Let's dive in!
Luscious Long Loose Curls
One of the easiest and prettiest hairstyles 2021 had to offer was classic loose curls. Perhaps it came from a more relaxed way of life due to spending more time inside over the past couple of years. Or, maybe there's now a desire to spend less time on our hair and more time with loved ones. However it came about, HerStyler is so glad it did. Why? Because it takes very little time to create but looks absolutely beautiful. Plus, it lasts for days!
Although this is certainly a hairstyle that looks incredible on those with long hair, don't be put off if your hair is on the shorter side. It'll look just as amazing, not to mention incredibly cute, on shorter locks too. 
Tips for Creating Long Loose Curls
The key is to only curl the hair with your favorite curler for 3-5 seconds instead of the usual 8-10
Also, rather than holding it in place as you usually would or clipping it until it cools to get a curl that's super sleek and defined, you can go ahead and let these curls fall as soon as you release them from your curling wand.

This will create softer-looking curls that are more similar to waves than ringlets

Finally, don't worry about brushing these curls out. This may cause them to drop quickly

Instead, simply spritz them with a little of the HerStyler

Perfect Hold Hair Spray

, and enjoy!
A Beautiful Boho Braid
Many of the hairstyles 2021 showcased had us feeling excited to embrace a laid-back bohemian style that works no matter the season or the occasion. Just one of them was, of course, an enchanting long boho-style braid. 
What we love about this style is not only that it gives off the most perfect smart/casual vibes, but also that it suits us whether we're heading to the office or meeting up with friends and family for our weekend plans. 
Yet another great thing? 
It couldn't be more simple to create!
Tips for Creating a Boho Braid
Start with clean dry hair.

D

on't worry if it's straight, wavy, or curly. Going with your natural hairstyle and texture is what's important here!
Next, you'll want to make sure your hair is free of tangles. Otherwise, you'll find it tricky to braid your hair. You will end up pulling on and stressing out your hair as you style it

Gather all of the hair over one shoulder. Start your braid from a few inches below the ear to get that loose, relaxed vibe

Braid your hair and stop a good few inches before the ends

Fasten your braid in place with a clear elastic

Pull pieces of hair loose at the front to frame your face and make the style look lived in

If you have layers and they're falling loose, embrace them. This look works perfectly for this style. However, if you have a few too many and the whole braid is coming loose, simply twist these pieces back and secure them discreetly in place with a bobby pin
You could even finish this look off with a silk scarf or ribbon tied around the elastic for a truly bohemian look!
Stylish Symmetrical Clips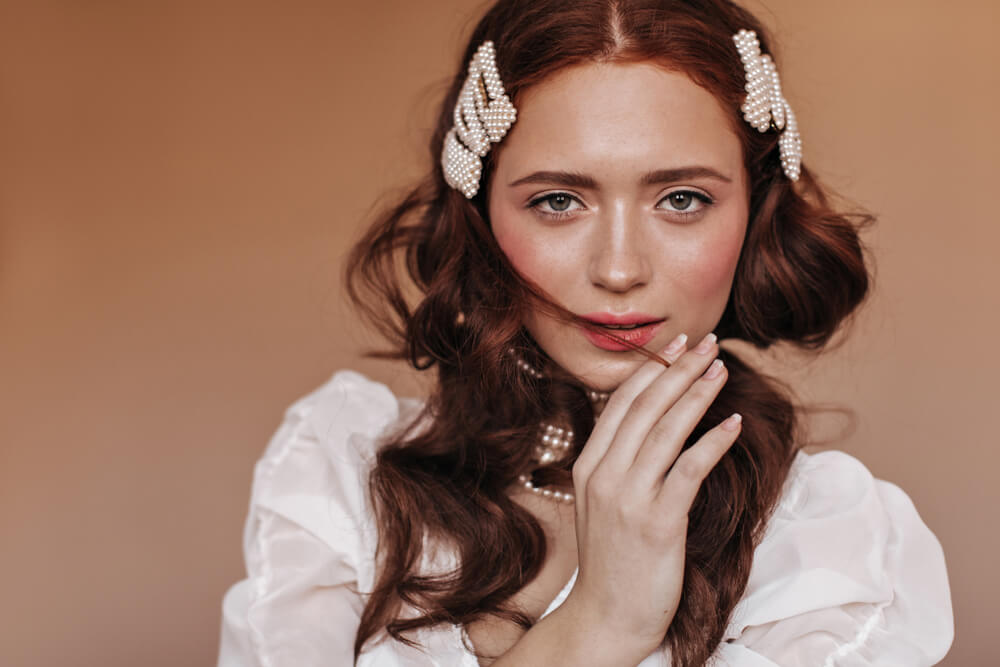 If you're looking for classic hairstyles 2021 made feel brand new, look no further than this stunning layered hair clips style. This one's for anybody who misses the days where no amount of accessories were considered too many and who love to make a statement with their hair. 
Tips for Creating a Symmetrical Hair Clip Look
This style will work whether your hair is straight, wavy, or curly. However, HerStyler recommends opting for a center parting to get that classic symmetry

From here, it's a simple task of layering up your clips on both sides to gently hold back the hair

If you're wondering about positioning, a good rule of thumb is to start in line with your eyes and work your way up
Opt for all the same clips to create a more chic and streamlined evening look. Alternatively, use all different colored clips with various adornments for something more unique and playful!
We love this hairstyle with pearl-adorned clips for a romantic evening look. It's simply perfect for dinner and drinks or attending an elegant event too.
A Loose & Laid-Back Ballet Bun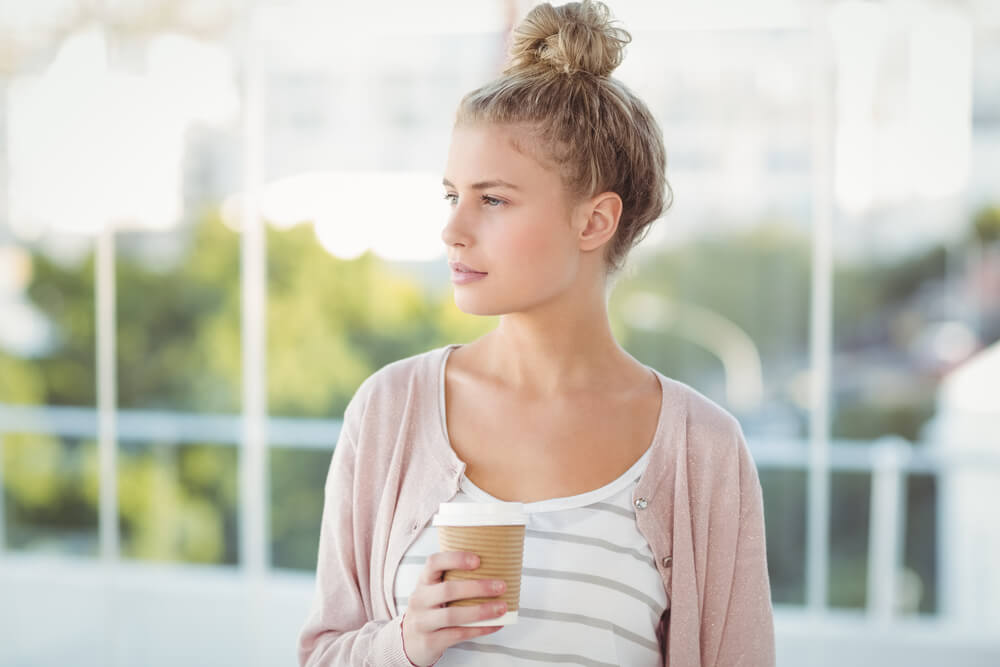 So many of the hairstyles 2021 brought us are perfect for every day. They're special enough we feel like we've made an effort yet they take mere minutes to achieve and look super pretty all day long.
One such look?
The classic yet casual ballet bun of course!
We adore how versatile this style is. You can brush the hair back and secure it a little more neatly for a day at the office, or, simply use your fingers to pull all of the hair on top of your head for running errands or heading to the gym. You'll look effortlessly stylish either way!
Tips for Creating a Loose Ballet Bun
This is one of the simplest looks on our list and will take you just a couple of minutes to achieve 

Start with clean dry hair, and choose how neat or casual you want your bun to be

For chicer, more intentionally styled looks, use a comb or brush to neatly pull all of the hair back, up, and away from your face

Alternatively, if you want something more laid-back, just use your fingers or flip your head over and gather the hair for a similar effect

From here, simply start twisting the hair until you can wrap it around itself in a bun shape

Secure it in place with a clear elastic. Then, add an accessory, such as a scarf or barrette, if you want to make it more decorative!
A Chic Parisian Style Bob
This exquisite Parisian style bob has to be one of the chicest hairstyles 2021 championed. This is a great cut to choose if you usually have longer hair and are looking to mix things up, or, even if you usually wear your hair short and fancy something a little more impactful and chic. 
We also should mention that if you've always wanted to try bangs, choosing this haircut is the perfect time to give them a go.
Tips for Creating a Parisian Style Bob
Firstly, this is not a haircut we recommend trying to achieve on your own! Trimming longer lengths and sometimes even your bangs at home can feel like a necessity, but this one is one cut you'd be very lucky to get right all by yourself!

Book in with your stylist and speak to them about the look you want (with or without bangs etc). Discuss with them how they might be able to create this look with the natural texture of your hair
Whilst it can look great on straight hair, we particularly recommend this one for those with wavy or curly hair. This will lend a natural texture and volume to the look!
A Pretty Ponytail with a Headband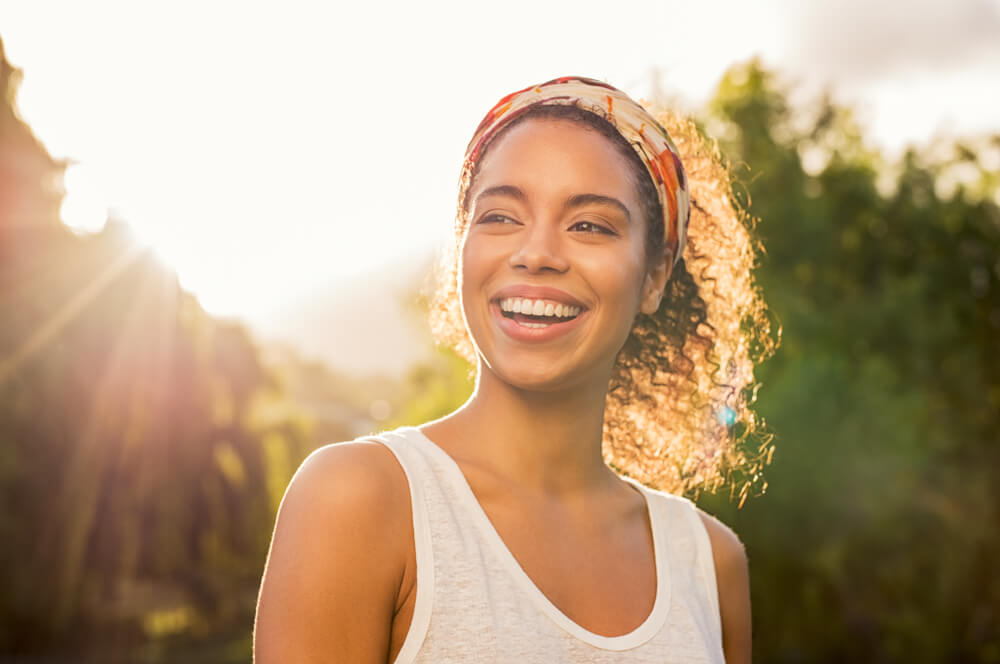 Few accessories add to a style in the way that headbands/scarves do. What's more, there are so many beautiful ways to wear them that your options feel truly endless once you add them to your collection. Style them around your head with your hair all down, wear them into a low bun, or even plait them (scarves) into a braid. We just can't stop looking for ways to include them in our daily hair routines.
One of the prettiest hairstyles 2021 seemed to show us everywhere we went?
A cute ponytail and headscarf combination!
Tips for Creating a Ponytail with a Headband
One of the many reasons we love this look is that it works perfectly whether your hair is looking super sleek and straight, full of bouncy curls, or somewhere in between. So, don't worry about changing the finish of your hair to accommodate this hairstyle

Next, decide how high/low you'd like your ponytail to be. Then, style it as you usually would

Once you have it secured, go ahead and slip on your headband of choice

Finally, we suggest pulling a few small pieces of hair free at the front. This will give your overall look a little more shape and style, rather than it looking overly neat or playground-Esque.
A Super Chic Lob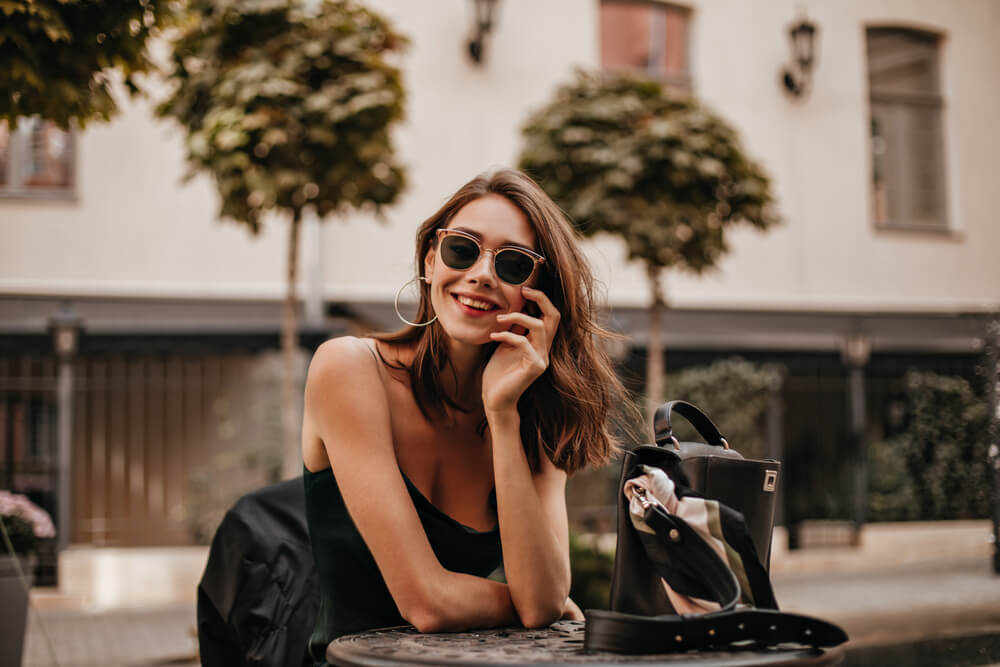 Since we've already covered one of the best short hairstyles 2021 has to offer, we just couldn't resist another. The lob is without a doubt one of the prettiest and most versatile haircuts you could ever wish to get. We can't ever see a day we won't be smitten with it. 
After all, this perfect cut means you have plenty of length to play with when it comes to styling your locks into various up-dos. It also gives you the freedom to wear your hair all down in warmer weather without feeling overwhelmed by the volume of your hair or like you need to tie it up. 
If all of this wasn't enough, the lob suits literally everyone. It's guaranteed to make you feel like your most stylish self!
Tips for Creating a Chic Lob
Once you reach your salon appointment, speak to your stylist about the natural texture of your hair.

For example, if it's naturally quite curly but that day you're wearing it straight, make sure they know how you prefer to wear it so they can create the correct length for you
Once you have your new lob look, don't be afraid to try new styles with it. It'll look super chic with straight hair, cool and casual with waves, or full of life and a touch of glamor with elegant barrel curls!
A Sleek Low Ponytail with a Scarf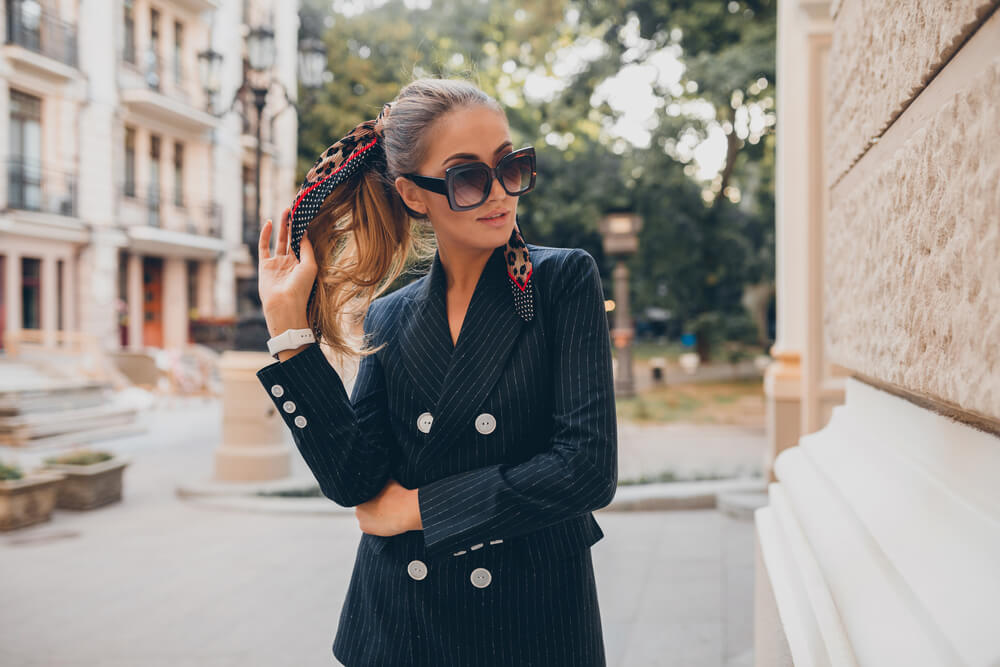 When it comes to the hairstyles 2021 has had us head over heels for, a chic low ponytail complete with the addition of a stylish silk scarf remains high on our list. We adore this hairstyle for everything from workdays to special events. We always feel incredibly stylish and put together every time we've worn it. 
The beauty is too that you can match your scarves to your look by color coordinating the shade of scarf you wear or picking out a complimentary print. For example, choose cute pastels and gingham prints to compliment a summer ensemble. Or, opt for fall florals and classic polka dot prints to mix things up in fall and winter.
Tips for Creating a Sleek Low Ponytail with a Scarf
For this particular look, you'll want to make sure you're creating a neat and tidy parting for your ponytail. Alternatively, opt for no parting at all and sleek all of the hair back. Use a brush or a comb to do this. Just make sure you're not pulling super hard. This can make the hair look flat and stretched rather than sleek.

Once you've secured the ponytail in place, go ahead and select the scarf you'll be dressing it up with

Finally, choose how you want to tie it. Our favorite looks include tying it once then creating a bow at the top of the ponytail. Or, tie it in reverse so that the tails of your scarf hang down below the ponytail. This option will also add volume and swish to the ponytail itself. 
Which look is your favorite? Will it become a new go-to within your hairstyling repertoire? Thanks to the incredible hairstyles 2021 has offered us so far, there's certainly plenty to choose from!
---