5 Ways to Use Your HerStyler Hair Serum
From never leaving home without it to never having used it at all, no matter your past relationship with the wonder that is the HerStyler hair serum, we're about to tell you exactly how and why you should be using it in your weekly haircare routine. And trust us, once you begin following HerStyler's handy tips for sleeker, softer, healthier-looking hair, you'll wonder how you or your luscious locks ever lived without it!
Which HerStyler Hair Serum is Right for You?
Now, before you jump into our HerStyler hair serum tips to live by, you'll need to discover which HerStyler hair serum is right for you. To help you learn more about each of the serums we offer, which ingredients they contain, and what they do, we've listed all four below along with handy descriptions and all the best benefits…
HerStyler Argan Oil Hair Serum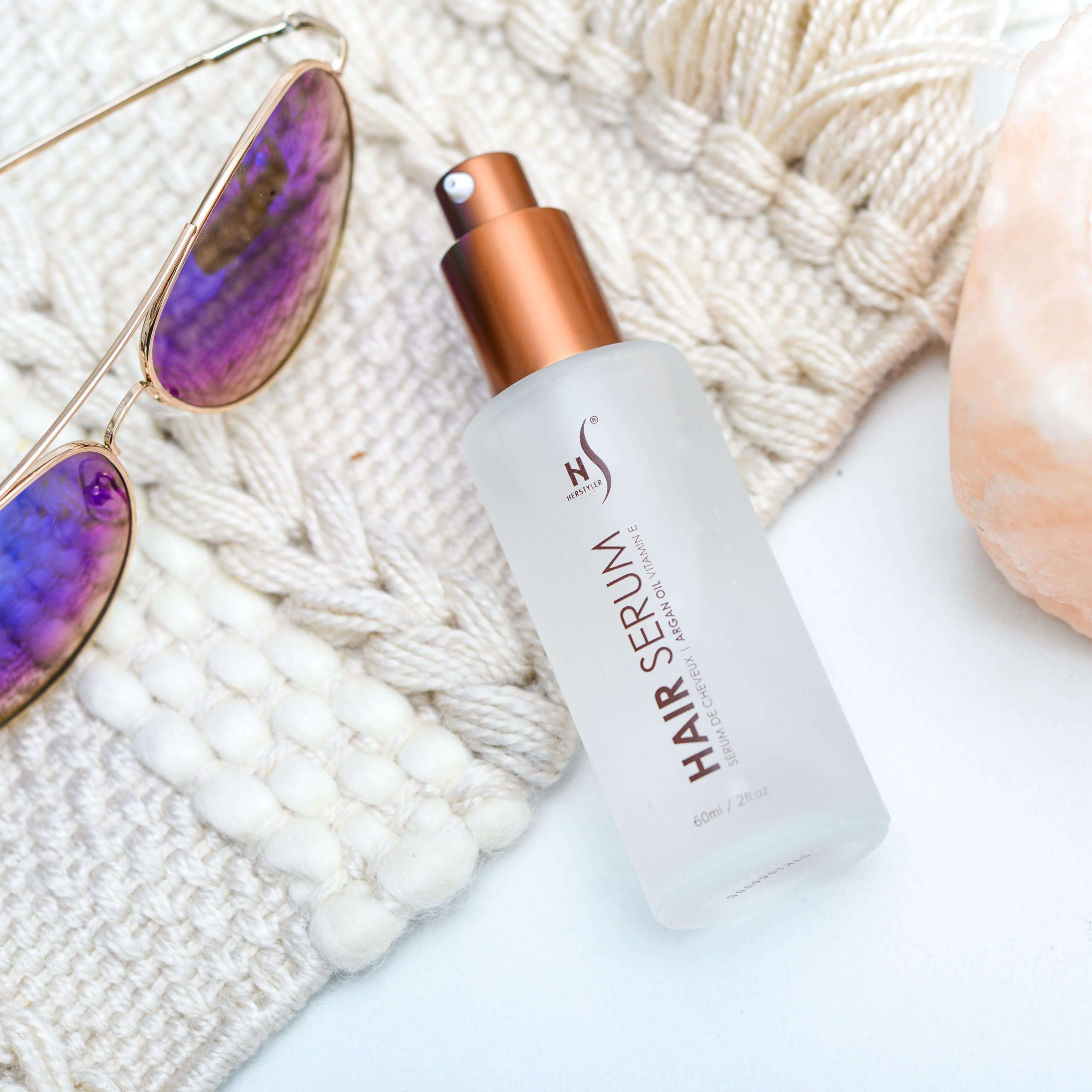 Made with Argan Oil and Provitamin E, this formula promotes hair that looks and feels healthier and shinier.
Additionally, this dreamy argan serum helps to eliminate the appearance of frizz or wiry hair that feels dry and unmanageable. A few drops of this serum will leave your hair looking and feeling much easier to tame, as well as smoother and shinier.
 Herstyler Caster Oil Hair Serum – Strengthen and Renew
Next up, the Castor Oil HerStyler Hair Serum. Designed to help restore the look and feel of your hair's natural shine, this serum is a must for anyone wanting their hair to look its best no matter the season.
Made, as you'd imagine, with castor oil, vitamins, and aloe vera extract, slicking this dreamy formula through your lengths will leave them feeling soothed and soft.
Also, we highly recommend this serum for protecting the look and feel of your hair against damage from heat styling and environmental factors. Especially at this time of year when the weather is harsher and we're used to consistently blow drying and heat styling our locks. The result? Glossier-looking hair that'll make you feel like you've just got back from a trip to the salon!
HerStyler Marula Hair Nourishing Serum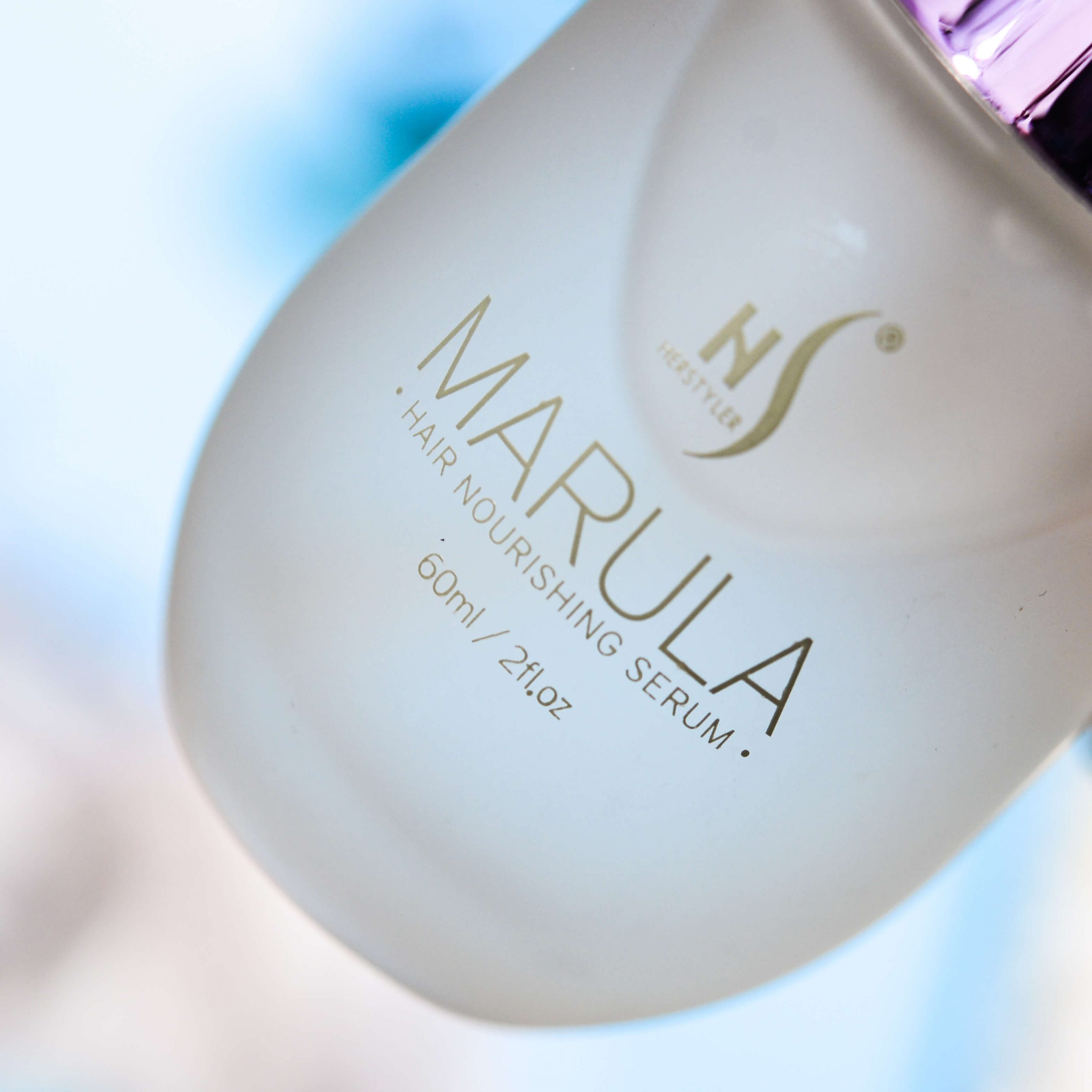 When you need a hair serum that'll slot right into your purse so you can use it on the go, look to the HerStyler Maruka Hair Nourishing Serum. This salon-quality formula is designed to renew the look of your hair and stop it from feeling dull or frizzy. Perfect for winter weather when the wind, rain, sleet, and snow are constantly wreaking havoc on your hair!
Additionally, after use, your locks will always feel super soft, and way more manageable than before. 
How?
We're so glad you asked!
With this HerStyler hair serum, it's all about the Marula oil! Marula oil absorbs easily into your hair and, unlike many other products out there, it won't leave your tresses feeling greasy or heavy with residue. Instead, you'll experience smoother, shinier, more radiant-looking locks that give you that just-styled feeling you get after a hair appointment. 
HerStyler VitaOil Biotin Hair Serum
Last, but by no means least, is the VitaOil Biotin Hair Serum. Everything about this serum makes it a must-have for your haircare kit.
Firstly, it'll help to combat the look and feel of brittle hair, something that anyone with dry locks knows is absolutely essential for keeping your tresses looking sleek at all times.
Secondly, it's infused with biotin and vitamin E. Together, they'll keep your hair feeling protected against harmful external factors, such as sub-zero temperatures and sun exposure. That also means that you can use it all year round!
Much like the other HerStyler hair serum products on our list, this one promotes a healthy, glossy shine and can even help your hair to look and feel stronger to help prevent the appearance of breakage and split ends. 
5 Ways to Use Your HerStyler Hair Serum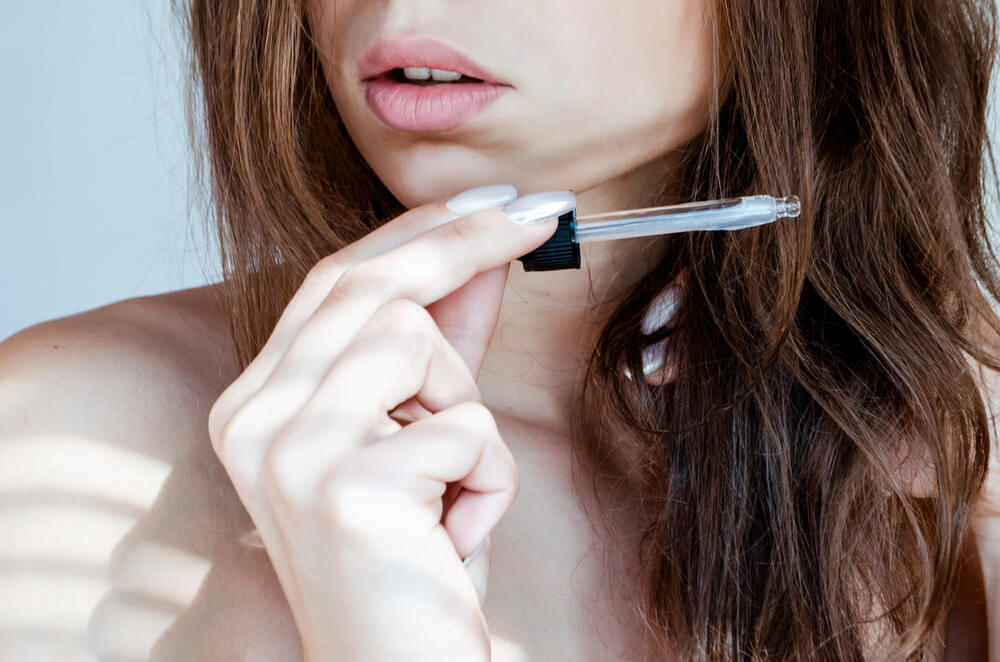 Now that you've picked your favorite HerStyler hair serum from the list above, here are 5 ways in which you can use it: 
To Combat Bad Weather Conditions
No matter the time of year, it seems we always have some sort of negative weather condition to contend with when trying to keep our hair feeling healthy and silky smooth. Now that winter is well on the way, that would be the harsh winds, torrential downpours, and even snow. Not to mention, putting the heat on inside your home, your office, or even your car to counteract the sub-zero temperatures can leave your tresses feeling dried out and drab. 
Luckily, with our trusty HerStyler hair serum, we can combat all of these problems. Just a couple of drops of a hair serum smoothed onto wet or dry hair can help to retain the moisture your hair needs to stay looking and feeling healthy. What's more, it's a step that won't take up too much time once you add it to your haircare routine. Applying a serum takes literally seconds but will keep your hair feeling in tip-top condition all day long! 
To Make Your Hair Easier to De-Tangle
No matter whether your hair is long, short, thick, fine, curly, straight, or some combination of the above, we've all had to deal with stubborn tangles before. For some of us, the problem occurs when we've just stepped out of the shower and need to de-tangle our hair before blow drying and styling. For others, their hair becomes knotted up throughout the day. It requires constant brushing, combing, or running through with your fingers to stop it from becoming a big ball of knots by the evening. 
Fortunately, as you might have guessed, a HerStyler hair serum can help to stop this from happening.
Firstly, if you make sure to start including a HerStyler hair serum in your haircare routine just after your shower when your hair is wet, you'll find it's much easy to brush through when the time comes. As always, even though it'll be easier, make sure you're gentle with your hair and only brush/comb it through gently. Start at the ends and make your way slowly up the hair shaft. This will prevent your hair from stretching, or worse, snapping, when it's in its most fragile state.
The second way your HerStyler hair serum can help to combat tangles is to top up your hair with a couple of drops throughout the day. Simply keep your chosen serum handy in your purse. Then, if and when your hair starts to feel dry, brittle, or frizzy, simply treat the ends and mid-lengths with a few drops. Apply the formula to your fingertips and work it gently into your palms to warm it up. Then, gently smooth your locks through your palms to get an even coating.
To Fight Off Visible Damage From Heat
Heat styling isn't the only heat that's damaging your hair and making it necessary for you to introduce HerStyler hair serum into your haircare kit.
First of all, when the weather outside is frightful (like it is right now!) we naturally use heat to stay warm. We put heat on inside our homes, at the office, in the car, and even your favorite coffee shops are cranking it up to eleven in a bid to stave off the frosty chill. Now, whilst that might be lovely for us, it's the absolute pits for your hair. All this does to your locks is dry them out, causing them to look and feel brittle and frizzy, and sometimes even damaged. Even in summertime, our hair suffers from too much sun exposure, which usually produces similarly drying results.
The other way heat affects our hair? You already know the answer but we'll tell you anyway! Heat styling, of course. We know, we know, when it's minus goodness knows what outside and you've just stepped out of the shower, there's no way you can leave your locks to air dry – you'll freeze! Therefore, we'll all be reaching for our blow dryers a heck of a lot more in the winter months. It's also party season, which means we're usually using our straighteners and curling wands way more too – our poor hair!
The answer? Alongside a good diet and a great haircare routine that does plenty to keep your hair feeling healthy from the inside out, adding a HerStyler hair serum to your locks is a surefire way to keep them feeling soft and smooth. This is especially the case when your hair has been overexposed to heat of any kind. 
To Add Softness and Shine to a Special Hairstyle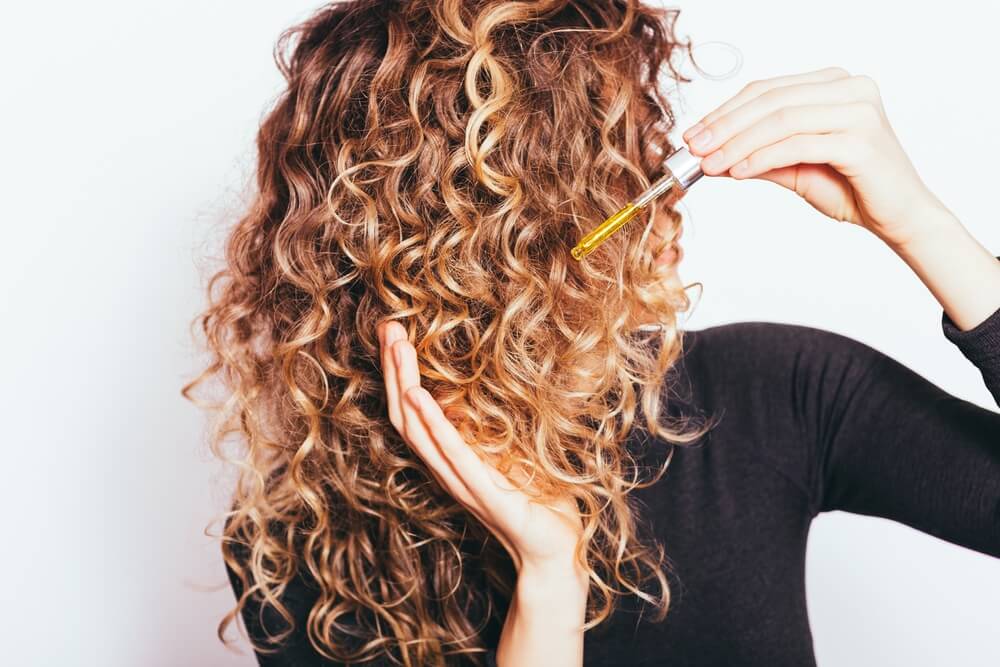 Whether you're looking ahead to your wedding day, trying out a new hairstyle for the festive season, or making your hair look sleek and shiny for date night, whenever you want your hairstyle to truly shine and give off those 'just left the salon chair' vibes, your HerStyler hair serum has your back. 
The easiest way to make sure your serum leaves your hair looking its shiny best is to apply it just after you've blow-dried your locks and before you begin straightening or curling. This way, your hair will already be looking and feeling smooth and shiny before you even begin the more complicated elements of your chosen hair look. The result? Soft-feeling hair that's totally tangle-free and super easy to style. 
You may even find your style lasts longer this way. Alternatively, or in addition to this technique, you can choose to add your hair serum at the end of styling to ensure it dazzles and sparkles under the light. Us? We definitely like to do both! Just make sure you're not over-using your serum and leaving your locks looking weighed down or greasy. Instead, use just a few drops each time to give a soft sheen and a lightweight feel. 
To Control Frizz and Flyaways
Whether you've always had dry frizzy hair or the weather just happens to be particularly drying right now, applying a hair serum to your locks will help to prevent the look and feel of flyaway locks. 
For some, it'll be those pesky strands that seem to always frizz out at the slightest sign of heat, cold, or moisture. For others, it'll be the pieces that stray away from your favorite hairstyle, no matter how hard you work at keeping it looking smooth and sleek. Either way, your HerStyler hair serum is designed to combat these common hair issues. 
Now, you have two options. If you feel your hair doesn't need the added help of hair serum every single day, you don't need to apply it that often. Instead, you can keep the serum with you in your purse, in the car, or even in an office drawer. This way, you can reach for it on demand whenever your locks need an added moisture boost.
The second option is for those that really feel those weather changes, notice that heat styling always has a negative effect, or simply have naturally dry locks that are prone to frizz. If this sounds like you, treat your tresses to the TLC they deserve. Get into the habit of smoothing on a little serum each morning before you leave the house. You'll notice a difference the very first time you use it. As time goes on, things will only get better as your hair absorbs the serum and takes on its soothing qualities!
Summary
So there you have it! All of our most helpful and handy ways for incorporating the HerStyler hair serum into your haircare routine. We hope you've found a newfound confidence in how to manage your hair and that you'll go forward with hair that feels shinier, healthier, softer, and more manageable from now on.
And remember, when it comes to serum ingredients, there are plenty of options available to suit your exact hair needs. Be sure to refer back to our handy guide above so you'll always have the best serum for your locks at any given time!
Click here to check out more bestselling hair care products from HerStyler.
---