The 9 Best Short Hair Styles for Women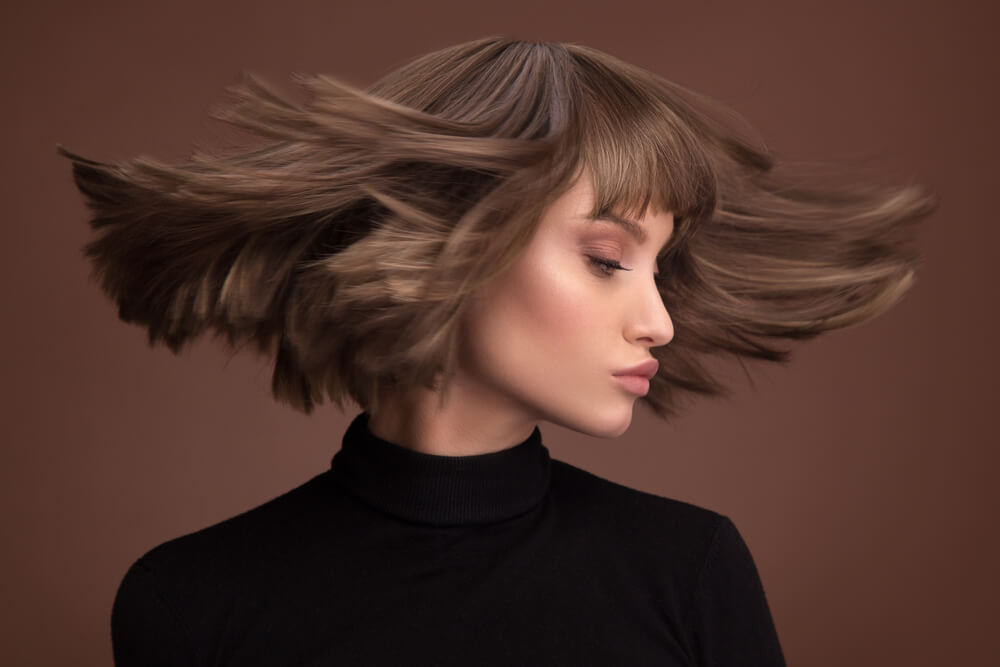 Short hair styles are trending, with more and more women choosing to swap their long and heavy lengths for lighter and shorter styles. If you've been looking for a way to refresh and revive your look in time for the warmer months ahead, read on as HerStyler shares the nine best short hair styles for women.
1. The 90s Cropped Bob
Bobs come in so many different styles, but one that has been making a comeback recently is the 90s-inspired cropped bob. 
Easygoing and extremely wearable, the cropped bob is simple yet chic. It's ideal for people who prefer low-maintenance short hair styles, yet it can still be dressed up for special occasions.
The key to pulling off a cropped bob is to give it a natural, lived-in look. This starts with the cut itself – it shouldn't be too precise. Ideally, you want to leave the salon looking as though you've been rocking this style for weeks, so don't be tempted to get it blow-dried to perfection.
Texture is also vital when it comes to this style. Leave your hair to air dry whenever possible, and scrunch some of the HerStyler Argan Oil Hair Serum through your locks to achieve that next-day look.
2. Glass Hair
You've probably heard of glass skin, but how about glass hair? It didn't take long for this trend to make its move from skincare to hairstyling, and it's now one that can be seen everywhere. From Kim Kardashian to Lucy Hale, celebrities all around the globe have been showing off their sleek and glossy locks, which are always accompanied by a sharp, short cut.
While people with longer locks can give this look a try too, it always works better with short hair styles, such as a bob or a lob. Your hair needs to be cut straight and sleek, with no angles. A center part is also the best way to highlight the edginess of this style.
Wondering how to actually achieve that high-shine look once your hair has been cut to perfection?
Start by applying some of HerStyler's VitaOil Biotin Serum to your hair while it's damp. Then, blow dry your hair straight. Use a hair dryer that has been fitted with negative ion technology, such as HerStyler's LED Pro Luxe Dryer. This will smooth the look of your hair cuticles while your hair is being dried, which will leave you with a sleek and frizz-free finish.
Finally, finish off by running a hair straightener through your locks. Just like our hair dryer, the HerStyler LED Pro Luxe 1.25" Black Straightener also boasts negative ion technology to emphasize your new sleek sheen. It has infrared light technology too, which helps to lock in moisture while giving your hair a fuller and thicker look.
3. The Curly Shag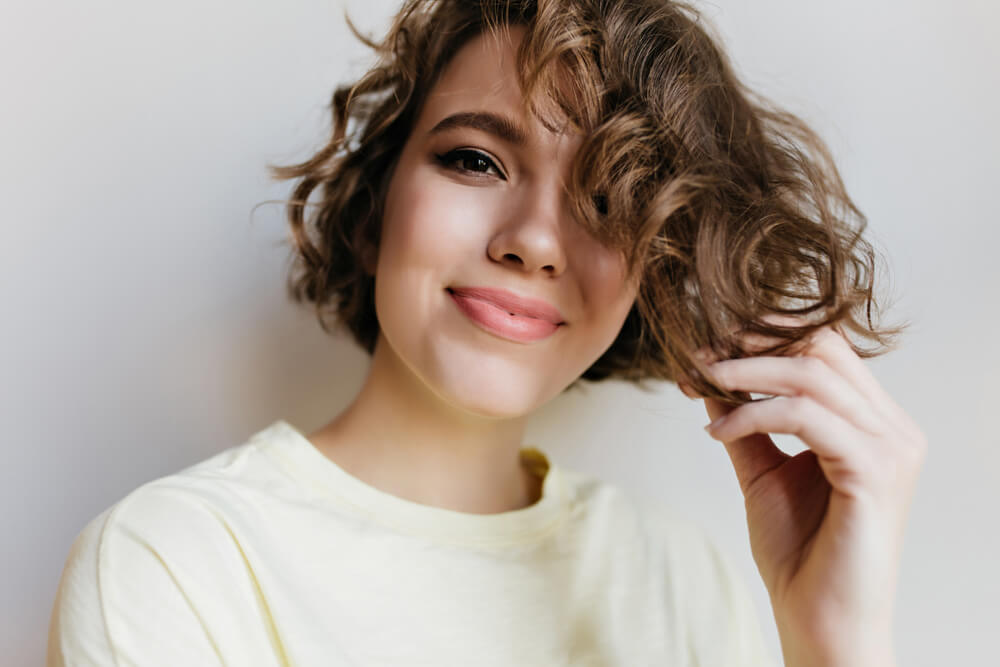 Some of the short hair styles that we're featuring can be difficult to pull off with curly hair. However, the curly shag is one that will embrace your natural texture.
Inspired by the 70s, this style definitely has a rock 'n' roll edge to it. It's full of attitude and personality, making it a go-to for people who want to make a statement with their locks.
The secret to looking stunning in this style is to have your hair cut in a way that enhances your natural curl. Your cut should encompass plenty of soft yet short layers to give your hair plenty of volume and personality.
If your curls aren't looking quite right, use a curling wand to give your locks some extra texture. The HerStyler 3P Curler will do this well thanks to the three barrels that it comes with. The smallest is ideal for tighter and more coiled curls while the larger barrel will give you beautiful bouncy waves. Again, this is another of our heated styling tools that comes with negative ion technology, which will leave your curls looking defined and structured rather than frizzy.
4. The Wolf Cut
Another short hair style that has been making a comeback lately is the wolf cut. Loved by everyone from Miley Cyrus to Billie Eilish, this style brings together two distinct trends; the mullet and the shag. 
In essence, a wolf cut consists of short and choppy layers at the top of the hair combined with longer choppy layers around the sides and the back. It follows the shape and pattern of a classic mullet but brings in the softness of a shag.
Since this is a layered hairstyle, it's extremely versatile. It can be adapted to suit your face shape and your facial features, making it one of those rare short hair styles that can be customized to complement everyone. 
5. Flipped-Out Ends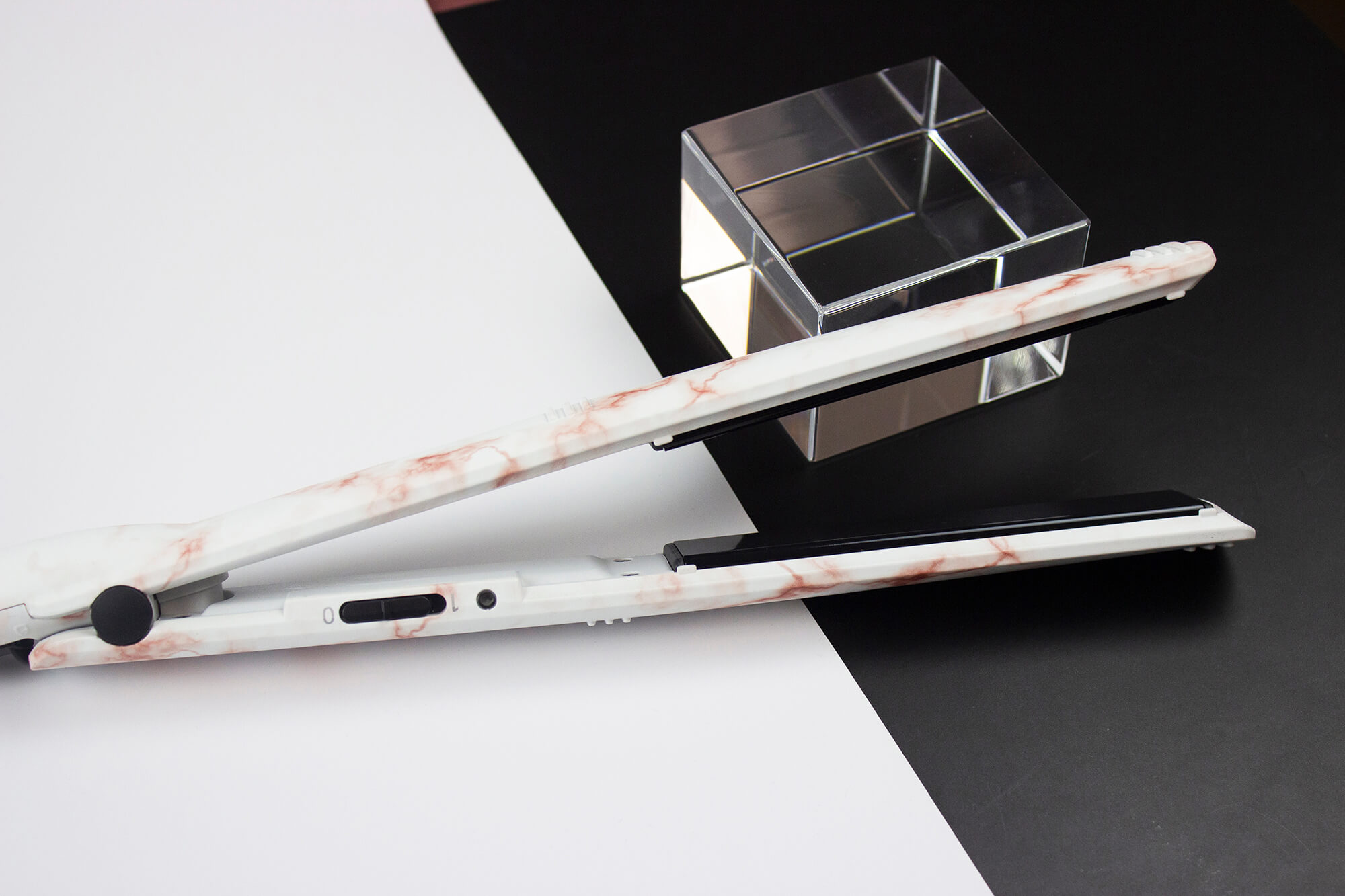 While many of our favorite short hair styles require plenty of layering, this one keeps things single length. Whether you have a bob, a lob, or something in between, flipped-out ends are easy to create and won't require you to fork out for a new cut.
Flipped-out ends can be styled with either a flat iron or a curler. That said, a flat iron tends to be faster and easier. All you need to do is straighten your hair like normal, but tilt your straightener away from your face as you glide it down toward the ends of your hair. This will give you those 70s-inspired flipped-out ends.
Since we're working with short hair, look for a slim straightener. Chunky plates will make it much harder to achieve the definition that you need. If your straightener is on the larger side, swap it out for the HerStyler Blushing Marble Styler. With 1" ceramic plates, this flat iron is exceptionally versatile. Not only will it flip your hair to perfection, but it can also straighten and curl your locks in no time.
6. Curtain Bangs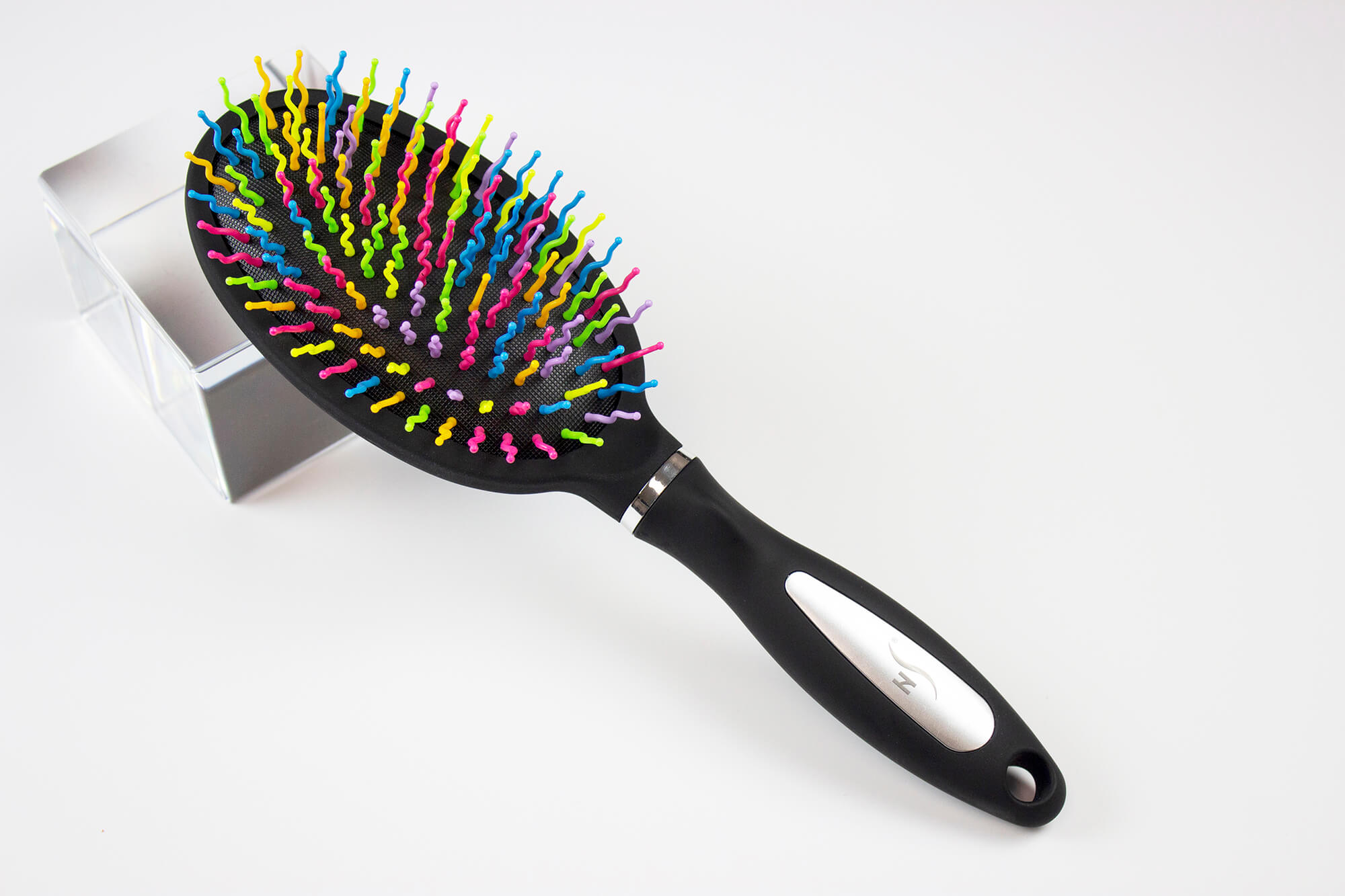 Curtain bangs have been making headlines for a while now, yet they're only continuing to grow in popularity. They beautifully complement most short hair styles, although they look particularly spectacular when paired with a bob or a lob.
They're also ideal for those who want to dip their toes into the world of bangs without going in for a full chop. Even better, they're low-maintenance too. You won't need to have them trimmed as often as you would with shorter bangs. Even if they end up a little longer than intended, they'll still look fabulous.
There are plenty of different ways to style curtain bangs. However, if you're looking for something that does this with true ease, check out HerStyler's Vivid Detangler Paddle Brush. Use this brush while blow drying your curtain bangs and not only will they fall perfectly, but they'll also look smooth and glossy.
7. The Bixie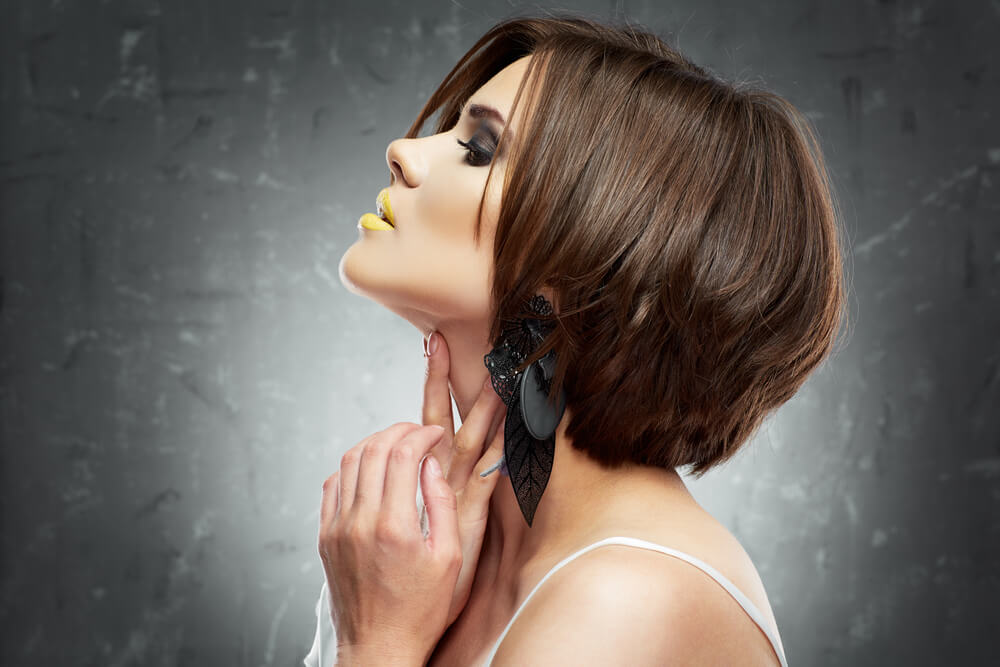 This is another style that combines two classics; the bob and the pixie. If you've been tempted by how edgy a pixie cut is but don't want to give up all of your length, then the Bixie is the solution. It gives you the fullness of a pixie cut but with the face-framing length of a bob. It's very textured and has loads of movement, making it far more interesting and eye-catching than a bob or a pixie would have been on their own.
Bixies can be so varied when it comes to length and style. So, if you're asking your hairstylist to create one for you, it would be a good idea to gather together some images that showcase exactly what you're after. Ideally, you want plenty of layers, as well as lots of texture.
The great thing about a bixie is that, unlike a standard pixie cut, it's much easier to grow out. As it does so, it will turn into a bob, without that awkward transition phase in the middle.
8. The Shattered Bob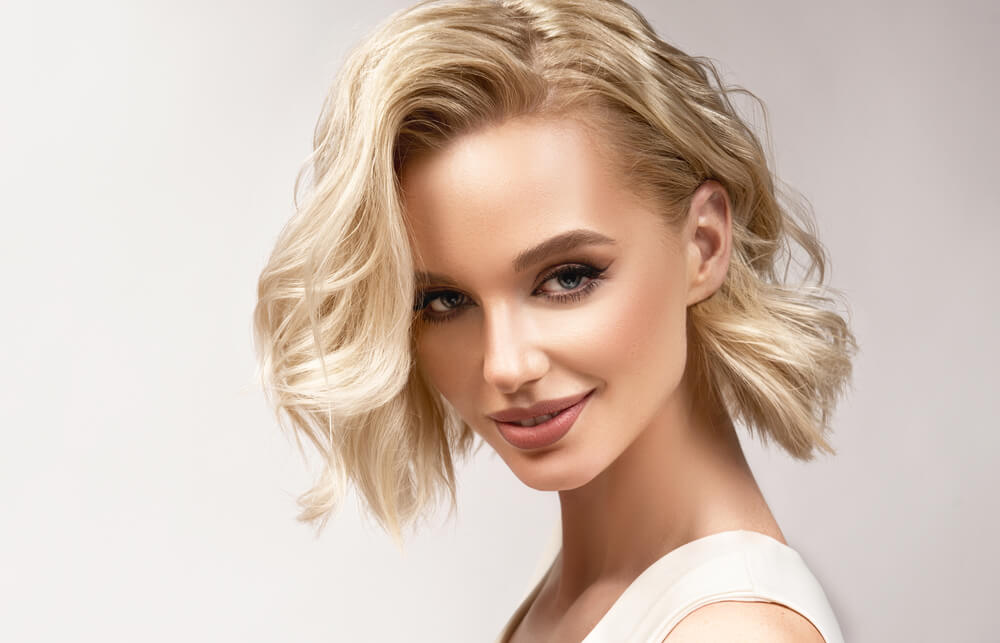 Here's another one of our favorite bob-inspired short hair styles for you to fall in love with; the shattered bob. It may sound a little dramatic, but it's a great way to breathe some life into your short locks.
So, what is a shattered bob? It's simple – it's basically a regular bob but with 'shattered' ends, ie. a highly textured and choppy finish. It's a style that even long-haired gals love, to the point where many choose to style their hair into a faux bob so that they can give this look a try.
To maximize how impactful this look is, you'll need to first get your bob cut to the correct length. Ideally, your hair should fall just below your jawline. After this, your hairstylist will need to section your hair off and snip their way through your ends to create that shattered look.
While we wouldn't recommend this style for people with super curly hair (since it could leave your hair looking frizzier), it's perfect for adding some extra texture and definition to fine or thin hair.
9. Side-Swept Bangs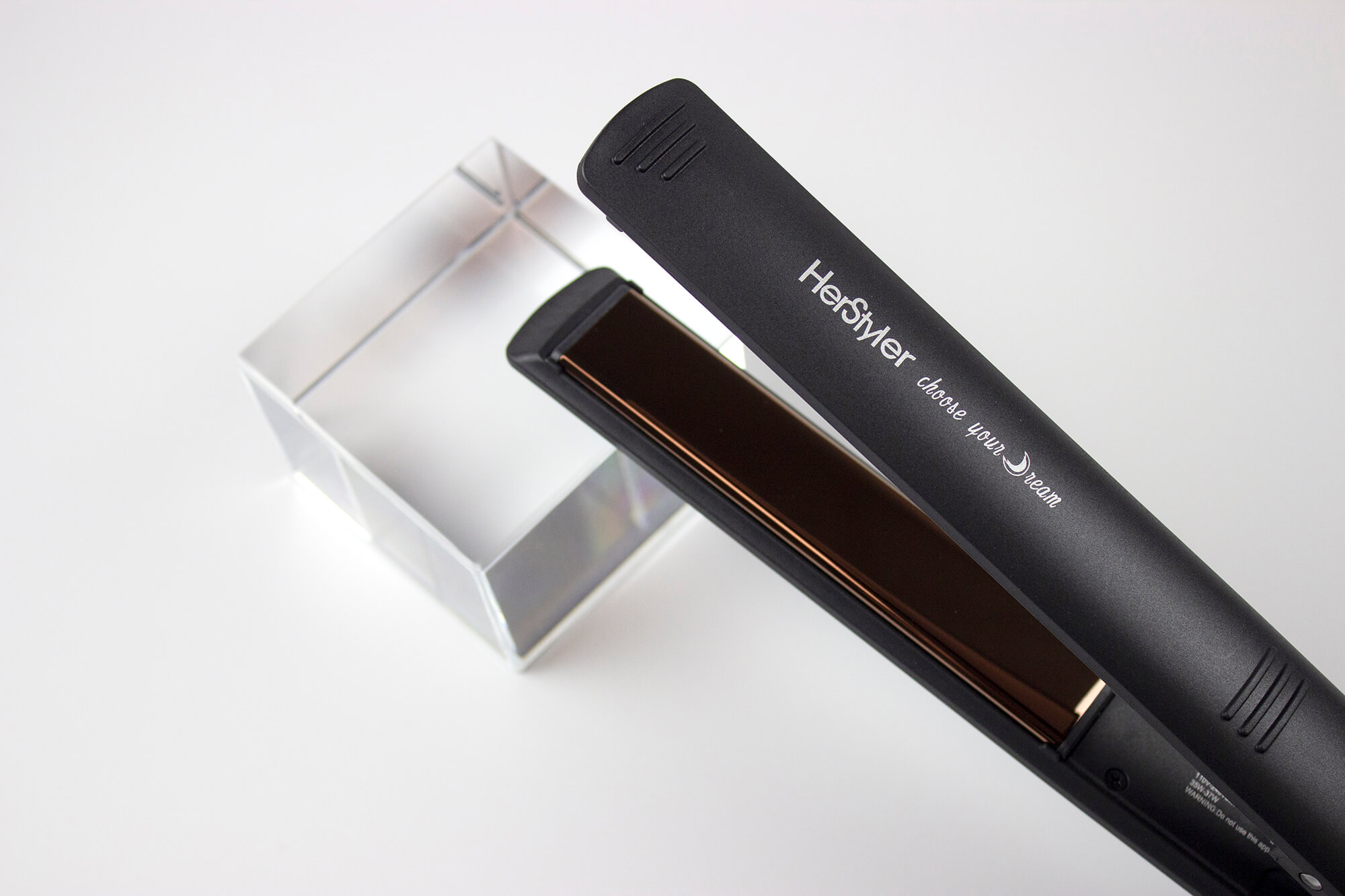 If you're on the hunt for short hair styles that are as dramatic as possible, then side-swept bangs won't let you down. 
This is another older trend that has made a comeback. Popular in the early 2000s, side-swept bangs are now being seen everywhere again. However, there's a difference. This time, the side sweep is much subtler, making it so much more versatile.
The best way to style your bangs so that they sweep to the side perfectly? With the HerStyler Sleek Styler. This titanium hair straightener works beautifully on bangs. With an adjustable temperature control, you'll be able to customize the heat emitted by the flat iron to suit your hair type.
Simply tie your hair back into a ponytail, with your bangs hanging loose. Brush your hair and then, starting with your flat iron on its lowest heat setting, move your flat iron through your bangs. Try to work with all of your hair in one go, rather than sectioning your bangs. As you move your flat iron down through your hair, gently pull it toward one side – this is the side on which your side-swept bangs will fall.
For more volume, clamp your straightener down over your roots for a few seconds before releasing. This should give your bangs the extra lift they need.
Which of These Short Hair Styles Will You Be Trying?
There are so many ways to have fun and get creative with all of the different short hair styles out there. Simply pick a look that best suits your hair type and face shape before gathering some reference images to take to your stylist. Go with one of the styles that we've featured above and you're guaranteed to look absolutely amazing!
Style your short hair to perfection by clicking here to browse HerStyler's bestselling heated styling tools.
---