Have You Tried These 8 Hair Braiding Styles Yet?
When it comes to styling your hair, few techniques boast quite as many style options as braided do! From the simple three-strand braids you've been rocking since first grade to the more sophisticated braided crowns that you'd consider getting married in. HerStyler is about to share all of our fave hair braiding styles. You'll also discover a few tips on how to create some of them for yourself at home.
Double Three Strand Braids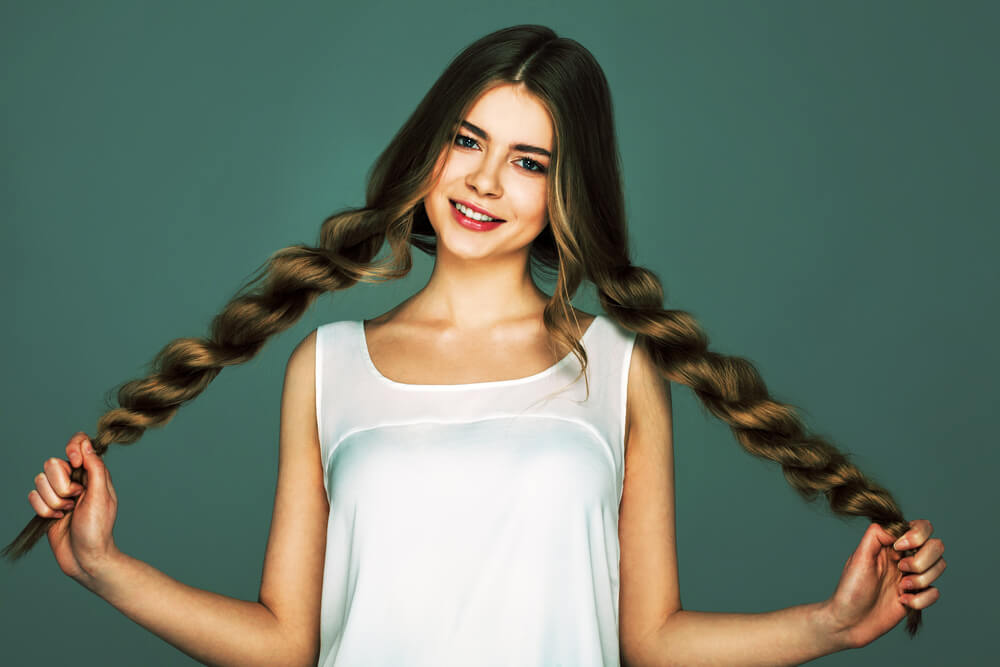 If you're looking for a nice and simple style that takes just a couple of minutes to complete, opt for double three-strand braids. Whether you're a braid expert or you're just starting out, very few hair braiding styles are as easy to get the hang of as this one. What's more, once you've learned how to do it, you have the basics under your belt. This will help you to complete more complicated braids in the future.
Want to try this style for yourself?
We thought so!
Keep reading to learn how!
How To Get Double Three Strand Braids
Unlike a standard braid that incorporates all of the hair at once, this style involves separating your hair into two sections first. 
Begin by either straightening your hair with our Forever Black Classic Flat Iron. Alternatively, add some gentle waves with our Beach Curler to give more shape to your finished style

Set your usual parting at the front. Then, evenly divide your hair from the top of your head down to your neck 

Secure one side with a clip or hairband, and gather the other section ready to braid

Make sure your hair is tangle-free before you begin. This will stop you from pulling on your hair. This can damage the strands and cause your braid to look uneven and messy

Now, part this section of hair into three even pieces. 

Take it in turns to pass the outer two sections over the middle section, holding the braid secure as you go

Remember, each time you pass a section of hair over and into the middle, that piece then becomes your middle piece (it sounds complicated, but once you get going you'll see it really isn't!)

Once you reach roughly an inch or two from the bottom of your hair (or higher if your hair is layered and you can't braid past a certain point without it all falling out!), go ahead and secure the braid in place with a clear hairband or accessory of your choice

Finally, repeat all of these steps on the other side of your hair!
Once you're done, you can either leave the style as it is, or use your fingers to tease the braids out ever so slightly without fully freeing any pieces. This will help your braids to look thicker and fuller. Plus, if you pull a few pieces loose at the front they'll work to frame your face too!
Over the Shoulder Three Strand Braid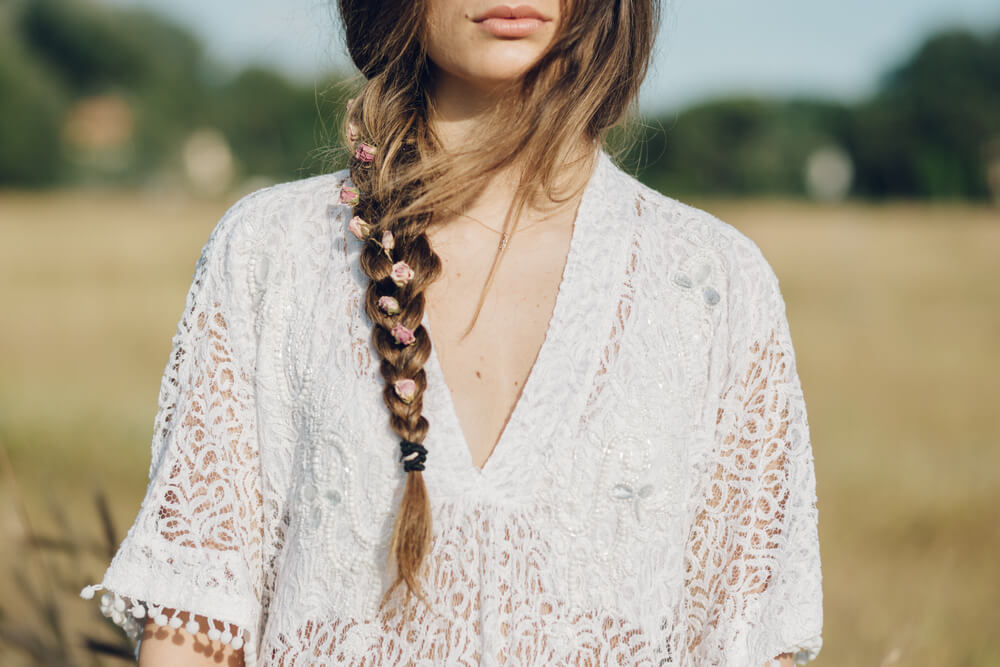 Now that we know how to complete simple three-strand hair braiding styles, there are multiple ways we can use them. From high ponytails with braided ends to simple braided ballet buns, it seems there's a three-strand braid style for every occasion on your calendar. 
One of the simplest yet chicest styles we've seen to date? 
An elegant over-the-shoulder braid of course!
We love this style not only for how quick and easy it is to do but also for how chic it looks. What's more, an over-the-shoulder braid looks just as gorgeous with long hair as it does with mid-length tresses. We'd honestly be just as happy to wear this style to the office as we would to a red carpet event. 
Try this style with straight hair after using your LED Pro Luxe 1.25″ straightener and keep your braid tight for a sleek and professional finish. Alternatively, braid curly or wavy hair loosely once you've created your curls with the 5P Curler, using the barrel size of your choice. Also, let a few strands come loose at the front. This will give you a softer, more natural-looking, style that's perfect for parties, brunch catch-ups, and even dinner dates. 
French Braided Pigtails with Twists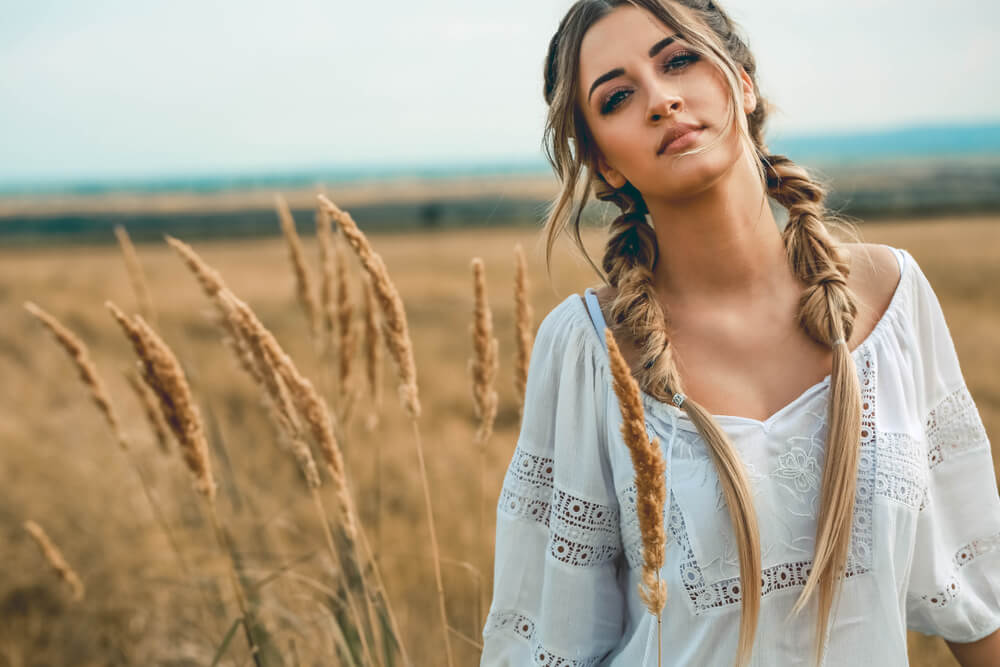 If you've never tried French hair braiding styles before but are desperate to give them a go, don't panic. We'll happily talk you through how to complete the look. And, though we'll explain how you can wear this style in pigtail form, once you understand how this particular braid technique works, you can use your new skill to style one long single braid if you prefer that look!
How to Get French Braided Pigtails with Twists
As with the other pigtail braids on our list, begin this process by dividing your hair into two even sections

Once you have those and you've once again made sure your hair is tangle-free, you'll be ready to begin the braiding itself

Secure one section away. Then, on the section you're working on first, divide a smaller piece of hair away at the front. Start at your hairline and gather all of your hair up to around two inches back

Divide this small section into three. Then, as you did with the three-strand braid, start by wrapping the two outside sections over the middle one at a time. Once you've done that twice, stop there

Before wrapping the next outside piece of hair over the middle one, take a small section of hair from directly behind it, so the section becomes a little thicker
Wrap it over as usual. Keep adding small sections of hair before wrapping them over

Continue doing this, working your way back in a smooth curved line past your ears and down to the nape of your neck. Once you reach this point, stop and secure all of the remaining hair with a clear hairband

Secure another clear band roughly an inch and a half below that one. Then, use your fingers to make a hole in the 'bubble' of hair you've created

Feed your hair through the hole so it twists around. Repeat with more bands all the wait to the tips of your hair!
If you'd rather leave the ends loose, we recommend curling them a little with the Signature Soft Touch Curler for some extra bounce and volume!
Ponytail Box Braids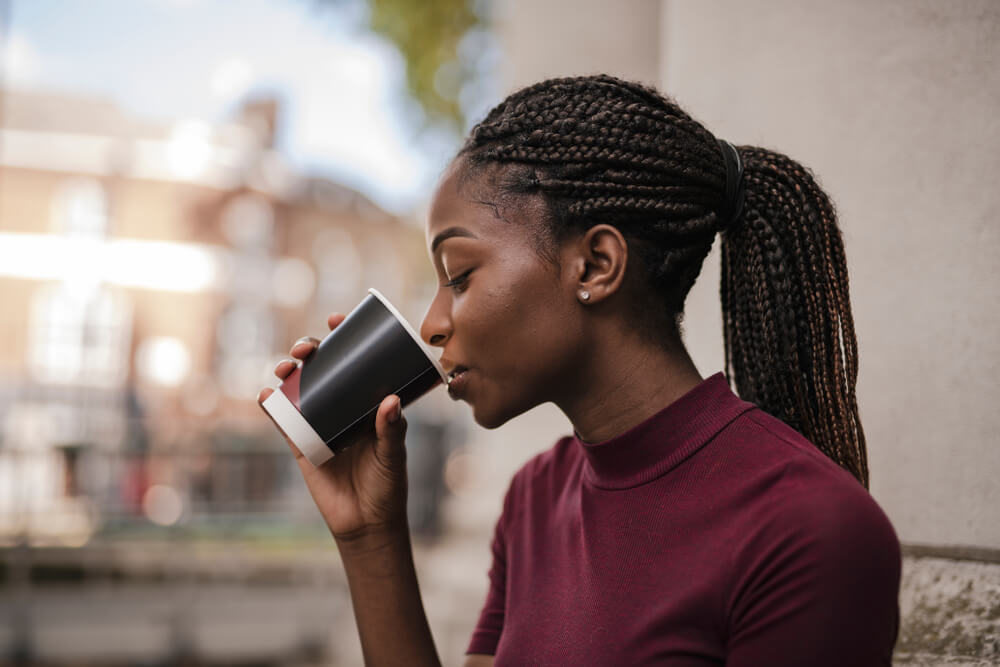 Whether you're confident (and talented!) enough to style your own box braids at home or you prefer enlisting the help of a professional, once you have them installed, the options for styling them are endless. Not to mention, this is a great protective hairstyle for natural hair that can last for up to 10 weeks! 
But what are box braids? Firstly, the styling process involves dividing the hair into equal, square-shaped sections (boxes). The sections are braided using the three-strand method from roots to tip. Natural hair can be combined with synthetic locks too for extra length, volume, and additional color.
One of our favorite ways to style box braids when you have them?
You guessed it, a simple mid-height ponytail!
This classic, versatile style works perfectly for both work and off-duty days. It also keeps your hair away from your face on your busiest days, as well as when you're working out. What could be better?!
Single Dutch Braid
Another of our favorite hair braiding styles is the Dutch braid. And, if you're wondering if it's really all that different/worth learning on top of French hair braiding styles, the answer is yes! 
In terms of how the braid actually looks, you can tell a Dutch braid apart from the way it sits away from your head. Whereas French braids look as though they fold inwards as the hair is passed over top, Dutch braids look more voluminous and 3d as the hair is passed underneath.
Therefore, to create this look, you'll only need to adjust your French braiding technique slightly to achieve the right style!
How to Get a Single Dutch Braid
Begin by making sure your hair is freshly washed and super-soft. This will allow you to easily divide out pieces of hair as you reach behind your head (wavy or straight hair will braid easily, curly hair may need a little more coaxing!) 

Starting at the front of your head, divide a small section away from the rest of your hair. If you're not sure where to start from, take all of the hair from in front of where your ears start, as a general rule of thumb

Divide this piece into three and begin braiding using the three-strand braid technique. Make sure to pass your hair underneath the center piece instead of over it

Keep adding small sections all the way down, until all of your hair is included in the braid 

Secure this in place with a clear hairband

Now all you need to do is decide whether to leave it like this or add a cute ribbon or barrette for extra style points!
Dutch Braided Crown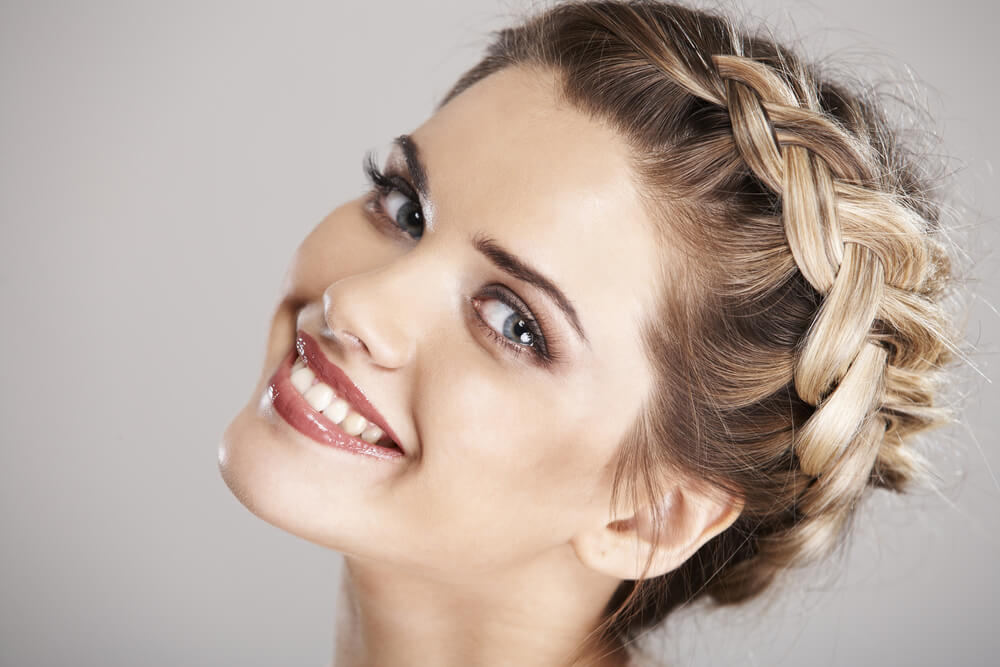 Oh, hello wedding hairstyle of our dreams! If you've been searching out the most memorable and special matrimonial hairstyle out there, look no further. The braided crown is a sure-fire way to feel instantly special and romantic on your wedding day. Keep your braids neat and symmetrical for a traditional bridal look and leave only a few carefully chosen pieces out to keep your Dutch braid crown looking formal and bridal. 
Of course, this hairstyle isn't reserved for wedding days alone. You can totally make it work casually too. One of our most favorite and simple ways to do that is to keep your braiding style loose and free with plenty of face-framing pieces left out. These will work to highlight your features and show off your eyes whilst keeping your style laid-back and carefree. 
And, in case you're wondering, the answer is yes. Achieving a Dutch braid crown is a little different, and sometimes slightly trickier, than braiding a simple single braid. That said, some actually find it easier as you can see what you're doing in the mirror!
How to Get a Dutch Braided Crown
Start by dividing a section of hair at the front as you usually would, but only on one side

Begin braiding the hair around the side of your head and over the top of your ear. Keep going until you reach the back

Continue adding in new sections of hair all the way around. Make sure all of your hair has been added to the braid before you reach the other ear

Once you do, simply finish braiding the hair in a regular three-strand braid

Lay this part of the braid across your head so it meets the side of your head where the braid began

Secure the end with a clear hairband. Then, tuck the ends of this piece beneath the wider section. Finally, secure it in place with a few small bobby pins!
If you do go ahead and decide to wear this style for a special occasion, don't forget to tuck in a few fresh (or faux) flowers once your braid is complete!
Dutch or French Braided Pigtails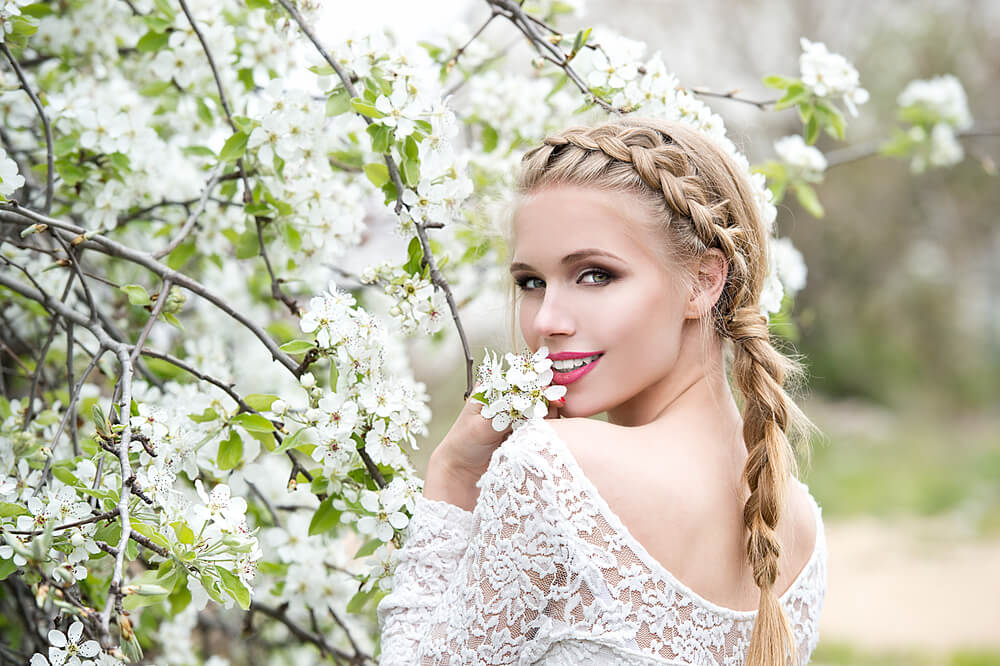 If you just can't get enough of pigtails and those Dutch and French hair braiding styles, it'll come as no surprise that these next looks are perfect for you! 
The next time you go to create a simple Dutch or French braid down the center of your hair, try switching things up by dividing out your tresses into two sections first. Braid your hair as you've learned to do and secure each section in place with a clear elastic at the ends.
Leave the style like this for a super-cute off-duty look, or wrap the ends to create a bun for a chic day-to-night style you can wear on work or weekend days!
Fishtail Braided Hair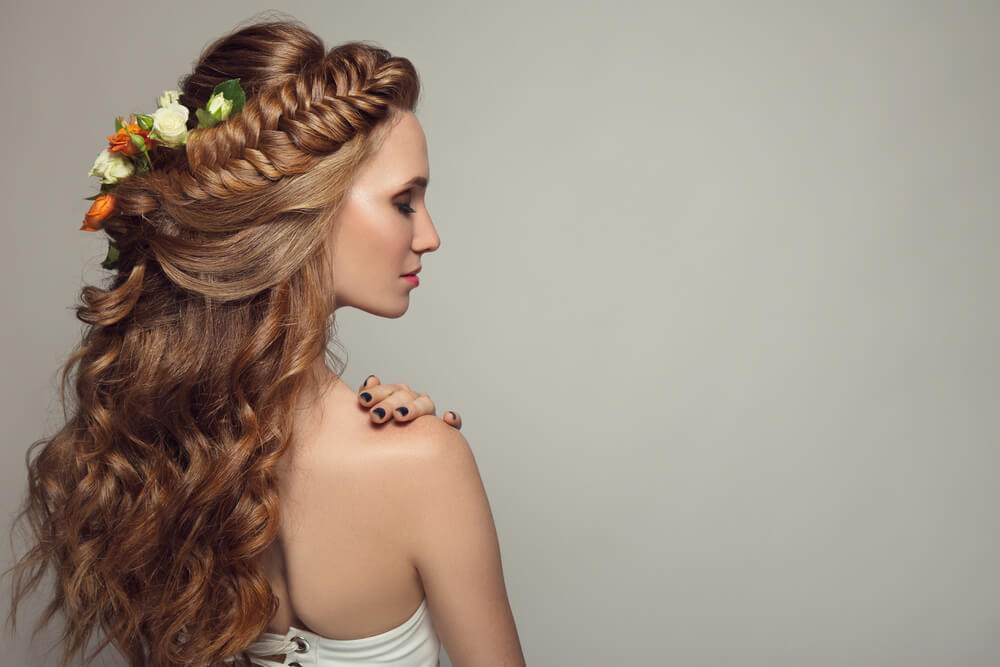 Need to know another of our top recommended hair braiding styles?
Try a stunning fishtail braid combined with an updo!
Unlike most of the other hair braiding styles on our list, this technique can take quite a long time. But don't be put off, it's totally worth it and couldn't be more simple!
How to Get Fishtail Braided Hair
Start with your hair over your shoulder. Then, divide your hair into two sections; section one and section two

Next, take a piece from the outside of section one, and pass it over to section two

Then, take a piece from the outside of section two and pass it to section one

Once you get this action down, you're well on your way to the fishtail braid of your dreams!

Simply repeat this action all the way down your hair. Then, secure it in place at the end
If you'd rather wear most of your hair loose, simply create this look with one small section at the top of your head working its way back. Leave the rest of your hair down and add a few subtle curls with the Grande Curls Wand for a truly romantic look!
So, which of these hair braiding styles will you be trying first? If you need some extra help, check out HerStyler's range of hair styling tools here.
---