Hairstyling Hacks: Quick and Easy Morning Routine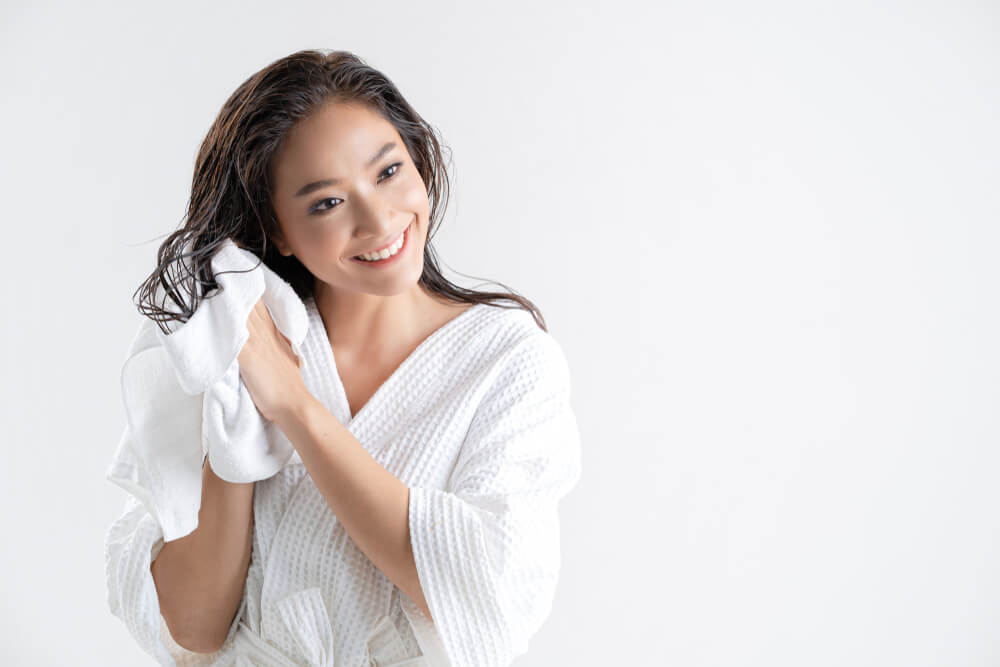 Wondering how to speed up your hairstyling routine in the morning so that you can hit that snooze button for a little longer? Read on as HerStyler shares some time-saving hairstyling hacks that you'll be able to rely on whenever you're in a rush.
Quick Curls in Minutes
Love wearing your hair in curls but hate having to wake up half an hour earlier just to curl your locks? This hairstyling hack will save you a lot of time!
In the mornings, instead of splitting your hair into several small sections in preparation for curling, tie your mane into a ponytail. Then, take half of your ponytail in your hand and, with your favorite curling wand or iron, curl that section before doing the same with the other half of your ponytail.
Although you're not going to achieve tight ringlets with this method, it will still leave you with gorgeous loose waves that only take a couple of minutes to create. 
Of course, to pull this off, you'll need to make sure that the barrel on your curling wand or iron is large enough to accommodate half of your ponytail. That's why we love the HerStyler Rose Gold Titanium 3P Curler. It comes with three interchangeable barrels, with the largest being 25/25mm in size. It's perfect for giving this hairstyling hack a try. Meanwhile, the smaller barrels will enable you to get more creative with your locks when you have some extra time to spare.
Beachy Waves While You Sleep
Curling wands and irons are great for creating precise curls. However, if you're trying to cut back on heat when hairstyling, consider braiding your locks before you go to bed. In the morning, when you release those braids, you'll be left with beautiful beachy waves.
In order for this hack to work, your hair needs to be wet before it's braided. However, keep in mind that hair is at its most fragile when it's wet, so be gentle when handling it. 
You'll also need to ensure that the braids you create are evenly spaced around your head. The easiest way to do this is by splitting your hair into equal sections before you begin braiding. This way, your waves will look even and balanced in the morning, rather than some parts of your hair ending up wavier than others.
Invest in a High-Performance Blowdryer
Although there's nothing quite like starting the day with a perfect, bouncy blow-out, there's also no denying that blow-drying your hair in the morning can take up a fair bit of precious time. This is particularly the case if your locks are long and/or thick. 
One way to speed things up is by investing in a high-performance blowdryer. Some are simply more powerful than others. This means that they're able to get the same job done in a shorter amount of time.
Wondering how to tell how powerful a blowdryer is?
Pay attention to its wattage. The higher the wattage, the more powerful the blowdryer. Some offer just 800 watts but, if you're looking for maximum power and speed, you'll need a model with around 1800 watts.
That's exactly what you'll find with the HerStyler LED Pro Luxe Dryer. Its high-performance motor is combined with two heat settings and two speed settings. This will enable you to customize your drying experience while styling your hair in no time at all.
Try a Half-Up, Half-Down Style
Dealing with second- or third-day hair that's looking a little dull and limp? One way to perk your locks up while keeping your strands out of your face is with a half-up, half-down style. 
The great thing about this style is that there are so many directions to take with it. You could opt for a simple ponytail or, for extra height, a top knot. If you struggle to create this style with layered hair, try braiding the half-up section. This will keep any wispy strands held in place while only adding an extra minute or two to your hairstyling routine.
You could also elevate this style even more by adding in an accessory. Complete it with a bow or a ribbon and not only will your hair look beautifully put together, but you'll also be giving your style some extra character.
Keep Your Hairstyling Tools Organized
If you often find yourself scrambling about in the mornings, desperately searching for the hairstyling tools that you need, it's time to get more organized. This way, you could potentially continue on with your regular hairstyling routine but still save a few important minutes.
How should you go about organizing your tools?
There are so many options! You could set up some hooks and hang them up, or dedicate a cabinet or a drawer to them. If you like to have them out on display, consider stands for your hairbrushes and styling products. You could then combine these with holders for your heated styling tools. The Professional Styling Tool Holder from HerStyler can be used with both hair straighteners and curling wands and can easily be attached to different surfaces. Whether you sit it on your dresser, mount it onto your mirror, or attach it to a wall, you'll be able to place your styling tool back into its holder while it's still hot, rather than having to wait until it has cooled before it can safely be stored away.
Add Volume to a Regular Ponytail
A ponytail is one of the most classic hairstyles out there. It also happens to be absolutely perfect for when you're short on time, with this style only taking a minute to create.
However, at the same time, a regular ponytail can also be a little boring. This is particularly the case if your hair is lacking volume, which will leave your ponytail looking limp and drab.
One way to counter this is by backcombing your hair, although this can take some time. Another simpler option would be to create two ponytails instead of one. To pull this off, section your hair horizontally so that you've got one part at the bottom and another at the top. Then, take the bottom section and tie it into a high ponytail. Repeat this with the top section, tying it off just above where the first ponytail sits. 
The finished result will look just like a single ponytail, yet with an amazing amount of volume. Although you won't be able to see the second ponytail, it will give your hair a lift. This will make your mane look so much fuller.
Dry Your Hair With Microfiber
Need to wash your hair in the morning? 
You're probably aware of how damaging it can be to use a blowdryer on hair that's soaking wet. Research points to how, if you want to cause minimal damage, the best way to go about things is to wait until your hair is 70-80% dry before finishing the job with a blowdryer.
However, getting your hair to the stage of being 70-80% dry can take a while, which can really drag out your morning hairstyling routine. To save some time, provide a helping hand with a microfiber towel. Unlike regular towels, microfiber is able to absorb significantly more moisture. This means that it will dry your hair much faster than a terrycloth towel. You could simply wrap your hair up in your microfiber towel after stepping out of the shower, pick out your outfit for the day, and do your makeup, and, by the time you're done, your hair should be dry enough to blow dry. 
As an added bonus, using a microfiber towel will also help to smooth away the look of frizz. At the same time, it will give any natural curls that you may have some extra definition. 
Sleep on a Silk Pillowcase
If dealing with rough and unruly strands is the norm for you each morning, one way to make your locks more manageable is by sleeping on a silk pillowcase. 
How does this help?
Well, the problem with cotton pillowcases is that, although they may feel smooth to the touch, those fibers are actually quite rough. When your hair rubs against them while you sleep, friction is caused. This roughs up the hair cuticles and encourages frizz. It also contributes to breakages, split ends, and brittle strands, especially if you regularly toss and turn at night.
On the other hand, silk is a much smoother material. Rather than tugging at your hair while you snooze, it will allow your strands to glide over it without creating any friction. Once you wake up in the morning, your hair will look and feel so much smoother. This will, therefore, make it much easier to style!
If you don't want to splash out on silk, satin is another equally effective, yet less costly, material to opt for.
Pin Up Your Bangs Before Bed
Your bangs may only account for a small portion of your hair. However, chances are that they require some significant styling time. Bangs can sometimes be so stubborn to style, especially when you're trying to speed through your morning routine!
To get your bangs looking flawless in the morning without too much work, try pinning them up before you sleep. You'll need to rinse them first and then half-dry them, as they'll hold a style more effectively when they're damp. Once you've done this, use some bobby pins to pin them away from your face, in a way that will have them falling perfectly once the pins are removed. 
This way, come morning, simply release your bangs from the pins and they'll look exactly how you want them to, without much extra styling needed!
Since this method will also prevent your bangs from being trussed up while you snooze, your bangs will look smoother and less frizzy in the morning too!
Summary
It's never enjoyable to miss out on half an hour of sleep just so that you can properly style your hair in the mornings but, for some people, this is the only way to ensure that their mane looks presentable. However, thanks to these hairstyling hacks, your morning routine is about to get so much quicker and easier! Give some of these tips a try the next time you have a busy morning and you'll no doubt appreciate the precious time that you end up saving.
Click here to upgrade your hairstyling routine with more bestselling products from HerStyler.
---