The 11 Best Ways for Styling Long, Thick Hair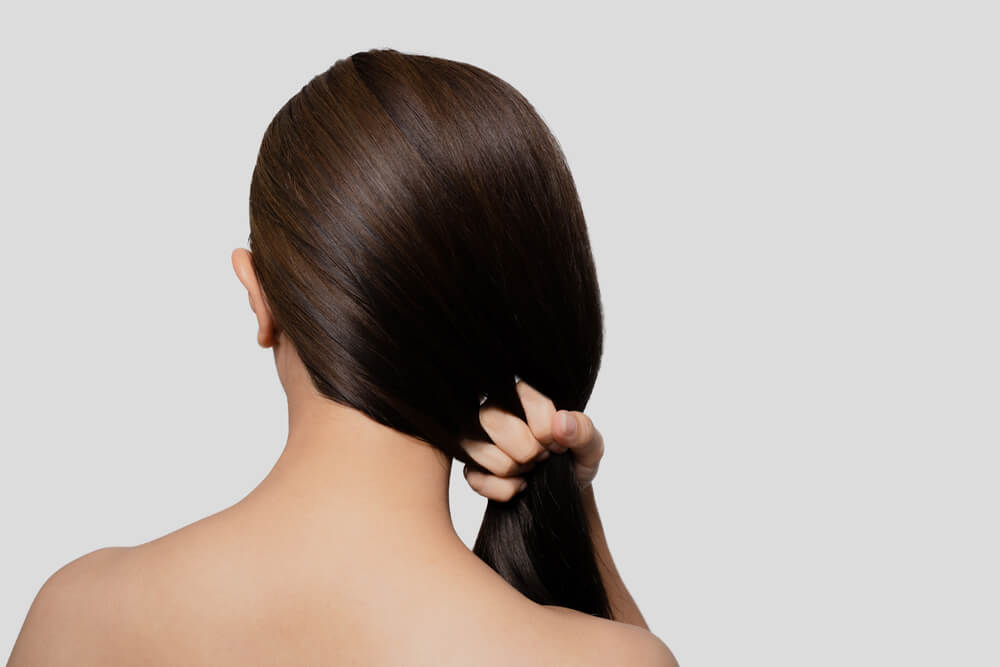 Do you ever find yourself struggling when styling long, thick hair?
Whether you end up wearing the same hairstyles day in and day out or you don't know how to tame your thick and unruly mane in a way that makes it look good, HerStyler is here to help. Keep scrolling to discover the 11 best ways to style hair that's long and beautifully thick.
1. A Simple Center Part
Some people like to embrace their extra volume when styling long, thick hair, while others hate their heavy lengths and gravitate toward styles that tone down that thick appearance. If you're someone who would prefer to downplay your thick locks, then a simple center part is all you need.
A center part will keep the weight of your hair balanced on either side of your face. This will prevent your thick hair from looking too heavy.
Center parts work well with both straight and curly hair. However, one of our go-to's when styling long, thick hair into a center part is beachy waves. Thanks to how casual and effortless they look, waves are ideal for countering any harshness exuded by your center part. Even better, they're so simple to create with just about every styling tool. Whether you have a straightener or a curling iron, beachy waves are easily doable.
2. A Dramatic Side Part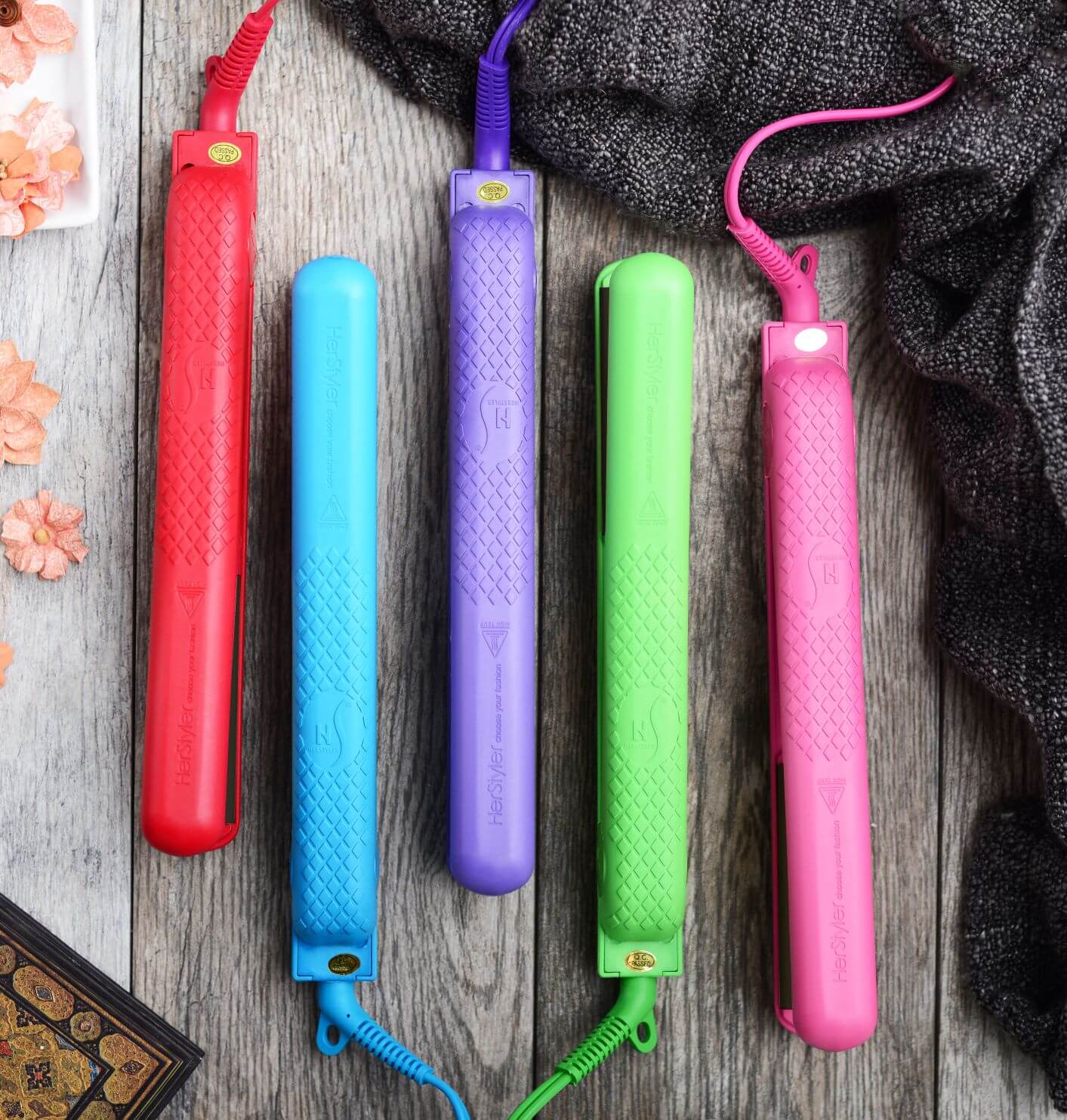 If you would prefer to emphasize and enhance the volume and fullness of your hair, then stay away from center parts and opt for a deep and dramatic side part instead. Unlike a center part, which balances the look of thick hair, a deep side part will gather all of that volume onto one side of your face.
The downside to going with a side part when styling long, thick hair is that it can sometimes cause the hair to look a little puffy. However, if you have a good hair straightener by your side, then this is easy to rectify.
Our top choice for this would be one of the HerStyler Colorful Seasons straighteners. Available in a variety of stunning shades, the size and shape of this flat iron are perfect for smoothing down the extra volume to give the hair a sleeker finish. It can also be used around your roots to really emphasize the placement of your side part.
3. Half-Up, Half-Down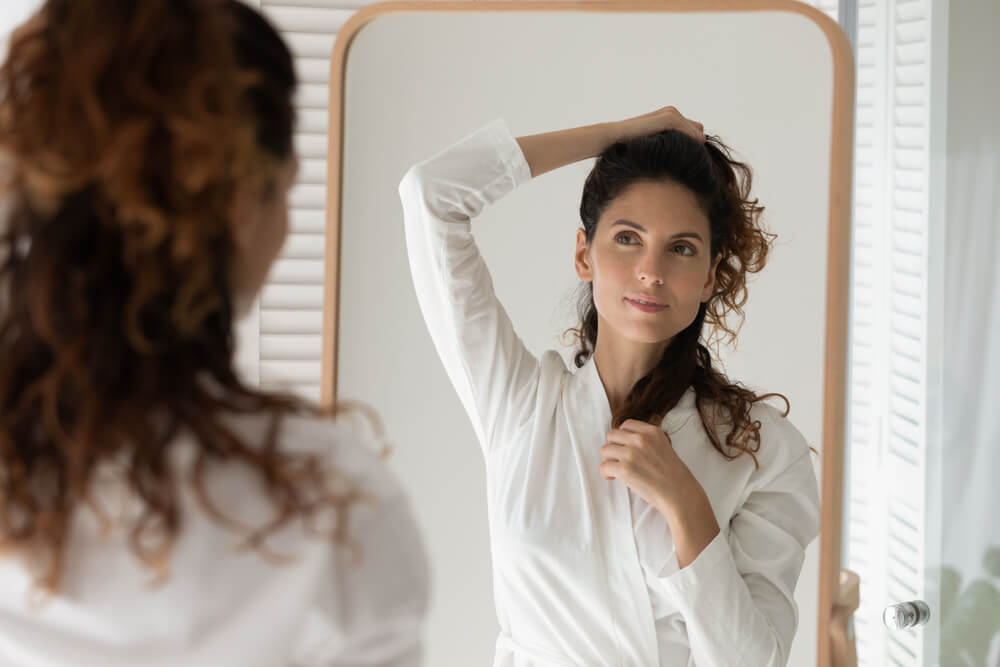 Here's another classic; the half-up, half-down style. Although this versatile hairstyle works with just about every hair type and texture, it beautifully complements thick and long hair.
The beauty of the half-up, half-down look is that it's so easy to customize. Keep things casual with a half-up wavy ponytail or straighten your locks to perfection for a sleek half-up bun.
To ensure that the half-down part of your hair remains smooth and manageable throughout the day, run a hair serum through it before heading out the door. One popular formula is the HerStyler VitaOil Biotin Hair Serum. Infused with biotin and vitamin E, this silky serum will leave your hair looking strong, lustrous, and professionally shiny.
4. Braids, Braids, and More Braids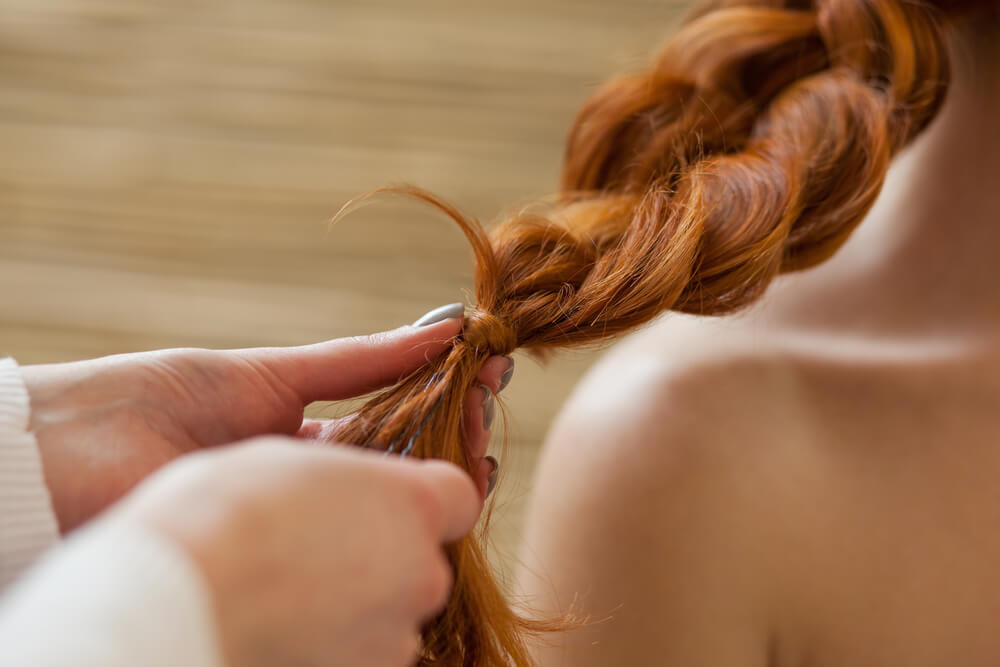 If you want to get creative when styling long, thick hair, then braids are the perfect way to do that. Your options are endless when it comes to the different braid styles that you can choose from.
A basic, three-strand braid tends to be the fastest and easiest to create. However, if you don't like how chunky they can look with thick hair, consider a different type of braid instead.
Boxer braids are a popular choice. They're trending at the moment because of how perfect they are for long and thick lengths. Plus, not only do they look stylish, but take care of them in the right way and they'll last for days.
Fishtail braids are another show-stopping option, or you could opt for a classic French braid, or even a more complex Dutch braid.
Whichever you choose, we would recommend smoothing a hair serum over your locks once you've created your braid. This will do away with the look of stray strands and flyaways while holding your braids in place for longer. One of our favorite formulas for this task is the HerStyler Castor Oil Hair Serum. Featuring castor oil, aloe vera extract, and vitamin E, this formula will give your hair a healthy-looking sheen while leaving it feeling strengthened and renewed.
5. Bouncy Curls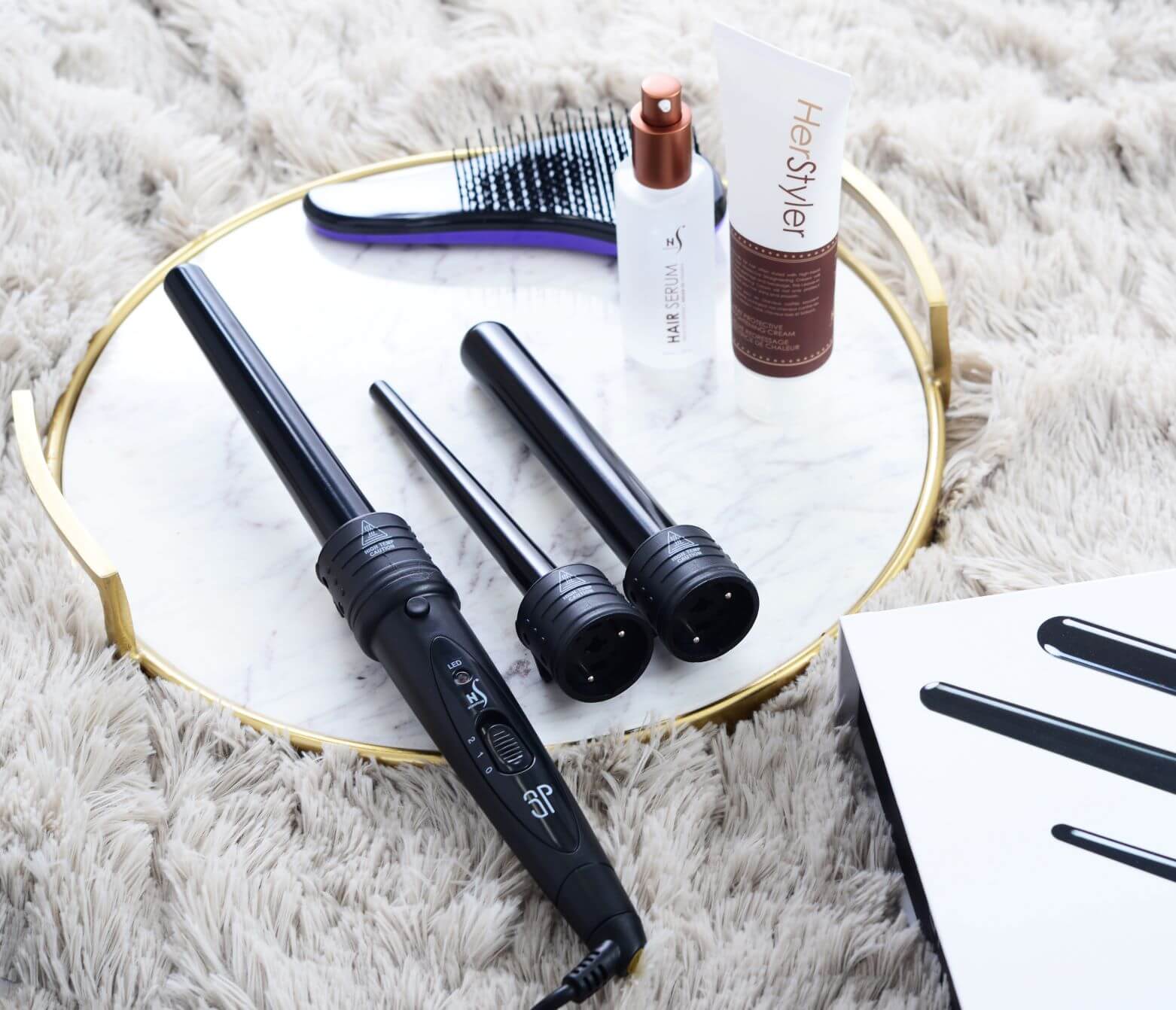 One way to make the most of your long and thick hair is to style it into big and bouncy curls. This is a hairstyle that lends itself perfectly to all of that natural volume that you have – the longer and thicker your locks, the more glamorous your curls will look!
Of course, for this style, you need a good curling iron. One of our most versatile is our 3P Curler. It comes with three different barrel sizes, enabling you to fully experiment with different curl sizes. Use the 9/18mm if you want thinner, more spiral-like curls, turn to the 18/25mm for waves, or reach for the 25/25mm barrel for large and voluminous curls.
Since all three of these interchangeable barrels are clip-less, you won't end up pulling or breaking your hair while you're curling it. It comes with two different temperature settings too, which means that you won't need to subject your hair to any unnecessary heat, along with the damage that comes with it.
6. A High Ponytail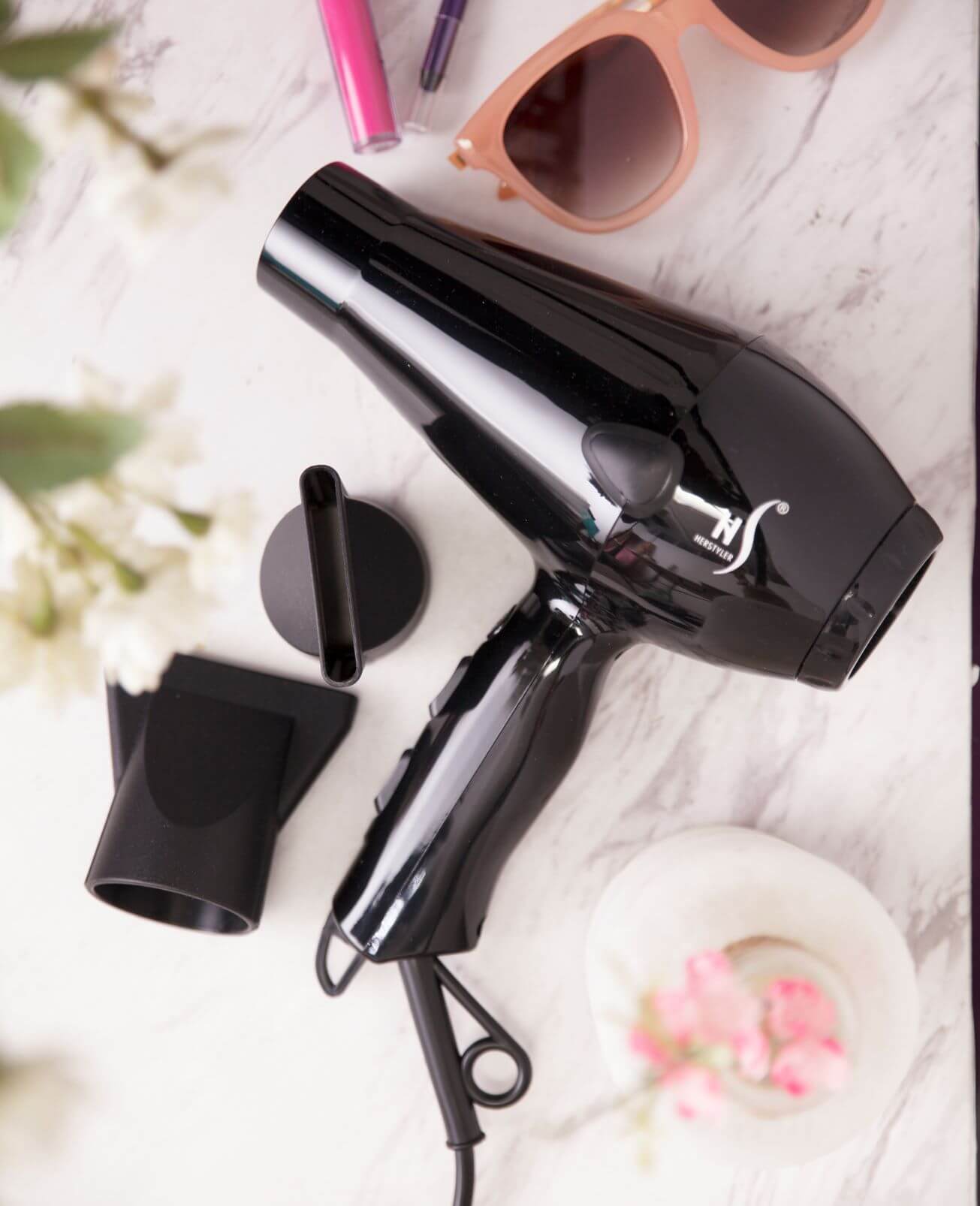 Not only are high ponytails such a quick method for styling long, thick hair, but they can also make you look younger. The way in which they pull the facial features back gives the face a tighter, sharper, and more defined look.
However, it's worth mentioning that this isn't a hairstyle to rely on every day. While it may look stylish, high ponytails are also known for stressing and damaging the hair due to how tightly they pull the hair back.
Fortunately, there are a few ways to minimize this damage so that you can rock your high ponytail guilt-free. For starters, make sure that your hair is completely dry before tying it up, as wet hair is more prone to breakages and damage. The HerStyler LED Pro Luxe Dryer is a great tool to have to ensure that your hair dries quickly, safely, and with minimum frizz.
Using fabric hair ties is important too. Avoid any that contain metal pieces, as these will snag on your hair and tear your strands.
Finally, be gentle when taking your ponytail down. Quickly and roughly yanking your hair out of your hair tie will more than likely damage your locks, so take things slowly and be kind to your hair.
7. A Sectioned Ponytail
Love the simplicity of a ponytail but need a style that's a little edgier? A sectioned ponytail could be exactly what you need.
Also known as a bubble ponytail, this style gives a regular ponytail some extra structure and shape, leaving you with a fun silhouette. It does take a little longer to create, but the results are totally worth it.
To really pull this look off, your hair needs to be impeccably brushed and tangle-free. We'd recommend doing this with our Pro Detangler Brush. Thanks to its extended bristles, this brush minimizes how stressed your hair feels while it's being styled. It'll safely de-tangle your locks while leaving them looking smooth. This will then make your hair so much easier to style.
8. A Messy Bun
Playful, casual, and effortlessly chic, it's easy to see why messy buns are so popular. Even better, they don't require freshly washed hair – they actually look so much better when created with second-day hair (or even third or fourth-day hair!).
It doesn't take much to create a messy bun. Start by pulling your hair up into a ponytail, but don't tie it off. Instead, hold it in your hand and twist it. At the same time, wind it around the base of your ponytail. Once you're happy with how it looks, secure it with a hair tie and some bobby pins.
If your bun isn't looking as messy as you'd hoped, pull a few tendrils out and allow them to hang down and frame your face. However, don't forget that this will also happen naturally as the day goes on. The unique personality that a messy bun takes on with time is what makes this such a special style.
9. Cornrows
Although technically a type of braid, cornrows are a little different than the braids that we featured earlier, purely because they're much harder to create yourself if you've never done them before. Instead, the easiest way to rock this look would be to have a professional style it for you.
This traditional African braided hairstyle involves the hair being braided very close to the scalp in neat and orderly rows.
It's referred to as a protective hairstyle because of how it doesn't require too much manipulation. It keeps the hair tucked out of harm's way. It also doesn't require daily retouching – if you look after your cornrows properly, they can last for several weeks.
10. Double Buns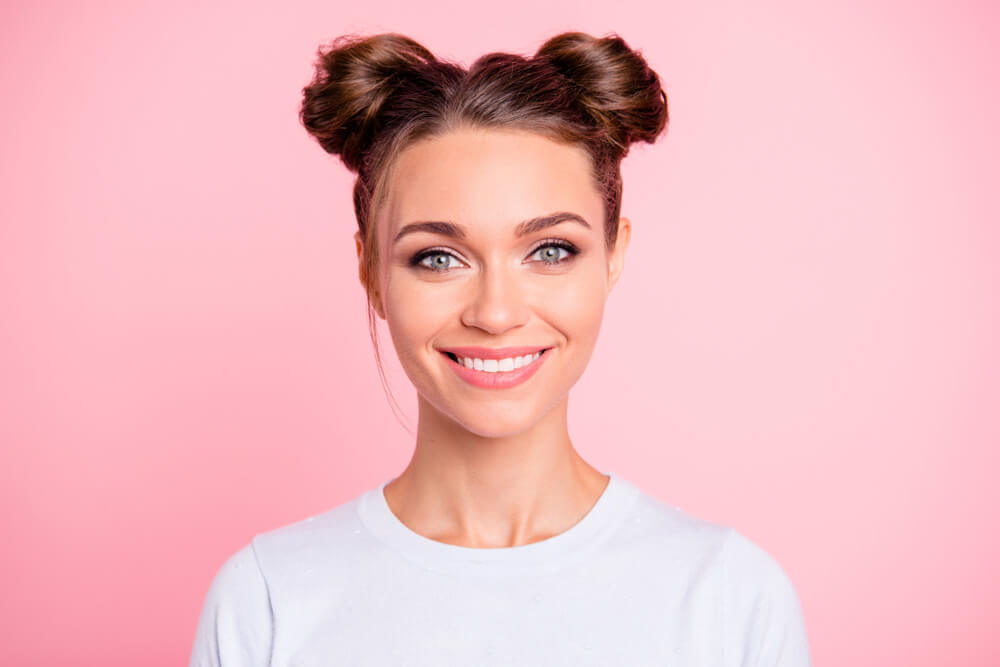 Made popular by the likes of Kylie Jenner, Miley Cyrus, and Ariana Grande, double buns are playful yet pretty. They're also very versatile. You could wear them high or low, messy or neat – the finished vibe is completely up to you.
To achieve this look when styling long, thick hair, follow the steps that we shared above for creating a messy bun. However, instead of using just one ponytail to form your bun, split your hair into two, so that you're working with pigtails instead.
11. A French Twist
If you're looking for a classic yet simple updo for styling long, thick hair, then a French twist won't disappoint. It sees the hair being gathered and twisted onto itself at the back of the head, resulting in a very sophisticated finish.
That said, if you'd like to add your own personality to this look, there are a few ways in which you can do so. One popular technique is to opt for a sideways French twist instead. With this look, instead of gathering your hair together at the center of your head, you create the twist at an angle and slightly to one side.
Braided French twists also look equally spectacular. It gives the style more texture, while also ensuring that super-thick hair is properly held in place.
Get Creative When Styling Long, Thick Hair With HerStyler
So many people dream of having long and thick locks, purely because the options are truly endless when it comes to the many different ways in which you can style your hair. Whether you keep things simple with a classic pony or you go all out with a braided updo, these 11 looks will ensure that your hair is always styled to perfection.
To make styling long, thick hair even more fun, click here to treat yourself to one of HerStyler's bestselling styling tools.
---